Chess is physics, playing blindfold is quantum physics, blindfold simul is rocket science!
The seventh round of Eka by IIFLIM International Chess tournament 2017-18 saw a very interesting event: an exciting blindfold simul starring GM Timur Gareyev! The Blindfold King was challenged by 12 young chess players, some of whom gave a very tough fight. Avathanshu Bhat, who was also in the simul, reported on the event. Timur not only played the simul scoring 10.5/12 (with 3 draws), he also won his classical game against a 2300+ opponent and then came to the commentary studio to explain his win in a 25 minute masterclass! At the end of the day all we can think is, where does the man get all this energy from?!
I close my eyes so I can see!
I have played many regular chess games. I have played one or two simuls. But never have I seen a Blindfold Simul before! To me, it was something beyond what I could comprehend and understand. But yesterday, the wonderful people behind Eka by IIFLIM International Chess Tournament gave me the opportunity to experience one for myself!
I was among the twelve players that would challenge the Blindfold King, and a world-record holder, GM Timur Gareyev. The players had 40 minutes and no increment, while Timur had 1 hour and 30 minitunes for each board. But there are many interesting things about Timur that must be noted. Of course, he made the world record when he played against a whopping 48 boards simultaneously and won 35 games, drew 7 and lost 6 in just under 19 hours.What I found interesting to see, however, is his behind-the-scenes preparation shown to all.
He seemed to be playful before it started, and he was juggling balls, playing catch with some players, having everyone introduce themselves, and all in all, having fun. Little did I know that these were actual preparations for the game. He played with the balls to increase his concentration for the game. But the story behind the voice is a little bit more in depth.
I learned from an expert in Blindfold Simuls that it is very important for the blindfolded player to hear everyone's voice. This is because it is easier to recognise a board by hearing the players voice, rather than by trying to remember the board number when it is called out. The procedures were that Mr. Praful Zaveri would announce a board number (for example, board 1) and the player would announce his move (such as e1-e4).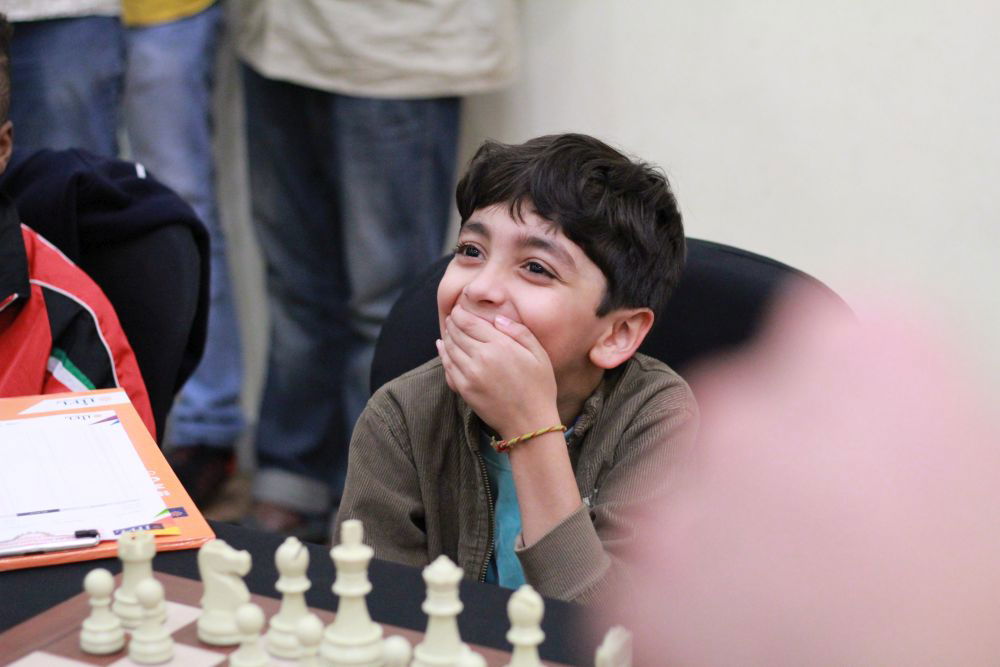 GM Timur Gareyev would always play his blindfold while on a gym cycle. Reportedly, he cycled 22 kilometres by the time the simul was over. Timur says that cycling during the simul helps him keep his rhythm and indirectly concentrate better on his games. Well, it surely worked for him as he played some excellent games.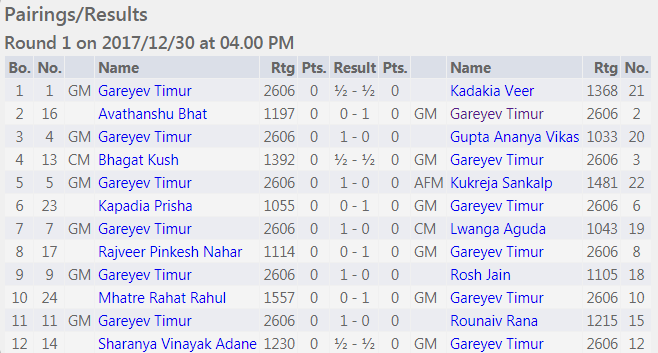 At the end of the simul, he scored 10.5, winning 9 and drawing 3. Timur played brilliantly in all his games. In some of the games he was in a difficult situation but he wriggled out of it well to not lose even a single game.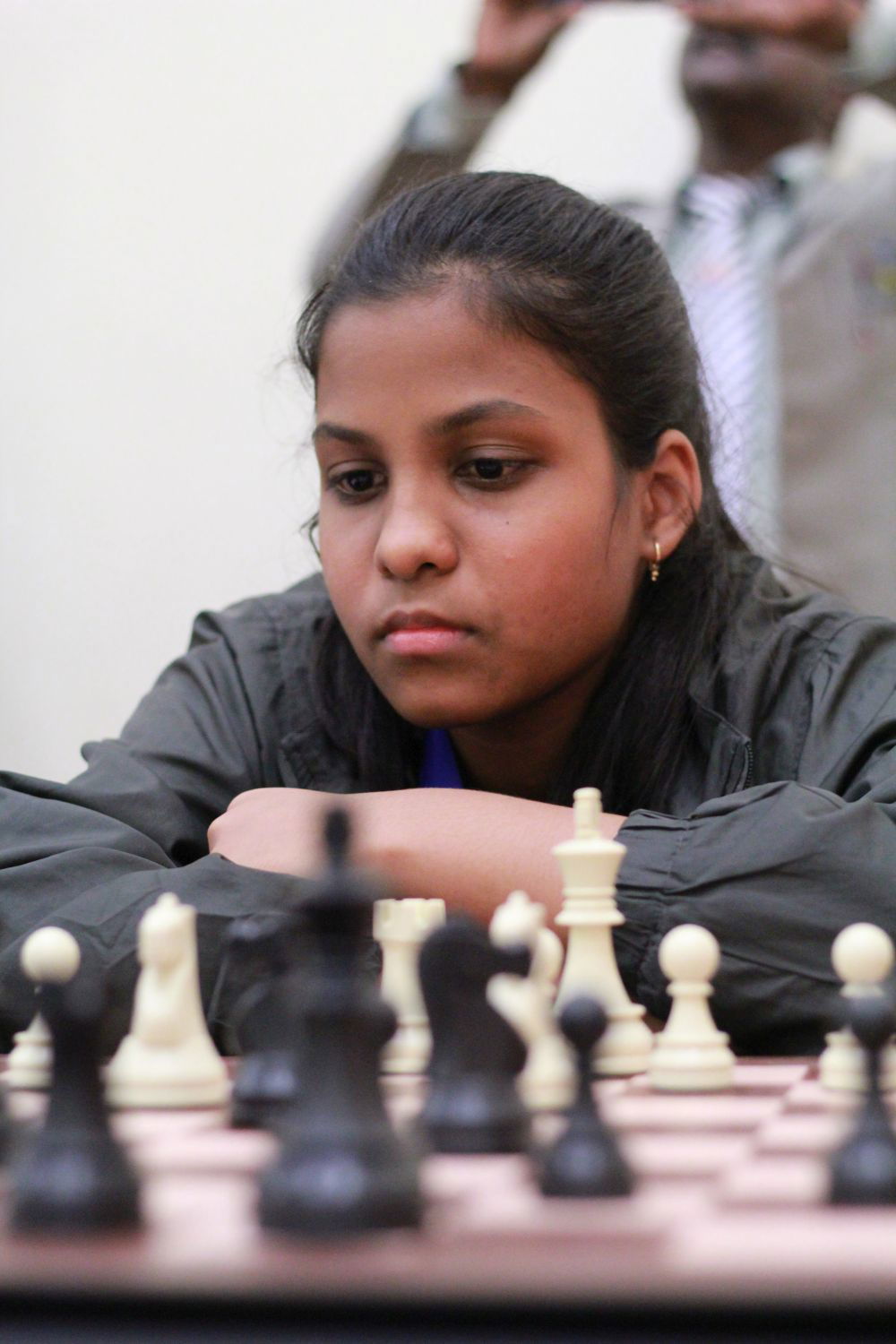 It's tough for Timur when he is blindfolded, but I think it should also be viewed from the side of the player. It becomes slightly stressful to play and anticipate Timur's move. Also, you sometimes lose your focus, and hence your plan, when a player speaks. Sometimes you would be stuck waiting for your turn to tell him the move. The rotation too could not be adhered to by the end due to low time. Nevertheless, it was a fun and great experience and every bit of it had something which you could learn from.
Facebook live by EKA by IIFLIM: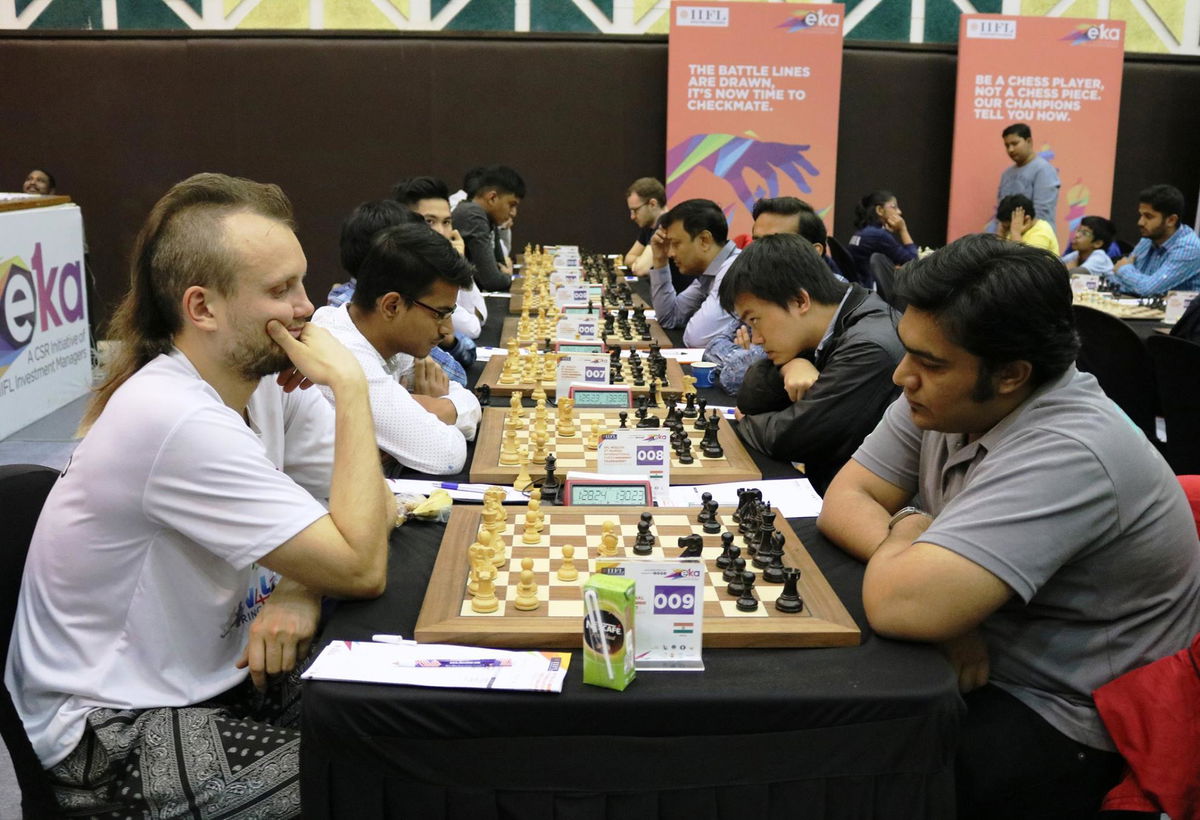 And after the game was over, Timur (of course, he won!) came in our commentary room and was interviewed by Aditya Pai. Just have a look at his instructive comments.
So much to learn from this great man! Where does he get all of his energy from?
To quote Paul Gauguin, whose quote Timur used on his website:
"I close my eyes so I can see"
Truly, The Blindfold Kng is worthy of his title!
Replay all the 12 games of the Simul:
About the author:
Avathanshu Bhat is a 12-year-old chess player from Mumbai. Apart from being a chess fanatic, he is a voracious reader and his favourite books include Wonder by R.J. Palacio, Lord of the rings by J.R.R. Tolkien and the complete adventures of Feluda by Satyajit Ray. He loves Daniel King and enjoys his Power Play DVDs very much. He maintains his own blog. Like his FaceBook page for more updates!
Read more articles by Avathanshu Bhat:
G. Akash wins the Grand Hyderabad affair
10-year-old boy's deep calculation (40,000+ hits on Youtube)
12-year-old chessentrepreneur Avathanshu Bhat
Hemant Sharma becomes International Master
Champion from Chudamani - IM Sidhant Mohapatra
---