CBIJ #04: The youngest 2200 in the world right now is Raahil Mullick!
The 4th edition of CBIJ (ChessBase India Juniors) brings to you all the latest exciting content about the Juniors of the World! Praggnanandhaa scored his second GM norm in Greece. Raunak Sadhwani made his third IM norm at the Sharjah Masters 2018.We bring news about talented Sahithi Varshini at the Asian Youth 2018. Do take a look at the rapid fire interview with CM Raahil Mullick, who recently became the youngest player in the world to cross 2200. Find out about the unique Juniors tournament that took place in Katni (MP) and analysis of the Gukesh-Short incident at the Bangkok Open 2018. What does a 13-year-old think about Gukesh's decision?
Sahithi Varshini is a girl who has had a good deal of experience in chess. Her recent achievement at the Asian Youth 2018 was truly commendable. She lost her second round game in the U-12 girls rapid section. Like all of us at some point, Sahithi wondered, "If I win all the next rounds, would I become a champion?" She did exactly that and took the gold home! Her dad has something to share for us as well.

At the Asian Youth 2018, in all formats, she did not worry about winning or losing. This is one of her games from the Asian Youth U-10 in Tashkent, where she played against Ayaulym Kaldarova. She was on extreme time pressure, and a simple draw would have won her the medal anyway. But she didn't end the game prematurely and went ahead to win the game! Notice the fine positional play at 9.g4. And Kxd2 is a killer blow on black! In that tournament, Sahithi won all 7 of her games. Her ability to combine a positional gain into a tactical combination is something to be marveled upon!
Sahithi was five years old when she got Dengue. Her condition was critical, and the doctors weren't sure if she would make it. Being the fighter that she is, she recovered! Her father said that she had missed a lot of schooling but this period was her golden age of chess. We wish Sahithi the same luck for all her future tournaments!
Raahil Mullick: Youngest 2200+ player in the world!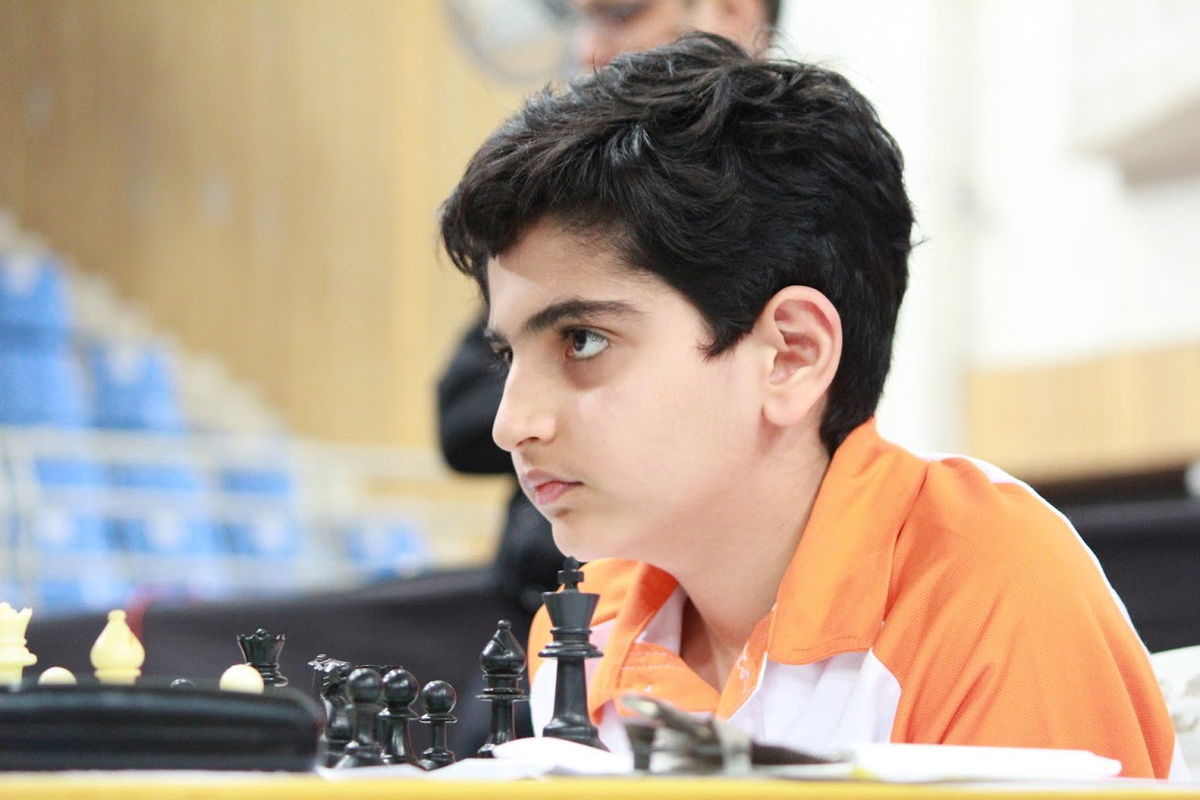 Raahil Mullick has recently become the World no.1 in U-11 category and just crossed a rating of 2200. He has traveled to a lot of tournaments, including his recent trip to Marienbad open. His best results, as seen earlier, are at the National Amateur 2017, where he came first in his category. He is also the commonwealth gold medalist U-10. The boy is one of my favourites and always in my wishes. I have watched the hardwork he puts into chess. I have seen him go through a whole day's class with WIM-elect Amruta Mokal, and yet not be tired at the end. A lot of children at his age would be practically dead (including me) but this guy would ask for more. I remember him being crowned CM at the Taiwan U-7 in 2014, yet remained grounded.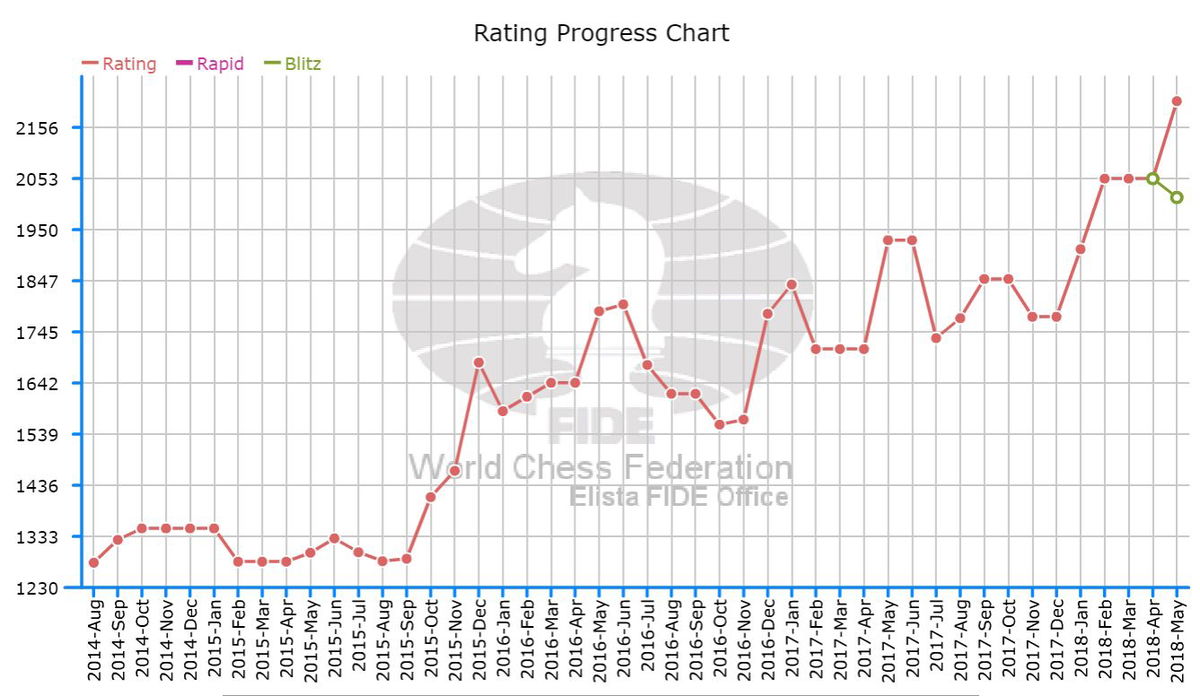 Over the board Raahil is a ball of energy, and is totally concentrated on the game. One of his greatest qualities is that he does not worry about rating at all until the very end of the tournament. He does not care about winning or losing, only on the way he plays. In the Nationals U-11, he played against a very tough opponent for nearly five hours. Unfortunately, he drew the game. He came running out of the hall and I mistook it as a win. That was not the case at all!
Raahil's favourite game has been against Sreeshwan Maralakshakari from the National Under-11 2017 that was held in Pune. The game has been annotated in a previous report and we also have Raahil explaining the ideas in the game to IM Sagar Shah in this video. For this article Raahil chose his battle against Amro El Jawich from the Dubai Open 2017. It was a thrilling encounter where Raahil had just 30 seconds to find the move in this position. What did he play?
Raahil Mullick vs Amro El Jawich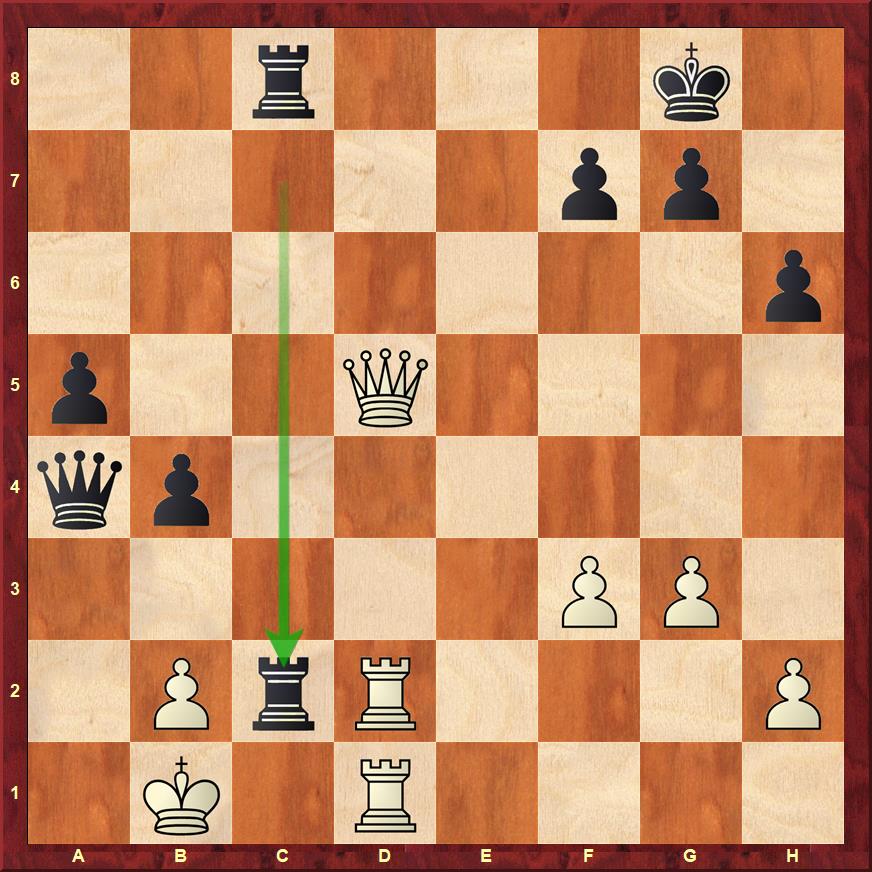 One of the people who played a major role in shaping him up is none other than IM Prathamesh Mokal, who has coached many budding talents, including me. This is what he has to say about Raahil's performance from around two years ago:
For this boy, nothing matters other than playing good game at chess. He is also a hardcore 'Khaakra' and Badminton lover, which de-stress him between rounds.
We asked Raahil some questions. Let us see his quick and witty replies to a rapid round!
Best Result?
At the National Amateur 2017

Favourite movie?
Avengers
Favourite book?
Percy Jackson
Favourite song?
'Can't stop the feeling' by Justin Timberlake
If you could meet any person in the world, who would it be?
Cristiano Ronaldo
Who would you be if you didn't have to be yourself?
Percy Jackson
Something people do that you don't like?
Pranks at school.
If you could change one thing about chess, what would it be?
Add more pieces with more abilities and make the game more complex :)
Best advice you were given?
'Never let your time come low, as it is difficult to make the best move under time pressure' by IM Prathamesh Mokal
Favourite square?
d5!
TRIVIA:
Last week's answer:
There were a lot of guesses from various people. Seems like Raahil's dimples gave it away! We have a lot of winners this time and all of you can claim the Rs.250 voucher from ChessBase India by writing to chessbaseindia@gmail.com. The winners are: Kusum Mittal, Sandhya Samant, Vanita Noronha, Rajini Kanth. All of these people commented on the Facebook post. On the website we have Shipra Dengla, Savitha Shri, Prince Upadhyay and chessislife. Thank you all for participating.
For those who missed it last time, try your hand at it again this time!
The ChessBase India Hindi Editor-in-chief, Niklesh Jain, organized a tournament for all Juniors aged under 12. It took place between April 22nd and April 23rd in Katni, Madhya Pradesh. It had a free entry and 30 Juniors participated. Juniors, you better keep an eye out for such quality tournaments!
Editor's Pick: The Gukesh-Short Controversy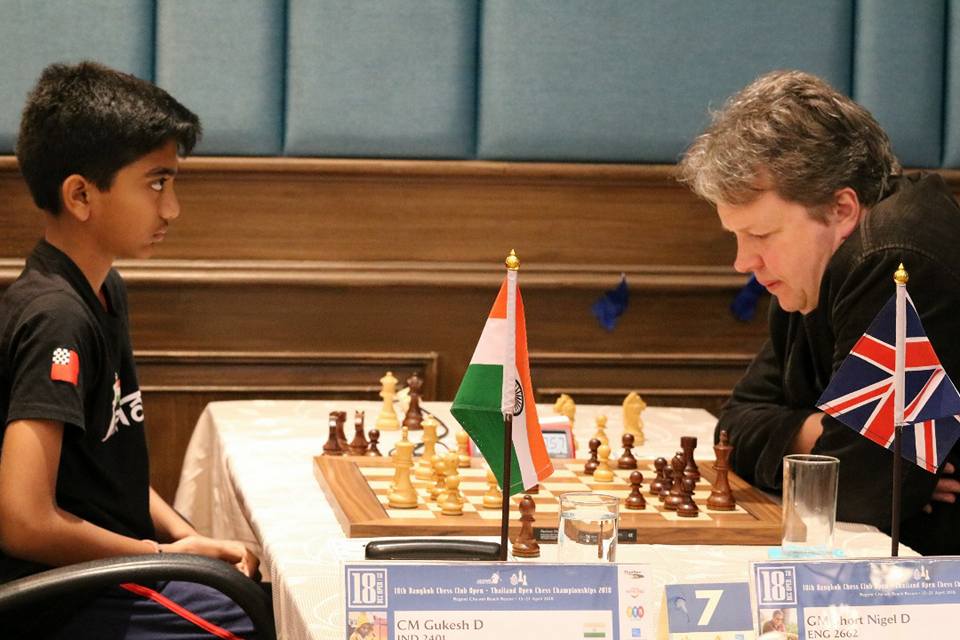 It's been all over the chess news. In the game between Gukesh D and Nigel Short in the fourth round of the Bangkok open 2018, Nigel got a winning position. However, the game had been going for nearly 6 hours now and the position was tricky to convert as well. But on the fateful 58th move, Nigel played Ra2+. Due to intense concentration over the board, Nigel forgot to press his clock. Gukesh noticed this but said nothing. As the flag fell, Gukesh stood up and called the Arbiter to claim his win. Nigel left without signing the scoresheet and Gukesh had to run to Nigel and have them signed. The topic of discussion is now whether Gukesh did the right thing by merely abiding FIDE rules, or if he should have been a gentleman by telling Nigel his time was low.
Here is my take: Gukesh is only a 12-year-old boy. No matter how well he has been seen to keep his nerves cool over the board. It would have been in the nature of any kid in his position to take advantage of the issue. Chess is a gentleman's game, and although Gukesh's action weren't sporty, the 12-year-old had been playing against a seasoned Grandmaster for nearly six hours, and by luck, the stronger player slipped up. I don't think many in Gukesh's position would have gone down the gentlemanly way. If Gukesh had told Nigel, he would have lost the game, and also the chance of scoring a GM norm. Gukesh may not have done the right thing by openly showing his excitement, considering his usual calm demeanour, but then neither did Nigel by leaving without signing the scoresheets. Was that the right thing to do?
About the author:
Avathanshu Bhat has been writing about chess for well over a year now. He has published innumerable articles on ChessBase India and his reports have been well received by the audience. He is the editor-in-chief of ChessBase India Juniors. His main intention is to bring the best junior players of our country into the limelight with his writings. Here is some of the work he has done in the past:
G. Akash wins the Grand Hyderabad affair
10-year-old boy's deep calculation (50,000+ hits on Youtube)
12-year-old chessentrepreneur Avathanshu Bhat
Hemant Sharma becomes International Master
Champion from Chudamani - IM Sidhant Mohapatra
Blindfold simul by Timur Gareyev
---