Arjun Erigaisi and S.L.Narayanan lead Elllobregat Open
Arjun Erigaisi and S.L.Narayanan lead the Elllobregat Open 2019 after the completion of six rounds here in Catalonia, Spain. The duo has remained unbeaten so far scoring an impressive 5.0/6 each to pull ahead of the rest of the field by half a point. The highlight of the event's sixth round however was GM Karthik Venkatraman beating the top-seeded Maxime Lagarde, while earlier in the fifth round it was IM Raja Harshit who grabbed all the eyeballs by stunning Karthikeyan Murali with black pieces. In this report we bring you a brief overview of the most important moments from rounds five and six.
Indians continue to dominate Elllobregat Open 2019
The domination of Indian players at the ongoing Elllobregat Open is getting noticeably stronger with each passing round. The talented 16-year-old Arjun Erigaisi and former World Junior bronze medallist S.L.Narayanan have already emerged as the leaders after six rounds with 5.0/6 points each; while players like Shardul Gagare, Iniyan P, Karthik Venkatraman, Abhimanyu Puranik, Raja Rithvik R, and Raja Harshit are convincingly consolidating their places in the chasing group. Let us begin by looking at GM Karthik Venkatraman's game from the last round where the Indian stole the show by pulling off a crushing victory against the tournament's top-seed Maxime Lagarde.
Karthik Venkatraman - Maxime Lagarde, Round 6
Raja had the black pieces and managed to grab one of Karthikeyan's queenside pawns on move 24. However, things still remained more or less balanced, until move 33 when a careless knight move by White allowed Black to push for the win. Check out the whole game below: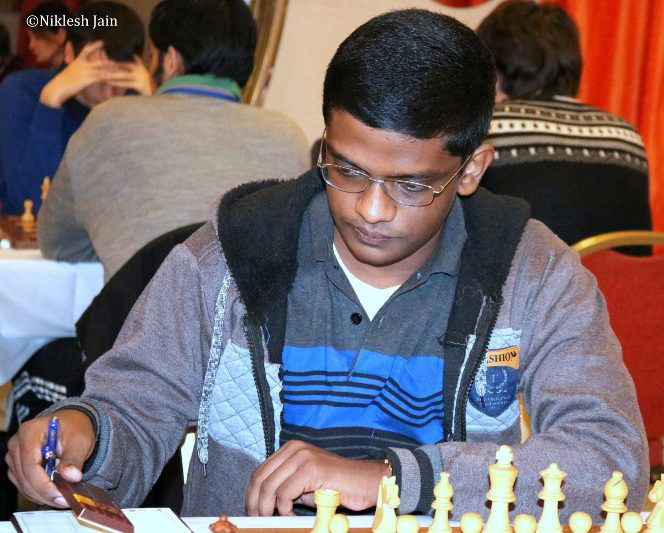 Results of round five
Results of round six
Standings after round six
| | | | | | | | | | | | | | | | | |
| --- | --- | --- | --- | --- | --- | --- | --- | --- | --- | --- | --- | --- | --- | --- | --- | --- |
| Rk. | SNo | | | Name | Typ | sex | Gr | FED | RtgI | Club/City | Pts. | TB1 | TB2 | TB3 | K | rtg+/- |
| 1 | 8 | | GM | Erigaisi Arjun GM | | | | IND | 2544 | AICF | 5,0 | 0,5 | 4 | 22,0 | 10 | 13,3 |
| 2 | 3 | | GM | Narayanan.S.L GM | | | | IND | 2626 | AICF | 5,0 | 0,5 | 4 | 21,5 | 10 | 7,5 |
| 3 | 27 | | IM | Kjartansson Gudmundur IM | | | | ISL | 2448 | Iceland | 4,5 | 0,0 | 4 | 20,0 | 10 | 13,9 |
| 4 | 23 | | GM | Gagare Shardul GM | | | | IND | 2468 | AICF | 4,5 | 0,0 | 4 | 19,0 | 10 | 6,4 |
| 5 | 18 | | GM | Iniyan P GM | | | | IND | 2497 | AICF | 4,5 | 0,0 | 4 | 18,5 | 10 | 10,1 |
| 6 | 22 | | GM | Karthik Venkataraman GM | | | | IND | 2470 | AICF | 4,5 | 0,0 | 4 | 16,5 | 10 | 7,3 |
| 7 | 24 | | GM | Alsina Leal Daniel GM | | | 2527 | ESP | 2462 | CAT - CE Barberà | 4,5 | 0,0 | 4 | 15,5 | 10 | 7,0 |
| 8 | 6 | | GM | Alonso Rosell Alvar GM | | | 2577 | ESP | 2548 | CAT - CE Gerunda | 4,5 | 0,0 | 3 | 22,0 | 10 | 6,4 |
| 9 | 5 | | GM | Puranik Abhimanyu GM | | | | IND | 2580 | AICF | 4,5 | 0,0 | 3 | 20,5 | 10 | 1,4 |
| 10 | 48 | | IM | Raja Rithvik R IM | A | | | IND | 2381 | AICF | 4,5 | 0,0 | 3 | 20,5 | 10 | 20,8 |
---