8th Sunway Sitges Open R5: Sethuraman makes a perfect start 5.0/5
Sethuraman outplayed his opponent Denis Kadric (BIH) to score his fifth consecutive victory and gain sole lead heading into the only rest day of 8th Sunway Sitges Open 2021 Group A. Abhimanyu Puranik scored an academic victory to be in a pack of seven players at 4.5/5. Neelotpal Das had a very good opportunity to beat Aydin Suleymanli (AZE), he missed, and it ended in a draw. Neelotpal, Arjun Erigaisi and Mary Ann Gomes are at 4.0/5 each. Daniel Dardha brought Soumya's great run to a halt as she was unable to find a draw in the same color bishop ending. Sethuraman will face Abdusattorov in Round 6. Today 18th December is a rest day. Round 6 starts tomorrow Sunday 19th December at 9 p.m. IST. Photo: Rupali Mullick
Abhimanyu Puranik in pursuit
Things are heating up as six games ended decisively out of the top ten boards. IM Pranesh M, IM Pranav Anand, Shantanu Bhambure, FM Manu David Suthandram R, Utsab Chatterjee, Tanmay Chopra, WIM Priyanka Nutakki, Kush Devnani, Barath Kalyan M and WIM Sakshi Chitlange drew with GM Nihal Sarin, GM M Amin Tabatabaei (IRI), GM Harsha Bharathakoti, IM Diego Rafael Di Berardino (BRA), IM Nubairshah Shaikh, IM Deimante Daultye-Cornette (FRA), IM Sidhant Mohapatra, WGM Ulviyya Fataliyeva (AZE), WGM Nandhidhaa P V and IM Manish Anto Cristiano F respectively. Sharan Rao and Vaibhav Jayant Raut defeated IM Irine Kharisma Sukandar (INA) and WIM Sila Caglar (TUR) each respectively.
Sethuraman - Kadric: 1-0
Sethuraman positionally outplayed his opponent Denis Kadric (BIH) who first lost a pawn.
25.Ne1 Rd2 26.Qxa6, Black not only lost a pawn but the c6-pawn is also under attack. White managed to bring his queen back in action in no time. 26...Ne5 27.Qb7 Be6 28.Qb4 Bc8 29.Qb3+ Kf8 30.Qc3 Ba6 31.b4 Re2
Giving up the control of the d-file is a big mistake for Black. White brought its final piece into the play 31.Rd1 Qe8 32.N1c2 Qh5 33.Qd4 White improved his position gradually and won the game in few more moves.
Garriga - Abhimanyu: 0-1
GM Abhimanyu Puranik scored an academic victory against IM Pere Garriga Cazorla (ESP).
Find out why 18.dxe5 is a big mistake. Abhimanyu correctly spotted it and seized his opportunity.
Aydin - Neelotpal: 0.5-0.5
Neelotpal Das had a good opportunity to win the game against Aydin Suleymanli (AZE) in the final moments of the endgame. He probably missed it in time scramble.
White's king is more vulnerable than Black's because of imminent attacking chances due to a battery on c-file. 34.Qg4 is a big mistake. Find out why.
Soumya - Dardha: 0-1
IM Soumya Swaminathan's great momentum was brought to a screeching halt by GM Daniel Dardha (BEL). A back and forth game seemed to be heading towards a draw, until Soumya blundered in the same color bishop endgame.
Can White still save the game? If yes then find out how.
Nihal - Pranesh: 0.5-0.5
IM Pranesh M is playing some good chess in this event. He had an interesting draw with Nihal Sarin where the former thwarted all attempts by the latter to stir up trouble.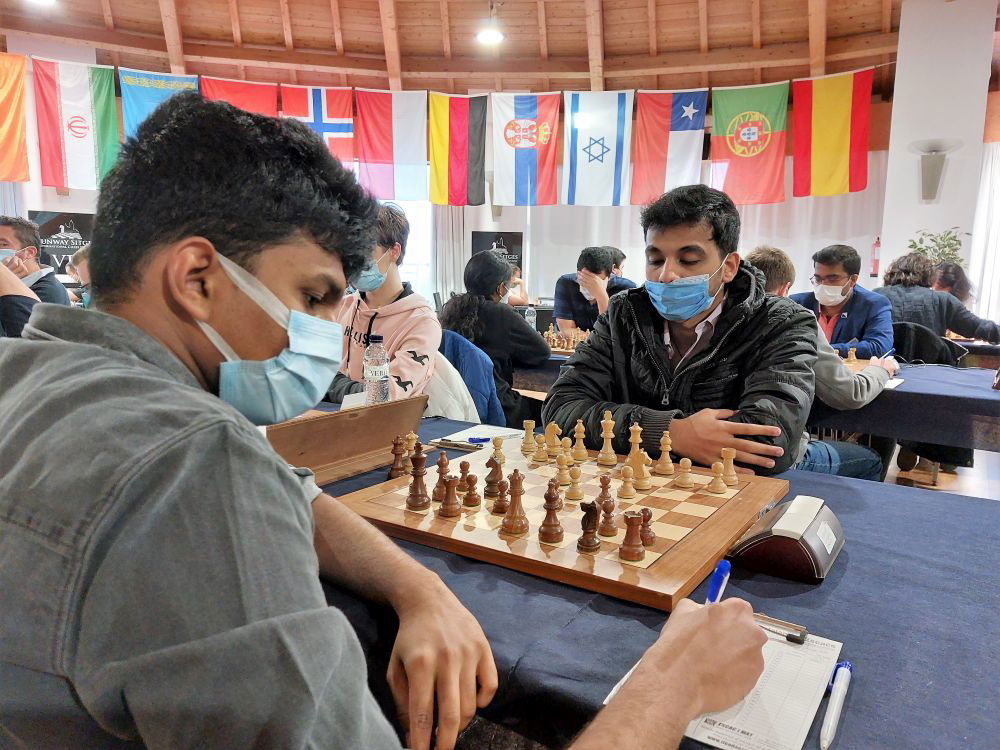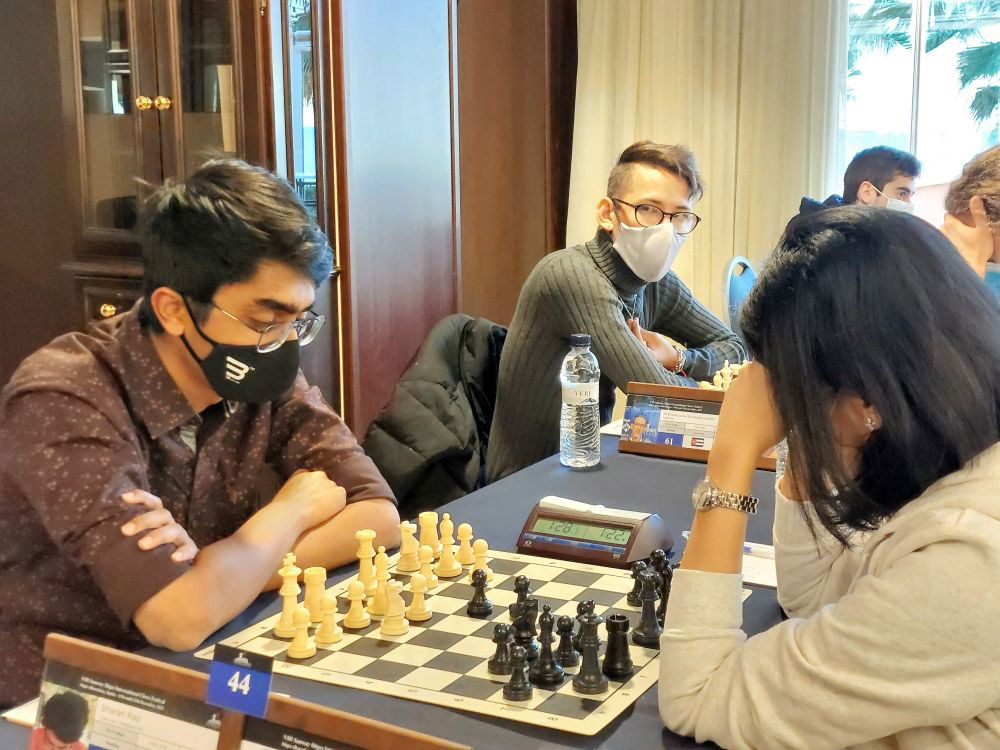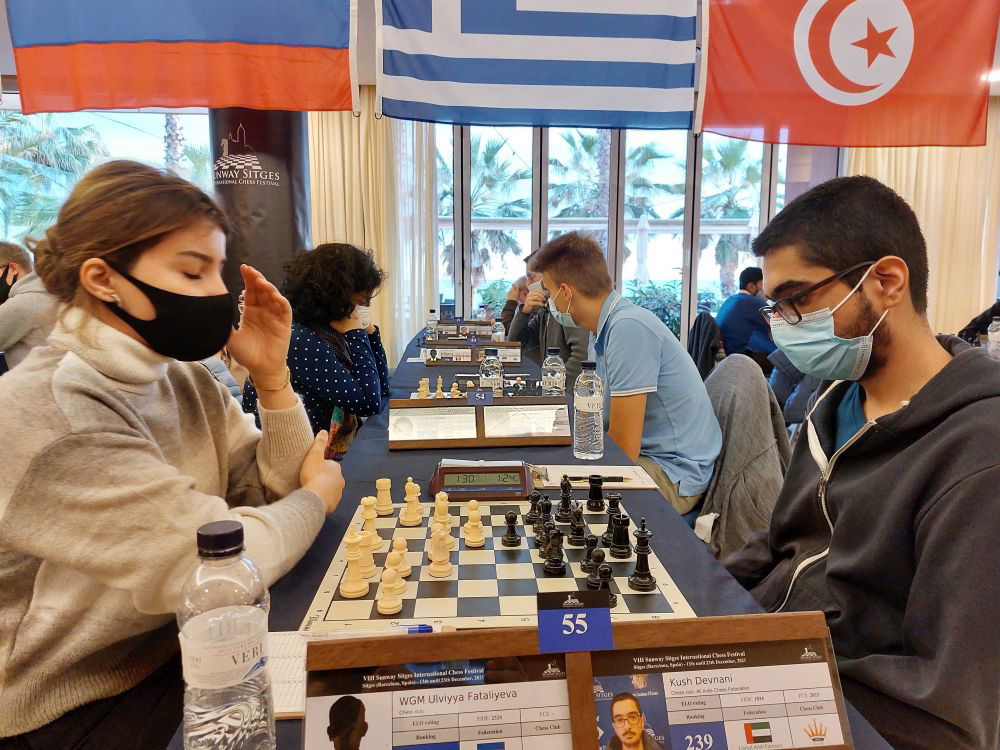 For more photos, click here.
Replay Round 5 games
Round 5 results
Round 6 pairings
Prizes
Total Prize fund - €27155. For the entire prize details, click here.
Schedule
13th - 22nd December - 9:00 p.m. IST
18th December - Rest day
23rd December - 1:30 p.m. IST
Links
---