8th Sunway Sitges Open R4: Sethuraman in a three-way lead 4.0/4
Sethuraman beat compatriot Harsha Bharathakoti to emerge as one of the three leaders at the conclusion of the fourth round of 8th Sunway Sitges Open 2021 Group A. The other two co-leaders are Denis Kadric (BIH) and Cristhian Rios Camilo (COL). IM Soumya Swaminathan continues her good form as she put her opponent GM Nihal Sarin in quite a bit of a pickle. However, Nihal managed to escape with a draw. Among the Indian players, GM Abhimanyu Puranik, GM Sankalp Gupta, GM Neelotpal Das and IM Soumya Swaminathan are at 3.5/4 each. Neelotpal outplayed Karthikeyan Murali right out of the opening to score a victory. Round 5 starts tonight at 9 p.m. IST. Photo: Niklesh Jain
Soumya misses her chance against Nihal
Only three games ended decisively out of the top ten boards. IM Pranesh M, FM Manu David Suthandram R, IM Padmini Rout, FM Aditya S Samant, Utsab Chatterjee, Tanmay Chopra, Barath Kalyan M and Ojas Kulkarni drew with GM M Amin Tabatabaei (IRI), GM Andreas Kelires (GRE), IM Nikolozi Kacharava (GEO), IM Roberto Junio Brito Molin (BRA), IM Guillen Ernesto J Fernandez (CUB), IM Hampus Sorensen (SWE) and GM Susanto Megaranto (INA) each respectively. Sharan Rao and WIM Priyanka Nutakki defeated IM Dinara Saduakassova (KAZ) and IM Yovann Gatineau (FRA) respectively.
Harsha - Sethuraman: 0-1
Harsha Bharathakoti decided to sacrifice an exchange for a protected center passed pawn as a compensation against Sethuraman.
20.Bxe4 would have been fine. 20.Rxe4 gives White some compensation but not enough in the long term. 20...Bxe4 21.Bxe4 Rc8 22.d5 c4 23.d6 Nb3 24.Ra7 Bxd6 and now White went for an ambitious 25.Ng5
It is quite possible White went for this in time scramble, because 25.Ng5 does not yield anything for White. Although it might look promising. 25...Bc7 26.Qh5 Qd7 and Black managed to win the game in another eight moves.
Soumya - Nihal: 0.5-0.5
The game started with a messy line of King's Indian Classical. Generally, Soumya thrives on slightly volatile positions.
There are over 100 games in this variation and the results are favorable for White. The game continued 16.fxe3 fxg3 17.Ng6 Re8 18.Rg1 and so on. After a few moves, White got herself in a very good position.
White correctly spotted 25.Ng6+. Black is forced to take it 25...Bxg6 26.Rxg6 Rg8 and now White needed to play 27.Qg4. The difference between 27.Rxh6+ and Qg4 is, White gets to exchange the rook on her terms and the black king continues his search for a safe haven. Nihal eventually managed to equalize to escape with a draw.
Pranesh - Tabatabaei: 0.5-0.5
To get an idea of how strong IM Pranesh M is, take a look at the following position from his game against GM M Amin Tabatabaei.
Put yourself in White's shoes and try to find out what White should do here. If you find 30.Rxd5, you are tactically alert like Pranesh. 30...exd5 31.Bxd5 and now Black has to play 31...Qb4 as there is no other way to defend Qg7 checkmate threat after e6. 32.e6 Qxc3 33.exf7+ Kf8 34.Rxe8+ Rxe8 35.fxe8Q+ Kxe8 36.bxc3 exf5 and now White has a very good chance in the same color bishop endgame.
Can White push for a win here? Most certainly yes. Find out the correct plan. White played 37.Bg8, probably under time pressure which allowed Black to get back in the game and salvage a draw.
Neelotpal - Karthikeyan: 1-0
GM Karthikeyan Murali went wrong in the opening and could not make a comeback for the rest of the game against GM Neelotpal Das.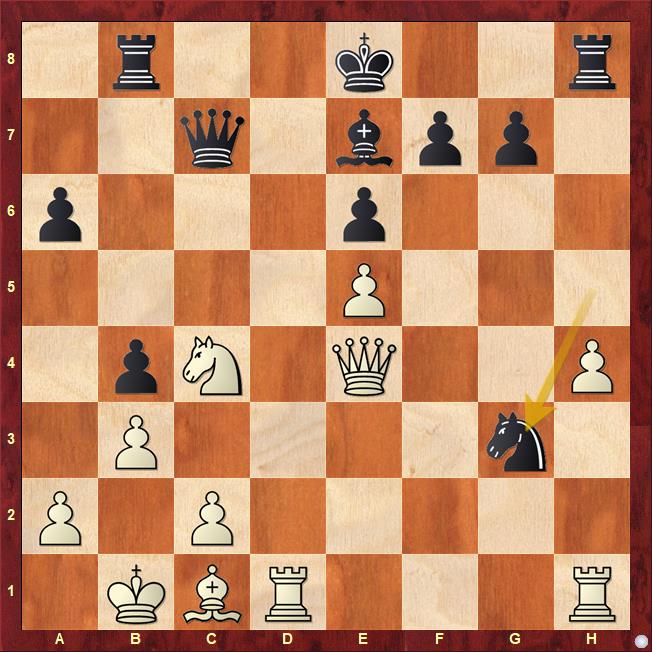 The knight fork is ineffective as 27.Qg4 Nf5 28.Rf1 g6 29.h5 and Black has zero defense or counterplay against White's onslaught on the kingside.
Manu David - Stefanova: 1-0
FM Manu David Suthandram R got himself a fantastic position against former women's world champion, GM Antoaneta Stefanova (BUL).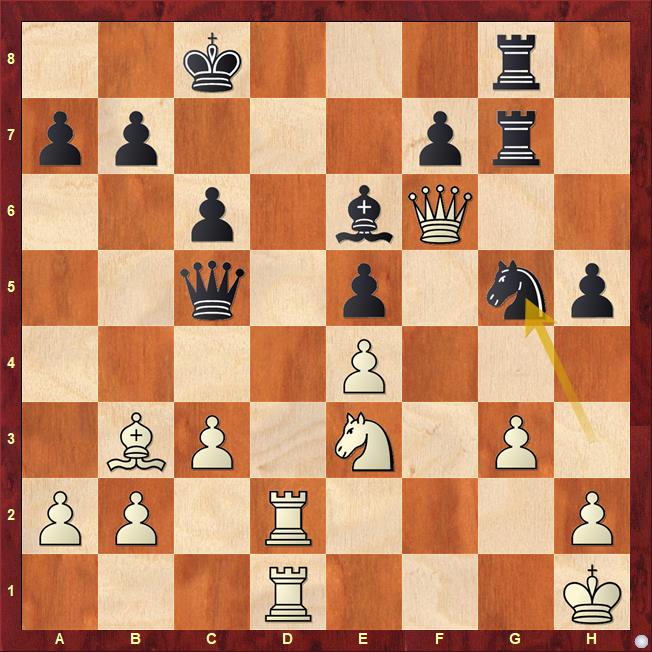 Both 26.Rd8+ and 26.Bxe6 are a winning continuation for White. However, the game continued 26.Nf5 which is not bad either, 26...Nxe4 27.Bxe6+ Kc7 28.Rd7+ Kb6 29.Qe7 Qxe7 30.Nxe7 Nf2+ 31.Kg2 Nxd1 and the game meandered into a draw. Even after 27...Kc7, White still could have gone for a win with 28.b4. The complexity of the position combined with less time on the clock can make anyone err.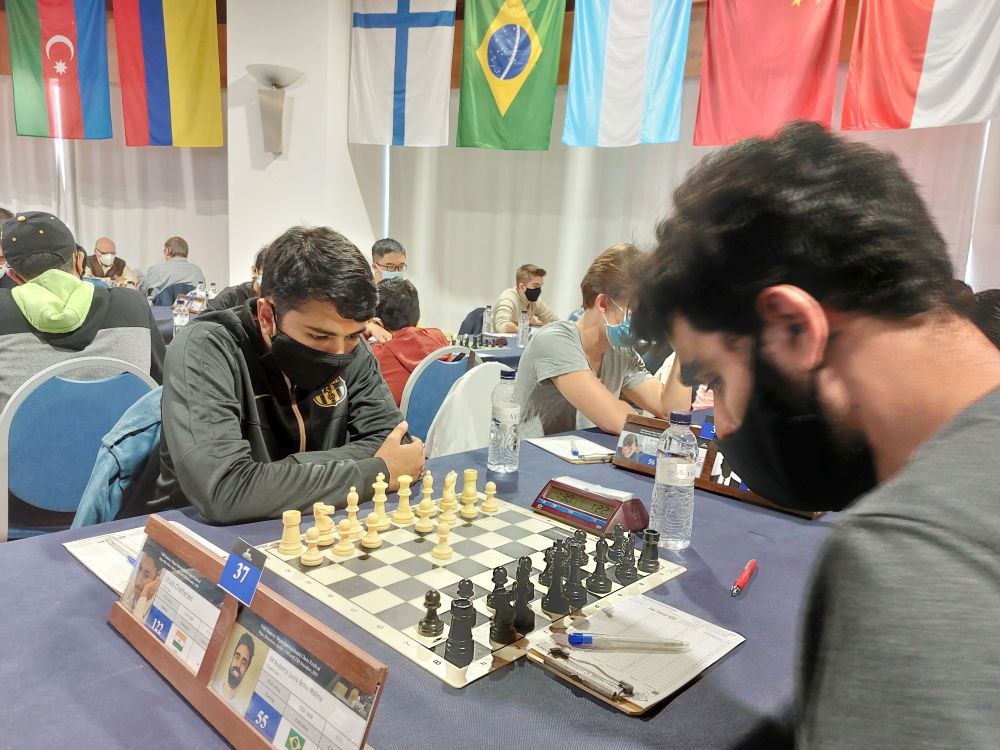 For more photos, click here.
Replay Round 4 games
Round 4 results
Round 5 pairings
Prizes
Total Prize fund - €27155. For the entire prize details, click here.
Schedule
13th - 22nd December - 9:00 p.m. IST
18th December - Rest day
23rd December - 1:30 p.m. IST
Links
---