Seven-way lead after round 7 of 12th Chennai GM Open 2020
Seven players are in the lead with 6.0/7 at the conclusion of round 7 of 12th Chennai GM Open 2020. Top seed Pavel Ponkratov, second seed Jose Eduardo Martinez, Visakh N R, Sergei Yudin, Aleksey Goganov, Stanislav Bogdanovich and Vishnu Prasanna are in a seven-way lead. Only three rounds left and with seven players in the lead, there is no clear favorite to win the tournament, it is still open for anyone to win. PDS Girinath used element of surprise to beat Karthik Venkataraman, Jubin Jimmy kept his norm hopes alive by beating Sayantan Das. Round 7 report with games, photos and analysis. Photo: R Anantharam
Visakh and Vishnu among the leaders
Seven players are in the lead with a score of 6.0/7. Top seed of the tournament GM Pavel Ponkratov drew with second seed GM Jose Eduardo Martinez, GM Visakh N R drew with GM Sergei Yudin, GM Aleksey Goganov defeated IM Anup Deshmukh, Aditya Samant lost to GM Stanislav Bogdanovich and Kunal M lost to GM Vishnu Prasanna in of round 7 of 12th Chennai GM Open 2020.
Top 3 boards ended in draws
In a battle between top seed GM Pavel Ponkratov (RUS, 2622) and second seed GM Jose Eduardo Martinez (PER, 2606), pieces got exchanged at regular interval. The game liquidated into a double bishop vs bishop and knight endgame in just 25 moves.
GM Visakh N R (2518) had a hard-fought draw with GM Sergei Yudin (RUS, 2508)
GM Aleksej Aleksandrov (BLR, 2592) was held to a draw in 35 moves with IM Taher Yoseph Theolifus (INA, 2462).
GM Aleksey Goganov (RUS, 2583) defeated IM Anup Deshmukh (2163) to join the leaders.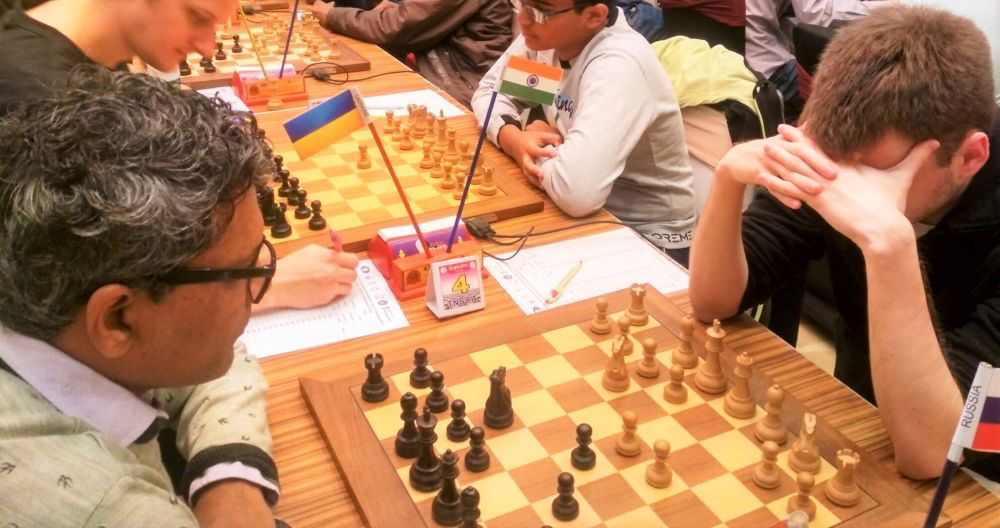 Stanislav Bogdanovich (UKR, 2562) overcame his rough form by beating Aditya Samant (2296) to join the leaders.
Harshavardhan G B (2343) survived a massive scare and managed to salvage a draw against GM Rodrigo Schroeder Vasquez (CHI, 2487).
Harshavardhan - Rodrigo, Round 7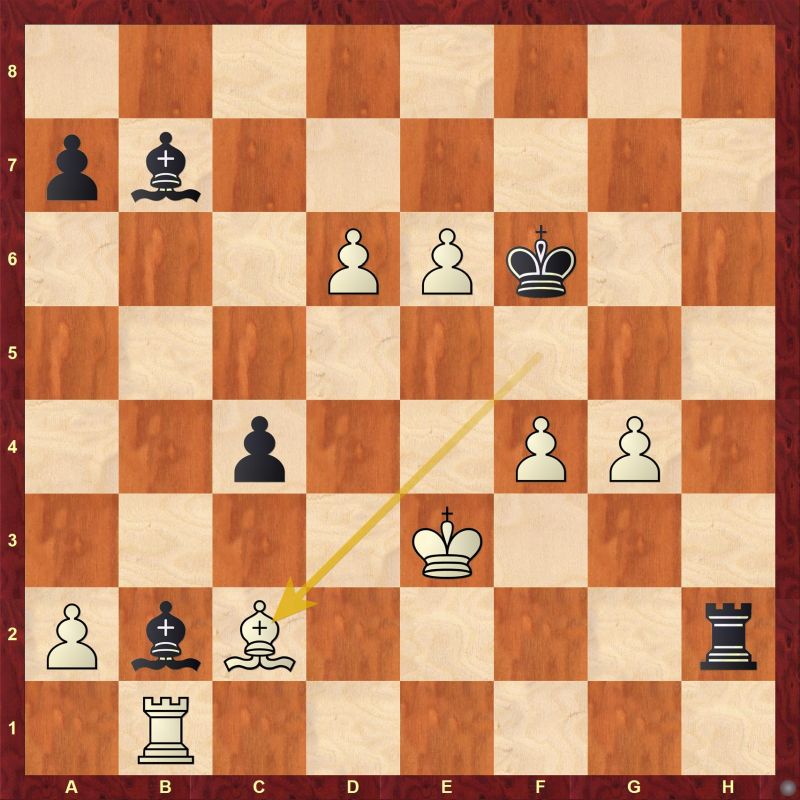 Find out the correct continuation for black after 33.Bxc2
How should black continue after 35.f5 to go for a win?
GM Vishnu Prasanna (2474) beat Kunal M (2288) to join the leaders.
IM Al Muthaiah (2367) held GM Alexei Fedorov (BLR, 2562) to a draw after the game reached to an equal double bishop ending in just 27 moves.
IM PDS Girinath (2340) surprised GM Karthik Venkataraman (2479) with the Schliemann variation of Ruy Lopez and Karthik was not able to get into the game.
FM Pranesh M (2317) held GM Valeriy Neverov (UKR, 2460) after the liquidated into an opposite color bishop ending in just 31 moves. Another 30 moves were played where draw seemed to be the obvious result.
FM Jubin Jimmy (2193) kept his norm hopes alive by winning against IM Sayantan Das (2424).
Among other upsets, Indrajeet Mahindrakar (2066) held GM Karthikeyan P (2416) to a draw, FM Vinoth Kumar (2012) defeated GM Saptarshi Roy (2460) and IM V Saravanan (2325) held to a draw by Ilamparthi A R (1880).
Replay all games
Round 7 results
Round 8 pairings
---