Ponkratov, Martinez, Visakh and Yudin lead with 5.5/6 at 12th Chennai GM Open 2020
GM Visakh N R maintained his lead by defeating one of the leaders IM M Khusenkhojaev and then holding GM Jose Eduardo Martinez to a draw. Both Visakh and Martinez are at 5.5/6. They are joined with GM Sergei Yudin and top seed GM Pavel Ponkratov. Harshavardhan scored a 13-move miniature like victory against GM Stanislav Bogdanovich, Priyanka K missed a decisive advantage against GM Vishnu Prasanna and Pranav V defeated GM Valeriy Neverov in round 5. Untitled Aditya Samant defeated GM Hesham Abdelrahman in a marathon Queen ending in round 6. The tournament has only four rounds left and no more double rounds in a day. Photo: R Anantharam
Visakh maintains the lead, Ponkratov back at the top
Four players are in the lead with a score of 5.5/6. Top seed of the tournament GM Pavel Ponkratov scored two consecutive victories to join the leaders. He will face second seeded GM Jose Eduardo Martinez in the seventh round. Harshavardhan G B defeated Stanislav Bogdanovich in just 13 moves but lost his following game against Sergei Yudin who is also one of the leaders. The only Indian among the leaders, GM Visakh N R beat IM M Khusenkhojaev and drew with Martinez to maintain his lead at the conclusion of round 6 of 12th Chennai GM Open 2020.
Round 5
IM Sayantan Das (2424) had an equal position for the major part of the game against GM Jose Eduardo Martinez (PER, 2606). In the Rook and Knight vs Rook and Bishop, Sayantan made an inaccuracy in the quest to create a connected passed pawn on the queen-side, resulting in his opponent having an advanced king which cost him the game.
Sayantan - Martinez, Round 5
Find out why 47.Ra5 is a mistake.
Harshavardhan continued his terrific form as he defeated GM Stanislav Bogdanovich (UKR, 2562) in just 13 moves.
GM Visakh N R (2518) scored a comfortable victory over IM M Khusenkhojaev (TJK, 2420).
GM Sundararajan Kidambi (2414) decided to sacrifice a pawn in the opening against GM Sergei Yudin (RUS, 2508) to avoid a bad pawn structure. The game eventually liquidated into an inferior Rook-Bishop ending for white which was insurmountable.
Srihari L R (2302) continued his decent form as he did not get rattled by GM Karthik Venkataraman's (2479) surprise of 1.e3 and managed to equalize easily and eventually make a draw in a Rook-Bishop vs Rook-Knight endgame.
GM Vishnu Prasanna (2474) sacrificed his queen to avoid trouble on his kingside, however his opponent Priyanka K (2184) got a winning position but she could not manage to convert it.
Priyanka - Vishnu Prasanna, Round 5
Black continued with 25...Bxf5 by sacrificing the queen, white took it 26.Qxe7 Rae8 27.Qxc7 and white should have won afterwards, but she played too cautiously and returned the queen and eventually gave up some more material to settle for a draw after 45 moves.
GM Valeriy Neverov (UKR, 2460) faced Queen's Indian Defence against Pranav V (2265) which the 14-year old had no difficulty equalizing. In the end, white's inaccuracy allowed Pranav to use tactics to gain winning advantage.
Neverov - Pranav, Round 5
White continued with 42.b3 which cost white the game in the next few moves. Can you find the best continuation for white after 41...Qa7 ?
Jubin Jimmy (2193) held IM Antonio Dcunha (2417) to a comfortable draw.
Among other upsets, GM Maxim Lugovskoy (2453) lost to IM Anup Deshmukh (2163), Abinadhan R (1987) drew with IM Sidhant Mohapatra (2346), Parthasarathy R (1968) drew with IM P D S Girinath (2340), Dinesh Rajan M (1741) drew with IM Navin Kanna T U (2265), GM Cristhian Camilo Rios (2498) held to a draw by Sai Kiran Y (1868), Jayachandra Srinivas Vellanki (1944) drew with GM Saptarshi Roy (2460) and IM Rathnakaran K (2329) held to a draw by Mayank Chakraborty (1827).
Round 6
Three players were in the lead with a full point score of 5.0/5. At the top board GM Jose Eduardo Martinez (2606) was held to a draw by GM Visakh N R (2518). Although Martinez missed a few chances to get decisive advantage, Visakh made sure the game eventually end up in a draw.
Martinez - Visakh, Round 6
White continued with 32.Rd8+ but what was the better continuation?
Martinez continued with 39.Qc7, time trouble could definitely be one of the reason for white missing the better continuation. Can you find it?
GM Sergei Yudin (RUS, 2508) joined Martinez and Visakh in the lead by halting Harshavardhan's (2343) fantastic run.
GM Neelotpal Das (2436) lost to top seed GM Pavel Ponkratov (RUS, 2622) and the Russian joined the leaders.
Neelotpal - Ponkratov, Round 6
Untitled Pranav V (2265) held IM Taher Yoseph Theolifus (INA, 2462) to a comfortable draw.
Pranesh M (2317) held GM Alberto David (ITA, 2562) to a draw.
IM Nitin S (2347) got material in the end against GM Alexei Fedorov (BLR, 2562), however it was not enough to convert into a full point as Nitin ran out of pawns.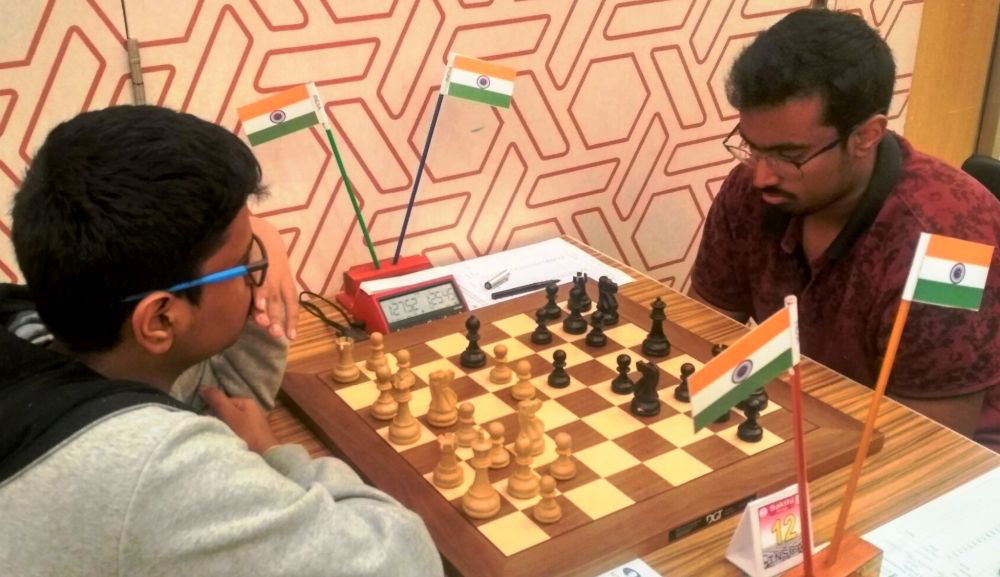 Untitled Aditya Samant (2296) beat his first GM of the tournament Hesham Abdelrahman (EGY, 2429). The 14-year old boy won a 105-move long marathon game where the Queen ending lasted for 60 moves.
Among other upsets, IM M Khusenkhojaev (2420) lost to Kunal M (2288), GM Karthikeyan P (2416) held to a draw by Priyanka K (2124), IM Navin Kanna T U (2265) held to a draw by Ayyappan P Santhana Prabu (1735), Indrajeet Mahindrakar (2066) defeated GM Raset Ziatdinov (2203), Mayank Chakraborty (1827) drew with GM Cristhian Camilo Rios (2498), Gaurang Bagwe (1779) held GM Attila Czebe (2392), Vishrut Parekh (1769) held IM Rathnakaran K (2329) to a draw, Arnav Muralidhar (1742) drew with IM Praveen Kumar C (2194) and IM Ravi Hegde (2037) lost to Bipin Raj S (1722).
Replay all games
Round 5 results
Round 6 results
Round 7 pairings
---