Six players lead with 4.0/4 at 12th Chennai GM Open 2020
Untitled Harshavardhan G B played brilliantly against GM Mchedlishvili to register his fourth victory of the tournament and be among the leaders with a score of 4.0/4. Top seed GM Pavel Ponkratov was held to a draw by former Commonwealth Champion GM Karthikeyan P. IM P Saravana Krishnan suffered a heartbreaking loss against GM Stanislav Bogdanovich after missing quite a few winning opportunities. Jose Eduardo Martinez, Visakh N R, Sayantan Das and M Khusenkhojaev are the other players who are also in the lead with a score of 4.0/4. The tournament heads for the final double round of the tournament on 21st January. Photo: IA Jitendra Choudhary
Harshavardhan shocks Mchedlishvili with his superb play
Six players are in the lead with a score of 4.0/4. Top seed of the tournament GM Pavel Ponkratov was held to a draw by GM Karthikeyan P. Jose Eduardo Martinez, Harshavardhan G B, Stanislav Bogdanovich, Visakh N R, Sayantan Das and Muhammad Khusenkhojaev are the six players who registered their fourth consecutive victory in the tournament to be among the leaders at the conclusion of round 4 of 12th Chennai GM Open 2020.
Former Commonwealth Gold medalist GM Karthikeyan P (2416) secured a decent advantage out of the Modern Benoni against the top seed of the tournament GM Pavel Ponkratov (RUS, 2622).
GM Jose Eduardo Martinez (PER, 2606) defeated IM Nitin S (2347) in Sicilian Kan after the latter made some inaccuracies in the middle game.
Harshavardhan G B (2343) played some solid chess and capitalized on his opponent GM Mikheil Mchedlishvili's (GEO, 2578) mistakes to score a full point and be among the leaders.
Mchedlishvili - Harshavardhan, Round 4
The 17-year old boy knew that to defeat a strong GM he has to take every chance he gets, playing active chess is the only way to keep chances alive.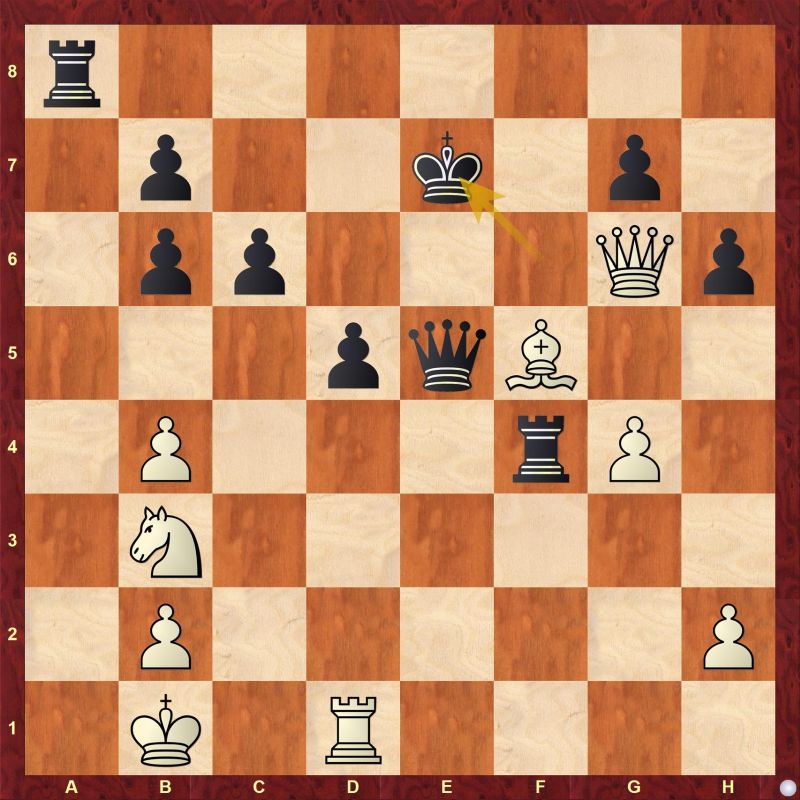 Can you find out what did White miss after 31...Ke7 ?
Black has completely consolidated the position and winning the game is just a matter of technique now.
IM P Saravana Krishnan (2313) suffered a heartbreaking loss against GM Stanislav Bogdanovich (UKR, 2562) who is still struggling with his form.
Bogdanovich - Saravana Krishnan, Round 4
It is evident that black is dominating the position, but black should not rush into capturing the e3-bishop.
Black can easily settle for a draw by perpetual check with Qh5 and Qf3+, however black need not do that as he can go for a win.
Well white should have played 57.Rxf7+ Kxf7 58.Qd7+ and that would have been a draw by perpetual check which is the best result white can ask for here. With 57.Rd6+, white gave another chance to black to go for a win.
Even after trading the queens, the resultant Rook vs Rook and Bishop was also in favor of black but of course it was much difficult. What black needed to do was to push a5 pawn to create some trouble, but instead the white pawns free-flowed and created more trouble for black.
Find out the best continuation for white after 94...Rg6.
GM Visakh N R (2518) made a short work of IM Sidhant Mohapatra (2346) in just 32 moves after the latter made an inaccuracy.
Untitled Pranav Vijay (2265) missed a wonderful opportunity against GM Karthik Venkataraman (2479) and the game eventually ended up in a draw.
Pranav - Karthik, Round 4
White continued the game with 23.Bg4 which is not the most accurate continuation. Can you find out what did White miss here?
Lakshmi Narayanan M V (2162) was better for the major part of the middle game against GM Vishnu Prasanna (2474). However Lakshmi failed to capitalize on his chances and the game eventually ended up in a draw.
Lakshmi Narayanan - Vishnu, Round 4
Black continued the game with 30...Rc8 and missed a huge opportunity to create some serious trouble for white.
Priyanka K (2124) missed a winning chance and ended up with a draw against IM Taher Yoseph Theolifus (INA, 2462)
Jubin Jimmy (2193) drew with ease against GM Valeriy Neveory (UKR, 2460)
IM Sayantan Das (2424) made a short of compatriot IM Anup Deshmukh (2163) in just 26 moves.
Srihari L R (2302) scored a fantastic win over GM Cristhian Camilo Rios (COL, 2498)
Among other upsets, GM Rodrigo Schroeder Vasquez (2487) was held to a draw by IM Murali Krishnan B T (2202), FM Rohit Krishna S (2289) drew with GM Maxim Lugovskoy (2453), Indrajeet Mahindrakar (2066) defeated IM Denis Eraschenkov (2370), GM Levan Pantsulaia (2598) lost to Chirag Satkar (2066), GM Venkatesh M R (2501) drew with Srikrishnan P (1903), Aaditya Dhingra (1897) defeated GM Ziaur Rahman (2434) and Sooraj M R (1874) defeated GM Attila Czebe (2392).
Replay all games
Round 4 results
Round 5 pairings
---