Tata Steel Chess 12: Anand's chances diminish while Vidit shines against Girya
The penultimate round of Tata Steel Chess saw some thrilling action. In the Masters, Anish Giri and Magnus Carlsen overtook the third co-leader beating Adhiban Baskaran and Maxim Matlakov, respectively. Mamedyarov, on the other hand, shocked everyone with a mere 12-move draw against Gawain Jones. Another serious contender, Viswanathan Anand also reduced his chances of winning the title prize to a minimum with his draw against Wesley So. But the best result for Indian fans came in the Challengers' group where Vidit Gujrathi scored a crushing win against Olga Girya and is now standing at the brink of winning the title prize having overtaken Anton Korobov on the leaderboard. Round 12 report.
Masters: Giri and Carlsen race past rivals
Going into the penultimate round of Tata Steel Masters three players – Mamedyarov, Carlsen and Giri – were in the lead with Vishy Anand hot on their heels, half a point behind. But after the storm of battles of round 12 changed the scenario greatly. Scoring much-needed victories, Magnus Carlsen and Anish Giri managed to race past their opposition while Shakhriyar Mamedyarov took a quick draw, much to the surprise of both his rivals and the spectators. Viswanathan Anand also drew his game with the white pieces against Wesley So in a very theoretical battle in the Open variation of the Ruy Lopez.
This draw for Anand means he is more or less out of contention for the title prize. Of course, in strict mathematical terms, the Indian chess legend is still in contention. But for him to win the title, both Giri and Carlsen would have to lose their games in the finale while Anand wins his game, which is a very unlikely scenario. As for Mamedyarov, he will have to win at all cost and pray that Carlsen and Giri don't win.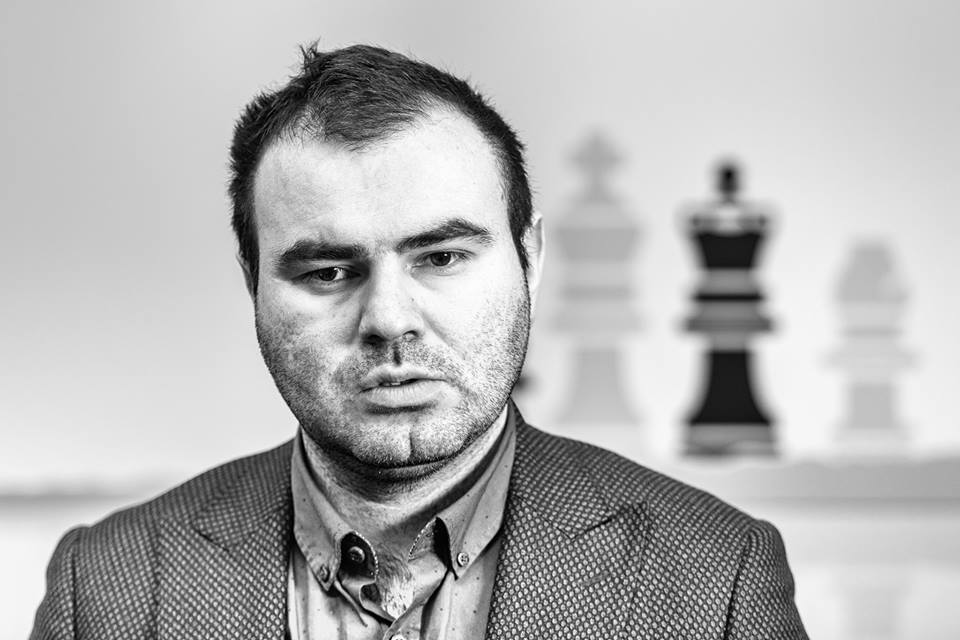 In the penultimate round, the grandmaster from Azerbaijan had a good chance to push for a win. He was pitted against one of the tailenders, Gawain Jones. Giri and Carlsen were playing lower rated opponents as well – Adhiban and Matlakov, respectively – and were expected to push all out for a win. With that in mind, Mamedyarov's opening choice of the Petroff was in itself quite a dubious one. To add to this, Jones was able to force a draw immediately out of the opening via repetition. If Mamedyarov wanted to continue, he would have had to accept an inferior position. Mamedyarov was, hence, forced to accept the draw offer and watch Anish Giri and Magnus Carlsen win their games in style.
Giri had some problems in the opening against Adhiban who had surprised the Dutch number one with a Benoni. Out of the opening, both players struggled a bit with their piece development but in a few moves, Giri was able to generate extraordinary complications in the position.
Adhiban responded with equal vigour but the tactics seemed to be in the Dutchman's favour. At the end of the tactical sequence, Giri emerged with an extra pawn with barely any compensation for the Chennai lad. Adhiban limped on hoping to create threats against the white king but after Giri had defended all threats, the Dutchman had both extra material and a better position. In the final position, Adhiban was a piece down with threats looming against his king. Two moves after the first time control, Adhiban decided to call it a day.
Carlsen draws blood out of stone again!
Magnus Carlsen, too, seemed to be in a drawish position against Maxim Matlakov. From the white side of a Sicilian Taimanov, the world champion was able to win a pawn out of the opening. But the position had already liquidated into an endgame where both sides had a rook and bishops of opposite colour. To add to this, Carlsen's doubled pawns on the queenside did not seem to be helping his cause. It looked like Matlakov was going to hold ground and sign truce with Carlsen.
As play progressed, the Russian GM also managed to swap a pair of rooks and temporarily win back his pawn. But Carlsen regained his pawn almost instantly and traded one of his doubled pawns for Matlakov's rook pawn. The resulting position still looked drawish but this was that perfect position for Carlsen where he could press for an advantage until eternity while his opponent had no forced draw in sight.
In the next phase of the game, Carlsen systematically outplayed his opponent in his trademark style. By the 57th move, Matlakov was in no position to stop Carlsen's queenside passer. He could, of course, have given up a piece but that would only have delayed the inevitable end. At this point, Matlakov decided to throw in the towel.
Anand vs So, a theoretical debate
Another game of interest was the one between Viswanathan Anand and Wesley So. The former was in contention for the title being only half-a-point behind the leaders. Moreover, Anand had the white pieces. Interestingly, So did not go for the dreadfully drawish Berlin in the penultimate round but instead chose to test Anand in the waters of the Open variation of the Ruy Lopez.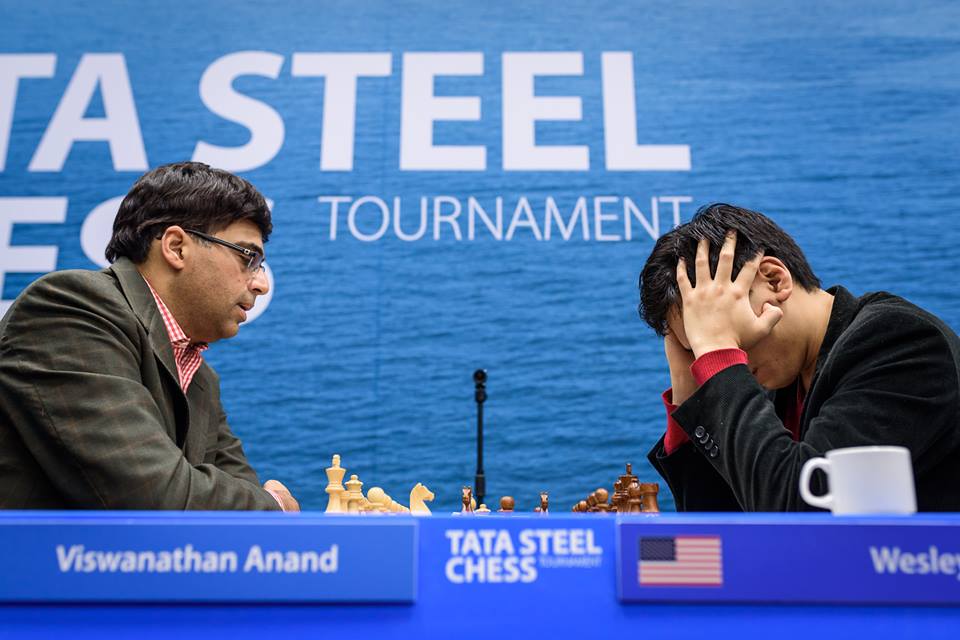 The game was more of a theoretical debate for the most part but after a mass trade of pieces in the middle game, players were left with equal pawns in an endgame with bishops of opposite colour. Immediately after the queen trade on move 32, peace was signed.
Standings after 12 rounds
Challengers: Vidit breaks the deadlock with a crushing victory!
In the Challengers' group, there had been a deadlock between Vidit Gujrathi and Anton Korobov at the top for several rounds. In fact, even their head-to-head encounter in the previous round had ended in a draw. Round 12 had pitted both Gujrathi and Korobov against lower rated opponents. Korobov even had the white pieces in his game against the only international master at the event, IM Lucas van Foreest. It took no genius to predict that Korobov was going to go all out for a win.
From the black side of a Queen's Gambit Declined, Van Foreest allowed his opponent no chances out of the opening and after all pieces were traded in the middle game, played the knight endgame extremely well to hold on to a draw.
Vidit's game against Olga Girya, on the other hand, went on a very violent course. Quite befittingly to the venue of the event, the Indian number three deployed the Dutch defence with the black pieces and went on to generate tremendous initiative on the queenside. Right out of the opening, Gujrathi had a dominating position. On his 21st turn, Vidit sacrificed a bishop to rip open the pawn shelter of the white monarch and by the 26th move, it was all over.
With this win, Vidit Gujrathi has almost engraved his name on the champion's trophy. Unless he loses with the white pieces in the final round – which is highly unlikely given his form – he has good chances of being a part of the Masters' segment next year.
Another hurdle in Gujrathi's way might be the tie-break. Since he has drawn against Korobov in their head to head encounter, the Sonneborn Berger tiebreak will be applied. Currently, Vidit is ahead by 1.25 points in the tiebreak as well. But nothing could be said after the final round. But this is only if Korobov manages to catch up with Gujrathi in the final round. As of now, the Indian enjoys a clear half point advantage.
About the Author
Aditya Pai is an ardent chess fan, avid reader, and a film lover. He holds a Master's in English Literature and used to work as an advertising copywriter before joining ChessBase India. He loves all things German and is learning the language. He has also written scripts for experimental films.
Previous reports on Tata Steel Chess
Tata Steel Chess 01: Anand off to a flying start
Tata Steel Chess 02: Adhiban crumbles against Magnus
Tata Steel Chess 03: Anand leads the Masters, Vidit the challengers!
Tata Steel Chess 04: Adhiban holds Anand to a draw!
Tata Steel Chess 05: Wei Yi's prep forces Anand to settle for a draw
Tata Steel Chess 06: Shakh beats Adhiban to take pole position
Tata Steel Chess 07: Anand suffers his first defeat to long time rival Vladimir Kramnik
Tata Steel Chess 08: Ain't no rest for the leaders
Tata Steel Chess 09: Giri takes sole lead
Tata Steel Chess 10: Mamedyarov and Carlsen reunite with Giri as joint-leaders
Tata Steel 11: Anand beats Hou Yifan to get back into title contention!
Coverage on Firstpost
Tata Steel Chess Round 1: Viswanathan Anand off the mark with a win; other Indian participants held to draws
Tata Steel Chess Round 2: Anish Giri takes sole lead; Viswanathan Anand in joint 2nd after draw
Tata Steel Masters Chess: Viswanathan Anand crushes Fabiano Caruana's opening novelty to join Anish Giri in the lead
Tata Steel Chess Round 4: Adhiban Baskaran ekes out draw against Viswanathan Anand; Vidit Gujrathi beats Harika Dronavalli
Tata Steel Chess Round 5: 'Embarrassed' Viswanathan Anand draws with Wei Yi; Vidit Gujrathi slips to joint 2nd
Tata Steel Chess Round 6: Viswanathan Anand's draw against Anish Giri puts Shakhriyar Mamedyarov in sole lead
Tata Steel Chess Round 7: Viswanathan Anand's strategic shortcomings prove costly against Vladimir Kramnik
Tata Steel Chess Round 8: Anish Giri stuns Shakhriyar Mamedyarov to go joint top; Viswanathan Anand plays out draw
Tata Steel Chess Round 9: Viswanathan Anand draws against Magnus Carlsen; Anish Giri leads after defeating Maxim Matlakov
Tata Steel Chess Round 10: Viswanathan Anand overcomes Gawain Jones challenge to win 3rd game of tournament
Tata Steel Chess Round 11: Viswanathan Anand becomes serious title contender after beating Hou Yifan
---