Tata Steel Chess 02: Adhiban crumbles against Magnus
Adhiban Baskaran was pitted against Magnus Carlsen in the second round of the Tata Steel Masters. With the white pieces, the Chennai lad went all out for a draw opting for the most tepid variations in a Four Knights Scotch. However, Carlsen showed his class once again and managed to pump life into the bland position he was faced with. Adhiban wasn't able to last long in the ensuing complications. Meanwhile, Vishy Anand comfortably held Sergey Karjakin to a draw. In the Challengers, Vidit Gujrathi played a wild Sicilian to outclass Michal Krasenkow. With this win, he has pushed himself up to the joint first place. An illustrated report with annotated games by the World U-12 Girls Champion, Divya Deshmukh.
Masters: Giri takes the sole lead!
The second round of the Tata Steel Masters saw a sole leader emerge. The 'artist' as he has been called since his drawing spree back at the 2016 Candidates, Anish Giri beat Vladimir Kramnik on Sunday evening to take the top spot with a perfect 2.0/2 score. Hot on his heels are Vishy Anand, Magnus Carlsen and Shakhriyar Mamedyarov who have scored 1.5/2 apiece.
In the post-game interview, Giri was pretty jestful in his remarks about his play. "I am trying to play for draw but my opponents are helping me very much," he said.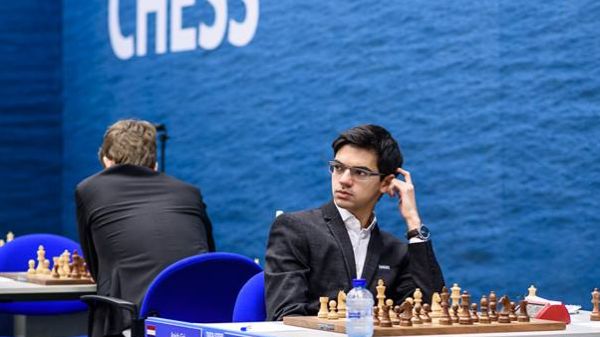 In the game, Giri had been tricked in the opening and had ended up a tempo down in the Nimzo-Indian Defence position which the players had reached after a move transposition. Kramnik seemed to be doing rather well out of the opening but Giri seized the initiative on the queenside, attempting to inflict pawn weaknesses. Kramnik, quite uncharacteristically, failed to find the best moves and lashed out with a central break that won him a pawn but lost him the game as Giri's initiative became insuperable.
Magnus' Marvel
The younger Indian in the fray, Baskaran Adhiban was pitted against the reigning world champion, Magnus Carlsen in the second round. From the very start, it seemed Adhiban was very keen on holding to a draw. His choice of the Scotch Variation of the Four Knights Defence was a clear allusion to his intent.
Things went as planned for Adhiban well into the endgame when Carlsen almost miraculously pumped life into a position that looked dead drawn. In the ensuing complications, Adhiban – who was perhaps taken aback by the sudden change in the nature of the position – fell apart surprisingly fast. By the 36th move, Carlsen's central passers were too far advanced for Adhiban to stop and the Indian threw in the towel at this point.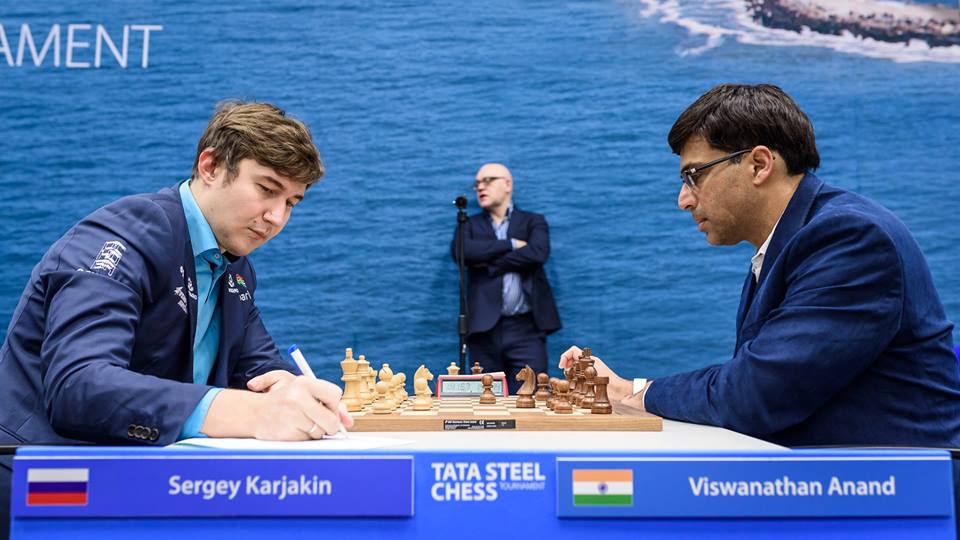 Vishy Anand, after his win yesterday, played a very solid game against former world championship challenger, Sergey Karjakin. With the black pieces, Anand traded queens quite early in an open Catalan and was able to keep the extra pawn that his opponent had sacrificed in the opening. As compensation, however, Karjakin had the two bishops and the initiative.
More pieces were exchanged as play progressed and by giving up his two bishops, Karjakin was able to win back his pawn. But the players had reached an endgame with bishops of opposite colour by this point. Even though Karjakin possessed a crooked pawn structure on the queenside, it was hard to create any real chances for Anand and the players, therefore, agreed to a draw on move 31.
Round 2 Results
| | | | |
| --- | --- | --- | --- |
| 1. | Hou Yifan | 0-1 | Shakhriyar Mamedyarov |
| 2. | Matlakov, Maxim | ½-½ | So, Wesley |
| 3. | Karjakin, Sergey | ½-½ | Anand, Viswanathan |
| 4. | Caruana, Fabiano | ½-½ | Jones Gawain |
| 5. | Adhiban, B | 1-0 | Carlsen, Magnus |
| 6. | Wei, Yi | ½-½ | Svidler, Peter |
| 7. | Giri, Anish | 0-1 | Kramnik, Vladimir |

Rank after Round 2
Challengers: Vidit joins the leaders!
In the Challengers' group, the top seed of the tournament, Vidit Gujrathi – after his draw in the first round against the World Junior Champion, Aryan Tari – came out all guns blazing in round two against Michal Krasenkow. Deviating from his regular queen's pawn opening, Vidit opened with the King's pawn and entered a rare, complicated line in the Sicilian Four Knights.
The game was quite startling from the very start. As early as on move 11, Vidit gave up his castling rights by moving his king up to e2. Quite clearly, Krasenkow was caught by surprise and failed to find the best moves in the position. On move 16, Krasenkow avoided a queen exchange that spelt doom for the Polish GM. Vidit generated an extremely strong attack on the Black king and by move 27, Krasenkow had resigned.
The only female participant from India, Harika Dronavalli, was playing against yet another player with a 2600+ rating. And yet again, she was able to hold her ground successfully. Just like in her previous game against Amin Bassem, Harika gave Bok no chance to gain an advantage in the Moscow variation of the Sicilian. With the white pieces, Bok came up with an opening novelty on move 13 but was hardly able to make anything of it. Harika, in the meantime, began to generate play on the queenside. Bok also brought his forces to the combat area and, soon, after a mass trade of pieces on the 'c' file, the players agreed to sign the truce.
After two rounds, Viswanathan Anand is tied for second, half-a-point behind tournament leader Anish Giri while Adhiban Baskaran has slipped down to the 12th place after his loss to Carlsen in the Masters. In the Challengers section, Vidit Gujrathi with his emphatic win today has joined Dmitry Gordievsky, Jorden van Foreest and Anton Korobov as the joint tournament leader. With eleven more rounds to go, there is still a lot of chess to be played.
Results of round 2
| | | | |
| --- | --- | --- | --- |
| 1. | Bok, Benjamin | ½-½ | Harika, Dronavalli |
| 2. | L'ami Erwin | ½-½ | Bassem, Amin |
| 3. | Vidit, Santosh Gujrathi | 1-0 | Krasenkow, Michal |
| 4. | Van Foreest, Lucas | 1-0 | Tari, Aryan |
| 5. | Gordievsky, Dmitry | ½-½ | Van Foreest, Jorden |
| 6. | Bluebaum, Matthias | 0-1 | Girya, Olga |
| 7. | Xiong, Jeffery | ½-½ | Korobov, Anton |

Rank after round 2
About the Author
Aditya Pai is an ardent chess fan, avid reader, and a film lover. He holds a Master's in English Literature and used to work as an advertising copywriter before joining ChessBase India. He loves all things German and is learning the language. He has also written scripts for experimental films.
About the Annotator
Divya Deshmukh is the reigning World U-12 Girls Champion. Besides winning the World Cadets Championship in the U-12 Girls category, she has represented India and has won several medals for our country at various Asian and World level events. A sixth-grader at Bhavan's Vidya Mandir, Divya is 12 years old and is already rated 2118. Recently, she scored her first WIM norm at the held IIFLW Mumbai International.
**If you would like to contribute to our newspage with articles or analysis, do write to us at chessbaseindia@gmail.com

Previous reports on Tata Steel Chess
Tata Steel Chess 01: Anand off to a flying start
Coverage on Firstpost
Tata Steel Chess Round 1: Viswanathan Anand off the mark with a win; other Indian participants held to draws
---