Tata Steel Chess 09: Giri takes sole lead
Round nine of Tata Steel Chess was a rather peaceful affair with six out of the seven games drawn in the Masters' segment but the one game that ended decisively brought a new sole leader -- Anish Giri. Giri was caught off guard by Matlakov's pawn gambit in the Reti but managed to keep things under control and eventually register a nice victory while his co-leaders, Magnus Carlsen and Shakhriyar Mamedyarov were held to draws by Kramnik and Anand respectively. In the Challengers, both leaders Vidit Gujrathi and Anton Korobov drew their games. Korobov, who played against Harika Dronavalli in round 9 had to walk on tightropes before he could wriggle out with a draw. We have a report with pictures and analysis.
Masters: Giri races forward
The ninth round of Tata steel masters witnessed only one decisive game. Outplaying the European Individual Champion, Maxim Matlakov, in the final phase of the game, Dutch GM Anish Giri managed to bring home the full point and take sole lead. Post this win, Giri is half-a-point ahead of his nearest rivals, Magnus Carlsen and Shakhriyar Mamedyarov.
In the game, Matlakov brought a neat pawn sacrifice to the board in a Reti Opening that caught his opponent off guard. Giri accepted the offered gambit and the Russian GM generated a strong initiative on the queenside in compensation. Giri was under tremendous pressure as play progressed and on his 18th turn even offered a repetition.
Matlakov's initiative at this point was quite strong and, understandably, he stepped away from repeating moves. But soon, the position liquidated and in the resulting position, Matlakov's bishop was caught in a rather annoying pin. The position was still equal nearing the first time control when Matlakov made back to back blunders on moves 35 and 37 and ended up in a dead lost position.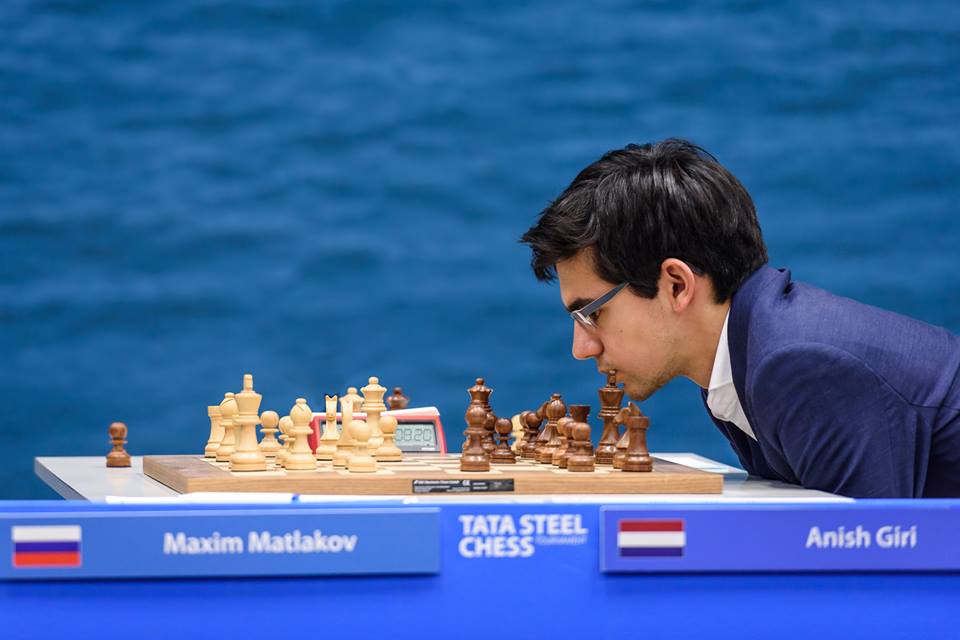 After the game, Giri said he wasn't very happy with his game. "I played badly but I was very fortunate that he made a mistake afterwards," he said. What he can be happy with, in his opinion, was the fact that he played the final phase of the game very well.
With just four rounds to go, Giri has established himself as one of the biggest favourites for winning the tournament. Furthermore, three out of his last four opponents – Caruana, Adhiban and Wei Yi – are struggling with form in this tournament and this might give Giri a chance to gather a decent amount of points. If Giri does manage to win the event, he will be the first Dutchman to win in Wijk Aan Zee after Jan Timman who had won the event back in 1985!
Meanwhile, one of Giri's biggest rivals for the title prize, Magnus Carlsen drifted away from the Berlin with the black pieces and went for the Breyer variation of the Ruy Lopez in his game against Viswanathan Anand. After his wild game against Jones in the last round, Carlsen preferred a peaceful life in the ninth round.
The game was more or less uneventful. Neither side managed to get much out of the opening and after a few trades, a draw was agreed. For Carlsen, the game was reminiscent of his older bouts with Vishy. "Today was actually a kind of a throwback game. I used to have all these kinds of Breyers with Vishy like six-seven years ago, or maybe, even seven-eight years ago. I was always kind of suffering a bit maybe – like, today also – but it's still very solid," Carlsen said after the game.
While Vishy's got a quick draw against Carlsen, his compatriot, Adhiban Baskaran battled for 60 long moves against Fabiano Caruana who is trying hard to improve his tournament standing. The two played an exciting King's Indian in which Caruana, who had the white pieces, tried to push for a win with his extra pawn on the queenside. By the first time control, it even looked like the Italian-American GM had a decent edge. But Adhiban defended tenaciously. Liquidating into a rook and pawn endgame, Adhiban sacrificed a pawn and found the perfect moves to maintain equilibrium. On the 60th move, a draw was agreed since there were only kings left on the board.
Rank after round 9
Challengers
In the challengers' group, both Anton Korobov and Vidit Gujrathi have maintained their lead of 1.5 points over the rest of the field. While Vidit Gujrathi could barely find anything that resembled an advantage out of the opening in his game against the German GM Matthias Bluebaum, Anton Korobov was put under tremendous pressure by Harika Dronavalli in a Symmetrical English.
Vidit kicked off his game against Bluebaum with a Closed Catalan. As mentioned before, he was unable to get much of an advantage out of the opening. However, as play progressed, Vidit began to try creating play for himself with his passed pawn on the queen's file. Nearing the first time control Vidit had a decent edge but failed to find the best continuations and ended up conceding a draw.
While Vidit wasn't able to pull out a win in round 9, Harika Dronavalli tried extremely hard to bring down her opponent and Vidit's co-leader, Anton Korobov. After a long manoeuvring middle game in the Symmetrical English, inaccurate play by Korobov gave Harika almost a winning edge.
In the endgame, Harika's passers on the queenside looked especially threatening. But by the second time control, Harika allowed Korobov too much counterplay and after 78 moves the game ended in a draw by perpetual checks.
Rank after round 9
About the Author
Aditya Pai is an ardent chess fan, avid reader, and a film lover. He holds a Master's in English Literature and used to work as an advertising copywriter before joining ChessBase India. He loves all things German and is learning the language. He has also written scripts for experimental films.
Previous reports on Tata Steel Chess
Tata Steel Chess 01: Anand off to a flying start
Tata Steel Chess 02: Adhiban crumbles against Magnus
Tata Steel Chess 03: Anand leads the Masters, Vidit the challengers!
Tata Steel Chess 04: Adhiban holds Anand to a draw!
Tata Steel Chess 05: Wei Yi's prep forces Anand to settle for a draw
Tata Steel Chess 06: Shakh beats Adhiban to take pole position
Tata Steel Chess 07: Anand suffers his first defeat to long time rival Vladimir Kramnik
Tata Steel Chess 08: Ain't no rest for the leaders
Coverage on Firstpost
Tata Steel Chess Round 1: Viswanathan Anand off the mark with a win; other Indian participants held to draws
Tata Steel Chess Round 2: Anish Giri takes sole lead; Viswanathan Anand in joint 2nd after draw
Tata Steel Masters Chess: Viswanathan Anand crushes Fabiano Caruana's opening novelty to join Anish Giri in the lead
Tata Steel Chess Round 4: Adhiban Baskaran ekes out draw against Viswanathan Anand; Vidit Gujrathi beats Harika Dronavalli
Tata Steel Chess Round 5: 'Embarrassed' Viswanathan Anand draws with Wei Yi; Vidit Gujrathi slips to joint 2nd
Tata Steel Chess Round 6: Viswanathan Anand's draw against Anish Giri puts Shakhriyar Mamedyarov in sole lead
Tata Steel Chess Round 7: Viswanathan Anand's strategic shortcomings prove costly against Vladimir Kramnik
Tata Steel Chess Round 8: Anish Giri stuns Shakhriyar Mamedyarov to go joint top; Viswanathan Anand plays out draw
---