Tata Steel Chess 08: Ain't no rest for the leaders
After seven rounds at the Tata Steel Chess, clear leaders had emerged in both groups. But round 8 made it clear that even though the leaders in both segments were ahead by a full point, there ain't no rest for them. In the Masters' group, sole leader, Shakhriyar Mamedyarov was strategically outplayed by Anish Giri in a Symmetrical English. Magnus Carlsen blundered a full piece against Gawain Jones but still managed to win the game somehow. In the words of Giri, Carlsen is a "full piece stronger than the rest of mankind"! Korobov, who was leading in the Challengers, also tasted defeat in round 8 and was joined by Vidit Gujrathi who got the edge over Dmitry Gordievsky of Russia. An illustrated report.
Masters: Three leaders emerge
A big and sudden change occurred at the top of the leaderboard at the conclusion of round 8 of the Tata Steel Masters. The Dutch number one, Anish Giri succeeded in bringing down Shakhriyar Mamedyarov, who had been on a roll winning his last three games. With this win, Giri not only added a full point to his total score but also joined Mamedyarov as the tournament leader.
In the game, Mamedyarov misplayed the opening form the black side of a Symmetrical English and allowed Giri run all over him from the very start. The game did not last too long; Mamedyarov resigned in merely 32 moves. Perhaps, Mamedyarov's resignation came a bit early but with the position he had at hand, it's hard to blame him.
Mamedyarov's loss also gave Magnus Carlsen the chance to catch up with the tournament leaders but the world champ was having a tough day at the office. In his game against the English GM Gawain Jones, Carlsen had blundered a full piece in a Sicilian Dragon with no sign of compensation whatsoever.
But even though Carlsen's compensation was unclear, the world champ knew the only way out was to grab the initiative and so he did. Jones tried simplifying the position by exchanging queens. But in doing this, he allowed Carlsen too much initiative.
Soon, Jones' position went from being better to equal to worse. Whether this was a voodoo trick or some other form of black magic is hard to tell but Carlsen managed to trick his opponent and bring home the full point.
Carlsen suggested afterwards that black should have tried to close the kingside and that would have left Carlsen in a lost position.
"It felt kind of absurd. I felt like the game is over already but on the other hand, I thought, let's play a few moves and see what happens," Carlsen said.
It was even argued that maybe this was not a blunder by Carlsen but a sacrifice. In the post-game interview, however, Carlsen put a stop to all speculation saying, "I don't think there should be a debate. That was obviously a very crude blunder. I was kind of lucky to get any play at all after that."
A rather peaceful day for the Indians
For the Indian contingent, it was a peaceful evening on the shores of Wijk Aan Zee. Both Anand and Adhiban drew their games in a rather uneventful manner. Anand, who had suffered his first loss in the tournament in the previous round, perhaps, needed a quick draw to get his composure back.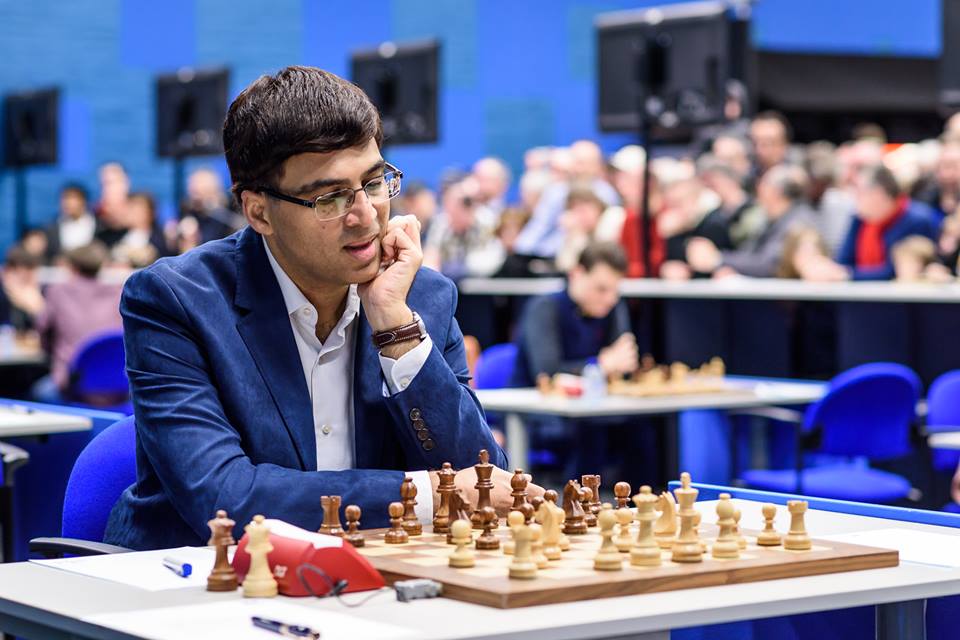 Anand's game against Svidler lasted only 27 moves in the Semi Tarrasch Variation of the Queen's Gambit Declined. With this quick draw and an upcoming rest day, Anand will have enough time to recuperate and, hopefully, make a strong comeback.
Adhiban's game against Sergey Karjakin lasted slightly longer in a Symmetrical English but the result was never in doubt. The young lad from Chennai got almost no advantage out of the opening with the white pieces and as play progressed, mass exchanges led to an equal endgame.
By the 25th move, both sides had two rooks and a bunch of pawns. Although, Adhiban was the one with the extra pawn, making anything out of it was quite improbable since all pawns were on the same side of the board. After trying until the 42nd move, the players decided to call it a day and signed the truce.
Rank after round 8
Challengers: Vidit joins Korobov in tournament lead
Round 8 brought shocking results in the Challengers' group too. Anton Korobov, who had won all but one game in the tournament so far, lost his first game of the event to the Egyptian GM Amin Bassem.
Korobov did enjoy a pleasant advantage out of the opening from the white side of a Modern Benoni. But the position got complicated at around move 30. At this point, Korobov began to lose the thread and on move 35, Bassem came up with a brilliant piece sacrifice that won him the game in the next five moves.
Vidit Gujrathi, Korobov's nearest rival, now had the chance to share first if he won his game. And the Nashik lad delivered. From the black side of an English Opening, Gujrathi was able to equalize comfortably and soon began to put pressure on white's central pawns. Gordievsky gave up an exchange to keep his centre intact but on his 31st turn, the Russian GM blundered and had to resign a move later.
Harika Dronavalli drew her sixth game in round 8 against the American GM Jeffery Xiong. From the black side of an open Catalan, the Andhra Girl equalized easily and allowed her opponent no chances. By move 32, a draw was agreed.
Rank after round 8
About the Author
Aditya Pai is an ardent chess fan, avid reader, and a film lover. He holds a Master's in English Literature and used to work as an advertising copywriter before joining ChessBase India. He loves all things German and is learning the language. He has also written scripts for experimental films.
Previous reports on Tata Steel Chess
Tata Steel Chess 01: Anand off to a flying start
Tata Steel Chess 02: Adhiban crumbles against Magnus
Tata Steel Chess 03: Anand leads the Masters, Vidit the challengers!
Tata Steel Chess 04: Adhiban holds Anand to a draw!
Tata Steel Chess 05: Wei Yi's prep forces Anand to settle for a draw
Tata Steel Chess 06: Shakh beats Adhiban to take pole position
Tata Steel Chess 07: Anand suffers his first defeat to long time rival Vladimir Kramnik
Coverage on Firstpost
Tata Steel Chess Round 1: Viswanathan Anand off the mark with a win; other Indian participants held to draws
Tata Steel Chess Round 2: Anish Giri takes sole lead; Viswanathan Anand in joint 2nd after draw
Tata Steel Masters Chess: Viswanathan Anand crushes Fabiano Caruana's opening novelty to join Anish Giri in the lead
Tata Steel Chess Round 4: Adhiban Baskaran ekes out draw against Viswanathan Anand; Vidit Gujrathi beats Harika Dronavalli
Tata Steel Chess Round 5: 'Embarrassed' Viswanathan Anand draws with Wei Yi; Vidit Gujrathi slips to joint 2nd
Tata Steel Chess Round 6: Viswanathan Anand's draw against Anish Giri puts Shakhriyar Mamedyarov in sole lead
Tata Steel Chess Round 7: Viswanathan Anand's strategic shortcomings prove costly against Vladimir Kramnik
---