Tata Steel Chess 05: Wei Yi's prep forces Anand to settle for a draw
Viswanathan Anand was caught in a very deeply prepared opening by his fifth round opponent, Wei Yi. In a rather bland variation of a Petroff, the Chinese GM whipped out moves at lightning fast speed and with 100% accuracy and forced Anand into a draw after 29 moves. In the game between Wesley So and Baskaran Adhiban, the Chennai lad believed his opponent's unsound piece sacrifice and went down to lose in an English Opening. The round also witnessed a few curious blunders. In the Challengers, Vidit Gujrathi slowed down after a three-game winning streak and went for a quick draw against Erwin L'ami while Harika also drew a rather tepid game against Lucas van Foreest. An illustrated report on round 5.
The Masters
The Masters event of the Tata Steel moved to the city of Hilversum at 'Beeld en Geluid' (The Netherlands Institute for Sound and Vision) for round 5. While Anish Giri and Viswanathan Anand maintained their lead with draws against Gawain Jones and Wei Yi respectively, Azeri GM Shakhriyar Mamedyarov got the better of Fabiano Caruana to join the leaders before the rest day.
For Anand, it was a tough day at the office. His 18-year-old opponent caught him in a deeply prepared line of the Petroff Defence. Earlier in the tournament, Anand had beaten Caruana in the same opening but Wei Yi had the entire line memorised.
Anand tried to create chances for himself in the game and the position, too, looked promising optically. The computer, however, evaluated the situation as roughly equal and on every turn, the Chinese GM banged out the top recommendation of the engine within no time. The game barely lasted ninety minutes. In this time, Wei had hardly shed five minutes on his clock when the players agreed to a draw on move 29.
Anand said after the game that due to the change in venue, he had no time to prepare in the morning before the round and he only stumbled upon this line en route to the venue. As he sees it, it was a pity to have wasted a white this way and that he was embarrassed to have drawn the game in such a manner.
"I am as embarrassed as the next guy but this happens sometimes and all you can do is sit there in awe," he said after the game. Talking about his overall tournament so far Anand said, "You can never complain when about +2. But it's a pity when you waste a white."
So's not-so-sound sacrifice
While Anand was caught in preparation and ended up playing a rather tepid draw, Adhiban Baskaran continued playing enterprisingly in the opening. In his game against Wesley So, the 25-year-old from Chennai exchanged queens and went for aggressive pawn thrusts in the centre in an English Opening quite early in the game.
The position was still roughly level when Wesley So struck a bolt from the blue on his 15th move by offering a full knight on the queenside. At the first glance, there seemed no reason why the knight should not be taken but a closer look made the move look plausible given the complications it entailed. The computers, however, were not impressed by So's sacrifice and adjudged the position as simply better for Adhiban. After pondering over his options for a long while, Adhiban chose to believe in his opponent and not take the knight.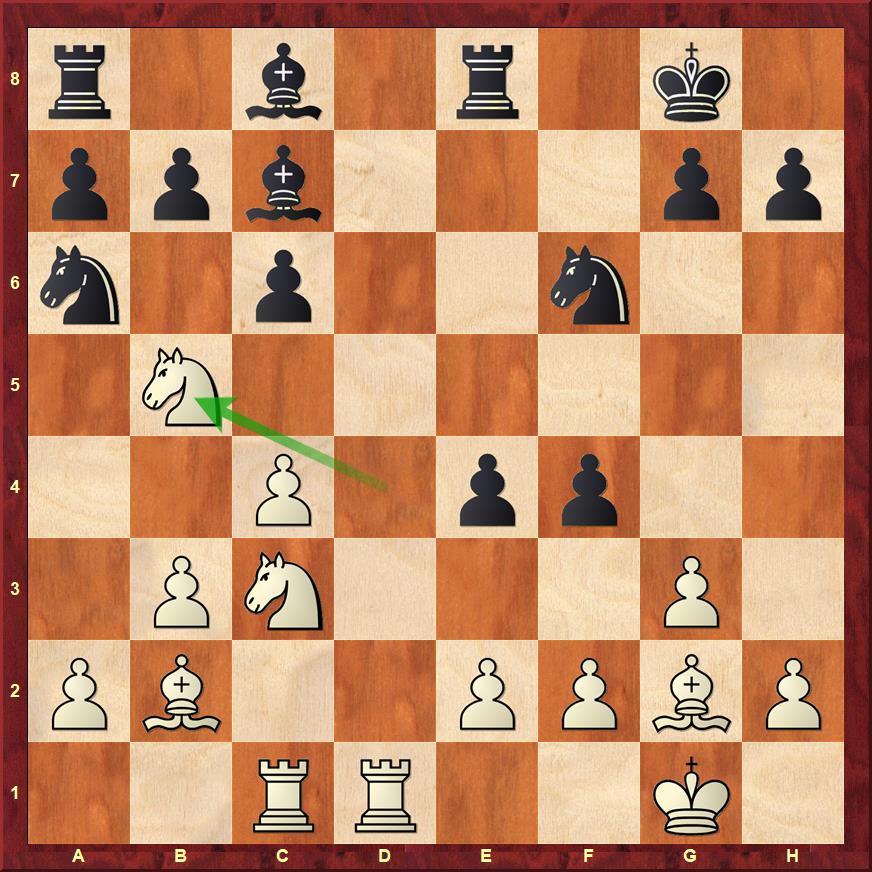 Wesley So has just moved his knight to b5. The question is: Why can't the knight be taken? Our suggestion is to setup this position on a chess board and think about it for at least 30 minutes. Try to find different ideas for both sides and come to truth of the position. After you have done that, you can check out the video by IM Sagar Shah where he explains this position in great depth:
But this gave the Filipino-American grandmaster a clear edge in the position. The pawns Adhiban had flung forward in the opening became juicy targets for So's pieces. Furthermore, in declining the knight sacrifice, Adhiban also gave So the advantage of the two bishops.
So retained his advantage well into the endgame and also managed to acquire an extra pawn while Adhiban defended valiantly trying to cling on to a draw. In the rook endgame that ensued, Adhiban had good drawing chances despite being down a pawn. But on his 66th turn, Adhiban cracked and allowed Wesley to exchange pawns on the kingside and get his passer rolling. The rest was merely a technical task which so accomplished successfully.
Blunders galore!
Talking of blunders, the game between Peter Svidler and Hou Yifan featured quite a few curious blunders. On her 20th turn, Yifan blundered and allowed her opponent weave a knight fork that would win an exchange at the very least. But Svidler returned the favour by not going for the most critical line and restoring equality.
However, this too was not the end. Just a move before the first time control, Yifan blundered a full piece yet again and this time, Svidler made no mistake exploiting his opponent's bad play. Just three moves later, Hou resigned.
After the game, Svidler was quite upset about having missed the tactical shot and explained that he had seen the first move of the combination but missed out on the follow-up. "Second day in a row, I am missing a very simple move which attacks a piece. I mean, after we exchanged queens I could go Nc8 and Re6, and this I had seen. And after this, I did see that the rook on e6 can be attacked by Ng5," Peter explained.
He further criticized his play saying, "This is just completely ridiculous. It's a calculation which a ten-year-old child should make blindfolded. And instead, I had to play the game all over again."
Even the world champion, Magnus Carlsen was not immune to blunders in round 5. In his game against Vladimir Kramnik, Carlsen reached an endgame pretty quickly out of an Italian Opening. And on move 29, the world champion simply missed an elementary tactic that netted Kramnik a pawn.
However, despite this mishap, Carlsen was able to hold on to a draw in the ensuing rook and pawn endgame.
Results of Round 5
| | | | |
| --- | --- | --- | --- |
| 1. | Svidler, Peter | 1-0 | Hou, Yifan |
| 2. | Carlsen, Magnus | ½-½ | Kramnik, Vladimir |
| 3. | Jones, Gawain C B | ½-½ | Giri, Anish |
| 4. | Anand, Viswanathan | ½-½ | Wei, Yi |
| 5. | So, Wesley | 1-0 | Adhiban, B. |
| 6. | Mamedyarov, Shakhriyar | 1-0 | Caruana, Fabiano |
| 7. | Matlakov, Maxim | ½-½ | Karjakin, Sergey |
Rank after Round 5
Challengers: Vidit slips to joint second after a quick draw against L'ami
Vidit Gujrathi was pitted against Erwin L'ami in the Challengers in round 5. Both Erwin and Vidit have been working as Anish Giri's seconds and perhaps know each other's opening repertoires extremely well.
The two essayed the Ragozin Variation of Queen's Gambit Declined and went straight into a draw out of the opening. After merely 18 moves of play, the two signed peace and shook hands.
The game between Harika Dronavalli and Lucas van Foreest was longer but equally dull. Van Foreest was able to equalize very easily with the black pieces against Harika's English Opening. By the 25th move, the players had reached an endgame where Harika had a queen and a bishop against Van Foreest's queen and a knight. The pawn structure too was symmetrical. The game went on until the 64th move but the result was never really in doubt.
Thursday is a rest day at Tata Steel Chess. Play will resume on Friday, January 19, 2017, at 6 PM IST.
Results of Round 5
| | | | |
| --- | --- | --- | --- |
| 1. | Girya, Olga | ½-½ | Bok, Benjamin |
| 2. | Van Foreest, Jorden | 0-1 | Korobov, Anton |
| 3. | Tari, Aryan | 1-0 | Xiong, Jeffery |
| 4. | Krasenkow, Michal | ½-½ | Bluebaum, Matthias |
| 5. | Amin, Bassem | 1-0 | Gordievsky, Dmitry |
| 6. | Harika, Dronavalli | ½-½ | Van Foreest, Lucas |
| 7. | L'Ami, Erwin | ½-½ | Vidit, Santosh Gujrathi |

Rank after round 5
About the Author
Aditya Pai is an ardent chess fan, avid reader, and a film lover. He holds a Master's in English Literature and used to work as an advertising copywriter before joining ChessBase India. He loves all things German and is learning the language. He has also written scripts for experimental films.
Previous reports on Tata Steel Chess
Tata Steel Chess 01: Anand off to a flying start
Tata Steel Chess 02: Adhiban crumbles against Magnus
Tata Steel Chess 03: Anand leads the Masters, Vidit the challengers!
Tata Steel Chess 04: Adhiban holds Anand to a draw!
Coverage on Firstpost
Tata Steel Chess Round 1: Viswanathan Anand off the mark with a win; other Indian participants held to draws
Tata Steel Chess Round 2: Anish Giri takes sole lead; Viswanathan Anand in joint 2nd after draw
Tata Steel Masters Chess: Viswanathan Anand crushes Fabiano Caruana's opening novelty to join Anish Giri in the lead
Tata Steel Chess Round 4: Adhiban Baskaran ekes out draw against Viswanathan Anand; Vidit Gujrathi beats Harika Dronavalli
---