Paracin 2019: Nandhidhaa grabs her second IM norm, Pavan BNB wins B group
GM Ivan Ivanisevic of Serbia won the 12th edition of Paracin International Open 2019. Ivan remained undefeated and scored 7.5/9, finished a half point ahead of the pack of four players. FM Raymond Song of Chinese Taipei scored 7.0/9 and finished 2nd due to a better tie-break score. GM Dmitry Svetushkin of Moldova also scored 7.0/9 and he defeated Song in the penultimate round, however due to a lower tie-break score, he had to settle for 3rd position. Vishnu Prasanna was the only Indian to finish in top 10 by scoring 6.5/9. Nandhidhaa scored her second IM-norm at the event and Pavan BNB won the B-group. We had two Indians who gained huge number of rating points and we bring their video interviews. Report from the venue by Rupali Mullick.
Nandhidhaa brilliant at Serbia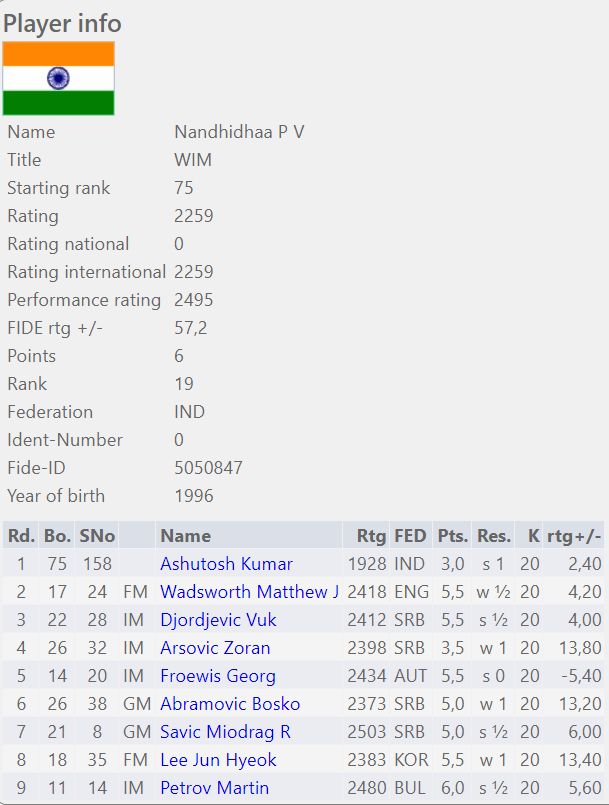 Here is Nandhidhaa's game against Lee Jun Hyeok from round 8: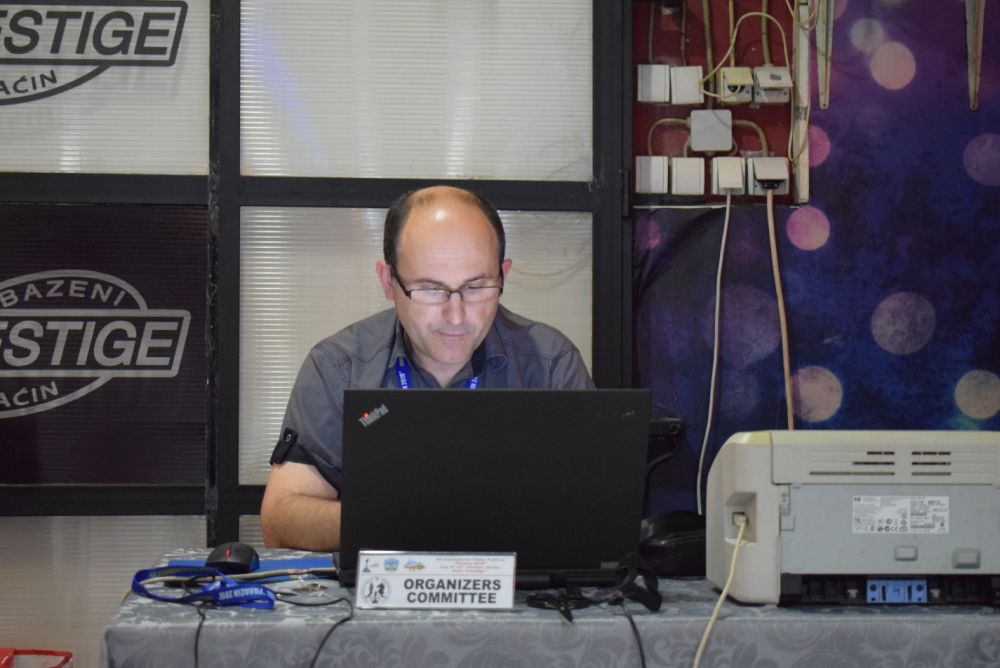 Sasa works very hard before and during the event and takes care of all the lodging and transfer requirements of all the participants of the event along with all the ~400 registrations. Here's a little bit of history about the event. Chess in Paracin, Serbia had a long tradition. But, there was a break in activities from 1996 till 2007. It was Sasa Jevtic who decided to change something and build up chess in Paracin again. As school population is the base for all activities Sasa organized education for teachers in local schools so that they can establish chess as a chosen subject in elementary schools. Foundation Marko Todorovic from Paracin financially helped to buy a lot of chess sets, chess clocks and chess books which were distributed among elementary schools in Paracin. The Youth Chess Club "Paracin" was founded in 2009 and this club started to be body in charge for all important chess events in Paracin, including International Chess Festival. This is how it all began and now the Paracin Open is one of the biggest open events in Europe.
Apart from the Rapid one-day tournament, there are three classical chess tournaments: Open A is the main event for players with ELO >2100, Open B is a rating tournament for players with Elo < 2100; and Open C is a special non-Fide tournament for players with Elo < 1500 and born in 2003 and younger.
There were 166 participants in the Open A tournament including 15 GMs, 18 IMs, 8 WIMs, 43 FMs and 11 WFMs. There were players from 32 countries with 36 players from various regions of Serbia. There were 23 players from India this year, including GM Vishnu Prasanna leading the Indian contingent. There were 191 participants in the Open B tournament including players from 24 countries with 105 players from various regions of Serbia. There were 10 players from India, with Pavan BNB starting as 15th seed. Top ranked blind players of India Kishan Gangolli and Aryan Joshi participated in the Open A and B respectively.
At the end of the eighth round, top seeded GM Ivan Ivanisevic was leading with 7.0/8, followed by GM Dmitry Svetushkin and FM Miloje Ratkovic at 6.5/8 occupying 2nd and 3rd spot. There were 6 players trailing the top 3 by only half a point at 6.0/8. The ninth round had many decisive games being played on the top 10 boards (except the top 2 tables which ended in draws) and ended up with GM Ivan Ivanisevic clinching the first place with 7.5/9.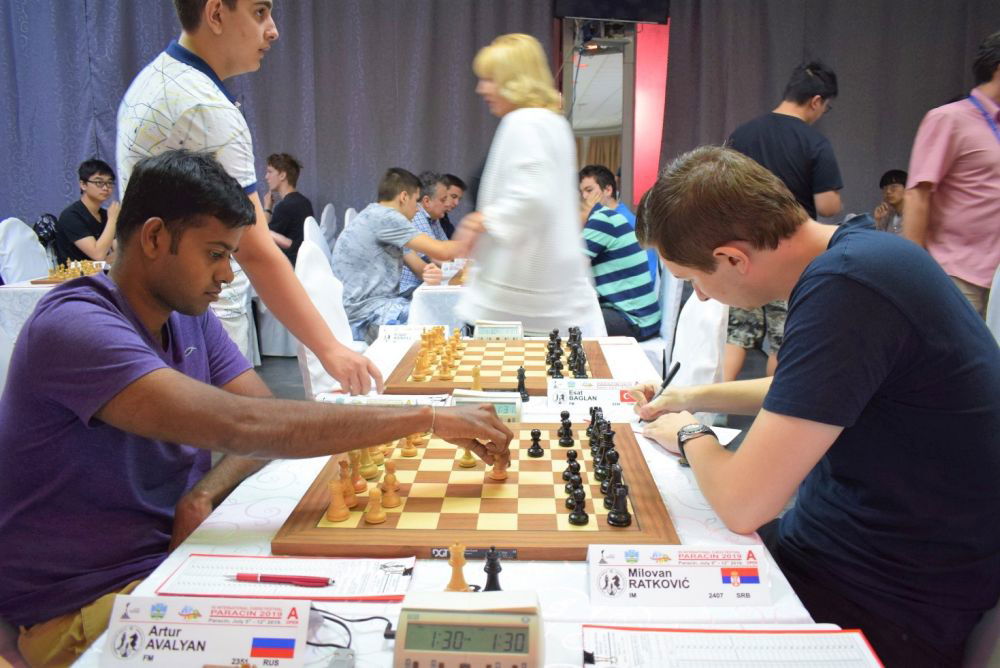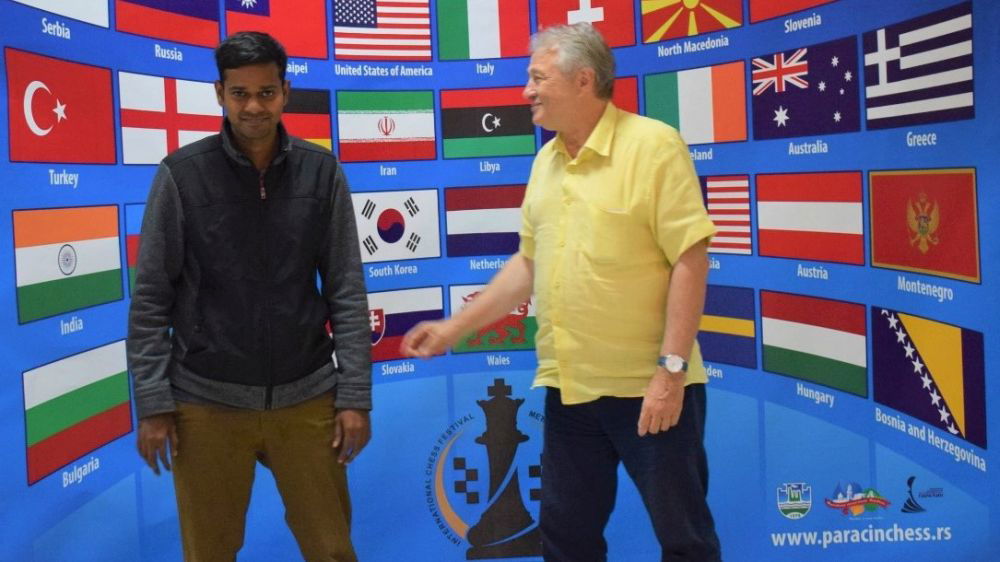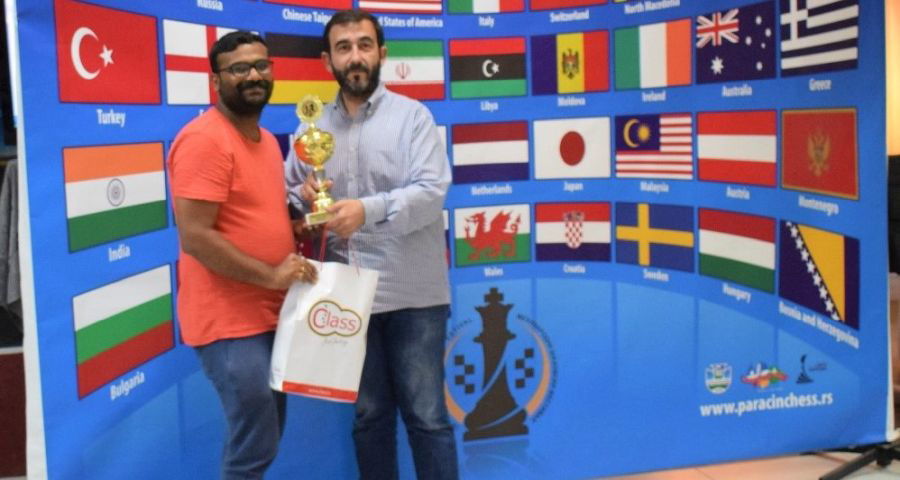 11-year-old Vansh Aggarwal from Mumbai went to play in two tournaments in Serbia with an Elo of 1499. In the first tournament Nis Open 2019 he gained 220 Elo points. In the second one - Paracin he gained 202 Elo points. This was the first time that Vansh played a tournament outside India. From 1499, he is now moved to 1921. The youngster attributes his success to meticulous training before the event and also during the tournament. Vansh is trained by IM Nisha Mohota. In this video Vansh discusses not only his secret to improvement, but also shows one of his games against Anna Pasti (1865) from Hungary where the youngster shows excellent understanding from the black side of the Ruy Lopez.
Final Standings in Open A
| | | | | | | | | | | | | |
| --- | --- | --- | --- | --- | --- | --- | --- | --- | --- | --- | --- | --- |
| Rk. | SNo | | | Name | FED | Rtg | Pts. | TB1 | TB2 | TB3 | K | rtg+/- |
| 1 | 1 | | GM | Ivanisevic Ivan | SRB | 2612 | 7,5 | 49,0 | 39,0 | 6 | 10 | 5,7 |
| 2 | 17 | | FM | Song Raymond | TPE | 2456 | 7,0 | 47,0 | 37,0 | 7 | 10 | 15,4 |
| 3 | 3 | | GM | Svetushkin Dmitry | MDA | 2528 | 7,0 | 47,0 | 35,0 | 6 | 10 | 6,7 |
| 4 | 40 | | IM | Bashirli Nail | AZE | 2367 | 7,0 | 46,0 | 39,0 | 6 | 10 | 25,9 |
| 5 | 25 | | FM | Ratkovic Miloje | SRB | 2416 | 7,0 | 43,0 | 33,5 | 6 | 10 | 14,6 |
| 6 | 26 | | | Janzelj Tim | SLO | 2416 | 6,5 | 48,0 | 34,5 | 5 | 10 | 18,9 |
| 7 | 4 | | GM | Korpa Bence | HUN | 2523 | 6,5 | 47,0 | 35,5 | 5 | 10 | 7,1 |
| 8 | 29 | | IM | Mcphillips Joseph | ENG | 2412 | 6,5 | 46,0 | 34,5 | 5 | 10 | 16,3 |
| 9 | 13 | | GM | Kosic Dragan | MNE | 2482 | 6,5 | 46,0 | 34,0 | 5 | 10 | 3,6 |
| 10 | 7 | | GM | Vishnu Prasanna. V | IND | 2505 | 6,5 | 46,0 | 34,0 | 4 | 10 | 2,1 |
| 11 | 5 | | GM | Sanal Vahap | TUR | 2520 | 6,5 | 45,0 | 31,0 | 5 | 10 | -1,5 |
| 12 | 10 | | GM | Lorparizangeneh Shahin | IRI | 2494 | 6,5 | 44,5 | 33,0 | 5 | 10 | 1,3 |
| 13 | 2 | | GM | Perunovic Milos | SRB | 2597 | 6,5 | 43,5 | 31,0 | 5 | 10 | -7,6 |
| 14 | 41 | | FM | Avalyan Artur | RUS | 2351 | 6,0 | 45,5 | 34,0 | 6 | 20 | 26,2 |
| 15 | 14 | | IM | Petrov Martin | BUL | 2480 | 6,0 | 44,0 | 33,0 | 4 | 10 | -2,8 |
| 16 | 27 | | IM | Gadimbayli Abdulla | AZE | 2414 | 6,0 | 43,5 | 32,0 | 5 | 10 | -0,9 |
| 17 | 12 | | GM | Stojanovic Mihajlo | SRB | 2483 | 6,0 | 43,0 | 33,0 | 4 | 10 | -1,9 |
| 18 | 34 | | | Liu Zhaoqi | CHN | 2386 | 6,0 | 43,0 | 30,5 | 5 | 20 | 19,8 |
| 19 | 75 | | WIM | Nandhidhaa P V | IND | 2259 | 6,0 | 42,5 | 30,5 | 4 | 20 | 57,2 |
| 20 | 6 | | GM | Tan Justin | AUS | 2513 | 6,0 | 42,5 | 30,0 | 5 | 10 | -9,6 |
Final Standings in Open B
| | | | | | | | | | | | | |
| --- | --- | --- | --- | --- | --- | --- | --- | --- | --- | --- | --- | --- |
| Rk. | SNo | | | Name | FED | Rtg | Pts. | TB1 | TB2 | TB3 | K | rtg+/- |
| 1 | 15 | | MK | Pavan B N B | IND | 1993 | 8,0 | 46,5 | 43,0 | 7 | 20 | 55,6 |
| 2 | 5 | | MK | Kuzmanovic Slobodan | SRB | 2066 | 7,5 | 50,5 | 38,0 | 6 | 20 | 13,4 |
| 3 | 89 | | I | Kartalkanat Ali Can | TUR | 1728 | 7,5 | 45,0 | 35,5 | 6 | 20 | 94,6 |
| 4 | 6 | | MK | Petrovic Nikola V | SRB | 2053 | 7,0 | 50,5 | 37,5 | 6 | 20 | 15,8 |
| 5 | 44 | | MK | Albayrak Kerem | TUR | 1866 | 7,0 | 44,0 | 36,0 | 7 | 20 | 61,0 |
| 6 | 37 | | MK | Eke Salih | TUR | 1892 | 7,0 | 44,0 | 34,0 | 6 | 40 | 73,6 |
| 7 | 25 | | MK | Petrov Anton | BUL | 1952 | 6,5 | 47,5 | 38,5 | 6 | 40 | 30,4 |
| 8 | 14 | | MK | Opacic Alexandar | ITA | 1999 | 6,5 | 44,0 | 31,0 | 5 | 20 | -10,8 |
| 9 | 50 | | I | Mitrovic Stefan | SRB | 1846 | 6,5 | 43,5 | 34,0 | 5 | 20 | 30,0 |
| 10 | 33 | | MK | Dimkovski Stojancho | MKD | 1909 | 6,5 | 42,5 | 33,0 | 5 | 20 | 9,8 |
| 11 | 18 | | MK | Vujcic Milena | SRB | 1989 | 6,5 | 42,0 | 32,0 | 4 | 40 | -15,6 |
| 12 | 40 | | MK | Tomic Jelena | BIH | 1884 | 6,5 | 41,5 | 33,0 | 5 | 40 | 50,8 |
| 13 | 78 | | I | Kara Gulce Nehir | TUR | 1767 | 6,5 | 40,5 | 28,0 | 6 | 40 | 66,0 |
| 14 | 13 | | MK | Petrovic Petar R | SRB | 2014 | 6,5 | 38,5 | 28,5 | 6 | 20 | -24,0 |
| 15 | 20 | | FM | Dezelin Milan | SRB | 1985 | 6,0 | 48,5 | 33,0 | 3 | 20 | -18,2 |
| 16 | 32 | | MK | Prozorov Pavel | RUS | 1916 | 6,0 | 48,5 | 32,0 | 5 | 40 | -7,6 |
| 17 | 9 | | MK | Molnar Gabor Roland | SRB | 2044 | 6,0 | 48,0 | 36,0 | 6 | 20 | -5,4 |
| 18 | 8 | | MK | Tosic Nebojsa | SRB | 2045 | 6,0 | 47,0 | 36,0 | 6 | 20 | -11,8 |
| 19 | 38 | | CM | Caberoglu Arda | TUR | 1885 | 6,0 | 46,5 | 33,5 | 3 | 40 | 59,2 |
| 20 | 7 | | FM | Zlatanovic Zoran | SRB | 2052 | 6,0 | 46,0 | 33,0 | 4 | 20 | -20,2 |
---