Paracin Open 2021 R1-3: Vatsal surprises Ter-Sahakyan with a beautiful queen sacrifice
Six players are in the lead with a 100% score 3.0/3 at the conclusion of Round 3 at Paracin Open 2021. They are - Ahmadzada, Gormaz, Budisavljevic, Muradli, Anna Sargsyan and Bryakin. Six Indians are in the chase just a half point behind - Sankalp, Rithvik, Aditya, Aanjaneya, Arjun and Raahil. FM Vatsal Singhania scored a beautiful victory over the top seed of the event, Samvel Ter-Sahakyan in Round 2. Sankalp Gupta held Manuel Petrosyan to a draw. Untitled Aanjaneya Phatak is performing at 2602 and unbeaten so far with a score of 2.5/3. Round 4 starts today at 8 p.m. IST. Photo: Rupali Mullick
Sankalp holds Petrosyan to a draw
FM Vatsal Singhania perhaps played his immortal game yesterday against the top seed of the tournament GM Samvel Ter-Sahakyan (ARM). He made a beautiful queen sacrifice and went on to win the game with a complete domination. The Armenian resigned when the checkmate was unstoppable in a picturesque position.
Round 1: Strugnell - Puranik: 0-1
FM Carl Strugnell (WLS) blundered a pawn in the endgame which cost him the full point.
White needed to play 34.Ra1 to make sure a5-pawn is not lost immediately.
Varshini - Arjun: 0-1
WGM Varshini took a backward pawn in the middlegame for which Arjun Erigaisi not only had enough compensation but also enough counterplay.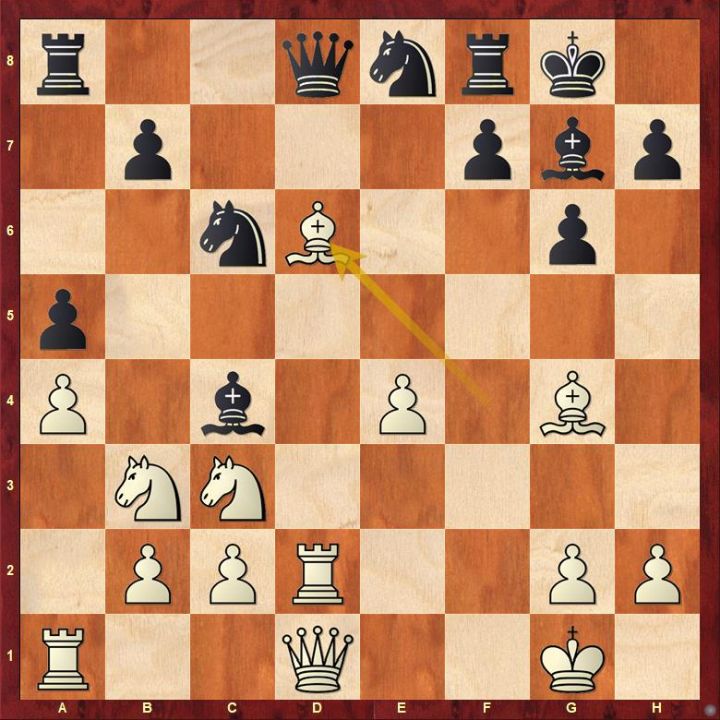 17.Bxd6 does no good for White, it only helps Black to get rid of the passive knight for an active bishop and Black gets a bishop pair in an open position which is a bonus.
Ojas - Aleksandrov: 0.5-0.5
Ojas got a good position after his opponent GM Aleksej Aleksandrov (BLR) made a tactical error.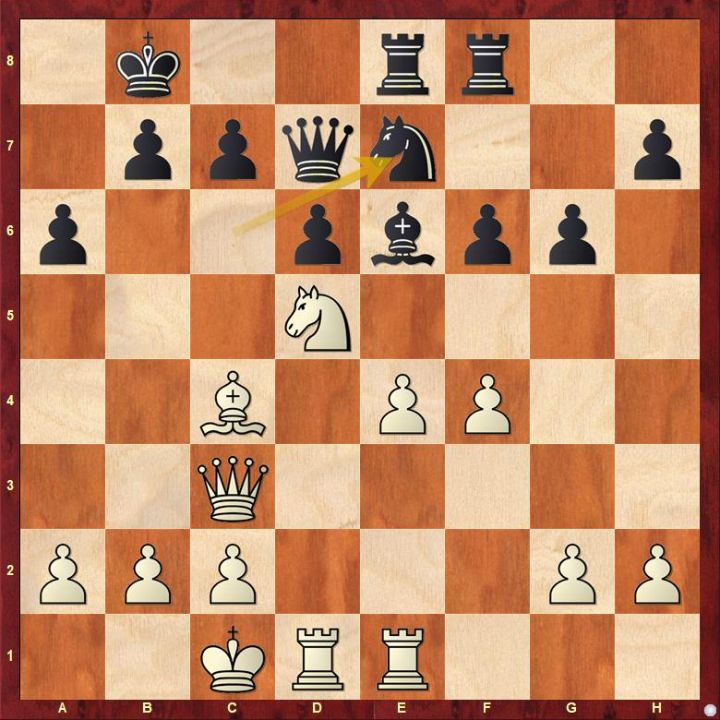 21...Ne7 not only drops a pawn for Black but also destroys Black's pawn structure. How?
Pavlov - Prithu: 0-1
GM Prithu Gupta scored a nice victory against Mark Pavlov.
17.Bxe4 is not a good idea as Black gets e3 after 17...dxe4 and the position turns completely in Black's favor. Prithu eventually brought his king halfway on the kingside to keep it safe and win the game.
Round 2: Vatsal - Ter-Sahakyan
FM Vatsal Singhania made a beautiful queen sacrifice against the top seed of the tournament, GM Samvel Ter-Sahakyan (ARM).
16...Bg4 is a mistake because White can play 17.Bg5. Black is forced to take the queen 17...Bxd1 18.Nxf6+ Kf8 19.Raxd1 and it is White who has a completely winning position. According to the Mega Database, the only other instance to have happened like this was in 2008 when White did the same thing and won. Vatsal's queen sacrifice for two pieces was absolutely sound and perfect.
Round 3: Sankalp - Petrosyan: 0.5-0.5
IM Sankalp Gupta held GM Manuel Petrosyan (ARM) to a draw.
White must take on f4, otherwise Nh3, Ng5 will drop the f3-knight. 21.gxf4 Qxf4 22.Bc2 f5 23.Qe2 and the game was drawn after 23...Bh3+ 24.Kh1 Bg4 25.Kg2 were repeated because both players were forced to repeat. Doing anything else would have cost that player to lose the game.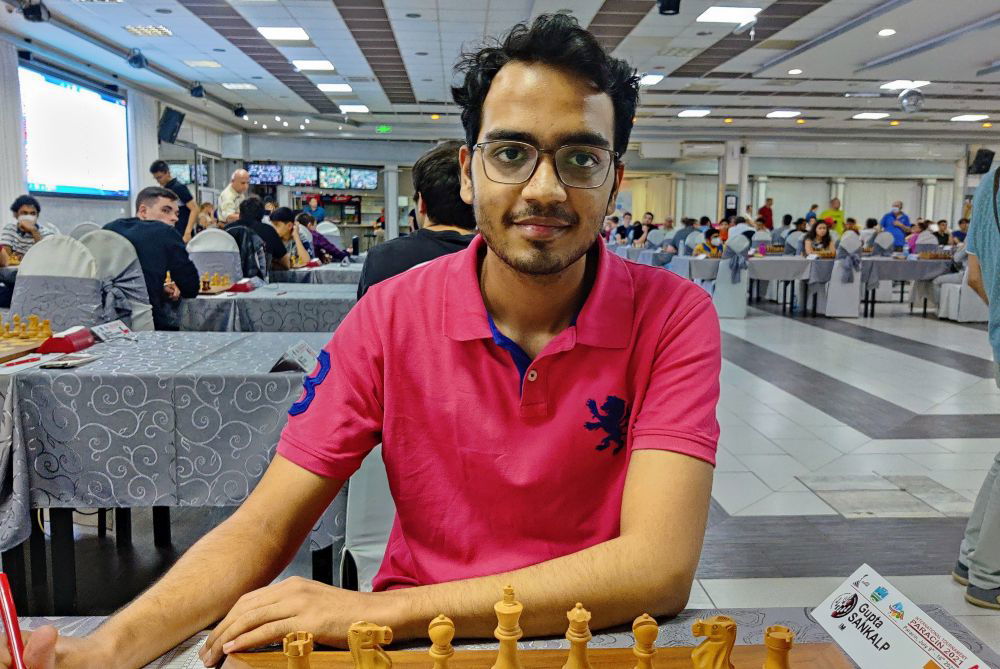 Rithvik - Sturt: 0.5-0.5
IM Rithvik Raja R had a long grueling draw with IM Raven Sturt (USA). Rithvik's patience paid off when his opponent eventually blundered in a seemingly drawn position.
White needed a breakthrough to win this game and 84...Rb8 just provided that because now 85.Bxd5 becomes very much possible. After 85...Bxd5 89.Rdxd5, Black blundered again 89...b6. However, this time White was unable to capitalize on it.
Find out the winning plan for White in the above position. The game continued 87.Rc4 bxa5 88.bxa5 Rd7 and White was provided another opportunity but unfortunately he missed that too.
Gormaz - Harshit: 1-0
IM Harshit Raja had a fantastic position against IM Matias Perez Gormaz (CHI).
If anyone can go for a win here, it has to be Black. Find out the correct plan for black in the above position. Everything that could go wrong, went wrong for Black and White eventually escaped with a win.
Ramoutar - Arjun: 0-1
GM Arjun Erigaisi had a difficult position for the better part of the game against IM Alan-Safar Ramoutar (TTO).
White is in complete control, however he needs to be careful about the recapture on e5 here. Find out the best way for white to recapture on e5. Ramoutar chose the worst one which completely tilted things in Arjun's favor and he won the game. That is why, no matter how difficult your position might get, you must fight till the end and wait for your opportunity to come and strike them.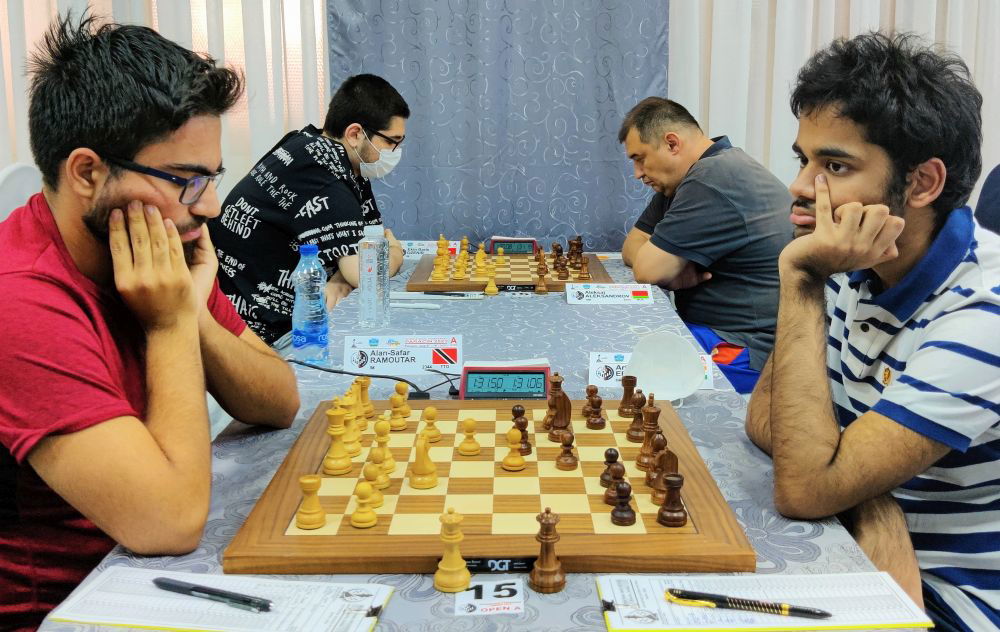 Photos: Round 1, 2, 3 and album.
Highlights
Here are a few interesting finishes from Round 2 and 3.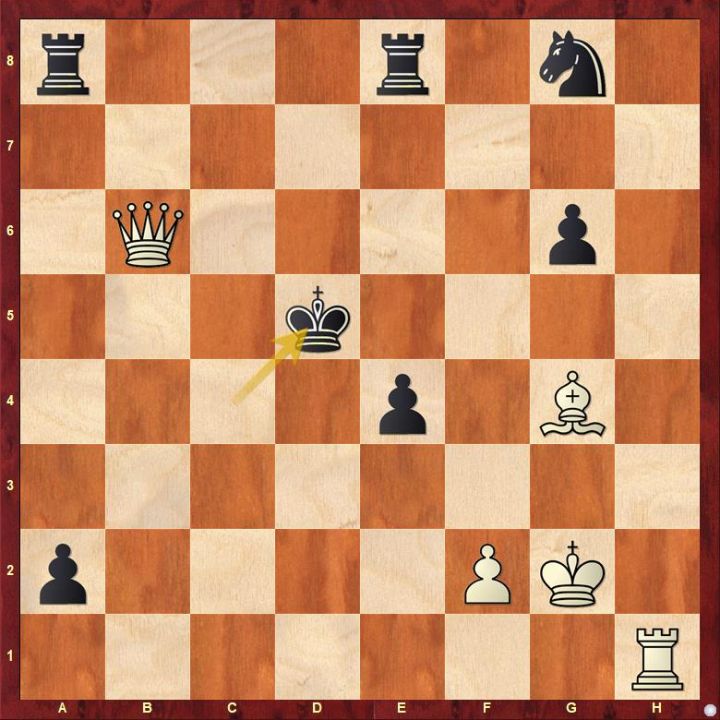 Replay Round 1-3 games
Round 1 results
Round 2 results
Round 3 results
Round 4 pairings
Links
---