Grand Swiss final: Wang Hao is the all taking winner
The FIDE Chess.com Grand Swiss Isle of Man came to conclusion on the 21st of October and ended in a tie between Wang Hao of China and Fabiano Caruana of the USA. Both of them finished with 8.0/11 points, however it was the chinese no.3 who came out on the top in tie-breaks. Therefore, with his final round victory against David Howell, Wang Hao not only clinched the coveted spot in Candidates 2020 for himself but also became the champion of the event. It was heartbreaking to see Vishy Anand's Candidates hopes come to an abrupt end but among the other Indians, several finished on a high note. In this round-up article we bring you the highlights of the last day's happenings and an overview of all notable Indian performances.
Wang Hao is the second chinese to qualify for Candidates 2020
Sometimes you deservingly get more than what you expect, Wang Hao was pleasantly surprised in both tenth and eleventh rounds of FIDE Chess.com Grand Swiss 2019 when his opponents blundered and went down against him from seemingly drawish positions. In the final round, David Howell found an almost symmetrical ending playing against the fianchetto Grunfeld with black pieces but just went things started looking harmlessly peaceful, the Englishman ended up getting his light-squared bishop pinned on the d-file. The chinese was at first startled to see what his opponent had suddenly gotten into and after about ten minutes of thought seized his opportunity with both hands!
Wang Hao - David Howell, Final Round
The simple 18...Be6 would have left things perfectly balanced here - with so few pieces on board and symmetrical pawn structure, it is hard to imagine anything but a draw as the logical result of this game. But David Howell, quite shockingly, played the move 18...Bd5, he must have expected a further simplification with 19.Bxd5 Qxd5 etc, unfortunately however he had missed something really dangerous.
Of course, it is 19.Rd1! - the dreadful pin, Wang Hao took about 10 minutes to play this move! He was certainly taken aback by this sudden turn of events. Howell, continued 19...Bxb7 here. He had to give up his queen for a rook and bishop to avoid losing a full piece. But this was just lost cause, after 20.Rxd8 Rxd8 21.f4 Bxb2 22.Qa7 Rd7 23.Qxb6 Black had no redemption, White's queen was just too strong for the rook-bishop duo. The game continued for 15 more moves and it was on move 36 Black resigned.
Clearly, China is witnessing its heyday as far as chess is concerned. First it was Ding Liren and now it is Wang Hao who has qualified for the eight-player Candidates tournament. Can it eve even get better? About his plans for the Candidates, the 30-year-old Grandmaster from Harbin city of Heilongjiang said, "Now I need to go back home, sit down and think how to continue. I don't have a team working with me. I am hoping to create a small team—three to four people—who will be able to help me. I am, however, not sure if I'll be able to do so".
The top two prizes worth 70,000$ and 60,000$ were shared between Wang and Fabiano Caruana as both of them scored the same number of points (8.0/11) in the event. Five players - Kirill Alekseenko, Levon Aronian, David Anton Guijarro, Magnus Carlsen, Hikaru Nakamura, and Nikita Vitiugov - finished just half a point behind with 7.5/11 points.
An overview of Indian performances
The tournament ended somewhat disappointingly for the Indian contingent as Vishy Anand missed his last chance to qualify for the Candidates this year. But overall, several Indian players finished the eleventh round on a very positive note. First and foremost, Raunak Sadhwani became the 65th Grandmaster of the country by pulling off a performance rating of 2677 and gaining 28 Elo points. The way the 13-year-old boy from Nagpur played stunned the whole world.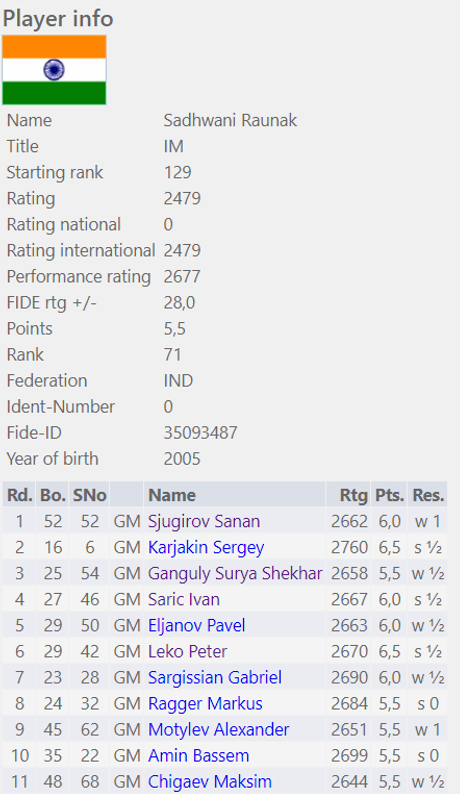 The best performing Indian in the event was Vidit Santosh Gujrathi who finished overall 12th, just a point behind the leaders with a score of 7.0/11. Vidit had the white pieces in the last round of the tournament and here he outplayed the 2613-rated Grandmaster Bogdan-Daniel Deac in his characteristic positional style. The game opened with the Ragozin variation of queen's gambit declined and the Indian beautifully switched his play from one side of the board to the other. First pressurizing the queenside by taking control of the b and c files with his rooks and later directing his queen towards the kingside. The Romanian defended well initially but missed his footing around move 40 which allowed the India no.3 to tactically liquidate into a pawn-up ending and eventually win the game.
Vidit Gujrathi - Bogdan-Daniel Deac, Final Round
S.L.Narayanan - the man who was steady as rock!
S.L.Narayanan started off the event as the 104th seed but impressively finished 47th on the rank-list. It almost seemed he would remain unbeaten in the event but unfortunately he had to suffer one single defeat in the hands of Hrant Melkumyan in the penultimate round.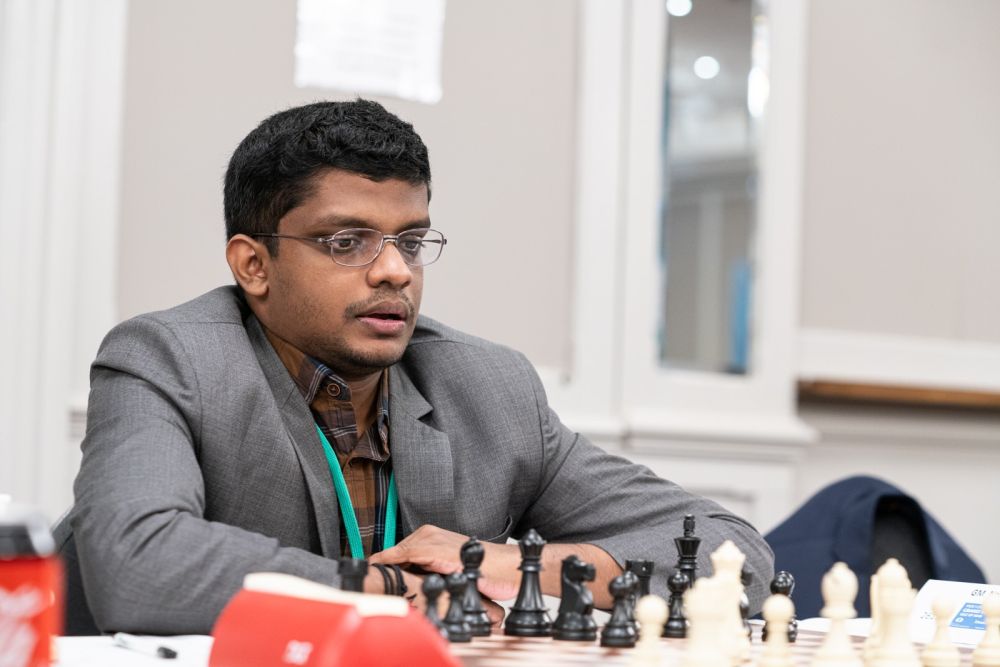 Tamir Nabaty - S.L.Narayanan, Final Round
In the game 18.Bc4 Nxa2 19.Bxd3 Nxc1 20.Qxc1 Qxd3 was played and Black was simply an exchange up with a superior position. The best resistance would have been something like 18.a3 Na2 19.Rc4 Bxc4 20.Bxc4 where White gets at least some compensation for the exchange. Nabaty was completely losing after 20...Qxd3 but he played on and also got some chances to revive his position. But he couldn't make the best possible use of these and resigned on move 40.
Gukesh D was another youngster who did very well in the event. He scored 6.0/11 points and finished 48th (even though starting as the 119th seed!) on the overall rank-list. His best performance came in rounds six, seven, and eight where he scored three consecutive wins against IM Houska Jovanka, GM Axel Bachmann, and GM Vadim Zvjaginsev.
The youngster is not going to take rest any time soon as he is already off to Germany playing the Gmund am Tegernsee open!
The woman star Harika Dronavalli
The other Indian female player Soumya Swaminathan also made an IM norm from the event and had a tremendous experience. She tweeted the following yesterday:
Grandmaster Surya Sekhar Ganguly who finished with 5.5/11 also tweeted congratulating the winner Wang Hao:
Results of all Indians in the final round
An overview of all Indian performances
| | | | | | | | | | | | | | | | | | |
| --- | --- | --- | --- | --- | --- | --- | --- | --- | --- | --- | --- | --- | --- | --- | --- | --- | --- |
| SNo | | Name | Rtg | 1 | 2 | 3 | 4 | 5 | 6 | 7 | 8 | 9 | 10 | 11 | Pts. | Rk. | Group |
| 4 | GM | Anand Viswanathan | 2765 | 0 | 1 | ½ | ½ | 1 | 1 | ½ | 1 | ½ | 0 | ½ | 6,5 | 26 | GRAND SWISS |
| 9 | GM | Harikrishna Pentala | 2748 | ½ | ½ | 1 | ½ | ½ | 0 | ½ | ½ | 1 | 1 | ½ | 6,5 | 33 | GRAND SWISS |
| 17 | GM | Vidit Santosh Gujrathi | 2718 | 1 | ½ | 1 | 0 | ½ | ½ | ½ | ½ | 1 | ½ | 1 | 7,0 | 12 | GRAND SWISS |
| 37 | GM | Sasikiran Krishnan | 2675 | ½ | ½ | 1 | ½ | ½ | ½ | 0 | ½ | 1 | ½ | 1 | 6,5 | 41 | GRAND SWISS |
| 54 | GM | Ganguly Surya Shekhar | 2658 | ½ | 1 | ½ | ½ | 0 | 1 | 0 | ½ | ½ | ½ | ½ | 5,5 | 89 | GRAND SWISS |
| 73 | GM | Adhiban B. | 2639 | 1 | 1 | ½ | 0 | 1 | ½ | ½ | ½ | ½ | 0 | 0 | 5,5 | 65 | GRAND SWISS |
| 94 | GM | Sethuraman S.P. | 2624 | 0 | 0 | 1 | 1 | ½ | 1 | ½ | ½ | ½ | 1 | ½ | 6,5 | 36 | GRAND SWISS |
| 104 | GM | Narayanan.S.L | 2611 | ½ | ½ | ½ | ½ | ½ | ½ | 1 | ½ | ½ | 0 | 1 | 6,0 | 47 | GRAND SWISS |
| 105 | GM | Nihal Sarin | 2610 | ½ | 0 | 1 | 0 | 1 | ½ | ½ | ½ | 0 | ½ | 0 | 4,5 | 121 | GRAND SWISS |
| 114 | GM | Puranik Abhimanyu | 2571 | ½ | 0 | 1 | ½ | 1 | ½ | ½ | 0 | ½ | ½ | 0 | 5,0 | 105 | GRAND SWISS |
| 119 | GM | Gukesh D | 2520 | ½ | ½ | 0 | ½ | 0 | 1 | 1 | 1 | ½ | ½ | ½ | 6,0 | 48 | GRAND SWISS |
| 122 | GM | Harika Dronavalli | 2495 | ½ | ½ | 0 | ½ | ½ | ½ | 1 | 0 | 1 | ½ | ½ | 5,5 | 83 | GRAND SWISS |
| 124 | GM | Prithu Gupta | 2493 | 0 | 0 | 0 | 1 | 1 | 0 | 0 | 1 | 0 | 0 | 0 | 3,0 | 147 | GRAND SWISS |
| 129 | IM | Sadhwani Raunak | 2479 | 1 | ½ | ½ | ½ | ½ | ½ | ½ | 0 | 1 | 0 | ½ | 5,5 | 71 | GRAND SWISS |
| 149 | WGM | Soumya Swaminathan | 2365 | ½ | ½ | 0 | ½ | 0 | ½ | 1 | 1 | 0 | 0 | ½ | 4,5 | 126 | GRAND SWISS |
Results of top ten boards (Final round)
Final standings (Top ten)
| | | | | | | | | | | | | |
| --- | --- | --- | --- | --- | --- | --- | --- | --- | --- | --- | --- | --- |
| Rk. | SNo | | | Name | sex | FED | Rtg | Pts. | TB1 | TB2 | TB3 | TB4 |
| 1 | 15 | | GM | Wang Hao | | CHN | 2726 | 8,0 | 2735 | 67,5 | 73,0 | 0,0 |
| 2 | 2 | | GM | Caruana Fabiano | | USA | 2812 | 8,0 | 2720 | 69,5 | 75,0 | 0,0 |
| 3 | 38 | | GM | Alekseenko Kirill | | RUS | 2674 | 7,5 | 2716 | 64,5 | 69,5 | 0,0 |
| 4 | 8 | | GM | Aronian Levon | | ARM | 2758 | 7,5 | 2708 | 70,5 | 75,5 | 0,0 |
| 5 | 39 | | GM | Anton Guijarro David | | ESP | 2674 | 7,5 | 2702 | 66,5 | 70,5 | 0,0 |
| 6 | 1 | | GM | Carlsen Magnus | | NOR | 2876 | 7,5 | 2698 | 67,5 | 73,0 | 0,0 |
| 7 | 12 | | GM | Nakamura Hikaru | | USA | 2745 | 7,5 | 2674 | 62,0 | 67,0 | 0,0 |
| 8 | 13 | | GM | Vitiugov Nikita | | RUS | 2732 | 7,5 | 2663 | 65,0 | 70,0 | 0,0 |
| 9 | 7 | | GM | Grischuk Alexander | | RUS | 2759 | 7,0 | 2682 | 66,5 | 72,0 | 0,0 |
| 10 | 110 | | GM | Paravyan David | | RUS | 2602 | 7,0 | 2675 | 60,0 | 64,5 | 0,0 |
Complete results and standings
---