Abhimanyu Mishra becomes the youngest GM in the history of chess
Hailing from New Jersey, USA, Abhimanyu Mishra, a 12-year-old boy from Indian origin has taken the world of chess by storm, by achieving his final norm on the 30th of June 2021 at the Vezerkepzo GM Mix at Budapest, Hungary. With his victory of GM Leon Mendonca, Abhimanyu completed all the formalities to become a grandmaster! He has become the youngest GM in the history of the game at the age of 12 years 4 months and 25 days, edging out Karjakin's previously held record by 66 days! Abhimanyu is a tremendous talent and in this article we tell you all about his skills, both on and off the board that have helped him become a grandmaster at such a young age.
30th of June 2021 is an important day in chess history. Abhimanyu Mishra from the USA became the youngest ever grandmaster in the history of the game at the age of 12 years 4 months and 25 days! With this he broke Sergey Karjakin's long standing record of 12 years and 7 months which was achieved in 2002. A lot of young talents have come close in the past - Gukesh achieved the GM title at the age of 12 years 7 months and 17 days, Sindarov was 12 years 10 months and 10 days, Pragg did it at the age of 12 years 10 months and 13 days. But Abhimanyu did it the quickest. Also when you take into consideration that he lost a lot of time in the last year and a half due to the Covid-19 pandemic, this achievement is truly mind boggling.
Before we get into the process of how Abhimanyu achieved his title and norms and get to know more about him, his family and his life, I would like to acquaint you with his playing style. Abhimanyu shared one of the best games of his chess career till date. "Everything I calculated happened on the board," says young Abhimanyu. "I saw nearly 15 moves deep!" Let's have a look at this game. It was against the young talent of Indian chess Shahil Dey.
Abhimanyu Mishra vs Shahil Dey
It's White to play here. Abhimanyu thought about dislodging the knight on f5 with g4 so that he can win the h6 pawn. So after g4, it is natural that Black will respond with g5. White then goes Qf3 Nh4 Qf6 and now the h6 pawn is attacked when the black queen moves to d5.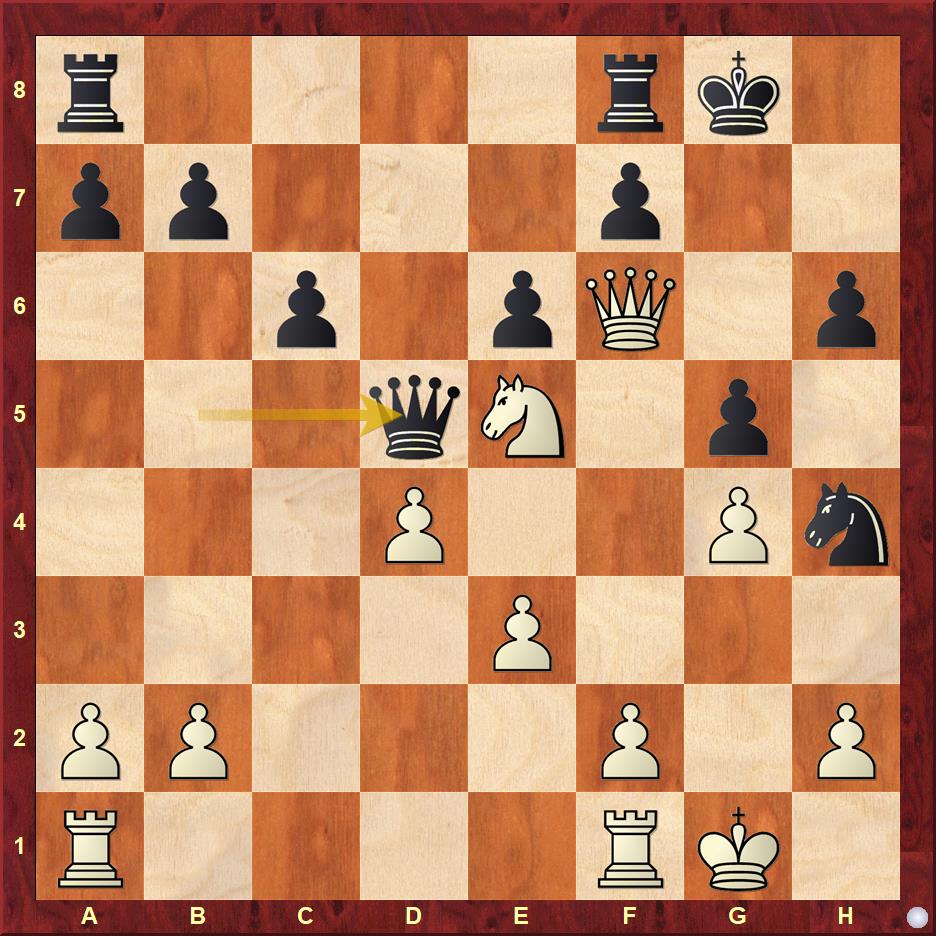 There is a mate threatened on g2 and so Abhimanyu thought about f3. Now that the h6 pawn is hanging Black has to play Kh7 when you take on f7 with Nxf7 and attack the h6 pawn. After Nxf7 Black goes Ng6 and White plays e4. A very interesting position has arisen here. Queen is attacked and if he goes to d7 or c4 it is met with Qxg6+! and after Kxg6 Ne5+ wins back the queen with an extra piece. Hence after e4 it is important to move the queen to b5.
Now the important point to note here is that the knight on f7 is pinned. Abhimanyu would love to unpin with Qxe6 but after Rae8 he would lose material. Although, in the above position, a4!? is a very interesting idea, Abhimanyu went right back to the position in the first diagram and decided to begin with a4!
a4! is a very cool move asking a question to the queen on b5. The queen moved to a5 and now Abhimanyu executed the entire variation. After g4 g5 Qf3 Nh4 Qf6 Qd5 f3 Kh7 we reach the following position:
At this point it might start getting a bit tense as to how should White make progress. The e6 pawn is protected. Also to break the pin down the f-file is quite difficult. Ra3 is a move that comes to mind but after Qxb2 it is not so clear. After quite some thought Abhimanyu came up with the idea of f4! in the above position. Now the knight cannot take it because h6 is hanging. So gxf4 looks logical, but then Ra3 Qxb2 and Rh3! ends the game! That's the reason why after f4 Black would go Qe3+ White has to block with the rook as moving the king to g2 or h1 would lose the e4 pawn with a check. Once Rf2 is played gxf4 is a sensible move and now Ra3!
The queen gives a check on e1 and after Rf1 Black has two options. Qe2 and Qh4. (Note Qxe4 fails to Rh3). If Qe2 Abhimanyu correctly visualized that after Raf3 there is no way for Black to meet the idea of h4-h5. The plan seems slow, but is impossible to refute. The other option is to go Qh4 but after a queen trade Qxh4 Nxh4 White goes Rxf4 and Black moves in Kg7.
The knight is pinned on f7 and moving it would cost the rook on f4. But here Abhimanyu had foreseen (when he went a4 in the first diagram!) that g5 wins for him. The key point being that hxg5 is met with Nxg5 and Rxf4 is not a free rook because of Nxe6+ and the rook is won back!
This is move no.41 and the move a4 was move no.25. Abhimanyu saw all the complications, all the lines, all the ideas, 15 moves ahead. Simply mind blowing.
The final norm drama
Abhimanyu had missed his final GM norm in a couple of previous tournaments by a close margin. Hence, when he took part in the Vezerkepzo GM mix, he knew it was an important shot at his final norm and also the GM title. The tournament began well and the young lad raced ahead to 5.0/6. He needed 2 points in the remaining 3 rounds and the norm would be in the bag. But Abhimanyu lost his game to Milan Pacher. This meant that the boy needed not just 2.0/2, but also a strong 2500+ player in one of the rounds to meet the average. Abhimanyu won his 8th round game and in the 9th round he was paired against Leon Mendonca. The good news was that Leon's rating (2549) was good enough to ensure that a win would give Abhimanyu the GM norm. The bad news was that Leon is a very strong player and he has been in excellent form lately.
"The good thing in this situation was that Abhimanyu had no plan B", says Hemant, Abhimanyu's father. He had to win the game. The evening before the game, the team of Abhimanyu, Hemant and GM Arun Prasad, his long time trainer, sat down and looked at the options on hand. Leon did open most of his games with 1.d4 and the Grunfeld Defence was chosen keeping in mind Abhimanyu's active playing style and also the possibility of keeping on pressing for a win. After 22 moves the following position was reached:
Leon Mendonca vs Abhimanyu Mishra
On any other day Abhimanyu would have been quite happy with the position he has got out of the opening. But on this particular day, he needed to win. If he drew, there was no chance of making a norm even if he won the 10th round. The boy had to go all in. In his bid to win the game, Abhimanyu pressed so hard that at some point he even landed in a lost position! But just like he always has, he kept fighting on. One thing that was working in his favour was the fact that Leon was very low on time in the game.
Leon moved his king to e5 and here Abhimanyu jumped at his opportunity. He checked with Nf3+. Now if Leon had time to think he would have figured that taking the knight is wrong and would have played Kf6. Instead he took the knight with gxf3 exf3 and stopped the pawn with Bh4.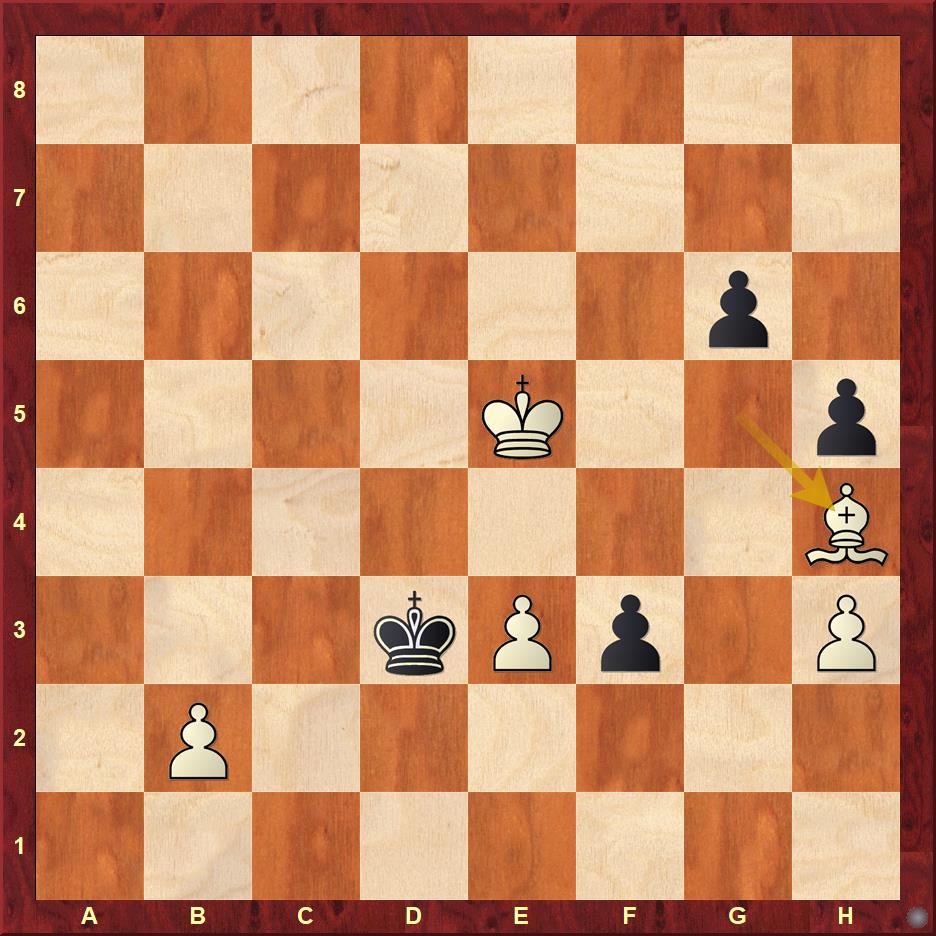 It seems as if White has won the game as he is a piece up. But Abhimanyu had calculated this to a win. He pushed his pawn to ...g5! and after Bf2, the king moved to e2 and all of a sudden the bishop had run out of squares!
Abhimanyu's journey
Abhimanyu was taught the rules of the game by his father when he was just two-and-a-half-year old. By three, he became well accustomed with the way pieces moved on board and kept practising the game on a regular basis. The turning point came when he was put to touch with the twelfth Grandmaster of India Magesh Chandran Panchanathan and his Kings and Queens Chess Academy in New Jersey, USA. Things started to move rapidly and in the right direction for Abhimanyu as only in few months he became (at the age of five) the youngest USCF rated player in USA. Next, it was coach Anuprita Patil who set the foundations in Opening theory and inspired him to constantly learn new lines and variations. Working with her turned him into a more matured player. It was time to set bigger goals now, Abhimanyu started taking one on one lessons online from GM Arun Prasad Subramanian. This furthered his knowledge in middlegames and openings. Arun Prasad worked intensively to broaden Abhimanyu's opening repertoire.
In the subsequent weeks he defeated the Under-10 gold medalist and Under-12 PAN American gold medalist of the same tournament and became the youngest ever National Master in US chess history at the age of nine years and two months, beating the previous record of nine years and three months held by Liran Zhou. Before this, he had also made the record of becoming the youngest National Expert at the age of seven years and six months. Eventually, Abhimanyu became the highest rated under-9 player in the world as well and this opened up doors to new possibilities. In November 2018, he was invited by Kasparov Chess foundation (KCF) for intense three day long assessment by the legendary World Champion Garry Kasparov. He was youngest of all the invited players who came from all across world, yet he was able to clear it in his very first attempt. Thanks to KCF, Abhimanyu was mentored by edM Alex Chernin on a quarterly basis. KCF also provided him the special opportunity to interact with former World Champion Garry Kasparov every 6 months where he was asked to present some of his recent notable games for feedback. Being able to present his games to his greatest idol itself served as a constant motivation for the young boy to give his best in every single game he played. By this time he was good enough to start scoring his IM norms.
Reasons for Abhimanyu's success
It is quite clear that Abhimanyu's success is phenomenal. A lot of ingredients have to fall in the right place in order for someone to become a GM at the of 12 years 4 months and 25 days. Here are the few most critical ones.
Family support
Abhimanyu's father Hemant has been a key element in his son's success. Hemant knew the game of chess and had taken part in inter-corporate events. He is fascinated by the game of chess. At best his rating would be something around 1400-1500 on the Elo scale. Hemant wanted his son to be a world class chess player. For this he was ready to invest his time and financial resources. Abhimanyu's mother Swati doesn't understand chess so well, but she also was in alignment with Hemant's vision to make their son a chess wunderkid. Hemant ensured that Abhimanyu got a lot of tournaments to participate in. School wasn't given huge importance and Abhimanyu would spend a lot of his time working on his game. Hemant would speak with Abhimanyu's opponents after the games, understand where his son was going wrong, and tried to fix the issues by drawing up elaborate training programs. It can be said that Hemant is the force behind Abhimanyu becoming a world class chess talent. At the same time finances were clearly an issue, but the family did not let that be a reason for Abhimanyu slowly down. "It's like mortgage", says Hemant, who has spent close to 200,000 USD for his son's chess career till date.
Dedicated Trainers
"Abhimanyu's trainers worked with him like he was their son," says Hemant. Anuprita Patil and Magesh Chandran, the founders of Kings and Queens Academy in the US, were the ones who discovered Abhimanyu's talent. Later on it was GM Arun Prasad who joined forces and took the youngster to the next level. When Abhimanyu became the youngest GM in the world it was a proud moment for all three of them. We reached out to them to get their thoughts: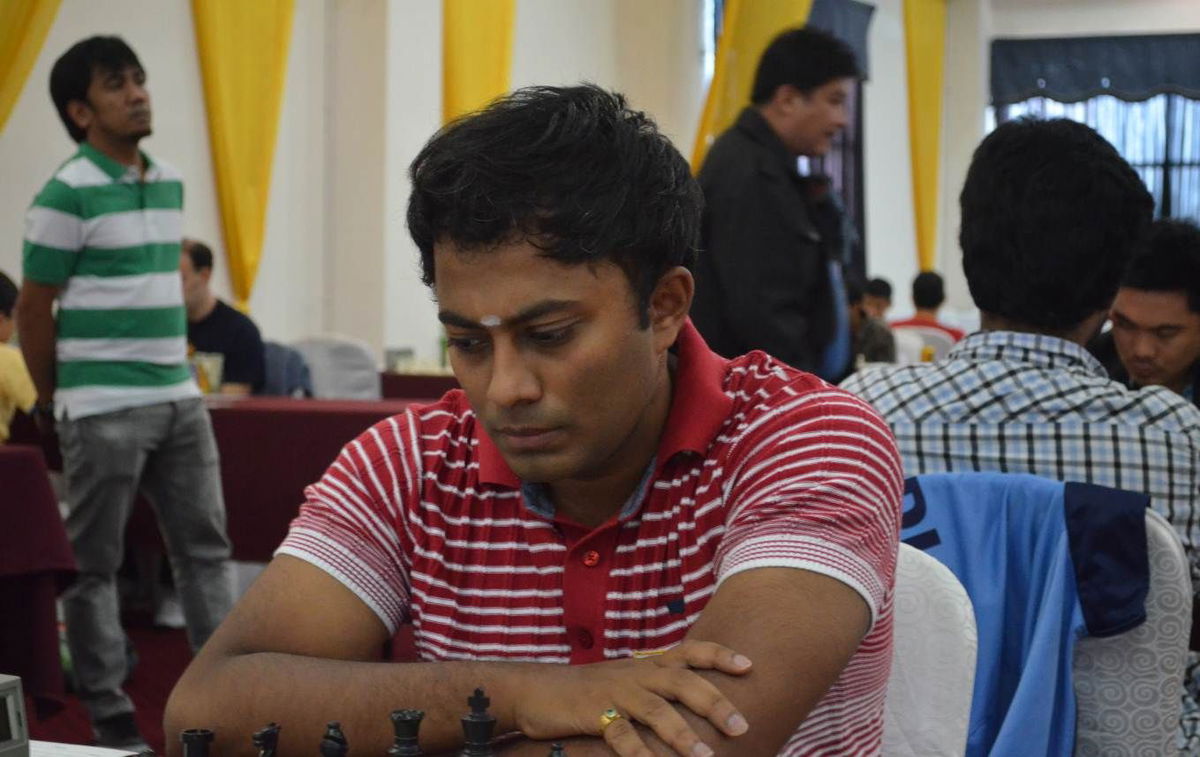 GM Arun Prasad: My wishes to Abhi for this great achievement. He fully deserves this success as I have seen all his hard work first hand. His father deserves a big applause for all the sacrifice he has made for Abhi to reach this milestone. Personally for me this this is a big moment to see a 6-year-old kid becoming a GM within a span of 6 years right in front of my eyes!
GM Magesh Chandran: I saw Abhi for the first time at a very tender age of 5. When his dad brought him to our academy for a group class and casually mentioned that he had to drive about 1.5 hours one way I realized how dedicated he was! I remember talking to Anu and saying this kid is so young and talented, but no one knows how far he will go? Yet, his dad is ready to invest so much time and energy. From that day to today, the amount of work Abhi has put in and the amount of support his dad and his family has provided is just unbelievable! His main coach, GM Arun Prasad has dedicated hours and hours on his opening training, a big kudos to him as well! His dad, Hemant would come back from work and spend 4 to 5 hours each day working with Abhi on books/tactics/games etc. An achievement this big does not come without the support system in place. I have spent several hours with Abhi on his endgames training/playing positions again and again to get him to a point where he just knows things and does not have to figure them out over the board. Abhi's Chessable account has over 52 million points and that is just one part of his training :) It is very nice to see when hard work pays off, that is the most satisfying feeling in the world! We are so happy for him and his family, I am sure Abhi's journey has just started and we are very happy to be part of that.
WFM Anuprita Patil: Congrats to Abhi and his family! The efforts and sacrifices taken by his family and his current coach Arun are unbelievable. I worked with Abhi when he was 5 years old and used to show him some opening lines and model games but even at age 5, he used to remember all the lines clearly. He was a topper even in our academy group classes where he used to be the youngest one in the class. Soon I realized that this kid is different. When Abhi was 6 years old and around 1200/1400 rated, me and Magesh decided to introduce him to GM Arun who was visiting us at that time. Very happy to see Abhi becoming the youngest GM! No words to describe the feeling we all have. Since yesterday all our academy kids are pumped up to work more on chess! Thanks Abhi, from a young 5 year old chess player you have become an inspiration to a million kids!
Hard work and never give up
Hard work has been a key element of Abhimanyu's success story. A fine example is the pandemic situation where the boy could have lost hope as there were no tournaments in sight for over a year. But he continued to work hard and harboured the ambitions of breaking the youngest GM record. He built up his chess muscles at home, and when he was presented with the opportunity, within 3 months, he managed to gain 100 Elo points and three GM norms. A tremendous achievement. Abhimanyu's never give-up attitude was also seen in his final game against Leon Mendonca where he was almost lost, but he didn't throw in the towel.
One of the training techniques which Hemant mentioned, and which impressed me to no end was the process of finding what Abhimanyu was not good at. Hemant and Abhimanyu would go over his games and then once the weakness was spotted, they would relentlessly work on it to plug that hole. For eg. After playing a double bishop endgame, Abhimanyu lost the game and was not sure where he went wrong. Hemant ensured that Abhi went through several double bishop endgames of top players, where the boy had to guess the move made by grandmasters. This made him stronger and improved his chess understanding very quickly.
Fighting failures
Although he is just 12 years old, Abhimanyu has seen a lot of failures in his chess career. Once at the World Youth Championships in Brazil, he was on 8.0/8. But then he lost two of his games and ended the tournament with just 8.5/11. He had to settle for the silver medal. But the boy did not despair. He worked on his chess once again and came out even stronger from the loss.
Looking ahead
Abhimanyu's eventual aim is to become a World Champion in chess. However, his next step goal is to break the 2700 barrier before he turns 15 years old. It's not going to be easy, but the boy has 2.5 years in hand to surpass that milestone. Apart from that Abhimanyu has been given a wild card at the World Cup 2021 in Sochi, Russia where he will face GM Baadur Jobava in round 1. While the creative player from Georgia is clearly the favourite, as Abhimanyu pointed out, he is sometimes inconsistent and that could give him some chances in the mini-match.
Important tweets and videos on Abhimanyu becoming a GM
Lastly, we want to thank all the readers and viewers of ChessBase India who have supported Abhimanyu in his journey of chess. When we published our article on him on 7th of May 2021, the Gofundme page had raised US$ 3970. As of now it stands at US$16,027. Thanks to this amount Abhimanyu's trip of going to Budapest for the GM title has been covered to a large extent.
---