The boy who is racing ahead to break Karjakin's youngest GM record - Abhimanyu Mishra
He learnt the rules of chess when he was two and a half years old. He became the youngest national expert at the age of 7 years and 6 months. He became the youngest National Master in the US at the age of nine years and two months. In late 2019, he beat R. Praggnanandhaa's record of becoming the youngest IM in the world at the age of 10 years, 9 months and 3 days. Meet Abhimanyu Mishra, the youngster who lives in New Jersey, USA. Abhimanyu is an amazing talent and is now going after the record of becoming the world's youngest GM. But wait! What about the Covid19 pandemic? Nothing, absolutely nothing, stands in between Abhimanyu and his goals! Check out this amazing story.
Will Abhimanyu Mishra become the youngest GM in the world?
When Abhimanyu Mishra eclipsed Praggnanandhaa's record of the youngest International Master by 17 days, we knew the boy was special. Abhimanyu achieved the feat in late 2019 and had another 1 year and 9 months to break Karjakin's record of becoming the youngest GM in the world. The Russian prodigy had done it at the age of 12 years and 7 months. Judging by Abhimanyu's strength and the way he was improving, this feat seemed achievable. Come 2020, and the entire world was in chaos due to the Corona virus. The little boy had to sit back home, as time ticked by.
For close to a year Abhimanyu waited patiently at his home in New Jersey, USA. He prepared meticulously and kept himself ready for the moment when things would return to normalcy and over the board tournaments would begin. For a boy who was brought up on munching pawns and pieces since the age of two and a half years, this was an extremely difficult period. In December 2020, Abhimanyu began playing some tournaments in the USA. With a rating of 2338 and no GM norms in hand, the aim of breaking Karjakin's record of becoming a GM by the age of 12 years and 7 months looked difficult. Being born on 9th of February 2009, Abhimanyu has time until 5th of September 2021 to achieve this feat of becoming the youngest GM in the world. Karjakin's record is standing tall since 19 years now.
The Thanksgiving CCCSA GM norm invitational in December helped him gain 18 Elo points, but the Winter CCCSA GM norm Invitational wasn't great. He lost 19 Elo points. In February he played a six round event at the Charlotte Masters and gained 16 Elo points. Before March 2021 began Abhimanyu had improved to an Elo of 2370! That's when the little boy decide to step on the gas.
Abhimanyu's performance helped him gain a whopping 37 Elo points and pushed him to 2407 on the Elo scale. But more importantly he beat three extremely strong players in the event. Here are all three of Abhimanyu's wins from the Spring 2021 CCCSA GM norm event.
Abhimanyu vs Belous
Abhimanyu's game against the experienced Peter Prohaszka was very impressive. The Hungarian GM is known for his positional play. To beat him with the black pieces is no mean feat.
Prohaszka vs Abhimanyu
Abhimanyu's third important win was against IM Craig Hilby, an IM with two GM norms. What I love about the game is Abhimanyu's level headed play against his opponent's early flank attack.
Craig Hilby vs Abhimanyu
It was the end of March and Abhimanyu had crossed 2400. He still had six months left to break Karjakin's record of the youngest GM in the world, but it seemed unlikely now. Not only did he have to gain 92 more Elo points, he also had all his three GM norms left. Add to it the fact that there was a widespread fear of travelling due to Corona virus, things looked grim. But Abhimanyu and his family were not going to give up this fight easily! They packed their bags and got ready to travel to Europe where there were more tournaments happening and more chances to make norms.
Talking about racing to the youngest GM title, Hemant says, "It is too big a goal and hence, we decided to take some calculated risks. We were eagerly and patiently waiting for the last 14 months and were training heavily and waiting for the over the board opportunities. Abhimanyu has been constantly working with GM Arun Prasad and GM Magesh Chandran and has recently enrolled in Pro Chess Training. All of these avenues have helped him become a stronger chess player. Considering pandemic and very few tournaments in last 14 months, it is 5 times more difficult to achieve the youngest GM record and we were hopeful that God will at least give us few tournaments and we will fight till the last day." But isn't going to another continent, risking your life, a bit too much at this point of time? "Yes, everyone is afraid. But it was something that we were planning since a long time. I was the weakest link, a backward pawn, in this fight because of my weight. In order to handle any worst case scenarios I lost 45 pounds (20 kgs) in last 6 months. This will allow me to handle any worst scenarios better. In the long run this record may not mean anything but I am sure if he can get it he will be super confident in taking up any challenges in his life. Nothing will be more complex than beating this record without many tournaments and amidst potential risk of life and for him playing with mask on for hours. I believe in God and I am happy to take this chance to play over the board events."
The first tournament that Abhimanyu played was the 2nd Vezeerkepzo GM norm tournament in Budapest, Hungary. The tournament was organized by GM Attila Czebe and saw players from six different countries take part - India, Hungary, Slovakia, Croatia, Czech Republic and the USA. There were experienced GMs like Plat Vojtech, Milan Pacher and Nagy Gabor and also young talents like Souhardo Basak, Persanyi Barnabas and Abhimanyu.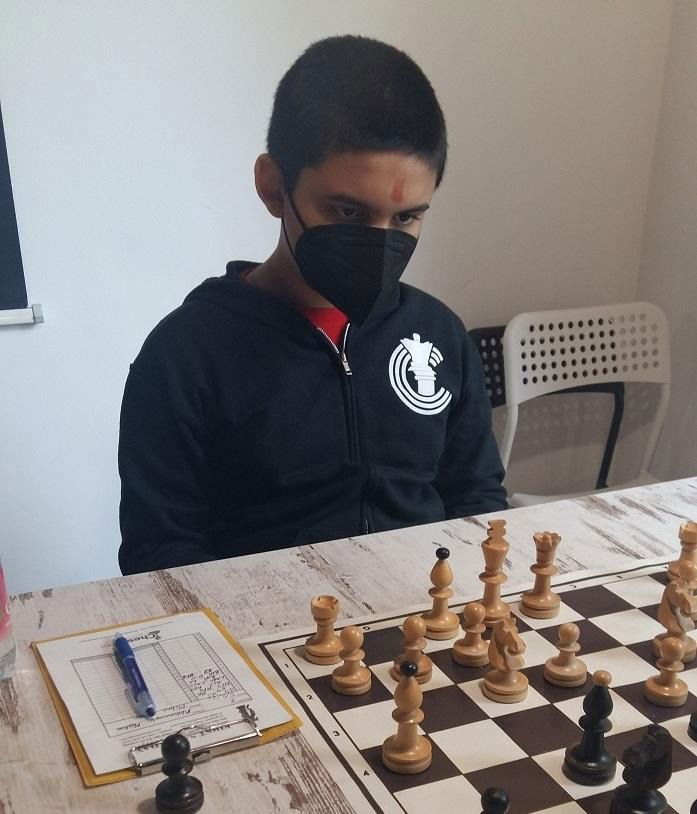 The boy missed his GM norm by a whisker, but he had no time to dwell on the performance. On the 24th of April the next tournament began - Vezerkepzo GM April 2021. The opponents were almost the same as in the previous event and the little boy now had a firm grasp of his opponents' playing style. He notched up one win after another, five in all to perform at an Elo of 2603 and score his first GM norm.
With this performance Abhimanyu reached a live Elo rating of 2445. A happy Hemant wrote to us, "There was too much uncertainty in everything when we planned the trip here. Lockdown/curfew in Europe 10 day quarantine period in Hungary. Getting the letter from Hungarian consulate was not at all easy. The worst part was the negative PCR test requirement to board the flight (depending on the airline) and to do it once again while entering into a new country. No clear information was available and we were with customer calls for hours! We went for 2 PCR tests in last 5 days before the travel. Even after that there was a risk to not make it. Finally we decided to book one way flexible tickets to Hungary. I am very glad that Abhi made his first GM norm. It is all making sense now."
Plat Vojtech vs Abhimanyu
2nd GM norm?
After two back to back events, one would have imagined that the little boy would have taken some rest. That was not the case! Abhimanyu immediately signed himself up for the 1st Saturday GM norm tournament from the 1st to the 11th of May 2021. Would Abhimanyu be tired? Would he slow down a bit? Well, as on 7th of May 2021, six rounds have been completed and look at the standings below:
Rank after Round 6
| | | | | | | | | | | | | | | |
| --- | --- | --- | --- | --- | --- | --- | --- | --- | --- | --- | --- | --- | --- | --- |
| Rk. | SNo | | | Name | sex | FED | Rtg | Bdld | TB1 | TB2 | TB3 | Rp | K | rtg+/- |
| 1 | 9 | | IM | Mishra Abhimanyu | | USA | 2424 | | 5,5 | 14,00 | 0,0 | 2783 | 10 | 21,5 |
| 2 | 8 | | IM | Issa Rafat | | JOR | 2354 | | 4,0 | 9,25 | 0,0 | 2495 | 10 | 11,4 |
| 3 | 4 | | FM | Papp Levente | | HUN | 2394 | | 3,5 | 10,50 | 0,0 | 2469 | 10 | 6,2 |
| 4 | 6 | | FM | Bodi Tibor | | HUN | 2374 | | 3,0 | 9,00 | 0,0 | 2485 | 20 | 15,0 |
| 5 | 1 | | GM | Plat Vojtech | | CZE | 2556 | | 3,0 | 5,50 | 0,0 | 2374 | 10 | -14,1 |
| 6 | 5 | | GM | Czebe Attila | | HUN | 2389 | | 2,5 | 7,00 | 0,0 | 2344 | 10 | -4,1 |
| 7 | 3 | | GM | Pacher Milan | | SVK | 2437 | | 2,5 | 4,50 | 0,0 | 2339 | 10 | -8,4 |
| 8 | 7 | | GM | Farago Ivan | | HUN | 2340 | | 2,0 | 5,25 | 0,0 | 2246 | 10 | -7,3 |
| 9 | 2 | | | Souhardo Basak | | IND | 2359 | | 2,0 | 4,00 | 0,0 | 2290 | 20 | -11,2 |
| 10 | 10 | | FM | Seemann Jakub | | POL | 2288 | | 1,0 | 3,00 | 0,0 | 2169 | 20 | -14,2 |
Abhimanyu is crushing the tournament with a massive 5.5/6. What a performance. He now has a live rating of 2467. Abhimanyu began with four wins out of four games and then drew his fifth round and won his sixth game. He now needs just 1.5/3 to score his 2nd GM norm.
I have lightly annotated these four wins of Abhimanyu because I very much enjoyed going over his games.
A young boy and his father are on a mission - the mission to become the youngest GM in the world. And in this times of Covid, they have to avoid pitfalls not just on the board, but also off it. For now the boy is on track! He has another 4 months left and needs 33 Elo points and a couple of GM norms. For now Hemant has planned a couple of more events in Hungary and then they move to Serbia. Do you think Abhimanyu will break Karjakin's record in the days to come? I do not know if he will or not, but seeing the quality of his games, I can assure you that he is soon going to be one of the best players in the world of chess!
A cry for help
By Hemant Mishra
We are heavily invested in Abhimanyu's chess and we have spent in the range of US$200,000 (Rs.1 crore 40 lakhs!) and almost run out of complete savings. My wife and I are IT professionals and work with a Data Management company. Following are the key expenses for which we have spent until now.
1. All open big tournaments in USA. Played in most of these events in the last 8 years. The total expense = US$ 40,000
2. He got all his IM norms playing in closed GM norm invitational events. These are costly events with 800$ entry fee + hotel + travel. He has played in many such events. The total expense = US$25,000
3. He has attended many elite camps by Gelfand, Kramnik, Aagaard, Chuchelov etc. The total expense = $20,000
4. Other international trips to Greece, Brazil, Costa Rica, Canada and others should be easily in the range of $10,000
5. He has been working with GM Arun Prasad for the last 7 years and there have been sessions almost every alternate day. The total expenses = $35,000
6. Working with Chess Kings and Queens Academy for last 8 years. The total expenses = $10,000
7. Part of elite group in Prochess training. The total expenses = $250 per month.
8. I got the powerful servers configured for him 64 core with 4 RTX2080. Total expense = $10,000.
I learnt all things related to Neural Net and other engine's internals and work with him for up to 25 hours a week so that we are up to date with the recent developments.
9. Books, software, online subscription etc. Total expense = $8,000
10. Public schools are very strict in USA about attendance and there was no way to compete at the highest level while attending these schools. So I had to enroll him into a private school which is somewhat flexible and that helps him to play in more tournaments. Total expense = $25,000 for the last 4 years.
For the last one year, I started driving 1000 km each way to save on flight charges. He has just 4 more months to chase the youngest GM record. I request you to support Abhimanyu in his bid to become one of the best players in the world of chess.
Regards,
Hemant
Know Abhimanyu better
Abhimanyu Mishra, the youngest IM norm maker in the world
Abhimanyu Mishra breaks Pragg's record and becomes the youngest IM in the world
Follow Abhimanyu's story on his Facebook Page
---