Gukesh to star in 8th Gashimov Memorial 2022
GM D Gukesh will participate in his second consecutive super tournament of the year. After a shared third place finish at the Tata Steel Chess India 2022 Rapid, he had a forgettable Blitz event. He would certainly like to do better in his first tournament in Azerbaijan. The remaining nine players in the field are - Shakhriyar Mamedyarov (AZE), Richard Rapport (ROU), Aydin Suleymanli (AZE), Rauf Mamedov (AZE), Nodirbek Abdusattorov (UZB), Francisco Vallejo Pons (ESP), Abdulla Gadimbayli (AZE), Sam Shankland (USA) and Hao Wang (CHN). Three rounds of Rapid games will be played today, starting from 3:30 p.m. IST. Photo: Official site
Gukesh's first tournament in Azerbaijan
Players
The tournament features four of the Azerbaijan's best players along with six world-class players around the globe. They are - World Rapid 2013 champion, Shakhriyar Mamedyaraov, three-time Azerbaijan champion, Rauf Mamedov, World Youth Under-14 Open 2019 champion, Aydin Suleymanli, World Junior 2022 champion, Abdulla Gadimbayli, the former World no.5, Richárd Rapport, 44th Chess Olympiad Bronze and individual Gold medalist, D Gukesh, 44th Chess Olympiad Gold medalist and World Rapid 2021 champion, Nodirbek Abdusattorov. Spain no.1 and World no.30, Francisco Vallejo Pons, 41st Chess Olympiad individual Gold medalist and 42nd Chess Olympiad Gold medal winner for USA and Sam Shankland, China no.3 and World no.27, Hao Wang.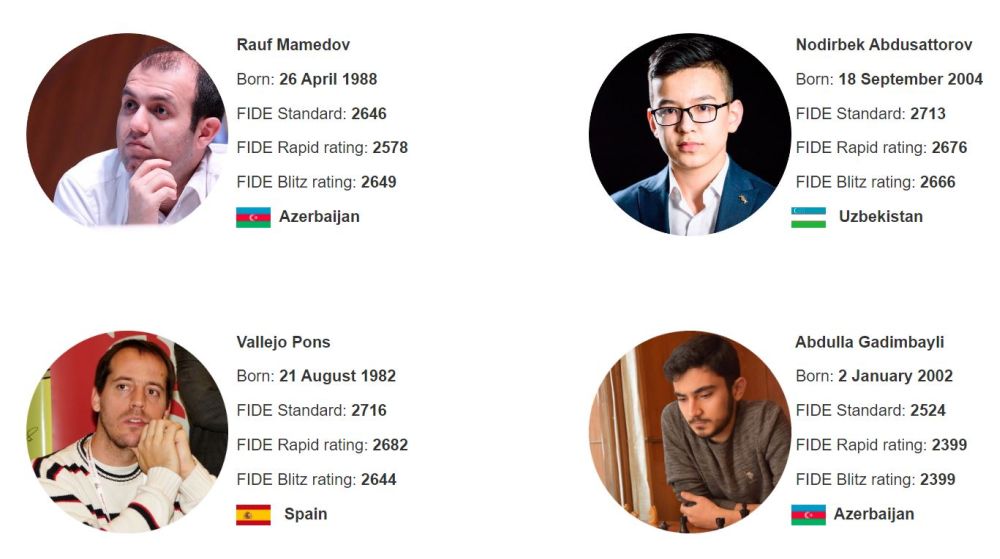 Schedule
The Rapid tournament will be held in a Round-Robin system and the Blitz tournament will be played in a Double Round-Robin system with ten players. Only first day on 18th December, the first round starts at 2 p.m. local time (3:30 p.m. IST). The remaining four days - 19th, 20th, 22nd and 23rd December, the game starts at 3 p.m. local time (4:30 p.m. IST). 21st December is a rest day.
Time Control
The Rapid tournament will be played in 15 minutes + 10 seconds increment. The Blitz event will have 3 minutes + 2 seconds increment.
Scoring
Rapid: Win 2 points, Draw 1 point and Loss 0.
Blitz: Win 1 point, Draw 0.5 point and Loss 0.
Tie-break rules
The final standings will be determined according to sum of points of both Rapid and Blitz events.
Players' message
GM Hao Wang, China no.3 and World no.27
GM Sam Shankland, USA no.6 and World no.33
GM D Gukesh, India no.3 and World no.24
GM Richard Rapport, Romania no.1 and World no.15
GM Francisco Vallejo Pons, Spain no.1 and World no.30
GM Nodirbek Abdusattorov, World Rapid 2021 champion, Uzbekistan no.1 and World no.31
Entry is free for all spectators. Check out the details on the official site
Links
---