8th Gashimov Memorial 2022 Rapid R1-3: Gukesh beats Rapport
D Gukesh won his first round game against Richard Rapport (ROU) at 8th Vugar Gashimov Memorial 2022 Rapid. It was exciting batttle against the creative genius Rapport whose king was vulnerable when he made the final mistake.Then he lost his next two games against Rauf Mamedov (AZE) and Francisco Vallejo Pons (ESP). Rauf outplayed Gukesh positionally. In the game against the Spain no.1, Gukesh got a couple of opportunities to save the game in the rook endgame. However, he missed them all. Gukesh will face three Azeris today - Aydin Suleymanli. Shakhriyar Mamedyarov and Abdulla Gadimbayli. Round 4 starts from 3:30 p.m. IST. Photo: Gashimov Chess Memorial live stream
Abdusattorov starts with a hat-trick
The reigning World Rapid champion, Nodirbek Abdusattorov (UZB) seems to be getting back in his form, just days before his World title defence. After a forgettable performance at the Tata Steel Chess India 2022 Rapid, Abdusattorov started his Rapid event with three wins against Francisco Vallejo Pons (ESP), Aydin Suleymanli (AZE) and Shakhriyar Mamedyarov (AZE). The 44th Chess Olympiad Gold medalist would certainly like to gain as much momentum as he can before he heads towards the most exciting event of the year in Almaty, Kazakhstan.
Rapport - Gukesh, Round 1
Gukesh got a pleasant position out of the Caro-Kann opening after his aggressive h-pawn push to 8...h5 and then 10...h4. The above position displays the prowess of the black knights. 21...Ng5 22.b4 Bxc1 23.Rfxc1 Nf4 24.Kf1 f6 25.Na5 Qf7 and the White king landed in a precarious position with the threat of f-file opening up and h3-pawn dropping in the near future looming large. Although it seemed like Rapport almost managed to save the day when Gukesh's exchange sacrifice did not yield as much as he would have liked.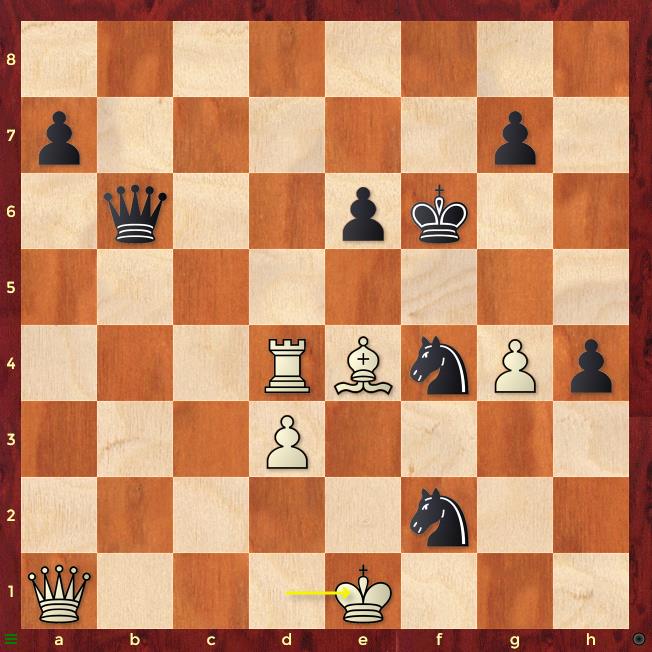 White's incorrect displacement of his king to e1, 45.Ke1 completely turned things in Black's favor. Find out why. The king needed some breathing space like 45.Kc2 would have been fine.
Gukesh lost the second game against Rauf Mamedov (AZE, 2578) in a positional skirmish where Gukesh's bishop lacked squares to move around and eventually it became a liability. He had a space crunch for his pieces too.
Gukesh - Vallejo, Round 3
Which pawn to capture and which one to defend? These are difficult questions especially when you are quite low on time. Capturing either a5 or e5-pawn is fine for White as after Rxb2, White can capture the other pawn. 38.b3 Rxd3 and now capturing either pawn is no longer fine. The key difference is White is going to lose another pawn at h3. So defending it should be prioritized. 39.Rxa5 Rxh3 40.Rxe5 Rxb3 allows Black to stay ahead of the pawn and gain a decisive advantage. Although Gukesh somehow almost managed to save the game in the end.
This is still not over as White can save the game. Try to figure out how. White being very low on time erred 64.Ra8 h4 and Black won the game in another six moves.
Replay Round 1-3 games
Schedule
The Rapid tournament will be held in a Round-Robin system and the Blitz tournament will be played in a Double Round-Robin system with ten players. Only first day on 18th December, the first round starts at 2 p.m. local time (3:30 p.m. IST). The remaining four days - 19th, 20th, 22nd and 23rd December, the game starts at 3 p.m. local time (4:30 p.m. IST). 21st December is a rest day.
Time Control
The Rapid tournament will be played in 15 minutes + 10 seconds increment. The Blitz event will have 3 minutes + 2 seconds increment.
Scoring
Rapid: Win 2 points, Draw 1 point and Loss 0.
Blitz: Win 1 point, Draw 0.5 point and Loss 0.
Tie-break rules
The final standings will be determined according to sum of points of both Rapid and Blitz events.
Round 1-3 results
Round 1 on 2022/12/18 at 14-00
Bo.
No.
Rtg
Name
Result
Name
Rtg
No.
1
1
2399
GM
Gadimbayli Abdulla
0 - 1
GM
Mamedov Rauf
2578
10
2
2
2721
GM
Wang Hao
½ - ½
GM
Mamedyarov Shakhriyar
2746
9
3
3
2657
GM
Shankland Sam
1 - 0
GM
Suleymanli Aydin
2448
8
4
4
2676
GM
Abdusattorov Nodirbek
1 - 0
GM
Vallejo Pons Francisco
2682
7
5
5
2802
GM
Rapport Richard
0 - 1
GM
Gukesh D
2632
6
Round 2 on 2022/12/18 at 15-15
Bo.
No.
Rtg
Name
Result
Name
Rtg
No.
1
10
2578
GM
Mamedov Rauf
1 - 0
GM
Gukesh D
2632
6
2
7
2682
GM
Vallejo Pons Francisco
1 - 0
GM
Rapport Richard
2802
5
3
8
2448
GM
Suleymanli Aydin
0 - 1
GM
Abdusattorov Nodirbek
2676
4
4
9
2746
GM
Mamedyarov Shakhriyar
½ - ½
GM
Shankland Sam
2657
3
5
1
2399
GM
Gadimbayli Abdulla
0 - 1
GM
Wang Hao
2721
2
Round 3 on 2022/12/18 at 16-30
Bo.
No.
Rtg
Name
Result
Name
Rtg
No.
1
2
2721
GM
Wang Hao
½ - ½
GM
Mamedov Rauf
2578
10
2
3
2657
GM
Shankland Sam
½ - ½
GM
Gadimbayli Abdulla
2399
1
3
4
2676
GM
Abdusattorov Nodirbek
1 - 0
GM
Mamedyarov Shakhriyar
2746
9
4
5
2802
GM
Rapport Richard
1 - 0
GM
Suleymanli Aydin
2448
8
5
6
2632
GM
Gukesh D
0 - 1
GM
Vallejo Pons Francisco
2682
7
Round 4-6 pairings
Round 4 on 2022/12/19 at 15-00
Bo.
No.
Rtg
Name
Result
Name
Rtg
No.
1
10
2578
GM
Mamedov Rauf
GM
Vallejo Pons Francisco
2682
7
2
8
2448
GM
Suleymanli Aydin
GM
Gukesh D
2632
6
3
9
2746
GM
Mamedyarov Shakhriyar
GM
Rapport Richard
2802
5
4
1
2399
GM
Gadimbayli Abdulla
GM
Abdusattorov Nodirbek
2676
4
5
2
2721
GM
Wang Hao
GM
Shankland Sam
2657
3
Round 5 on 2022/12/19 at 16-15
Bo.
No.
Rtg
Name
Result
Name
Rtg
No.
1
3
2657
GM
Shankland Sam
GM
Mamedov Rauf
2578
10
2
4
2676
GM
Abdusattorov Nodirbek
GM
Wang Hao
2721
2
3
5
2802
GM
Rapport Richard
GM
Gadimbayli Abdulla
2399
1
4
6
2632
GM
Gukesh D
GM
Mamedyarov Shakhriyar
2746
9
5
7
2682
GM
Vallejo Pons Francisco
GM
Suleymanli Aydin
2448
8
Round 6 on 2022/12/19 at 17-30
Bo.
No.
Rtg
Name
Result
Name
Rtg
No.
1
10
2578
GM
Mamedov Rauf
GM
Suleymanli Aydin
2448
8
2
9
2746
GM
Mamedyarov Shakhriyar
GM
Vallejo Pons Francisco
2682
7
3
1
2399
GM
Gadimbayli Abdulla
GM
Gukesh D
2632
6
4
2
2721
GM
Wang Hao
GM
Rapport Richard
2802
5
5
3
2657
GM
Shankland Sam
GM
Abdusattorov Nodirbek
2676
4
Standings after Round 3
| | | | | | | | | | |
| --- | --- | --- | --- | --- | --- | --- | --- | --- | --- |
| Rk. | SNo | | Name | FED | Rtg | Pts. | TB1 | TB2 | TB3 |
| 1 | 4 | GM | Abdusattorov Nodirbek | UZB | 2676 | 3 | 0 | 3 | 3,00 |
| 2 | 10 | GM | Mamedov Rauf | AZE | 2578 | 2,5 | 0 | 2 | 2,50 |
| 3 | 7 | GM | Vallejo Pons Francisco | ESP | 2682 | 2 | 0 | 2 | 2,00 |
| 4 | 2 | GM | Wang Hao | CHN | 2721 | 2 | 0 | 1 | 2,25 |
| 5 | 3 | GM | Shankland Sam | USA | 2657 | 2 | 0 | 1 | 0,75 |
| 6 | 6 | GM | Gukesh D | IND | 2632 | 1 | 0 | 1 | 1,00 |
| 7 | 5 | GM | Rapport Richard | ROU | 2802 | 1 | 0 | 1 | 0,00 |
| 8 | 9 | GM | Mamedyarov Shakhriyar | AZE | 2746 | 1 | 0 | 0 | 2,00 |
| 9 | 1 | GM | Gadimbayli Abdulla | AZE | 2399 | 0,5 | 0 | 0 | 1,00 |
| 10 | 8 | GM | Suleymanli Aydin | AZE | 2448 | 0 | 0 | 0 | 0,00 |
Links
---