8th Gashimov Memorial 2022 Rapid R4-6: Gukesh does a 116-move draw against Shakh
D Gukesh started the second day with a victory over Aydin Suleymanli (AZE) at 8th Vugar Gashimov Memorial 2022 Rapid. The latter's unfettered attack did not pay off. In the following round, Gukesh provided stiff resistance against the World Rapid 2013 champion, Shakhriyar Mamedyarov. The game ended in a draw after 116-move long grueling battle. It certainly drained both players. The 16-year-old lost his third game of the day against the new World Junior champion, Abdulla Gadimbayli which also went for 82 moves. The teenager is now at 5/12 along with Abdulla, Rapport and Shakh. The reigning World Rapid champion, Nodirbek Abdusattorov (UZB) maintains his sole lead 10/12. Round 7 starts from 3:30 p.m. IST. Photo: Gashimov Chess Memorial live stream
Abdusattorov maintains his unbeaten sole lead
The World Rapid champion, Nodirbek Abdusattorov (UZB) remains at the top of the points table after the conclusion of sixth round. He drew with Abdulla Gadimbayli (AZE) and Hao Wang (CHN), before finishing the day with a victory over Sam Shankland (USA). He is now a full point ahead 10/12 of Rauf Mamedov (AZE) 9/12, followed by Hao 8/12 and Francisco Vallejo Pons (ESP) 7/12.
Suleymanli - Gukesh, Round 4
Aydin Suleymanli's (AZE,2448) aggressive attack by sacrificing two pawns did not work out in his favor. 20...dxc4 21.Qc3 Rxg5 22.Bb2 Rxc6 23.Rxg5 Qxg5+ 24.Kh1 f6 and Black went on to win the game using the extra pawns to his advantage.
Gukesh provided staunch defence in a difficult queen vs queen and knight-pawn endgame against Shakhriyar Mamedyarov (AZE, 2746).
The marathon draw certainly drained Gukesh. He defended a worse position against the new World Junior champion, GM Abdulla Gadimbayli (AZE, 2399). He fought for 82-moves before checkmate became inevitable and he resigned.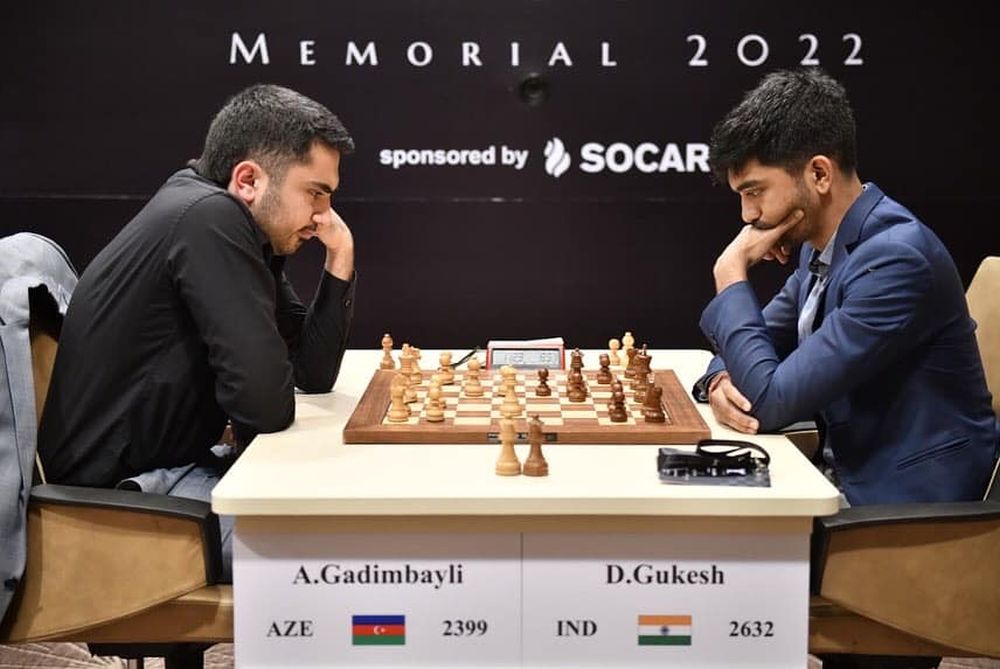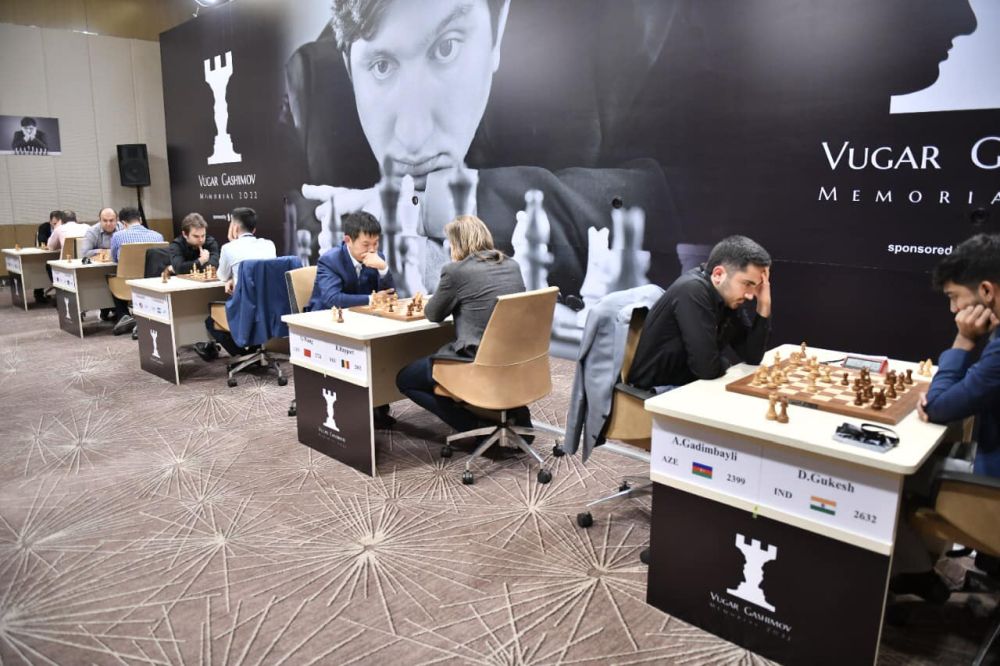 Replay Round 4-6 games
Schedule
The Rapid tournament will be held in a Round-Robin system and the Blitz tournament will be played in a Double Round-Robin system with ten players. Only first day on 18th December, the first round starts at 2 p.m. local time (3:30 p.m. IST). The remaining four days - 19th, 20th, 22nd and 23rd December, the game starts at 3 p.m. local time (4:30 p.m. IST). 21st December is a rest day.
Time Control
The Rapid tournament will be played in 15 minutes + 10 seconds increment. The Blitz event will have 3 minutes + 2 seconds increment.
Scoring
Rapid: Win 2 points, Draw 1 point and Loss 0.
Blitz: Win 1 point, Draw 0.5 point and Loss 0.
Tie-break rules
The final standings will be determined according to sum of points of both Rapid and Blitz events.
Round 4-6 results
Round 4 on 2022/12/19 at 15-00
Bo.
No.
Rtg
Name
Result
Name
Rtg
No.
1
10
2578
GM
Mamedov Rauf
½ - ½
GM
Vallejo Pons Francisco
2682
7
2
8
2448
GM
Suleymanli Aydin
0 - 1
GM
Gukesh D
2632
6
3
9
2746
GM
Mamedyarov Shakhriyar
½ - ½
GM
Rapport Richard
2802
5
4
1
2399
GM
Gadimbayli Abdulla
½ - ½
GM
Abdusattorov Nodirbek
2676
4
5
2
2721
GM
Wang Hao
1 - 0
GM
Shankland Sam
2657
3
Round 5 on 2022/12/19 at 16-15
Bo.
No.
Rtg
Name
Result
Name
Rtg
No.
1
3
2657
GM
Shankland Sam
0 - 1
GM
Mamedov Rauf
2578
10
2
4
2676
GM
Abdusattorov Nodirbek
½ - ½
GM
Wang Hao
2721
2
3
5
2802
GM
Rapport Richard
½ - ½
GM
Gadimbayli Abdulla
2399
1
4
6
2632
GM
Gukesh D
½ - ½
GM
Mamedyarov Shakhriyar
2746
9
5
7
2682
GM
Vallejo Pons Francisco
½ - ½
GM
Suleymanli Aydin
2448
8
Round 6 on 2022/12/19 at 17-30
Bo.
No.
Rtg
Name
Result
Name
Rtg
No.
1
10
2578
GM
Mamedov Rauf
½ - ½
GM
Suleymanli Aydin
2448
8
2
9
2746
GM
Mamedyarov Shakhriyar
½ - ½
GM
Vallejo Pons Francisco
2682
7
3
1
2399
GM
Gadimbayli Abdulla
1 - 0
GM
Gukesh D
2632
6
4
2
2721
GM
Wang Hao
½ - ½
GM
Rapport Richard
2802
5
5
3
2657
GM
Shankland Sam
0 - 1
GM
Abdusattorov Nodirbek
2676
4
Round 7-9 pairings
Round 7 on 2022/12/20 at 15-00
Bo.
No.
Rtg
Name
Result
Name
Rtg
No.
1
4
2676
GM
Abdusattorov Nodirbek
GM
Mamedov Rauf
2578
10
2
5
2802
GM
Rapport Richard
GM
Shankland Sam
2657
3
3
6
2632
GM
Gukesh D
GM
Wang Hao
2721
2
4
7
2682
GM
Vallejo Pons Francisco
GM
Gadimbayli Abdulla
2399
1
5
8
2448
GM
Suleymanli Aydin
GM
Mamedyarov Shakhriyar
2746
9
Round 8 on 2022/12/20 at 16-15
Bo.
No.
Rtg
Name
Result
Name
Rtg
No.
1
10
2578
GM
Mamedov Rauf
GM
Mamedyarov Shakhriyar
2746
9
2
1
2399
GM
Gadimbayli Abdulla
GM
Suleymanli Aydin
2448
8
3
2
2721
GM
Wang Hao
GM
Vallejo Pons Francisco
2682
7
4
3
2657
GM
Shankland Sam
GM
Gukesh D
2632
6
5
4
2676
GM
Abdusattorov Nodirbek
GM
Rapport Richard
2802
5
Round 9 on 2022/12/20 at 17-30
Bo.
No.
Rtg
Name
Result
Name
Rtg
No.
1
5
2802
GM
Rapport Richard
GM
Mamedov Rauf
2578
10
2
6
2632
GM
Gukesh D
GM
Abdusattorov Nodirbek
2676
4
3
7
2682
GM
Vallejo Pons Francisco
GM
Shankland Sam
2657
3
4
8
2448
GM
Suleymanli Aydin
GM
Wang Hao
2721
2
5
9
2746
GM
Mamedyarov Shakhriyar
GM
Gadimbayli Abdulla
2399
1
Standings after Round 6
| | | | | | | | | | |
| --- | --- | --- | --- | --- | --- | --- | --- | --- | --- |
| Rk. | SNo | | Name | FED | Rtg | Pts. | TB1 | TB2 | TB3 |
| 1 | 4 | GM | Abdusattorov Nodirbek | UZB | 2676 | 5 | 0 | 4 | 12,25 |
| 2 | 10 | GM | Mamedov Rauf | AZE | 2578 | 4,5 | 0 | 3 | 11,25 |
| 3 | 2 | GM | Wang Hao | CHN | 2721 | 4 | 0 | 2 | 11,75 |
| 4 | 7 | GM | Vallejo Pons Francisco | ESP | 2682 | 3,5 | 0 | 2 | 9,00 |
| 5 | 6 | GM | Gukesh D | IND | 2632 | 2,5 | 0 | 2 | 4,75 |
| 6 | 1 | GM | Gadimbayli Abdulla | AZE | 2399 | 2,5 | 0 | 1 | 7,25 |
| 7 | 5 | GM | Rapport Richard | ROU | 2802 | 2,5 | 0 | 1 | 5,50 |
| 8 | 9 | GM | Mamedyarov Shakhriyar | AZE | 2746 | 2,5 | 0 | 0 | 7,25 |
| 9 | 3 | GM | Shankland Sam | USA | 2657 | 2 | 0 | 1 | 3,50 |
| 10 | 8 | GM | Suleymanli Aydin | AZE | 2448 | 1 | 0 | 0 | 4,00 |
Links
---