Arjun Erigaisi convincingly clinches 6th Sharjah Masters 2023, Gukesh third
Arjun Erigaisi scored a thumping victory against Nodirbek Yakubboev (UZB) in the final round to win 6th Sharjah Masters 2023. He did not have the best start as he scored only 3/5 in the first five rounds. However, what matters is that, he scored 3.5/4 in the last four games including a hat-trick in the last three rounds. It was certainly not easy to achieve that but he made it look easy. Since the penultimate round, Arjun was playing like the Arjun we have seen since 2020 to 2022, who was absent this year. That is no longer the case as the 44th Olympiad individual Silver medalist has once again returned to his true form. Seven players scored 6/9. D Gukesh was placed third according to tie-breaks. Nihal Sarin is the only other Indian to make a top ten finish. He scored 5.5/9 to finish ninth. Photo: Aditya Sur Roy
The Comeback of Arjun Erigaisi
GM Arjun Erigaisi has had such a phenomenal run since the summer of 2020, that he did not get any time to rest. Earlier this year, he had a couple of forgettable outing at the 85th Tata Steel Masters and 28th TePe Sigeman & Co 2023. However, this fantastic performance of his is going to make everyone forget about those. Winning such a strong tournament which boasted an average of 2617 with 78 GMs, is a roaring announcement that he is back!
Total prize fund of the entire tournament (all three sections) was US$ 60000. The prize fund for the Masters section was US$ 45000. The top three prizes were US$ 10000 + cup, $8000 and $7000 along with a medal each.
Arjun - Yakubboev: 1-0
It was the first time the 44th Chess Olympiad individual Silver medalist, GM Arjun Erigaisi (2701) was facing the 44th Chess Olympiad Gold medalist, GM Nodirbek Yakubboev (UZB, 2630) in a rated game. Arjun was once again determined to win the game.
20...g6 invited trouble 21.Rxf7 still Qd5 would have kept Black in the game. 21...Rxe3? just turned things completely in White's favor.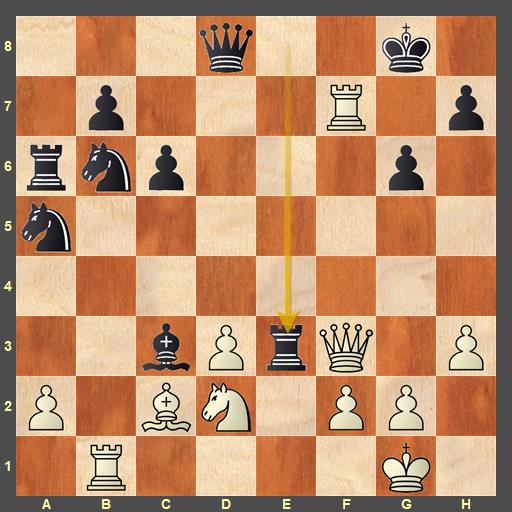 21...Rxe3? only helped White to open up the f-file and create Alekhine's gun on it. 22.fxe3 Bxd2 23.Rf1 Ra8 24.Qf2 Bc3 25.d4 Nd5 26.Bxg6! Nxe3 27.Rg7+ and Black resigned.
Replay the Live stream
Replay Round 9 games
Round 9 results
| | | | | | | | | | | | | | |
| --- | --- | --- | --- | --- | --- | --- | --- | --- | --- | --- | --- | --- | --- |
| Bo. | No. | | | Name | Rtg | Pts. | Result | Pts. | | Name | Rtg | | No. |
| 1 | 2 | | GM | Gukesh, D | 2732 | 5½ | ½ - ½ | 5½ | GM | Tabatabaei, M. Amin | 2677 | | 14 |
| 2 | 4 | | GM | Yu, Yangyi | 2729 | 5½ | ½ - ½ | 5½ | GM | Martirosyan, Haik M. | 2675 | | 15 |
| 3 | 8 | | GM | Erigaisi, Arjun | 2701 | 5½ | 1 - 0 | 5½ | GM | Yakubboev, Nodirbek | 2630 | | 28 |
| 4 | 11 | | GM | Sevian, Samuel | 2684 | 5½ | ½ - ½ | 5½ | GM | Oparin, Grigoriy | 2667 | | 17 |
| 5 | 12 | | GM | Esipenko, Andrey | 2679 | 5 | ½ - ½ | 5 | GM | Sjugirov, Sanan | 2712 | | 5 |
| 6 | 6 | | GM | Niemann, Hans Moke | 2708 | 5 | 1 - 0 | 5 | GM | Kadric, Denis | 2601 | | 46 |
| 7 | 22 | | GM | Nguyen, Thai Dai Van | 2645 | 5 | ½ - ½ | 5 | GM | Praggnanandhaa, R | 2688 | | 9 |
| 8 | 16 | | GM | Nihal, Sarin | 2673 | 5 | ½ - ½ | 4½ | GM | Korobov, Anton | 2664 | | 18 |
| 9 | 1 | | GM | Maghsoodloo, Parham | 2734 | 4½ | ½ - ½ | 4½ | GM | Mchedlishvili, Mikheil | 2553 | | 69 |
| 10 | 20 | | GM | Cheparinov, Ivan | 2660 | 4½ | 1 - 0 | 4½ | GM | Kovalev, Vladislav | 2612 | | 38 |
| 11 | 21 | | GM | Narayanan.S.L, | 2660 | 4½ | 1 - 0 | 4½ | GM | Aditya, Mittal | 2522 | | 76 |
| 12 | 57 | | GM | Adhiban, B. | 2589 | 4½ | 1 - 0 | 4½ | GM | Yilmaz, Mustafa | 2641 | | 23 |
| 13 | 24 | | GM | Abasov, Nijat | 2634 | 4½ | ½ - ½ | 4½ | GM | Vakhidov, Jakhongir | 2607 | | 39 |
| 14 | 26 | | GM | Dardha, Daniel | 2631 | 4½ | 1 - 0 | 4½ | GM | Murzin, Volodar | 2604 | | 42 |
| 15 | 64 | | GM | Kuybokarov, Temur | 2566 | 4½ | ½ - ½ | 4½ | GM | Sargsyan, Shant | 2630 | | 27 |
Final standings
| | | | | | | | | | | | | |
| --- | --- | --- | --- | --- | --- | --- | --- | --- | --- | --- | --- | --- |
| Rk. | SNo | | | Name | FED | Rtg | Pts. | TB1 | TB2 | TB3 | TB4 | TB5 |
| 1 | 8 | | GM | Erigaisi, Arjun | IND | 2701 | 6,5 | 0 | 39 | 34,5 | 1 | 2775 |
| 2 | 11 | | GM | Sevian, Samuel | USA | 2684 | 6 | 0 | 43,5 | 39 | 1 | 2764 |
| 3 | 2 | | GM | Gukesh, D | IND | 2732 | 6 | 0 | 43 | 39,5 | 0 | 2781 |
| 4 | 4 | | GM | Yu, Yangyi | CHN | 2729 | 6 | 0 | 42,5 | 39 | 1 | 2777 |
| 5 | 15 | | GM | Martirosyan, Haik M. | ARM | 2675 | 6 | 0 | 40,5 | 36,5 | 1 | 2759 |
| 6 | 6 | | GM | Niemann, Hans Moke | USA | 2708 | 6 | 0 | 40,5 | 36 | 1 | 2751 |
| 7 | 14 | | GM | Tabatabaei, M. Amin | IRI | 2677 | 6 | 0 | 40,5 | 36 | 0 | 2749 |
| 8 | 17 | | GM | Oparin, Grigoriy | USA | 2667 | 6 | 0 | 40 | 37 | 2 | 2774 |
| 9 | 16 | | GM | Nihal, Sarin | IND | 2673 | 5,5 | 0 | 43,5 | 38,5 | 0 | 2731 |
| 10 | 22 | | GM | Nguyen, Thai Dai Van | CZE | 2645 | 5,5 | 0 | 42,5 | 38 | 1 | 2712 |
Links
---