6th Sharjah Masters 2023 R7: Gukesh in a six-pack lead
Samuel Sevian drew against D Gukesh and Yangyi Yu also drew his game against Grigoriy Oparin. Thus, it allowed more players to catch up with them. The 44th Chess Olympiad Gold medalist, Nodirbek Yakubboev, Iran no.2 M Amin Tabatabaei and Armenia no.2 Haik Martirosyan joined them in the lead 5/7 each. Yakubboev defeated R Praggnanandhaa after the latter could not make the most out of the upper hand he had gained. Tabatabaei got the better of Manuel Petrosyan and Haik won against Aryan Chopra who blundered in an equal rook and bishop endgame. Nine players are in pursuit including Nihal Sarin and Arjun Erigaisi at 4.5/7 each. Round 8 starts today at 3 p.m. local time, 4:30 p.m. IST. Photo: Niklesh Jain
Nihal and Arjun in the chase
GM Karthikeyan Murali scored his third win in-a-row to move 4/7. He defeated the Turkey no.2 GM Vahap Sanal in the seventh round.
Yakubboev - Praggnanandhaa: 1-0
The reigning Asian Continental champion, GM R Praggnanandhaa (2688) got a significant advantage early in the middlegame against the 44th Chess Olympiad Gold medalist, GM Nodirbek Yakubboev (UZB, 2630).
Black has a firm grip of the position. White's most advanced piece is the knight at f5. 20...Bd7 was the best way to kick it back instead of 20...Qd7. Even after 21.Nd4 an immediate c5 was required. Soon a bunch of pieces got exchanged and Black's attacking chances diminished.
Keeping the queens on the board is Black's last resort to have any chance of saving the game. 44...Qe7?? just finished things in a hurry 45.Qxe7+ Kxe7 46.Bf5 Kd6 47.Bxh3 Kc5 48.Bf5 Kxc4 49.h4 Kd5 50.h5 Ke5 51.h6 Kf6 52.g4 and Black resigned due to the threat of g5+ followed by h7.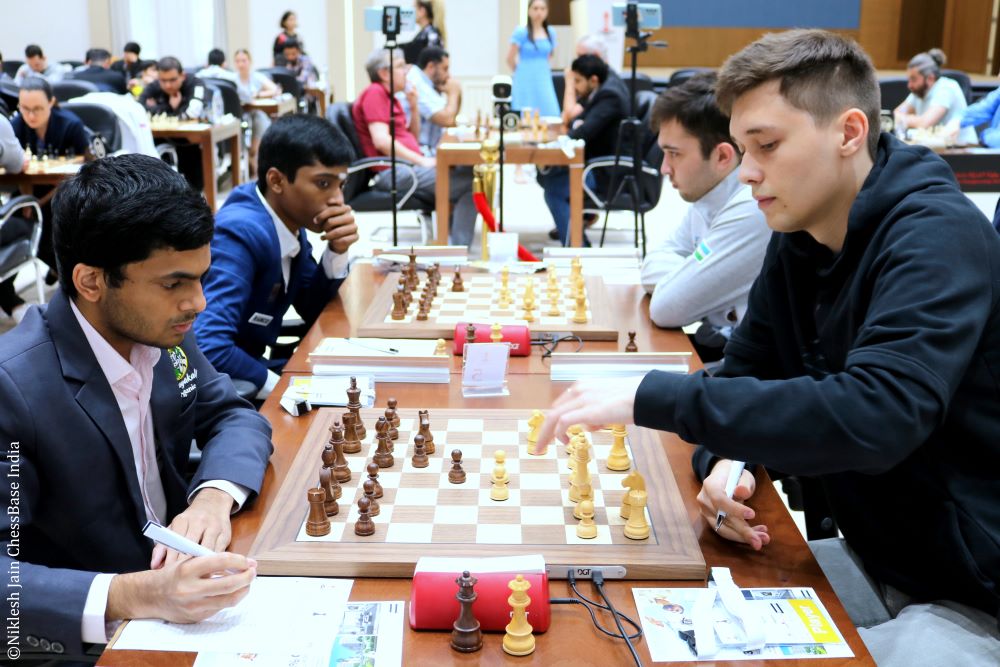 Haik - Aryan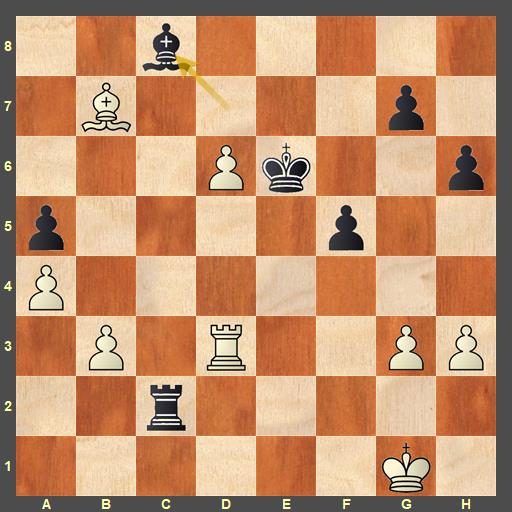 46...Bc8?? is a blunder. Try to find out why. 46...g5 would have kept the game going and it wouldn't have been easy to promote the passed d6-pawn.
Replay the Live stream
Replay Round 7 games
Round 7 results
| | | | | | | | | | | | | | |
| --- | --- | --- | --- | --- | --- | --- | --- | --- | --- | --- | --- | --- | --- |
| Bo. | No. | | | Name | Rtg | Pts. | Result | Pts. | | Name | Rtg | | No. |
| 1 | 11 | | GM | Sevian, Samuel | 2684 | 4½ | ½ - ½ | 4½ | GM | Gukesh, D | 2732 | | 2 |
| 2 | 4 | | GM | Yu, Yangyi | 2729 | 4 | ½ - ½ | 4½ | GM | Oparin, Grigoriy | 2667 | | 17 |
| 3 | 18 | | GM | Korobov, Anton | 2664 | 4 | ½ - ½ | 4 | GM | Sjugirov, Sanan | 2712 | | 5 |
| 4 | 28 | | GM | Yakubboev, Nodirbek | 2630 | 4 | 1 - 0 | 4 | GM | Praggnanandhaa, R | 2688 | | 9 |
| 5 | 12 | | GM | Esipenko, Andrey | 2679 | 4 | ½ - ½ | 4 | GM | Nihal, Sarin | 2673 | | 16 |
| 6 | 14 | | GM | Tabatabaei, M. Amin | 2677 | 4 | 1 - 0 | 4 | GM | Petrosyan, Manuel | 2629 | | 29 |
| 7 | 15 | | GM | Martirosyan, Haik M. | 2675 | 4 | 1 - 0 | 4 | GM | Aryan, Chopra | 2617 | | 35 |
| 8 | 6 | | GM | Niemann, Hans Moke | 2708 | 3½ | ½ - ½ | 4 | GM | Kovalev, Vladislav | 2612 | | 38 |
| 9 | 8 | | GM | Erigaisi, Arjun | 2701 | 3½ | 1 - 0 | 3½ | GM | Azarov, Sergei | 2582 | | 59 |
| 10 | 64 | | GM | Kuybokarov, Temur | 2566 | 3½ | 1 - 0 | 3½ | GM | Salem, A.R. Saleh | 2677 | | 13 |
| 11 | 46 | | GM | Kadric, Denis | 2601 | 3½ | 1 - 0 | 3½ | GM | Sindarov, Javokhir | 2661 | | 19 |
| 12 | 20 | | GM | Cheparinov, Ivan | 2660 | 3½ | ½ - ½ | 3½ | GM | Vakhidov, Jakhongir | 2607 | | 39 |
| 13 | 22 | | GM | Nguyen, Thai Dai Van | 2645 | 3½ | ½ - ½ | 3½ | GM | Mchedlishvili, Mikheil | 2553 | | 69 |
| 14 | 42 | | GM | Murzin, Volodar | 2604 | 3½ | ½ - ½ | 3½ | GM | Yilmaz, Mustafa | 2641 | | 23 |
| 15 | 24 | | GM | Abasov, Nijat | 2634 | 3½ | ½ - ½ | 3½ | GM | Suleymanli, Aydin | 2560 | | 67 |
Standings after Round 7
| | | | | | | | | | | | | |
| --- | --- | --- | --- | --- | --- | --- | --- | --- | --- | --- | --- | --- |
| Rk. | SNo | | | Name | FED | Rtg | Pts. | TB1 | TB2 | TB3 | TB4 | TB5 |
| 1 | 11 | | GM | Sevian, Samuel | USA | 2684 | 5 | 0 | 28 | 23,5 | 1 | 2788 |
| 2 | 2 | | GM | Gukesh, D | IND | 2732 | 5 | 0 | 25,5 | 22 | 0 | 2809 |
| 3 | 14 | | GM | Tabatabaei, M. Amin | IRI | 2677 | 5 | 0 | 23,5 | 20 | 0 | 2766 |
| 4 | 28 | | GM | Yakubboev, Nodirbek | UZB | 2630 | 5 | 0 | 23 | 20 | 1 | 2791 |
| 5 | 15 | | GM | Martirosyan, Haik M. | ARM | 2675 | 5 | 0 | 22,5 | 19,5 | 1 | 2772 |
| 6 | 17 | | GM | Oparin, Grigoriy | USA | 2667 | 5 | 0 | 22 | 19 | 2 | 2790 |
| 7 | 16 | | GM | Nihal, Sarin | IND | 2673 | 4,5 | 0 | 26 | 22 | 0 | 2743 |
| 8 | 38 | | GM | Kovalev, Vladislav | FID | 2612 | 4,5 | 0 | 25 | 21,5 | 1 | 2772 |
| 9 | 4 | | GM | Yu, Yangyi | CHN | 2729 | 4,5 | 0 | 25 | 21,5 | 0 | 2749 |
| 10 | 5 | | GM | Sjugirov, Sanan | RUS | 2712 | 4,5 | 0 | 24,5 | 21 | 1 | 2700 |
| 11 | 46 | | GM | Kadric, Denis | MNE | 2601 | 4,5 | 0 | 24,5 | 21 | 0 | 2779 |
| 12 | 18 | | GM | Korobov, Anton | UKR | 2664 | 4,5 | 0 | 24 | 20,5 | 0 | 2728 |
| 13 | 8 | | GM | Erigaisi, Arjun | IND | 2701 | 4,5 | 0 | 23,5 | 20 | 0 | 2707 |
| 14 | 64 | | GM | Kuybokarov, Temur | AUS | 2566 | 4,5 | 0 | 23 | 20 | 2 | 2743 |
| 15 | 12 | | GM | Esipenko, Andrey | FID | 2679 | 4,5 | 0 | 23 | 20 | 0 | 2720 |
Round 8 pairings
| | | | | | | | | | | | | | |
| --- | --- | --- | --- | --- | --- | --- | --- | --- | --- | --- | --- | --- | --- |
| Bo. | No. | | | Name | Rtg | Pts. | Result | Pts. | | Name | Rtg | | No. |
| 1 | 17 | | GM | Oparin, Grigoriy | 2667 | 5 | | 5 | GM | Gukesh, D | 2732 | | 2 |
| 2 | 15 | | GM | Martirosyan, Haik M. | 2675 | 5 | | 5 | GM | Sevian, Samuel | 2684 | | 11 |
| 3 | 28 | | GM | Yakubboev, Nodirbek | 2630 | 5 | | 5 | GM | Tabatabaei, M. Amin | 2677 | | 14 |
| 4 | 18 | | GM | Korobov, Anton | 2664 | 4½ | | 4½ | GM | Yu, Yangyi | 2729 | | 4 |
| 5 | 5 | | GM | Sjugirov, Sanan | 2712 | 4½ | | 4½ | GM | Nihal, Sarin | 2673 | | 16 |
| 6 | 38 | | GM | Kovalev, Vladislav | 2612 | 4½ | | 4½ | GM | Erigaisi, Arjun | 2701 | | 8 |
| 7 | 46 | | GM | Kadric, Denis | 2601 | 4½ | | 4½ | GM | Esipenko, Andrey | 2679 | | 12 |
| 8 | 9 | | GM | Praggnanandhaa, R | 2688 | 4 | | 4½ | GM | Kuybokarov, Temur | 2566 | | 64 |
| 9 | 31 | | GM | Karthikeyan, Murali | 2627 | 4 | | 4 | GM | Niemann, Hans Moke | 2708 | | 6 |
| 10 | 35 | | GM | Aryan, Chopra | 2617 | 4 | | 4 | GM | Cheparinov, Ivan | 2660 | | 20 |
| 11 | 39 | | GM | Vakhidov, Jakhongir | 2607 | 4 | | 4 | GM | Narayanan.S.L, | 2660 | | 21 |
| 12 | 58 | | GM | Vokhidov, Shamsiddin | 2586 | 4 | | 4 | GM | Nguyen, Thai Dai Van | 2645 | | 22 |
| 13 | 23 | | GM | Yilmaz, Mustafa | 2641 | 4 | | 4 | GM | Suleymanli, Aydin | 2560 | | 67 |
| 14 | 76 | | GM | Aditya, Mittal | 2522 | 4 | | 4 | GM | Abasov, Nijat | 2634 | | 24 |
| 15 | 69 | | GM | Mchedlishvili, Mikheil | 2553 | 4 | | 4 | GM | Dardha, Daniel | 2631 | | 26 |
Links
---