6th Sharjah Masters 2023 R5: Haik Martirosyan emerges sole leader
Haik Martirosyan defeated Wenjun Ju (CHN) to emerge sole leader 4/5 after the fifth round of 6th Sharjah Masters 2023. The Armenia no.2 got the better of the reigning Women's World Champion, when she blundered in an already dwindling minor piece endgame. R Praggnanandhaa and Nihal Sarin drew against Vladislav Kovalev and Samuel Sevian (USA) respectively. D Gukesh defeated the current three-time National Rapid and Blitz champion, Aravindh Chithambaram to stay in the hunt 3.5/5. Aryan Chopra missed a good opportunity to subdue M Amin Tabatabaei (IRI). Nihal, Pragg, Aryan and Gukesh are at 3.5/5 each along with nine more players. Round 6 starts today at 3 p.m. local time, 4:30 p.m. IST. Photo: Aditya Sur Roy
Arjun, Aditya, Vidit, Leon and Karthikeyan score
The fifth round was a good one for the Indian players. Arjun Erigaisi bounced back from his previous round loss. He defeated GM Hipolito Asis Gargatagli (ESP). Aditya Mittal, Vidit Gujrathi, Leon Luke Mendonca and Karthikeyan Murali scored their first wins of the event. Aditya showed great tenacity against Raunak Sadhwani. Despite having a lost position for the better part of the endgame, he endured a very tough position, waited for his opportunity. When it arose, he made the most out of it.
Tabatabaei - Aryan: 0.5-0.5
GM M Amin Tabatabaei (IRI, 2677) faced GM Aryan Chopra (2617) only once in a rated game at World Youth Under-16 Olympiad in 2017. Tabatabaei had won that game. Aryan had a great opportunity to level the score.
24.Kh1 created an opportunity for Black to gain control 24...Nf4 25.Qg4 h5 26.Qg5 f6 27.Qg1 Nxh3 and White would have been in serious trouble. Instead, the game continued 24...Be5 25.Ba1 Nf4 26.Qg4 h5 27.Qh4 Nxd5 and the advantage slipped away.
Martirosyan - Wenjun
GM Wenjun Ju's (CHN, 2550) position was already bad. 27...b5 did not help her case. Find out how GM Haik Martirosyan (ARM, 2675) wrapped things up.
Gukesh - Aravindh
GM D Gukesh (2732) and GM Aravindh Chithambaram (2633) played only two Classical games against each other. Aravindh has not managed to defeat Gukesh yet. That remained unchanged yesterday. Aravindh's king was stranded in the middle of the board. 31...Ke7 did not help his case, in fact it only made things worse. 32.Rc5 Qb6 33.Rhc1 Kd7 34.h6 gxh6 35.Bh5 Qb7 36.Ka1 Qxe4 37.Rc7+ Kd8 38.Qe1 Qxf5 39.Bxf7 Rd7 40.Bxd4 and Black resigned.
Raunak - Aditya Mittal: 0-1
GM Raunak Sadhwani (2627) faced GM Aditya Mittal (2522) for the first time in a Classical rated game in over seven years. Their last encounter in February 2016 ended in a draw. Raunak was winning for the better part of the endgame. First he made a mistake and lost his advantage, later, he blundered terribly and lost the game.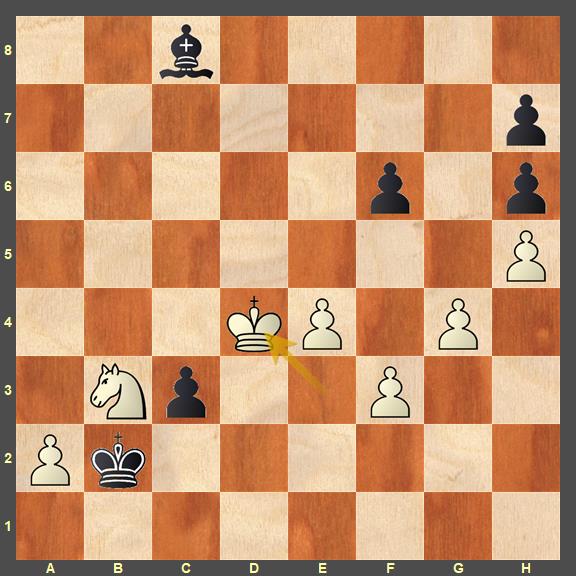 57.Nd4 Kxa2 58.Kf4 and White can still salvage a draw. However, 57.Kd4?? ended things for him after c2 58.Nc5 Kb1 and Black won the game.
Replay the Live stream
Replay Round 5 games
Round 5 results
| | | | | | | | | | | | | | |
| --- | --- | --- | --- | --- | --- | --- | --- | --- | --- | --- | --- | --- | --- |
| Bo. | No. | | | Name | Rtg | Pts. | Result | Pts. | | Name | Rtg | | No. |
| 1 | 38 | | GM | Kovalev, Vladislav | 2612 | 3 | ½ - ½ | 3 | GM | Praggnanandhaa, R | 2688 | | 9 |
| 2 | 16 | | GM | Nihal, Sarin | 2673 | 3 | ½ - ½ | 3 | GM | Sevian, Samuel | 2684 | | 11 |
| 3 | 14 | | GM | Tabatabaei, M. Amin | 2677 | 3 | ½ - ½ | 3 | GM | Aryan, Chopra | 2617 | | 35 |
| 4 | 15 | | GM | Martirosyan, Haik M. | 2675 | 3 | 1 - 0 | 3 | GM | Ju, Wenjun | 2550 | | 70 |
| 5 | 42 | | GM | Murzin, Volodar | 2604 | 2½ | ½ - ½ | 2½ | GM | Maghsoodloo, Parham | 2734 | | 1 |
| 6 | 2 | | GM | Gukesh, D | 2732 | 2½ | 1 - 0 | 2½ | GM | Aravindh, Chithambaram Vr. | 2633 | | 25 |
| 7 | 4 | | GM | Yu, Yangyi | 2729 | 2½ | 1 - 0 | 2½ | GM | Dardha, Daniel | 2631 | | 26 |
| 8 | 46 | | GM | Kadric, Denis | 2601 | 2½ | ½ - ½ | 2½ | GM | Sjugirov, Sanan | 2712 | | 5 |
| 9 | 6 | | GM | Niemann, Hans Moke | 2708 | 2½ | 1 - 0 | 2½ | GM | Vakhidov, Jakhongir | 2607 | | 39 |
| 10 | 10 | | GM | Predke, Alexandr | 2685 | 2½ | ½ - ½ | 2½ | GM | Sargsyan, Shant | 2630 | | 27 |
| 11 | 12 | | GM | Esipenko, Andrey | 2679 | 2½ | 1 - 0 | 2½ | GM | Theodorou, Nikolas | 2591 | | 55 |
| 12 | 48 | | GM | Sanal, Vahap | 2600 | 2½ | 0 - 1 | 2½ | GM | Oparin, Grigoriy | 2667 | | 17 |
| 13 | 18 | | GM | Korobov, Anton | 2664 | 2½ | 1 - 0 | 2½ | GM | Vokhidov, Shamsiddin | 2586 | | 58 |
| 14 | 20 | | GM | Cheparinov, Ivan | 2660 | 2½ | ½ - ½ | 2½ | GM | Suleymanli, Aydin | 2560 | | 67 |
| 15 | 64 | | GM | Kuybokarov, Temur | 2566 | 2½ | 1 - 0 | 2½ | GM | Narayanan.S.L, | 2660 | | 21 |
Standings after Round 5
| | | | | | | | | | | | | |
| --- | --- | --- | --- | --- | --- | --- | --- | --- | --- | --- | --- | --- |
| Rk. | SNo | | | Name | FED | Rtg | Pts. | TB1 | TB2 | TB3 | TB4 | TB5 |
| 1 | 15 | | GM | Martirosyan, Haik M. | ARM | 2675 | 4 | 0 | 9,5 | 7,5 | 1 | 2829 |
| 2 | 38 | | GM | Kovalev, Vladislav | FID | 2612 | 3,5 | 0 | 13 | 10 | 1 | 2810 |
| 3 | 11 | | GM | Sevian, Samuel | USA | 2684 | 3,5 | 0 | 13 | 10 | 1 | 2771 |
| 4 | 16 | | GM | Nihal, Sarin | IND | 2673 | 3,5 | 0 | 13 | 10 | 0 | 2764 |
| 5 | 9 | | GM | Praggnanandhaa, R | IND | 2688 | 3,5 | 0 | 12,5 | 10 | 1 | 2761 |
| 6 | 35 | | GM | Aryan, Chopra | IND | 2617 | 3,5 | 0 | 12 | 9,5 | 1 | 2749 |
| 7 | 14 | | GM | Tabatabaei, M. Amin | IRI | 2677 | 3,5 | 0 | 12 | 9,5 | 0 | 2752 |
| 8 | 6 | | GM | Niemann, Hans Moke | USA | 2708 | 3,5 | 0 | 11,5 | 9 | 0 | 2774 |
| 9 | 2 | | GM | Gukesh, D | IND | 2732 | 3,5 | 0 | 11 | 8,5 | 0 | 2789 |
| 10 | 18 | | GM | Korobov, Anton | UKR | 2664 | 3,5 | 0 | 11 | 8,5 | 0 | 2745 |
| 11 | 4 | | GM | Yu, Yangyi | CHN | 2729 | 3,5 | 0 | 10,5 | 8 | 0 | 2786 |
| 12 | 12 | | GM | Esipenko, Andrey | FID | 2679 | 3,5 | 0 | 10,5 | 8 | 0 | 2756 |
| 13 | 64 | | GM | Kuybokarov, Temur | AUS | 2566 | 3,5 | 0 | 10 | 8 | 2 | 2775 |
| 14 | 17 | | GM | Oparin, Grigoriy | USA | 2667 | 3,5 | 0 | 10 | 8 | 2 | 2747 |
| 15 | 70 | | GM | Ju, Wenjun | CHN | 2550 | 3 | 0 | 13,5 | 11 | 1 | 2752 |
Round 6 pairings
| | | | | | | | | | | | | | |
| --- | --- | --- | --- | --- | --- | --- | --- | --- | --- | --- | --- | --- | --- |
| Bo. | No. | | | Name | Rtg | Pts. | Result | Pts. | | Name | Rtg | | No. |
| 1 | 2 | | GM | Gukesh, D | 2732 | 3½ | | 4 | GM | Martirosyan, Haik M. | 2675 | | 15 |
| 2 | 16 | | GM | Nihal, Sarin | 2673 | 3½ | | 3½ | GM | Yu, Yangyi | 2729 | | 4 |
| 3 | 17 | | GM | Oparin, Grigoriy | 2667 | 3½ | | 3½ | GM | Niemann, Hans Moke | 2708 | | 6 |
| 4 | 9 | | GM | Praggnanandhaa, R | 2688 | 3½ | | 3½ | GM | Korobov, Anton | 2664 | | 18 |
| 5 | 11 | | GM | Sevian, Samuel | 2684 | 3½ | | 3½ | GM | Kuybokarov, Temur | 2566 | | 64 |
| 6 | 35 | | GM | Aryan, Chopra | 2617 | 3½ | | 3½ | GM | Esipenko, Andrey | 2679 | | 12 |
| 7 | 38 | | GM | Kovalev, Vladislav | 2612 | 3½ | | 3½ | GM | Tabatabaei, M. Amin | 2677 | | 14 |
| 8 | 1 | | GM | Maghsoodloo, Parham | 2734 | 3 | | 3 | GM | Yakubboev, Nodirbek | 2630 | | 28 |
| 9 | 5 | | GM | Sjugirov, Sanan | 2712 | 3 | | 3 | GM | Ju, Wenjun | 2550 | | 70 |
| 10 | 27 | | GM | Sargsyan, Shant | 2630 | 3 | | 3 | GM | Erigaisi, Arjun | 2701 | | 8 |
| 11 | 29 | | GM | Petrosyan, Manuel | 2629 | 3 | | 3 | GM | Predke, Alexandr | 2685 | | 10 |
| 12 | 13 | | GM | Salem, A.R. Saleh | 2677 | 3 | | 3 | GM | Murzin, Volodar | 2604 | | 42 |
| 13 | 19 | | GM | Sindarov, Javokhir | 2661 | 3 | | 3 | GM | Galperin, Platon | 2528 | | 74 |
| 14 | 76 | | GM | Aditya, Mittal | 2522 | 3 | | 3 | GM | Cheparinov, Ivan | 2660 | | 20 |
| 15 | 67 | | GM | Suleymanli, Aydin | 2560 | 3 | | 3 | GM | Nguyen, Thai Dai Van | 2645 | | 22 |
Links
---