3rd Gujarat GM Open R2-3: Anup Deshmukh scores a sublime victory
Revered IM Anup Deshmukh scored a beautiful win against GM Mikel Huerga Leache (ESP). It was a model game on how to convert an advantage into a victory. GM Boris Savchenko, GM Stany G A and GM Harsha Bharathakoti were held to a draw each by WIM Arpita Mukherjee, FM Aradhya Garg and FM L M S T De Silva (SRI). FM Kashish Manoj Jain missed plenty of chances to beat GM Cristhian Camilo Rios (COL). It was a really tough day for many titled players as few GMs and IMs went down against their lower rated counterparts. Round 4 starts today at 10:00 a.m. IST. Photo: Aditya Sur Roy
A good day for Kushal Jani
Vrashank Chouhan scored the biggest win of Round 2 against GM Venkatesh M R. 15-year-old Kushal R Jani first drew with GM P Karthikeyan and then beat IM Moksh Amit Doshi. Karthikean on the other hand had a forgettable day as he lost the third round game against Priyanshu Patil. Shrayan Majumder, Soham Bhattacharyya, Ilamparthi A R, Shriraj Bhosale, Harshit Pawar, Anilkumar O T, Vaibhav Kalpaka, Sahib Singh and Kushal Jani - all of them beat an IM each on the second day.
Round 2: Vrashank - Venkatesh: 1-0
14-year-old Vrashank Chouhan (1790) got a better position out of the opening against GM Venkatesh M R (2493).
Black's position is in shambles after 20.hxg6. It is beyond salvageable. White soon gained material and wrapped up the game in another 12 moves.
Round 3: Anup - Mikel: 1-0
IM Anup Deshmukh (2190) played a model game to beat GM Mikel Huerga Leache (ESP, 2471).
White has a fantastic position. However, the knight is about to be displaced from the d6-square. Find out the correct plan for White which Anup executed in the game.
Kashish - Cristhian: 0.5-0.5
FM Kashish Manoj Jain (2162) missed a couple of good opportunities to win against GM Cristhian Camilo Rios (COL, 2449).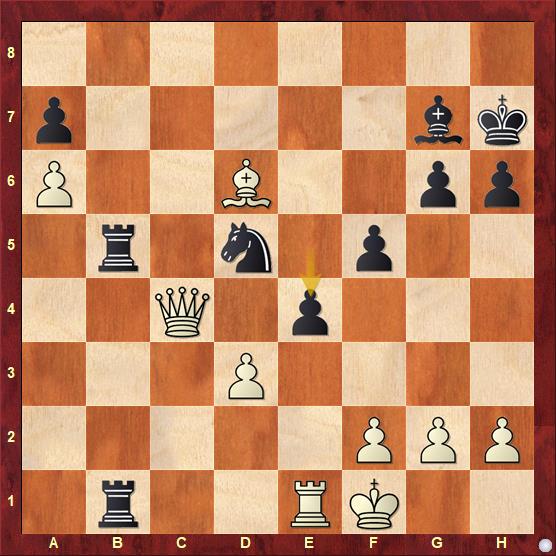 Find out the winning continuation for White after 32...e4.
White can still win this. Find out how. Even after 35.Rxb1 Rxb1+ 36.Qxb1 Nxb1 37.Bc5 Nc3 38.Bxa7 Nf5 39.Be3 g5? White got one last opportunity to go for the full point. This was probably the longest way, nevertheless it was an opportunity.
Soham - Mehar: 1-0
16-year-old Soham Bhattacharyya (2004) capitalized on his opportunity when his opponent IM Mehar Chinna Reddy (2422) blundered in the endgame.
44...Rh4+ or Bg2 would have led to a draw. However, 44...g5 completely finishes the game for Black. Find out the difference.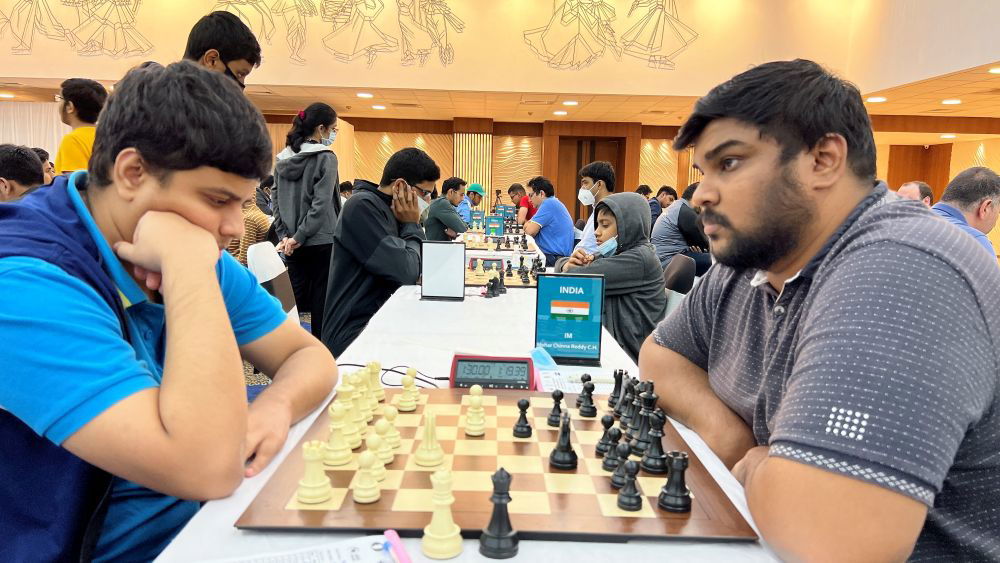 Ameya - Ilamparthi: 0-1
IM Ameya Audi (2418) went wrong early in the middlegame against former National under-9 champion, Ilamparthi A R (1993).
Going for paltry tricks like 24.Qd4 did not help White. In fact, the opposite happened, White lost tempo and Black gained substantial advantage. The 12-year-old had no trouble converting his advantage into a win.
For more Round 2 and Round 3 photos, please click at the respective links.
A total of 374 players including 14 GMs, 30 IMs and 3 WIM are taking part from 14 countries across the world including India. The tournament is organized by Gujarat State Chess Association from 31st March to 7th April 2022 at Karnavati Club, Ahmedabad. The ten-round Swiss league tournament has a time control of 90 minutes + 30 seconds increment from move no.1.
Replay Round 2-3 games
Round 3 results
Round 4 pairings
---