22nd Dubai Open 2022 R7: Praggnanandhaa and Aravindh catch up with Arjun Erigaisi and Predke
Arjun Erigaisi drew with Alexandr Predke in the seventh round of 22nd Dubai Open 2022. Praggnanandhaa defeated Vladimir Akopian (USA) and Aravindh Chithambaram checkmated Kazakhstan no.1 Rinat Jumabayev in 25 moves. All four of them are now at 6/7 each. Praggnanandhaa will face Predke and Arjun will be up against Aravindh in the penultimate round. Four players are in the chase at 5.5/7. Abhijeet Gupta and Sethuraman are the two Indians among them. Reigning National Women's champion, WGM Divya Deshmukh defeated IM Arash Tahbaz (IRI) to move to 4.5/7. Round 8 starts today at 5 p.m. local time, 6:30 p.m. IST. Photo: Rupali Mullick
Aravindh checkmates Rinat in 25 moves
IM P Shyam Nikhil and Sanket Chakravarty defeated GM Laxman R R and GM Oliver Dimakiling (PHI) respectively. IM Aditya Mittal, IM Sammed Shete, IM Kushagra Mohan, IM Nitish Belurkar, IM Raahul V S, FM Sharan Rao and FM Suyog Wagh drew with GM Samvel Ter-Sahakyan (ARM), GM Aleksandar Indjic (SRB), GM Liviu-Dieter Nisipeanu (GER), GM Raunak Sadhwani, GM Sandro Mareco (ARG), GM Aydin Suleymanli (AZE) and GM Raja Rithvik R respectively.
Akopian - Praggnanandhaa: 0-1
In a relatively equal double rook and knight endgame, GM Vladimir Akopian (USA, 2616) made an inaccuracy against GM Praggnanandhaa (2661). He resigned after a move later.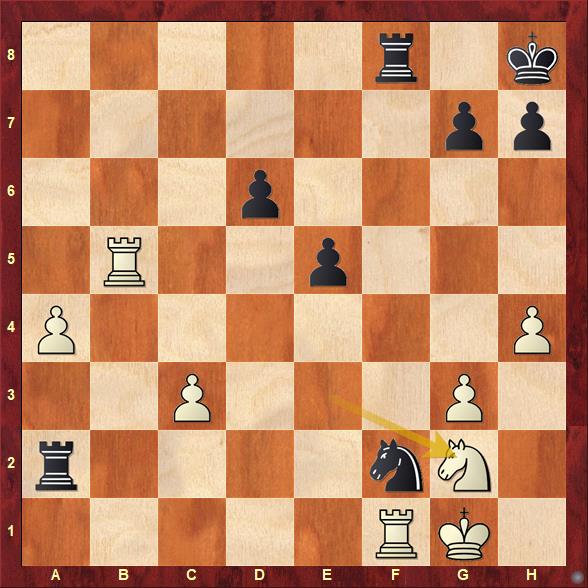 At a first glance, 31.Ng2 may seem innocuous, However, it turns out that White puts himself in trouble. 31...Kg8 protects the f8-rook and frees up his own knight. 32.Rfb1 Ne4 and White resigned. White not only has too many pawns under attack, but also the threat of Rff2 is looming large.
Rinat - Aravindh: 0-1
GM Aravindh Chithambaram (2614) undoubtedly played the game of the round as he defeated Kazakhstan no.1 GM Rinat Jumabayev (2615) by checkmating him in 25 moves.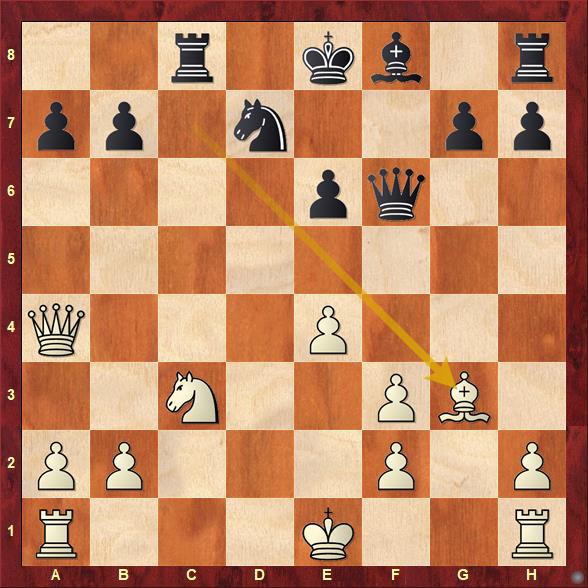 The difference between a strong player and someone who is almost there is, the best ones do not hesitate to seize their opportunities. Aravindh sacrificed an exchange 14...Rxc3 15.bxc3 Qxc3+ 16.Ke2 Qb2+ 17.Kd3. There is no immediate win here for Black, however there is enough to stir up trouble and keep White on his toes to find the precise defence. It goes without saying that it is certainly not easy for a human to find the correct defence. 17...Bb4 18.Rhc1 0-0 19.Qc2 Qa3+ of course Black has no desire to trade the queens as he is the one who is attacking. 20.Ke2 Qxf3+ 21.Kf1 Nc5 Black's position is so good that the moves flow naturally. 22.Kg1 Nd3 23.Qc4?? is what ended things for White.
23.Rcb1 would have kept White in the game. Find out the winning continuation for Black after 23.Qc4.
Shyam - Laxman: 1-0
IM P Shyam Nikhil (2465) defeated GM Laxman R R (2381). The former converted his positional advantage beautifully into a full point.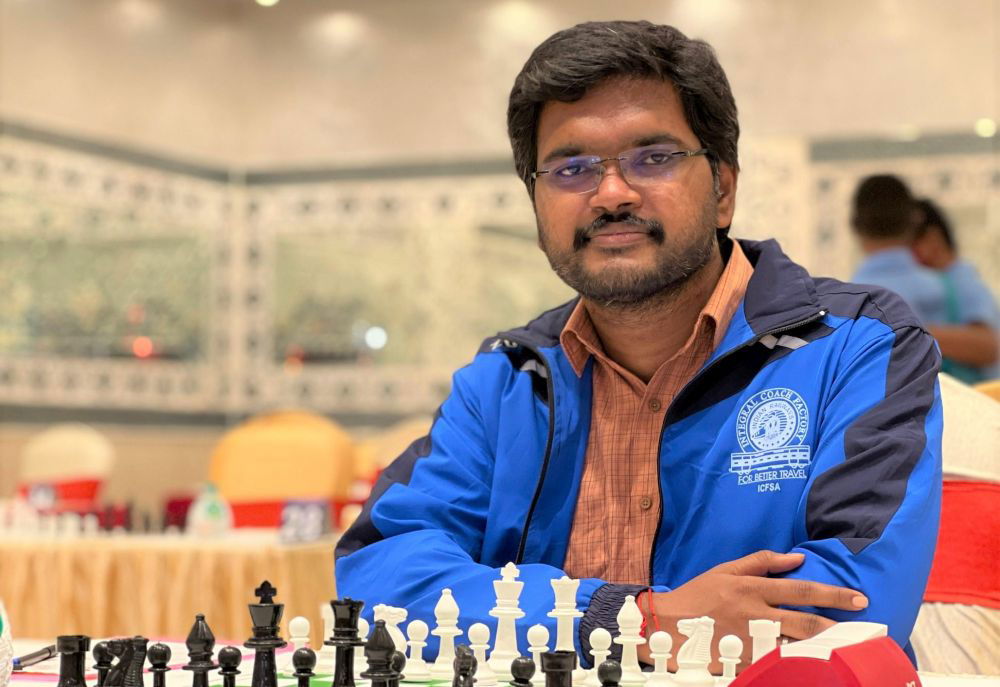 Rithvik - Suyog
A beautiful finish. No matter how White captures on d8, it will be a Stalemate.
Tahbaz - Divya: 0-1
IM Arash Tahbaz (IRI, 2449) made all the wrong decisions and allowed an onslaught on his kingside. WGM Divya Deshmukh (2319) launched an attack meticulously and won the game.
13.Nh4 is a pointless move here as neither Nf5 nor f4 are possible. 13...Nf4 14.Ndf3 Nxg2 15.Kxg2 Ne7 16.Qe2 Qe6 17.Rh1 f5-+ Black is now completely winning positionally.
For more Round 7 photos, please click here.
A total of 163 players including 29 GMs, 29 IMs, 2 WGMs and 3 WIMs are taking part from 34 countries across the world including India. The tournament is being organized by Dubai Chess & Culture Club from 27th August to 4th September 2022 at Dubai Chess & Culture Club, UAE. The nine-round Swiss league tournament has a time control of 90 minutes + 30 seconds increment from move no.1.
Replay Round 7 games
Round 7 results
Round 8 pairings
Links
---