22nd Dubai Open 2022 R5: Ayush Sharma scores a golden hat-trick, Arjun Erigaisi now World no.18
Rinat Jumabayev brought Praggnanandhaa's unbeaten run to a screeching halt. The Kazakhstan no.1 has emerged as the sole leader 5/5 at 22nd Dubai Open 2022. He is closely followed by four players at a half point behind. Arjun Erigaisi scored a 20-move victory against Mahammad Muradli (AZE) to become World no.18 in the live ratings. The only other Indian at 4.5/5 is FM Ayush Sharma. He is having a phenomenal run. He defeated his third GM of the event so far, Liviu-Dieter Nisipeanu. Untitled Vaibhav Jayant Raut defeated IM Prraneeth Vuppala to move to 4/5. WGM Vantika Agrawal won against Argentina no.1 GM Sandro Mareco. Round 6 starts today at 5 p.m. local time, 6:30 p.m. IST. Photo: Rupali Mullick
Vantika Agrawal beats Argentina no.1 Sandro Mareco
Apart from Ayush and Vantika, Ritviz Parab continues to do well. He drew with IM Aditya Mittal. Aditya Varun Gampa, Prasanna S and FM Harshal Shahi drew with IM Siddharth Jagadeesh (SGP), IM Fahad Rahman (BAN) and IM S Rohith Krishna respectively.
Jumabayev - Praggnanandhaa: 0-1
One of the few reasons why Praggnanandhaa (2661) loses his games sometimes is, he has a tendency to overpush in positions where it does not require him to do so. That is what happened against Kazakhstan no.1, Rinat Jumabayev (2615).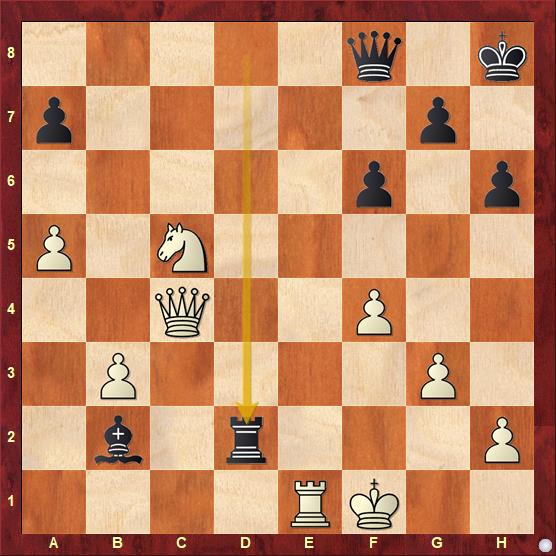 The position was not easy by any means for Black. 40...Rd2 creates only hollow threats towards the white king as Black is unable to bring a second piece to cause any trouble. 41.Qb5 threatening Re8 simply ends the game here. White played 41.Re2 exchanging the rooks would have given Black some respite, yet the woes would have remained. 41...Rd1+ 42.Kg2 Rc1? once again worsened things 43.Ne6 Qd6 44.Qe4 and it's over for Black.
Predke - Indjic: 1-0
If someone is curious about the wildest game of yesterday or probably the month of August, this game can certainly take the cake. In the battle of Alexanders, Alexandr Predke (2692) and Aleksandar Indjic (2613) got a position which may seem unique but it actually is not.
For those who are wondering, this position arised from QGD. This position occurred twice before between GM Aram Hakobyan (ARM) and GM Alexandar Khalifman in 2018, and also between GM Anton Korobov (UKR) and GM Rauf Mamedov (AZE). On both occasion, the games ended in draws. However, this time there was a decisive result. 13.Bxc8 Qxc8 14.d5 put Black in driver's seat according to the computer, the reality was much different. 14...c5 15.a4 e3?? 16.0-0 gave White a decisive advantage. White won the game in another five moves.
Arjun Erigaisi - Muradli: 1-0
GM Arjun Erigaisi (2689) made a short work of GM Mahammad Muradli (AZE, 2552) in just 20 moves.
14...0-0-0 is what invited trouble for Black 15.b4 Qb6 16.b5 Na5 17.gxf5 gxf5 18.Nd4 Bc4 19.Nxe4 fxe4 20.Bc3 the knight at a5 is under attack while it supports the c4-bishop, thus Black resigned.

Ayush - Nisipeanu: 1-0
One does not have to play a perfect game or all the correct moves. Sometimes just creating an imbalance is enough to induce a mistake by the opponent. FM Ayush Sharma (2158) might not have played accurately, however it was enough for his opponent, GM Liviu-Dieter Nisipeanu (GER, 2644) to make a mistake.
17.Nxf4 exf4 18.Nh5+ have already turned things in Black's favor. However, Black does not know that. It would have taken a computer-like accuracy to realize that it is Black who is at an advantage here and Nf6 is not as menacing as it may seem. 18...Rxh5 19.Qxh5 Rh8 20.Qg4 Qxg4 21.Rxg4 Rxh2 22.Rd1 spells doom for Black. With this victory, Ayush has defeated his third consecutive GM in this event so far.
Vaibhav - Prraneeth: 1-0
It is said, you miss every shot you don't take. Vaibhav Jayant Raut (2217) was certainly not in a mood of not taking chances. He made a right call when opportunity arose against IM Prraneeth Vuppala (2464).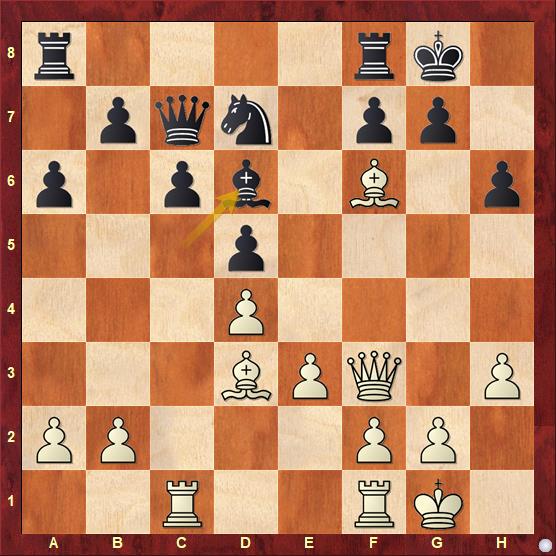 Black should have continued the chain exchange 16...Nxf6 17.Rxc5 a5 and equilibrium would have maintained. Instead, 16...Bd6 asked for 17.Bxg7! Now the bishop does not guarantee anything apart from a draw which is what Black should have taken. The king's crawl towards the center eventually turned out to be a be a misadventure, and Black lost the game.
Vantika - Sandro: 1-0
WGM Vantika Agrawal (2371) defeated Argentina no.1 GM Sandro Mareco (2657) in a complex queen and knight against double rook and bishop endgame.
For more Round 5 photos, please click here.
A total of 163 players including 29 GMs, 29 IMs, 2 WGMs and 3 WIMs are taking part from 34 countries across the world including India. The tournament is being organized by Dubai Chess & Culture Club from 27th August to 4th September 2022 at Dubai Chess & Culture Club, UAE. The nine-round Swiss league tournament has a time control of 90 minutes + 30 seconds increment from move no.1.
Replay Round 5 games
Round 5 results
Round 6 pairings
Links
---