22nd Dubai Open 2022 R6: Arjun Erigaisi joins the lead with Predke
Arjun Erigaisi convincingly won against the Kazakhstan no.1 Rinat Jumabayev to get himself in the lead. Top seed of 22nd Dubai Open 2022, GM Alexandr Predke ended FM Ayush Sharma's unbeaten run to become the coleader. Arjun will inevitably face Predke in Round 7. They both are at 5.5/6 each. Praggnanandhaa, Sahaj Grover and Aravindh Chithambaram defeated GM Shardul Gagare, GM Raunak Sadhwani and Vaibhav Jayant Raut to trail the leaders by a half point each. IM Sammed Jaykumar Shete scored a fine victory over GM Aydin Suleymanli (AZE). Round 7 starts today at 5 p.m. local time, 6:30 p.m. IST. Photo: Rupali Mullick
Praggnanandhaa, Sahaj and Aravindh in pursuit
IM Nitish Belurkar, Ritviz Parab, WGM Divya Deshmukh, Aniruddh Chatterjee and FM Aradhya Garg drew with GM Mahammad Muradli (AZE), IM Vignesh N R, IM Aditya Samant, IM Mohamed Tissir (MAR) and IM Raahil Mullick respectively. Sanket Chakravarty defeated IM Husain Aziz (QAT).
Arjun Erigaisi - Jumabayev: 1-0
GM Arjun Erigaisi (2689) was playing with the sole intent of winning against GM Rinat Jumabayev (KAZ, 2615). He made his intentions clear with 13.g4 in the Nimzo-Indian Defence.
22.f4 disintegrates Black's position as it forces Ned3 which means the trade of the knight with the bishop. 23.Bxd3 Nxd3 24.Nf3 Qd8 25.f5+- It is safe to say that Black is positionally lost here.
Black cannot recapture at g5 due to 28...hxg5 29.Qxg5+ Kf8 30.Qg7+ Ke8 31.Qg8# or 29...Kh7/8 30.Qg7#. Thus, 28...Nf4 29.Rxf4! because White needs to continue the momentum of attack on the kingside 29...exf4 30.Qxf4 Bd4 31.e5 Bxb2 32.Nxf7!! What a beautiful move.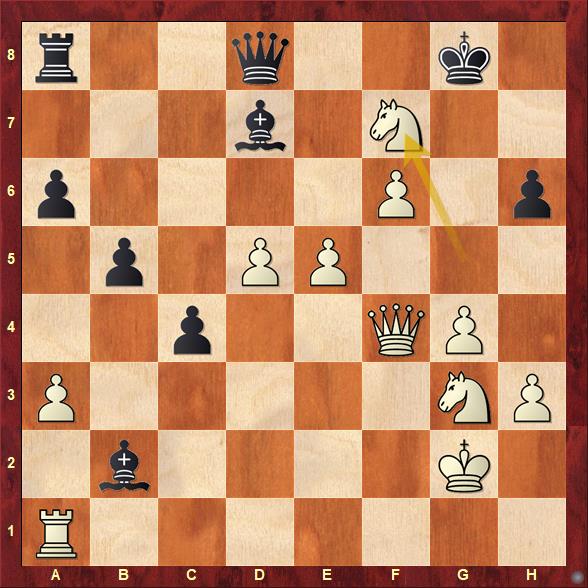 Black can neither take the knight nor the rook as the outcome remains unchanged even if he decides to decline the sacrifice. 32...Qf8 33.Nxh6+ Kh7 34.g5 yes White does not need to be bothered about defending the a1-rook. 34...Bxa1 35.Qe4+ Kh8 36.Qg6 Be8 37.f7 Bc6 38.dxc6 Bxe5 39.Nhf5 and Black resigned as the checkmate threat is unstoppable.
Try answering key moments in an interactive board on our academy.chessbase.in
Anish Giri tweeted a meme which is certainly rooted in reality. Youngsters like D Gukesh, Arjun Erigaisi, Nodirbek Abdusattorov, Bogdan-Daniel Deac have repeatedly shown that they are not going to wait for invitations to super tournaments, to climb the ranks. They will use the Open events as their stepping stone in climbing ranks and earn their way to the top.
Praggnanandhaa - Shardul: 1-0
GM Shardul Gagare (2521) went all-in against GM Praggnanandhaa (2661). Things did not work out the way he wanted it to be.
Black wants to launch an ambitious attack starting with 21...h5. However, the real issue is Black's pieces are lacking harmony. All pieces are scattered everywhere and there is no real plan on how the attack will succeed. White just decided to face the threat head-on 22.h4 g4 23.Nd2 Qf7 24.Qd3 Rgd8 25.Rab1 axb5 26.axb5 Ne6 27.Nf5 Nxg7 28.Nxg7 Kxg7 the reason behind the trade is quite simple, White has another knight to occupy the f5-square whereas Black's knight at a5 is like a piece of furniture. White converted his positional advantage into a win with ease.
Aydin - Sammed: 0-1
IM Sammed Jaykumar Shete (2381) scored an academic victory over GM Aydin Suleymanli (AZE, 2547).
White's position certainly seems to be heading towards a collapse after 22...Nf4. Although White got a few chances to save the game, it was certainly not easy.
For more Round 6 photos, please click here.
A total of 163 players including 29 GMs, 29 IMs, 2 WGMs and 3 WIMs are taking part from 34 countries across the world including India. The tournament is being organized by Dubai Chess & Culture Club from 27th August to 4th September 2022 at Dubai Chess & Culture Club, UAE. The nine-round Swiss league tournament has a time control of 90 minutes + 30 seconds increment from move no.1.
Replay Round 6 games
Round 6 results
Round 7 pairings
Links
---