22nd Dubai Open 2022 R2: Rohith Krishna wins a thriller against Temur Kuybokarov
One of the latest IMs of India, Rohith Krishna S defeated Australia no.2 GM Temur Kuybokarov in Round 2 of 22nd Dubai Open 2022. FM Kashish Manoj Jain, FM Suyog Wagh and Ritviz Parab defeated IM Prraneeth Vuppala, IM Benjamin Haldorsen (NOR) and IM Tahbaz Arash (IRI) respectively. GM Iniyan P once again managed to escape from a difficult position. IM Raahil Mullick had a good opportunity against him. 29 players have made a perfect start 2/2. Arjun Erigaisi, Praggnanandhaa and Sethuraman will battle against Raja Rithvik R, IM P Shyam Nikhil and IM Srihari L R in Round 3 which starts today at 5 p.m. local time, 6:30 p.m. IST. Photo: Rupali Mullick
Tanmay, Raahil, Raahul, Viani and Sanket split their point with GMs
FM Tanmay Chopra, IM Raahil Mullick, reigning Asian Junior champion, IM Raahul V S, IM Viani Antonio Dcunha and Sanket Chakravarty drew their games against GM Harsha Bharathakoti, GM Iniyan P, GM Aydin Suleymanli (AZE), GM Shardul Gagare and GM Thej Kumar respectively. FM Sharan Rao drew with IM Arghyadip Das.
Aziz - Aravindh: 0-1
GM Aravindh Chithambaram (2614) is an incredible player. He was a National Triple Crown and the current National Rapid and Blitz champion for a reason. He made an incredible queen sacrifice against IM Husain Aziz (QAT, 2377).
Black is completely winning after 21.Rc2. Generally when someone is winning, they prefer to take a cautious approach and not indulge in any type of risk. Aravindh figured it out that 21...Rxf2 is the best move in the position and there is nothing to worry about losing sacrifice. Because either Black will recover the queen or deliver the checkmate. There is no way out for White.
Kuybokarov - Rohith: 0-1
Australia no.2, GM Temur Kuybokarov (2583) and one of the latest IMs of India, S Rohith Krishna (2358) had a back and forth game. It could have gone in either player's way. The Australian made the final mistake in the major piece endgame.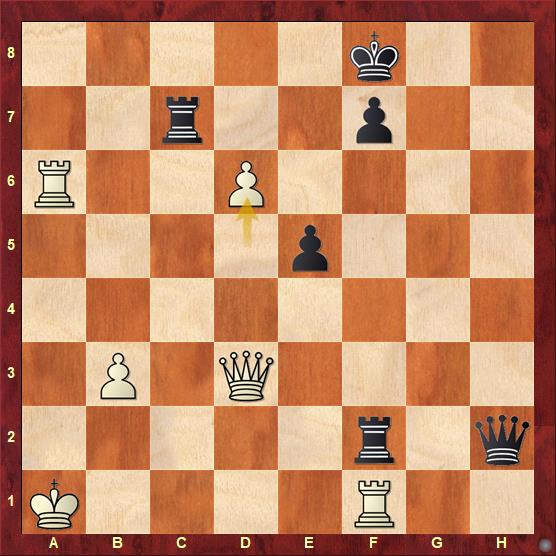 53.d6?? is what sealed White's fate as there is no way to save the game after Rcc2. Instead, 53.Ra8+ Kg7 54.Rxf2 Qxf2 55.Qd1 f5 and the game would have continued.
Raahil - Iniyan: 0.5-0.5
GM Iniyan P (2556) has made a shaky start. For the second consecutive round, he found himself in a self-induced trouble. This time against IM Raahil Mullick (2352).
If you are considering 26.Na7 here like what happened in the game, you are foregoing your upper hand. White does not need to be bothered about Rxc6, he just needs to continue his kingside destruction 27.hxg6 and White is winning in all plausible variations Rc7, f5 or fxg6.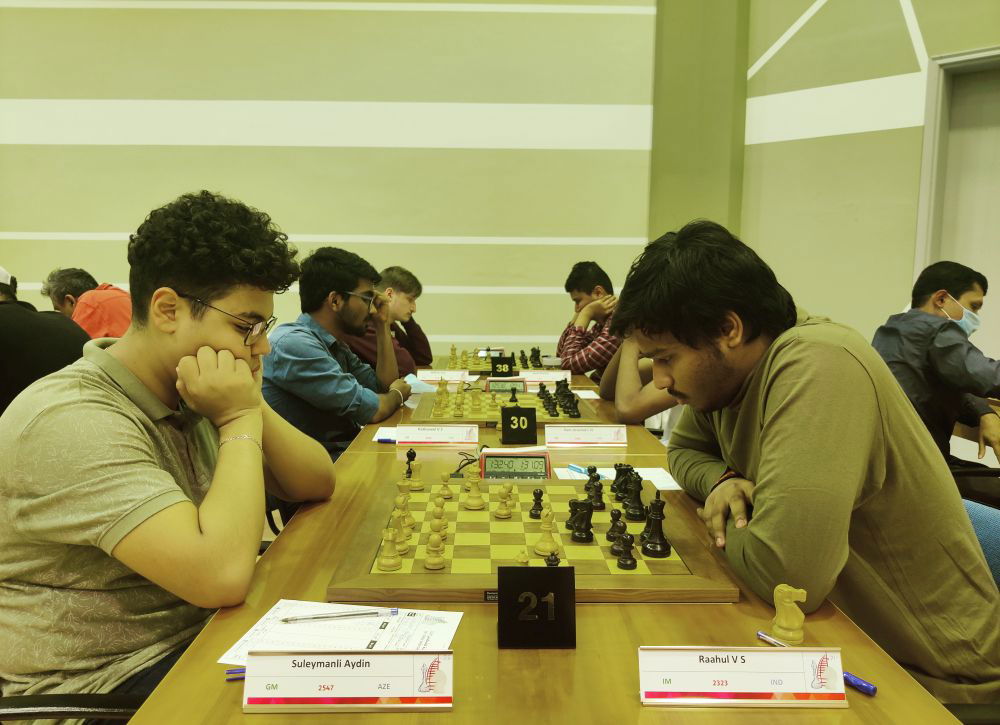 Prraneeth - Kashish: 0-1
IM Prraneeth Vuppala's (2464) ambitious attack on the kingside did not work out agaistn FM Kashish Manoj Jain (2315).
Suyog - Haldorsen: 1-0
FM Suyog Wagh (2315) scored an academic victory over IM Benjamin Haldorsen (NOR, 2461). He converted his positional advantage into a full point smoothly.
Ritviz - Tahbaz: 1-0
It would not be an overstatement to say, Ritviz Parab's (2299) 1.g3 surprise worked against IM Arash Tahbaz (IRI, 2449).
The knight at h5 is certainly a target White would like to capitalize on. Thus, 18.Rxh5 is absolutely correct, gxh5 19.Nxd4 cxd4 20.Bxd4 e5 21.fxe5 dxe5 22.Bxe5 Bxg5 23.Nd5 Qg4?? exchanging the queens only accentuates White's decisive advantage 24.Qxg4 Bxg4 25.Nf6+ Bxf6 26.Bxf6 and it is all over for Black.
For more Round 2 photos, please click here.
A total of 163 players including 29 GMs, 29 IMs, 2 WGMs and 3 WIMs are taking part from 34 countries across the world including India. The tournament is being organized by Dubai Chess & Culture Club from 27th August to 4th September 2022 at Dubai Chess & Culture Club, UAE. The nine-round Swiss league tournament has a time control of 90 minutes + 30 seconds increment from move no.1.
Replay Round 2 games
Round 2 results
Round 3 pairings
Links
---