World Women's Team 2021 SF: India advances to the Finals, sets up a clash with Russia
Indian women have done it again. They eliminated Georgia to advance to the Finals of the FIDE World Women's Team Championship 2021. Indian women have never won a medal at this event, until now. Qualifying to the Finals of the first-ever knockout format of this event has assured a Silver, however we all want our women to go for Gold. The entire team effort brought India to this historic Final. While everyone wanted an India-Russia Final at the Online Olympiads last month, now it will happen over the board at Sitges, Spain. India will face CFR Team (Russia) in the Semifinals today. Duel 1 starts at 3 p.m. CET (6:30 p.m. IST) and Duel 2 is from 6 p.m. CET (9:30 p.m. IST). Photo: Niki Riga/FIDE
A team effort secures the Silver
Indian women have created history at the FIDE World Women's Team Championship by eliminating Georgia and advancing to the Finals, securing their first ever medal at this event.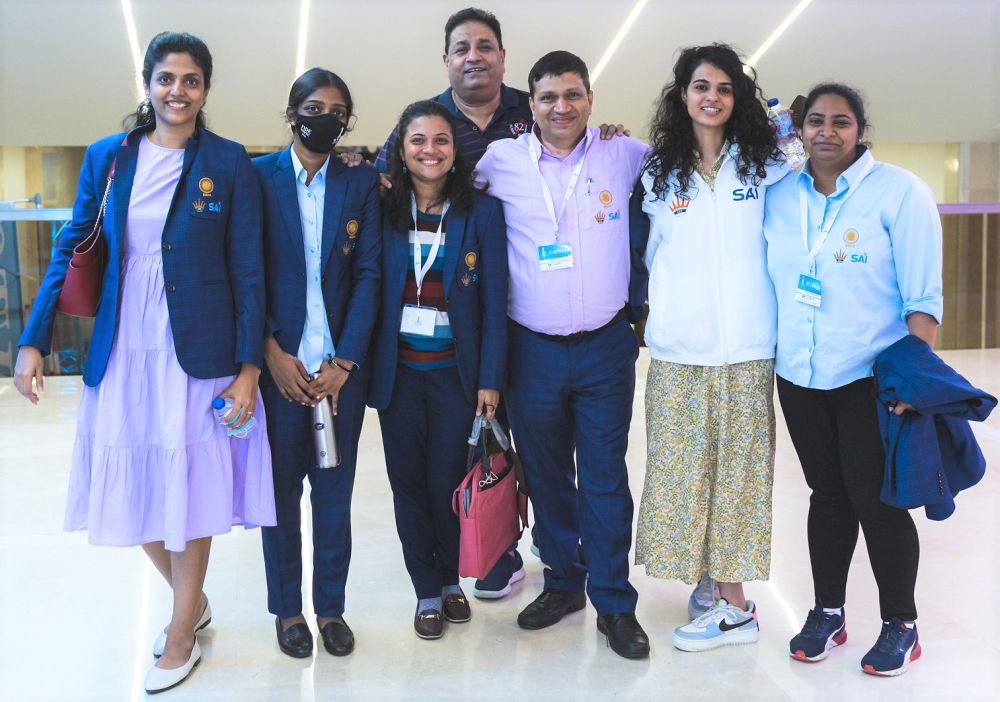 Semifinals: Duel 1: India - Kazakhstan: 2-2
Harika and Vaishali drew, Bhakti lost and Mary won their respective games. While Harika made a quick 14-move draw, Vaishali provided staunch defense against GM Nino Batsiashvili.
Vaishali - Batsiashvili
44.Rc5 should be a comfortable draw for White. Vaishali opted for the humane 44.Nxc3 which is also a draw. Since the rooks are still present, White would require to be more cautious, which she was and scored a draw without any trouble.
IM Bhakti trapped her own knight in the final moments of the endgame against IM Lela Javakhishvili.
Bhakti - Javakhishvili
The only safe square for the black knight is b3 which means White's threat is to play Bc4, followed by Ke4. In a high-pressure situation and time scramble, caused Black to miss this idea and play 70...Bb7 which allowed White to play 71.Bc4 and the knight is trapped at the center of the board. Next move 72.Ke4 will guarantee the capture of the knight. To avoid this Black had play 70...Ke7 so that 71.Bc4 is met by 71...Bd7 and the escape square for the knight is at b5.
WGM Mary Ann Gomes capitalized on her opponent IM Melia Salome's mistake in the endgame.
Mary - Melia
What Black needed to do here was 28...Rc1+ 29.Rxc1 Bxc1 30.Rd3 a4 and make sure White does not get to take advantage of her extra pawn. Instead, the Georgian opted for 28...Rc2 which gave White exactly what she wanted 29.Rxa5 Rxb2 30.Rb5 Rb1+ 31.Kg2 Bc2 32.Rxb1 Bxb1 33.Bd5. Now White has firm control of the position. Mary showed excellent technique, squeezed her opponent's pieces on the kingside which eventually forced Melia to lose her bishop.
Duel 2: India - Georgia: 2.5-1.5
Harika drew, Vaishali and Tania won, Mary lost their respective games. Harika made a solid draw. Vaishali scored an excellent win against GM Nino Batsiashvili who went wrong early in the game.
Batsiashvili - Vaishali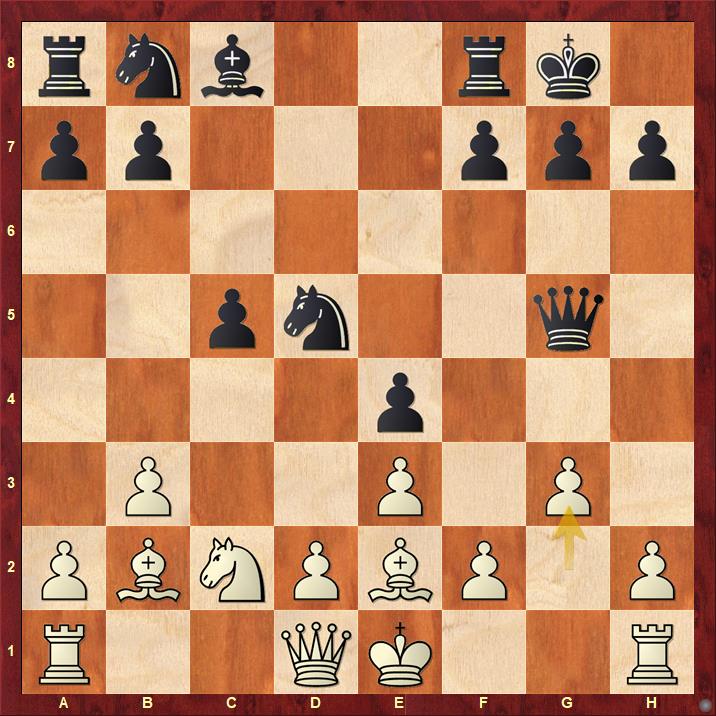 White had to play 13.0-0 to avoid weakening the kingside, however she opted for 13.g3 which invited 13...Bh3. White weakened the position further 14.f4 exf3 15.Bxf3 Nc6. Soon White decided to give up an exchange to thwart her opponent's attack, however Vaishali used her material advantage and converted it into a win comfortably.
Tania made a bold decision to castle on the volatile queenside against IM Meri Arabidze.
Tania - Arabidze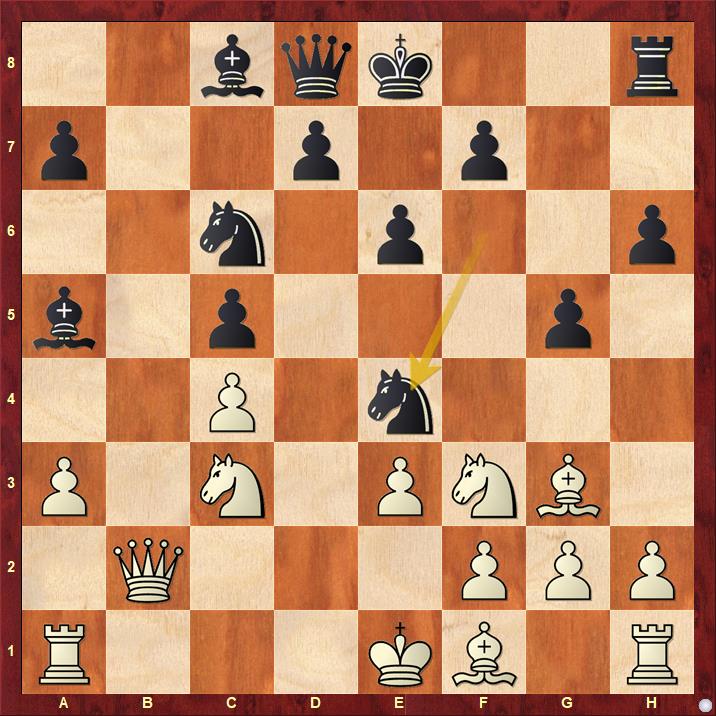 14.Rc1 Qf6 15.Bd3 Bxc3+ 16.Rxc3 Qxc3+ 17.Qxc3 Nxc3 and White has a slight edge because of bishop pair and White has a development advantage. However, Tania wanted to make the position complicated for Black by creating an imbalance. She played 14.0-0-0.
Another bold and interesting decision. It provokes Black to play 18...d5 and also brings the king to a relatively safer position. If you are wondering, why White opted to castle if this was the plan, the answer is simple, keep queens on the board and make the position difficult for her opponent.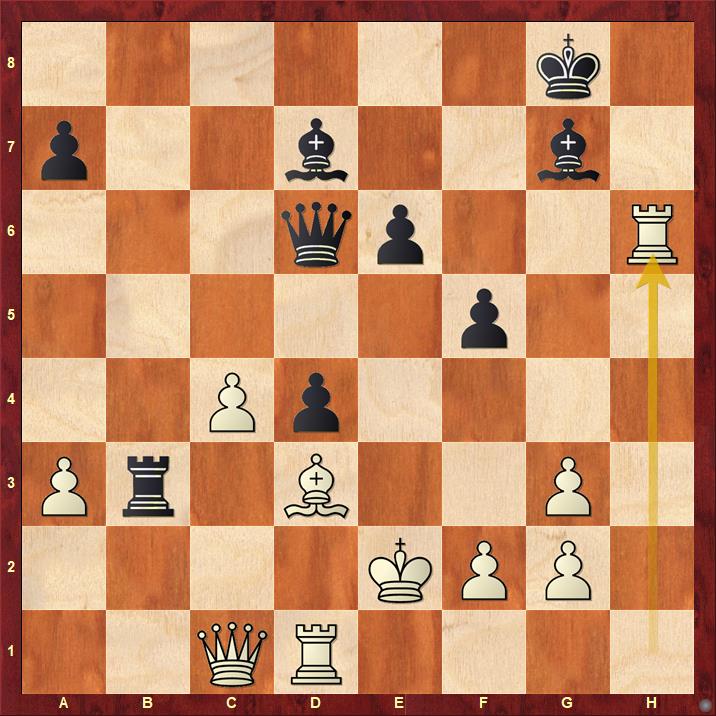 White made an excellent positional sacrifice 27.Rxh6. White wants to get rid of the defender at g7 and Black must accept the sacrifice, else the wrath of queen and rook will be unleashed on the kingside. The game continued, 27...Qe5+ 28.Kf1 Bxh6 29.Qxh6 Qh8. Black should have played 29...Qg7 to prolong the fight as the Qh1 back-rank threats are hollow. Eventually, White liquidated the position into a winning queen-rook endgame and then a winning queen endgame.
Mary went wrong in the double rook endgame against IM Lela Javakhishvili which caused her to lose her first game of the event, after remaining unbeaten for six games.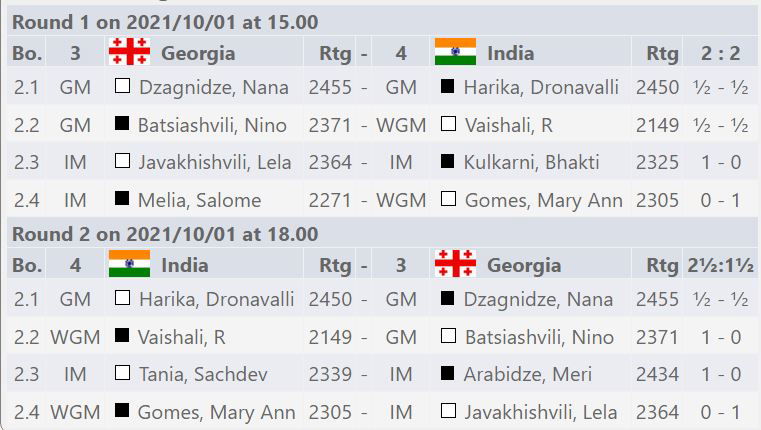 Replay Semifinal games of India
Schedule
Pool Stage: Monday 27th September
Round 1 - 3:00 p.m. CET (6:30 p.m. IST)
Round 2 - 6:00 p.m. CET (9:30 p.m. IST)
Tuesday 28th September
Round 3 - 3:00 p.m. CET (6:30 p.m. IST)
Round 4 - 6:00 p.m. CET (9:30 p.m. IST)
Wednesday 29th September
Round 5 - 3:00 p.m. CET (6:30 p.m. IST)
Quarterfinals: Thursday 30th September
Match 1 - 3:00 p.m. CET (6:30 p.m. IST)
Match 2 - 6:00 p.m. CET (9:30 p.m. IST)
Tie-breaks - 8:30 p.m. CET (Friday 12:00 a.m. IST)
Semifinals: Friday 1st October
Match 1 - 3:00 p.m. CET (6:30 p.m. IST)
Match 2 - 6:00 p.m. CET (9:30 p.m. IST)
Tie-breaks - 8:30 p.m. CET (Friday 12:00 a.m. IST)
Finals Saturday 2nd October
Match 1 - 3:00 p.m. CET (6:30 p.m. IST)
Match 2 - 6:00 p.m. CET (9:30 p.m. IST)
Tie-breaks - 8:30 p.m. CET (Friday 12:00 a.m. IST)
Time Control
The time control is 45 minutes + 10 seconds increment for the entire game, for tie-breaks - 3 minutes + 2 seconds increment.
Links
---