The Queen's Gambit - Episode 6 review
The Queen's Gambit Episode 6 is titled 'Adjournment'. It is a term which we don't hear often these days because it is no longer used in tournaments. In fact it has been abolished for more than two decade ago. We get to see how a chess player is ready to stay at almost any condition, just to improve their game. A very good preparation does not necessarily guarantee a very good performance at the tournament. Strong players can also hit rock-bottom, they are also vulnerable just like any other human being. Getting a sponsor and dealing with personal issues and perform at the highest level is not an easy task, even for the strong ones. Check out Episode 6 review. Photo: Netflix stream
Episode 6 - Adjournment
Adjournment in chess means a game is suspended after a certain duration only to be continued on the following day. It is something which has been rendered obsolete for more than two decades. The advancement of technology being one of the prominent reason in the 21st century.
The episode starts with Beth playing blindfold chess with Benny while on a road trip to New York from Lexington, Kentucky. They play a couple of games, we only get to hear the Levenfish variation of the first game. We also get to know that Beth doesn't like Schwarz. She practices her Russian with him too.
Upon arriving at New York, it is shown that how chess players can stay at anywhere just to train and improve at chess. Benny also mentions about Fred Renfield and Reuben Fine while training Beth.
Beth shows an improvement to Reshevsky's game but mentions it as Reuben Fine's game. Here is the position:
Reshevsky - Stahlberg, Helsinki Olympiad 1952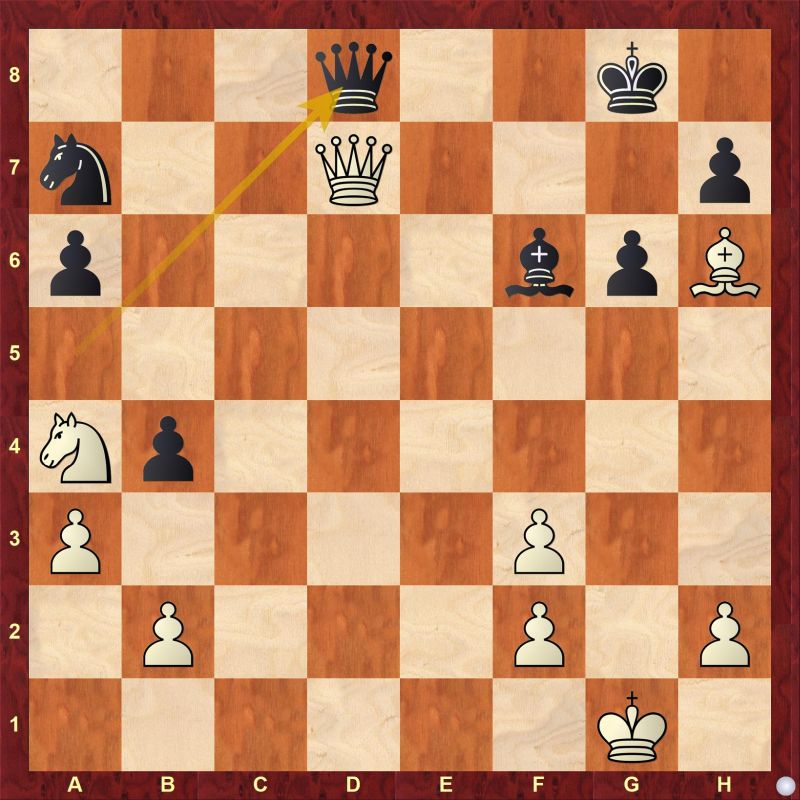 Beth solves the position and mentions that Reuben Fine missed one, although the game was played between Reshevsky and Stahlberg in the Helsinki Olympiad 1952. Beth shows an improvement than what actually happened in the game. Find out the best continuation for white after 32...Qd8. The game move 33.Qe6+ was also a good move.
Benny mentions why Soviets are the best chess players in the world because they play together as a team especially during adjournments which we will see in the next episode. We all know that top players have seconds and their own team which is why they are at the top for that long. The character Benny also shares his thoughts on individualists.
After a while we see Benny's friends turn up, among them there was GM Arthur Levertov (probably a nod to Artur Yusupov) and problem solving expert Hilton Wexler. Hilton gave a mate in three to Beth who solved it in no time.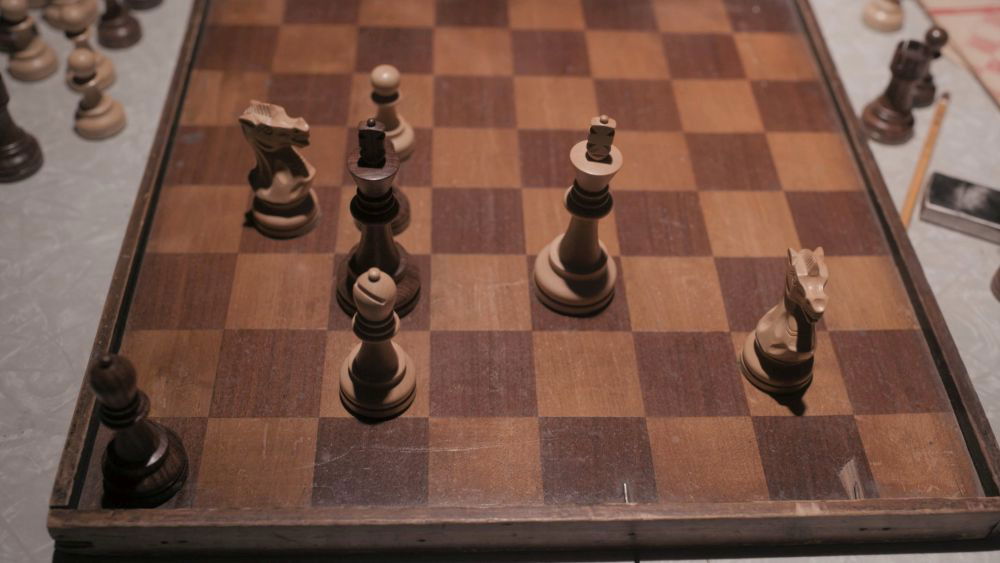 Hilton Wexler problem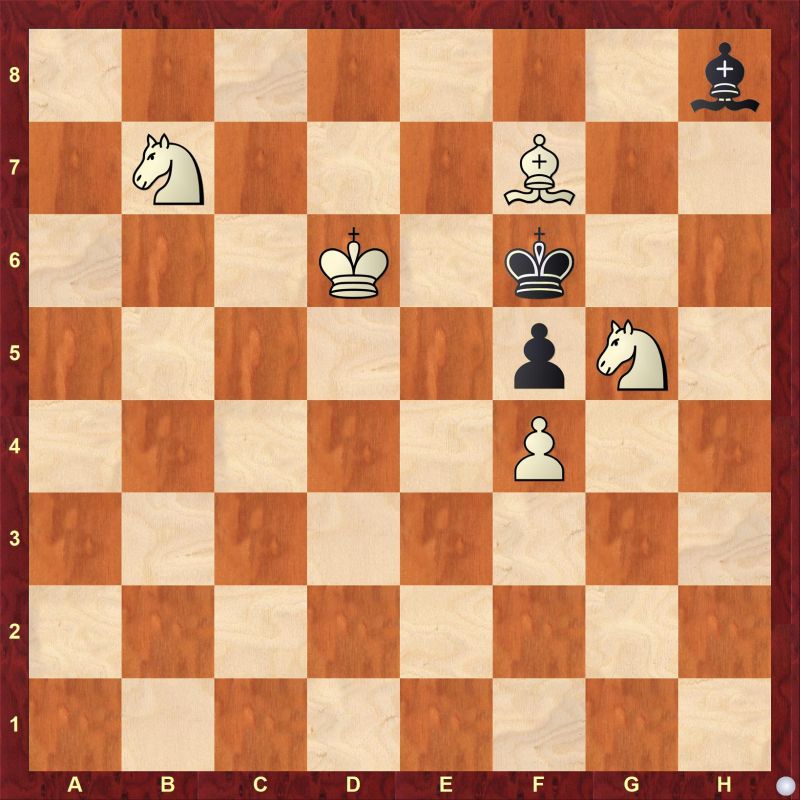 After a couple of scenes, we see Beth playing Simultaneous Speed Chess against Benny, Levertov and Wexler.
One of the game was a replay of the game between Kasparov and Dutch legend Loek Van Wely from Wijk aan Zee 2000.
If you haven't seen this game before and still wondering why does it look so familiar then I must tell you that the same game was shown in this mini-series only in episode 4. Only difference is in that episode, only final position was shown and here we get to see the final part of the game.
Kasparov - Van Wely, Wijk aan Zee 2000
The move 21.Rxe6+ was shown twice from two different camera angles here.
After a couple of wins, we see Beth wanting to continue playing more. The next position we see is from the famous 'Opera game' between Morphy and Duke of Brunscwick and Count Isouard played in Paris 1858.
Here is the diagram:
Morphy - Duke of Brunswick and Count Isouard, Paris 1858
Check out the rest of the game where Botvinnik really had the option to capture the h4-pawn. It is a different story altogether whether it was a good idea or not.
The next event Beth plays is an invitational tournament in Paris in the same year 1967. The first position we see from a bird's eye view is Beth facing a McCutcheon variation of the French Defense, maybe because it is being played in France?
Beth - NN
The first complete position we see in this tournament is the following one:
If you are wondering if this is also another replay, then the answer to that question will be, yes it is. The game was played between Yuri Averbakh and Alexander V Tolush in Gagra Training Tournament 1953. This is not the first time a game was selected from this event, previously we witnessed a game between Geller and Smyslov in episode 3.
Averbakh - Tolush, 1953
We see the position after 21...Kf8 on camera after a beautiful time-lapse transition from the previous game. Camera comes to the side angle from the bird's-eye view and we witness the position after the rooks are exchanged off the board 23.Rxe1. The scene changes afterwards but here is the rest of the game for those who are curious like me.
We see the first and perhaps the biggest blooper in the entire mini-series when we see an impossible position which has an uncanny resemblance to the first game Beth saw of Borgov. I guess someone in the set just picked up this diagram and moved a couple of pieces for this scene which made an impossible position as both e2 and g2 pawns were in place but the f1-bishop had jumped to d3.
Here is the diagram of the impossible position:
B Uljanov - Beth, Paris 1967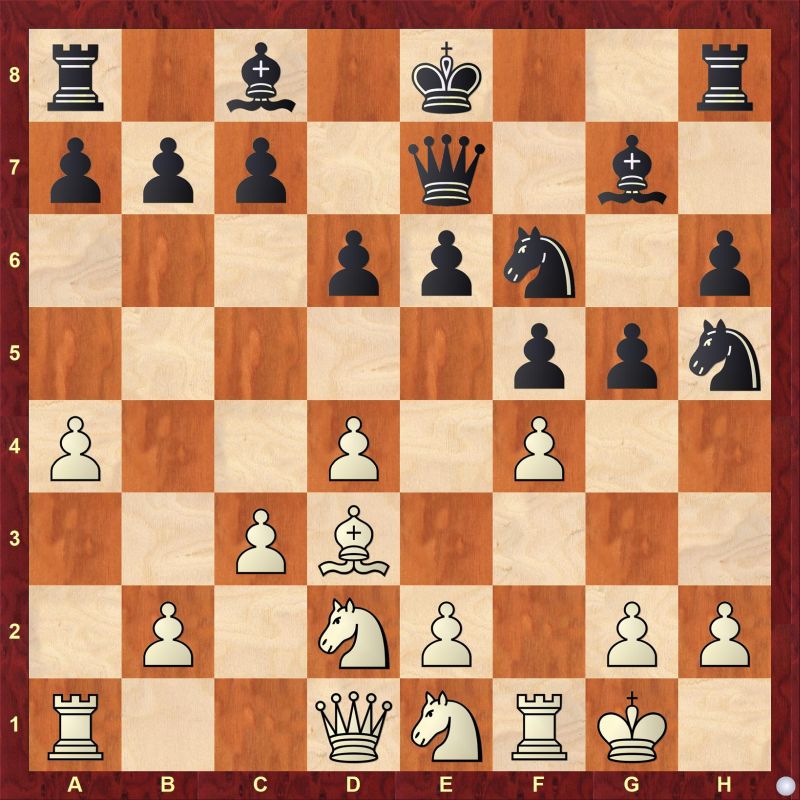 After a few wins, on a different day while Beth assesses Borgov's win over Darga on a demo board, tournament director walks towards her to inform that her next round opponent is Borgov. According to my resources, this was an original position. It could probably be a derivative of a game also.
V Borgov - P Darga, Paris 1967
The final position
On the following day Beth arrives to the game late which was shown at the beginning of the first episode as a Prologue. Although Beth tries her best but it is not enough as she is hungover from her previous night's escapade due to newfound acquaintance named Cleo.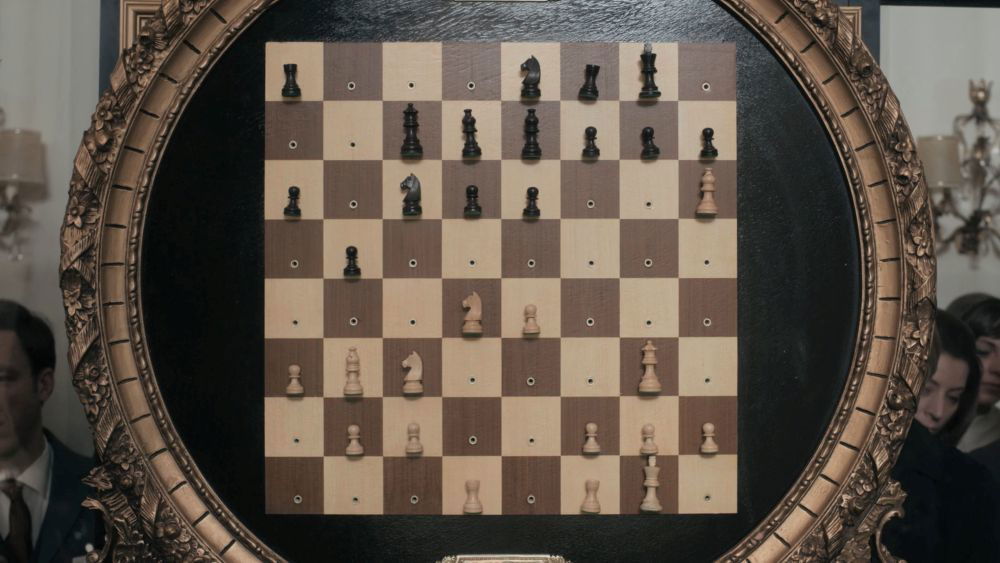 We see a replay of first 18 moves of a 2006 Turin Olympiad game between Susanto Megaranto and Leinier Dominguez Perez.
Megaranto - Dominguez Perez, Turin Olympiad 2006
Then the scene cuts to a position which is not a follow up of the game and we see Beth has a completely lost position.
When the camera shows a better view of the position, we see Beth playing Qd4.
Then the camera shows how the position arrived by replaying the last few moves. Starting with the following position:
Megaranto - Dominguez, Turin Olympiad 2006
Position after 25.e5
Borgov deviated from the Megaranto-Dominguez game and played 27...Qc7. Dominguez's 27...Bc4 is the best move and he made a draw, however Borgov won the game without even playing the best move. This is to keep it real I guess, like sometimes in an actual tournament we win the game without even playing the best move in certain positions.
The scene cuts to the final part of the game which is losing for Beth and this was her second consecutive loss against Borgov.
Beth - Borgov, Paris 1967
The final position of the game correctly portrayed Beth's situation, completely dominated by opponent's pieces and the king is absolutely helpless. Beth says, 'I resign' and walks away from the game.
We don't see any significant position or game for the remaining 25 minutes of the episode. Beth arrives at Kentucky State Championship 1968 completely inebriated and smudged makeup. Her friend comes up to check on her and episode concludes with another character from Beth's past surprising her with a visit.
Conclusion
Episode 6 - 'Adjournment' is a good title but I wouldn't say it was the best one. I would say 'Discovery' would have been a more apt title as Beth hits the proverbial rock-bottom in this episode. It is also my most favorite episode of the mini-series because it shows all the highs and lows Beth experienced. Living a reckless life of debauchery and being undisciplined can spiral things out of control very quickly. Even the strongest can become lonely and they need the support of their family, friends and loved ones.
Watch the entire episode of The Queen's Gambit Episode 6 - Adjournment on Netflix. The series is meant for adults only. So kids, if they want to watch the episodes for chess purpose, they can take an adult's help in watching only the chess elements of the mini-series.
Links
---