Samay Raina and Gukesh analyze Ivanchuk's games
We all know Samay Raina is one of the leading stand-up comedians in India, who also revolutionized chess in India. The 25-year-old comic has been regularly trying to improve his chess skills by playing online, commentating with IM Sagar Shah on various events, and following the games of the top players! One of Samay's favorite players is none other than the legend from Ukraine, Vassily Ivanchuk. Naturally, when Samay got to interact with Gukesh on Sagar and Amruta's flat in Mumbai, Ivanchuk was to come up in the discussion at some point! Read the full article to check out their conversation.
Discussing chess at dinner
It was somewhat late in the night. Gukesh had just returned to Sagar and Amruta's flat after giving a grueling simultaneous exhibition to 21 players in the ChessBase India Chess Club. While Sagar and Gukesh were busy at the Phoenix Marketcity mall, there was a very special surprise waiting for them: Amruta had Samay Raina with him in the flat!
Samay Raina is a very popular stand-up comedian, but he is also very well-known in the Chess field for his efforts to bring in a whole new audience to the game. I'm sure almost all of the ChessBase India readers and viewers know about him - his commentary in the Chennai Chess Olympiad '22 among others was very memorable!
Naturally, a game of chess between Samay and Gukesh transpired pretty quick. The 16-year-old Super GM took 2 minutes on his clock, and the stand-up comic had 10! Check out this epic battle:
It was now time for dinner, but chess just didn't stop! While Gukesh was having rice, Samay was showing a very special game to Gukesh, played in the European Individual Championships. It was a unique setting - Samay was reading the moves of the game aloud from his phone, and Gukesh was following it without looking at the phone. Occasionally, Samay would stop and ask Gukesh to find out the next move!
At the moment, they were discussing a game of the great legend, Vassily Ivanchuk. Even at the age of 54 years, Chucky did pretty well at the European Individual Championships 2023!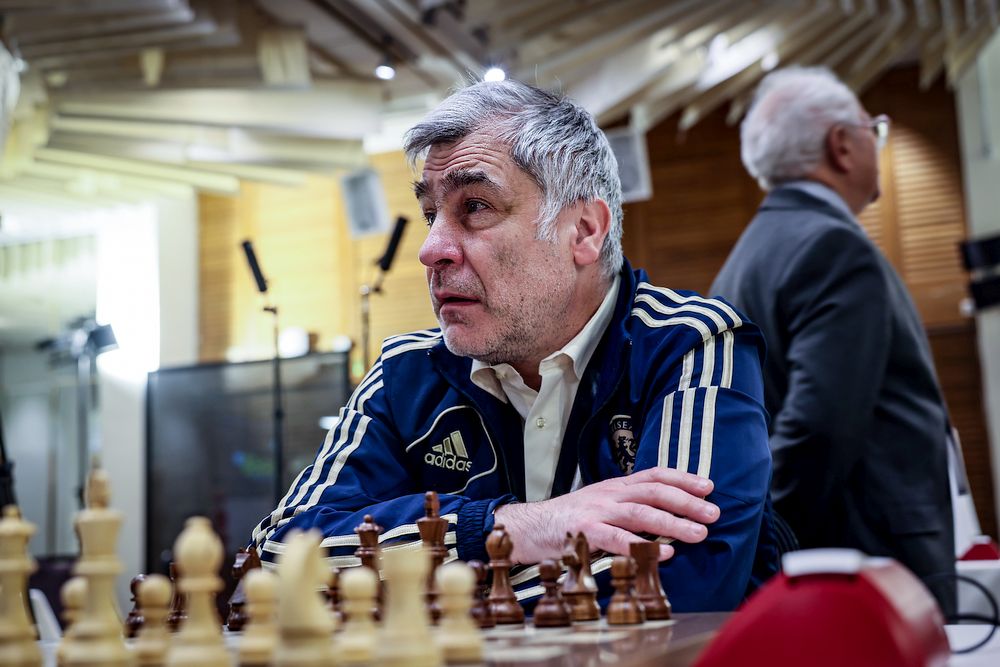 Talking and analyzing: Samay, Gukesh, Sagar
Samay Raina (SR): So, after he went Nxd6, Ivanchuk played ...Nd3+ and the opponent replied Kf1. What did Ivanchuk play here with Black? There's only one move here, can you find it?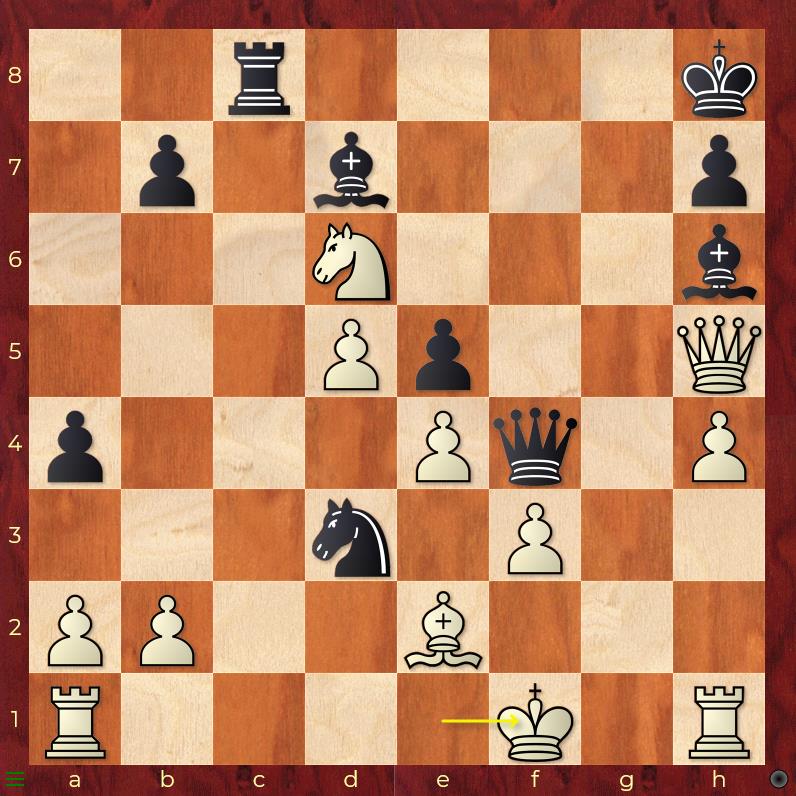 D Gukesh (DG): (After a short think) I was thinking of two options: ...Rc1+ Kg2, and ...Qc1+ Rxc1 Rxc1+.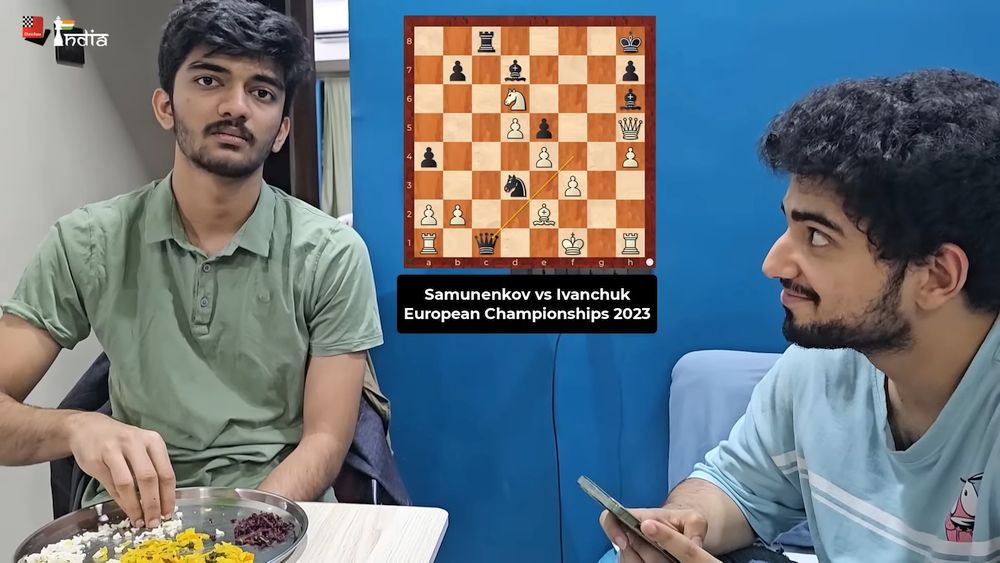 Sagar Shah (SS): What are your other candidate moves? Think like you are Ivanchuk, not like normal moves.
SR: Okay, I'm gonna give you a hint - it's the same piece you moved earlier, it's the Rook.
GD: Oh, it's 27...Rf8! Bxe3 is met by ...Bg4, trapping the White Queen. I mean, you're always thinking of ...Rc1, but this very nice.
SR: Also, the follow-up was very accurate! When I first saw ...Rf8, I didn't think like it's completely winning.
GD: Yes, it's not very clear that it's winning.
SR: The whole idea starting with 26...Nd3+ was crazy!
GD: Did you see Ivanchuk's last round game at the European Individual Championships? It was interesting.
SR: Yeah, his last game was also very nice.
SS: Samay, you are also following the European Championship?
SR: Yes, only Ivanchuk's games. I love him, he's my favorite player!
SS: Why? Because you saw the great videos on Agadmator's Channel?
SR: Yeah, and Agadmator also loves Ivanchuk. He would make this players as characters, and tell stories about them, and the entire heartbreaking story of how Ivanchuk never got the things that he deserved. But his games are amazing! I saw his game against Garry Kasparov in Kasparov's prime. He just made all of Garry's pieces come back to the back rank. He did not have the Bishop pair advantage, and created two doubled pawns on the right and left.
SR: What a game it was! It reminds of my game against Gukesh today [Sagar, Gukesh and Samay break out in laughter]
SS: Gukesh, can you imagine to what extent Samay is into chess? He's watching Ivanchuk games, and he's analyzing.
GD: You seemed to be upset today [chuckles]
GD: By the way, have you seen the Qg7 game by Ivanchuk? He sacrificed his Queen on g7.
SR: I can't recall the game exactly, but I've seen it somewhere.
GD: It's a moscow game. I'll tell you the position briefly: White's Bishop is on e3, Queen on g4, Knight on a4. The Black queen is on b5, Rook on h8, Bishop is on f8 and Knight on c5. I'm not telling you the full position, but here Ivanchuk plays Qg7. ...Bxg7 hxg7 Rg8, and then came Nxc5.
SR: Okay, so I like chess, but I'm not crazy okay? I can't imagine all these pieces without a board [ Everyone starts laughing]
SS: There was this one famous game between Ivanchuk and Karjakin, where Ivanchuk sacrificed his Queen for just one pawn! The move was Qxe6.
DG: Recently also, against Jorden he made an amazing move - Nd7!
SS: Do you see Ivanchuk's streams? He has got a twitch channel now.
SR: Oh really? I have seen his interviews. I was seeing one video of him yesterday when he was playing checkers. Ivanchuk gets up to take the prize, but he's still thinking about the Checkers game! He rushes back to the board and makes his move [chuckling]
DG: Oh yeah, in Doha, right? After winning the World Rapid Championships 2016.
---