Nils Grandelius triumphs at Reykjavik Open 2023, Abhijeet Gupta third
GM Nils Grandelius defeated IM Quentin Loiseau in the final round to win Reykjavik Open 2023. The Sweden no.1 scored an unbeaten 7.5/9 to win the tournament on his eleventh attempt. He finished a half point ahead of the competition. Seven players scored 7/9. Out of them, Turkey no.1 GM Mustafa Yilmaz and GM Abhijeet Gupta were placed second and third respectively according to tie-breaks. Abhijeet defeated GM Kjetil A Lie in the final round to finish third and gained a valuable 10 Elo rating points. Apart from Abhijeet, GM Pranav Venkatesh is the only other Indian to make a top ten finish. He scored 6.5/9 to finish tenth. IM Sidhant Mohapatra earned his maiden GM-norm scoring 6.5/9. Photo: Official site
Sidhant earns his maiden GM-norm
IM Sidhant Mohapatra drew with GM Sebastian Maze (FRA) in the final round to secure his maiden GM-norm. He scored an impressive 6.5/9 to finish tied eleventh with GM Emre Can (TUR). His sole loss of the event was against the eventual second runner-up GM Abhijeet Gupta. The Odisha lad is now two GM-norms and 98.3 Elo rating points away from becoming India's next Grandmaster.
Sweden no.1 GM Nils Grandelius tweeted on his triumph
Abhijeet - Kjetil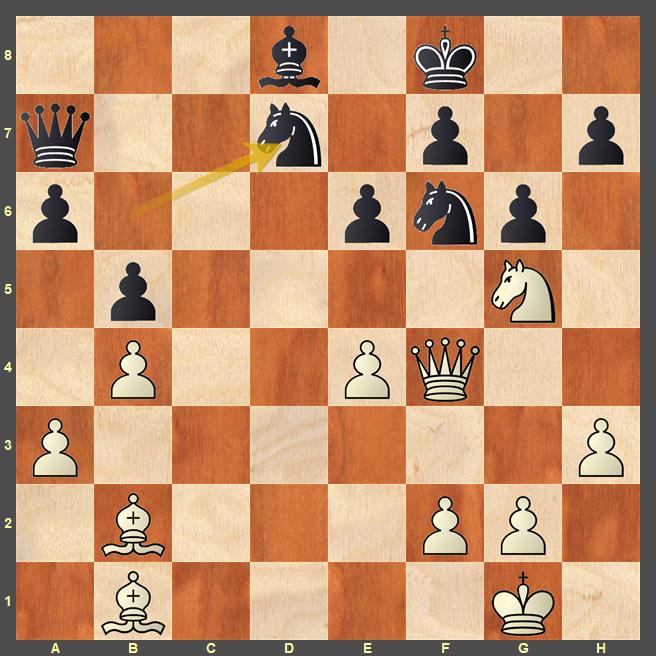 27...Kg7 would have been fine for Black. However, 27...Nbd7 ends the game prematurely due to the fact that the f7-pawn is no longer protected by the queen. Hence, 28.e5 becomes deadly. 28... Qc7 29.g3 h6 30.Nxe6+ fxe6 31.Qxh6+ and it's over for Black.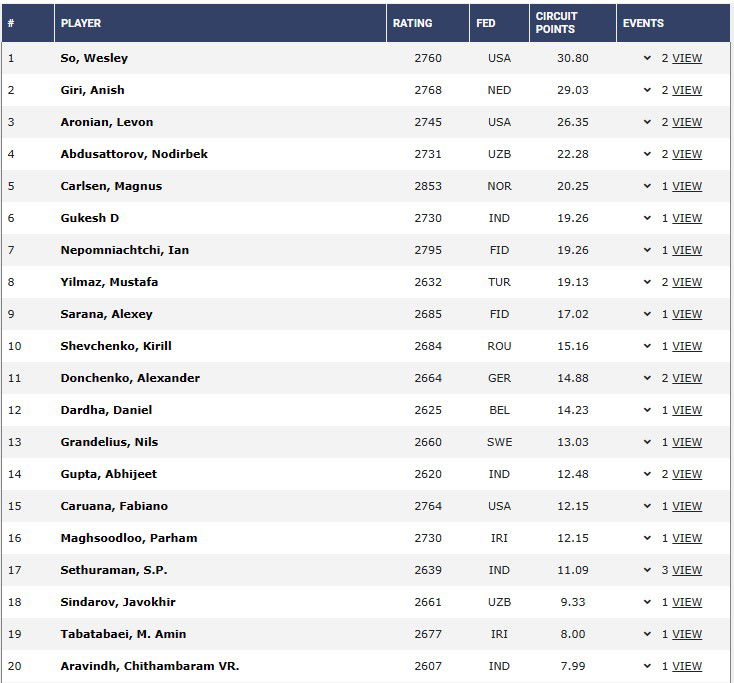 IM Sidhant Mohapatra not only won the first prize in the rating category 2201-2400, he also earned his maiden GM-norm.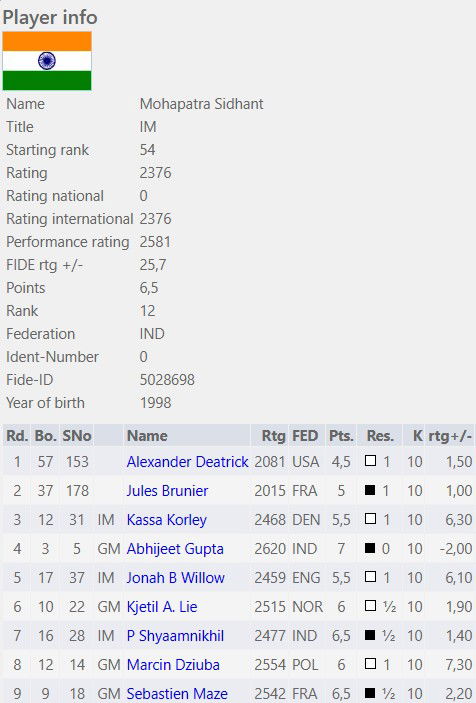 IM Nisha Mohota won two prizes - third in rating category 2001-2200 and in Women's category.
A total of 401 players including 34 GMs, 34 IMs, 5 WGMs and 5 WIMs took part from 45 countries across the world. The seven day nine-round Swiss League Rating tournament was organized by Icelandic Chess Federation from 29th March to 4th April 2023 at Harpa Conference Center in Reykjavik, Iceland. The time control of the tournament was 40 moves in 90 minutes + 30 minutes with 30 seconds increment from move no.1. Accelerated pairings were used in all rounds.
Replay Round 9 games
Round 9 results
Final standings
| | | | | | | | | | | | | | | | | |
| --- | --- | --- | --- | --- | --- | --- | --- | --- | --- | --- | --- | --- | --- | --- | --- | --- |
| Rk. | SNo | | | Name | Typ | sex | FED | Rtg | Pts. | TB1 | TB2 | TB3 | Rp | n | K | rtg+/- |
| 1 | 2 | | GM | Nils Grandelius | | | SWE | 2658 | 7,5 | 0 | 9 | 41,5 | 2676 | 9 | 10 | 3,7 |
| 2 | 4 | | GM | Mustafa Yilmaz | | | TUR | 2629 | 7 | 0 | 9 | 46,5 | 2708 | 9 | 10 | 9,4 |
| 3 | 5 | | GM | Abhijeet Gupta | | | IND | 2620 | 7 | 0 | 9 | 45 | 2700 | 9 | 10 | 10 |
| 4 | 11 | | GM | Maxime Lagarde | | | FRA | 2581 | 7 | 0 | 9 | 45 | 2713 | 9 | 10 | 15,7 |
| 5 | 16 | | GM | Gabor Papp | | | HUN | 2544 | 7 | 0 | 9 | 41,5 | 2598 | 9 | 10 | 7,1 |
| 6 | 13 | | GM | Matthieu Cornette | | | FRA | 2563 | 7 | 0 | 9 | 41 | 2671 | 9 | 10 | 12,6 |
| 7 | 6 | | GM | Tamas Banusz | | | HUN | 2616 | 7 | 0 | 8 | 40,5 | 2648 | 8 | 10 | 3,8 |
| 8 | 12 | | GM | Leon Livaic | | | CRO | 2569 | 7 | 0 | 7 | 42 | 2715 | 7 | 10 | 10,8 |
| 9 | 1 | | GM | Vasyl Ivanchuk | | | UKR | 2664 | 6,5 | 0 | 9 | 45 | 2634 | 9 | 10 | -1,4 |
| 10 | 15 | | GM | V Pranav | | | IND | 2545 | 6,5 | 0 | 9 | 43,5 | 2611 | 9 | 10 | 9,2 |
| 11 | 8 | | GM | Emre Can | | | TUR | 2600 | 6,5 | 0 | 9 | 41 | 2577 | 9 | 10 | -1 |
| | 54 | | IM | Mohapatra Sidhant | | | IND | 2376 | 6,5 | 0 | 9 | 41 | 2581 | 9 | 10 | 25,7 |
| 13 | 18 | | GM | Sebastien Maze | | | FRA | 2542 | 6,5 | 0 | 9 | 41 | 2508 | 9 | 10 | -1,6 |
| 14 | 39 | | IM | Quentin Loiseau | | | FRA | 2449 | 6,5 | 0 | 9 | 40 | 2508 | 9 | 10 | 10,8 |
| 15 | 42 | | IM | Bala Chandra Prasad Dhulipalla | | | IND | 2441 | 6,5 | 0 | 9 | 40 | 2498 | 9 | 10 | 10 |
| 16 | 43 | | IM | Matthew J Wadsworth | | | ENG | 2439 | 6,5 | 0 | 9 | 39,5 | 2461 | 9 | 10 | 5,2 |
| 17 | 40 | | IM | Fy Antenaina Rakotomaharo | | | MAD | 2448 | 6,5 | 0 | 9 | 39 | 2475 | 9 | 10 | 5,1 |
| 18 | 20 | | GM | N R Visakh | | | IND | 2538 | 6,5 | 0 | 9 | 39 | 2535 | 9 | 10 | 1,2 |
| 19 | 28 | | IM | P Shyaamnikhil | | | IND | 2477 | 6,5 | 0 | 9 | 38,5 | 2471 | 9 | 10 | 0,7 |
| 20 | 35 | | GM | Magesh Chandran Panchanathan | | | IND | 2460 | 6,5 | 0 | 9 | 38 | 2497 | 9 | 10 | 5,6 |
| 21 | 55 | | IM | Ludvig Carlsson | | | SWE | 2375 | 6,5 | 0 | 9 | 37 | 2367 | 9 | 10 | 6,2 |
| 22 | 68 | | FM | Vedant Panesar | | | IND | 2348 | 6,5 | 0 | 9 | 35 | 2380 | 9 | 20 | 20,4 |
| 23 | 76 | | FM | Aleksandr Domalchuk-Jonasson | | | ISL | 2318 | 6,5 | 0 | 9 | 33 | 2194 | 9 | 20 | -15,6 |
| 24 | 142 | | | Sebastian Hoffmann | | | GER | 2108 | 6,5 | 0 | 9 | 32,5 | 2277 | 9 | 20 | 42,6 |
| 25 | 23 | | GM | Leon Mons | | | GER | 2514 | 6,5 | 0 | 8 | 40 | 2526 | 8 | 10 | 6,3 |
Links
---