Reykjavik Open 2023 R1-4: Abhijeet Gupta and Pranav Venkatesh make a perfect start 4/4
GM Abhijeet Gupta and GM Pranav Venkatesh are the coleaders after the fourth round of Reykjavik Open 2023. Both have made a perfect start by winning all four of their respective games. They will inevitably clash in the fifth round. Abhijeet defeated IM Sidhant Mohapatra comfortably in the fourth round, Pranav had a slightly bumpy win against GM Banusz Tamas. 14 players are trailing the leaders by a half point at 3.5/4 each, including the top seed GM Vasyl Ivanchuk. The legend averted a difficult position against GM Magesh Chandran who launched a devastating attack against the former World Rapid champion but he was unable to bring his advantage into fruition. Round 5 starts today at 9 a.m. local time, 2:30 p.m. IST. Photo: Thorsteinn Magnusson/Reykjavik Open 2023
Exciting games in every round
The reigning Commonwealth Gold medalist, IM P Shyam Nikhil is the sole Indian at 3.5/4. He will face GM Maxime Lagarde (FRA) in the fifth round. IM Dhulipalla Bala Chandra Prasad, FM Karthik Rajaa, WIM Isha Sharma and FM Sahithi Varshini M drew against GM Adrien Demuth (FRA), GM Viktor Erdos (HUN), GM Sebastian Maze (FRA) and GM Johann Hjartarson (ISL) respectively.
Round 1
Norway no.2 GM Aryan Tari (2649) got a subtle opportunity on move no.11 against FM Bruno Dieu (FRA, 2219). GM D Gukesh who recorded a Fritztrainer at our new ChessBase India studio, brought this to our notice. Check out IM Sagar Shah's analysis:
Aryan tweeted after seeing the video
Pranav - Soderstorm, Round 2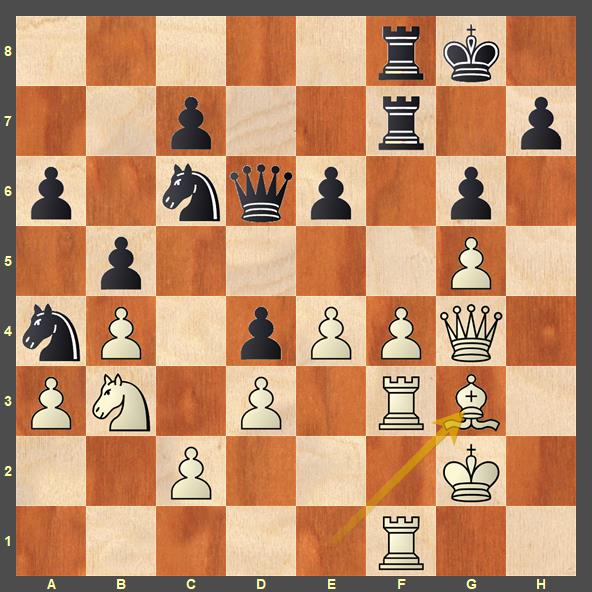 White has a substantial positional advantage in the above diagram. What should be the correct plan for White after 38...Qd7 ? Black had to move the queen out of the way to prevent f5 discover attack. Try to think like Pranav and see if you can match his plan which he executed in the game.
Simon - Anastasiya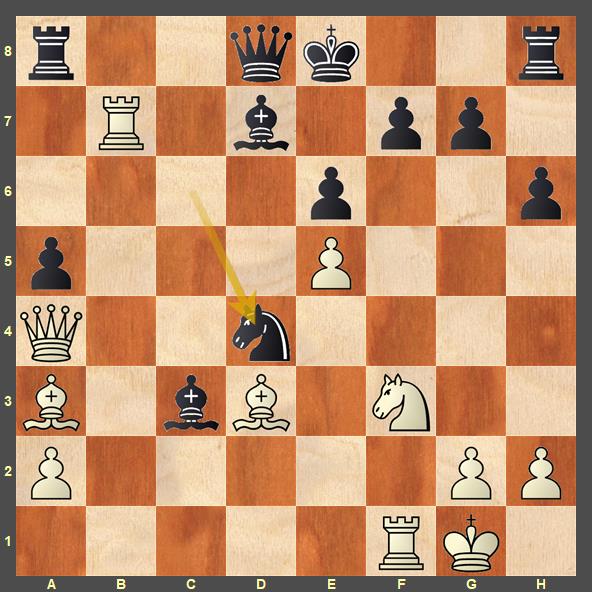 GM Simon Williams (ENG, 2461) famously known as GingerGM, made an interesting queen sacrifice against WIM Anastasiya Rakhmangulova (UKR, 2266). 17.Nxd4! Bxa4 18.Nxe6 Qh4 19.Rfxf7 Bb4 20.Rf8+ and Black resigned due to Bg6+ followed by inevitable checkmate in the next move.
Round 3: Magesh - Ivanchuk: 0-1
India's 12th GM in history, Magesh Chandran P (2460) is playing his first FIDE-rated event in over six months. In the third round, he was paired against the top seed of the tournament, the legend GM Vasyl Ivanchuk (UKR, 2664). Magesh got a fantastic position and his attack seemed to be devastating.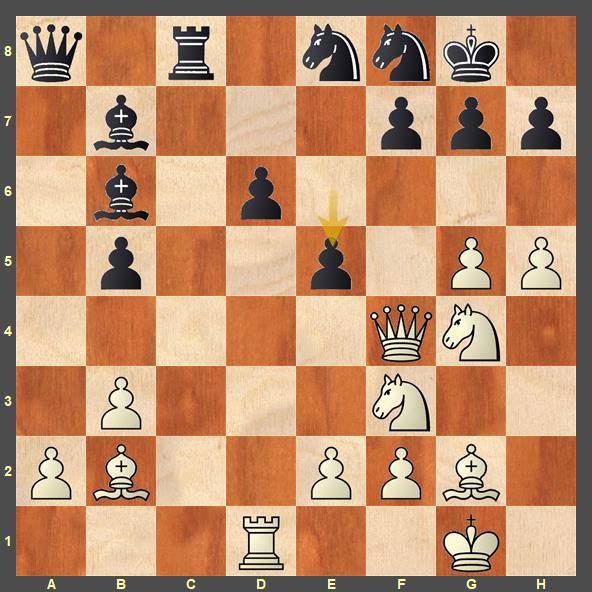 White's queen, both knights and the b2-bishop - all of them are ready to deal heavy blow to Black's kingside. The first question White has to answer which knight should take on e5 - f3 or g4? It might seem like it does not make a huge difference, but in reality it does. Hence, a precise calculation is required. Magesh did all that and went with 24.Nfxe5! dxe5 25.Qxe5 Rc7 and now White had to go 26.h6 which would have led him to a definitive victory. 26.Nh6+ is also good Kh8 now White needed to trade the bishops first 27.Bxb7 Rxb7. He missed it and went 27.Qf5?? Bxg2-+ and now White does not have enough to score with the remaining material. Ivanchuk won the game in another seven moves.
Round 4: Abhijeet - Sidhant
GM Abhijeet Gupta (2620) made his intentions clear early in the game when he played 7.g4 in the QGD against IM Sidhant Mohapatra (2376).
8...Nxc3 9.bxc3 Qe8 would have been a relatively safer and better continuation for Black. 8...f5 imploded Black's kingside 9.gxf5 Nxc3 as he is unable to recapture on f5 immediately. 10.bxc3 c6 11.c5 Bc7 12.Rg1 Rf6 13.e4 Black was just not given any time to safely regain the pawn at f5. 13...dxe4 14.Qxe4 Qd5 15.Qg4 Rf7 16.f6 Nd7 17.Bxh6 Nxf6 18.Qxg7+! Rxg7 19.Rxg7+ Kf8 20.Rd7+ White not only regains the queen but also arrived at a winning endgame as he is ahead by two split passed pawns on the kingside and his pieces are way more active and well coordinated than Black's.
Photo Gallery
A few titled streamers are playing in this event and they are streaming it on their respective channels. They are - GM Simon Williams (ENG), WGM Dina Belenkaya (ISR), WFM Anna Cramling (SWE) and WFM Alexandra Botez (CAN). The organizers have to be applauded for allowing the live streams of each game by the respective titled streamers as they are drawing hundreds of thousads of live views which are commentated by the likes of legendary GM Pia Cramling, GM Jon Ludvig Hammer, GM Nicholas Pert and more. In the era of internet, this is not only popularizing the tournament among the masses all over the globe but also chess as a sport.
A total of 401 players including 34 GMs, 34 IMs, 5 WGMs and 5 WIMs are taking part from 45 countries across the world. The seven day nine-round Swiss League Rating tournament is organized by Icelandic Chess Federation from 29th March to 4th April 2023 at Harpa Conference Center in Reykjavik, Iceland. The time control of the tournament is 40 moves in 90 minutes + 30 minutes with 30 seconds increment from move no.1. Accelerated pairings are used in all rounds.
Replay Round 1-4 games
Round 4 results
Standings after Round 4
| | | | | | | | | | | | | | | | | |
| --- | --- | --- | --- | --- | --- | --- | --- | --- | --- | --- | --- | --- | --- | --- | --- | --- |
| Rk. | SNo | | | Name | Typ | sex | FED | Rtg | Pts. | TB1 | TB2 | TB3 | Rp | n | K | rtg+/- |
| 1 | 5 | | GM | Abhijeet Gupta | | | IND | 2620 | 4 | 0 | 4 | 5 | 3149 | 4 | 10 | 7,3 |
| | 15 | | GM | V Pranav | | | IND | 2545 | 4 | 0 | 4 | 5 | 3177 | 4 | 10 | 12,1 |
| 3 | 1 | | GM | Vasyl Ivanchuk | | | UKR | 2664 | 3,5 | 0 | 4 | 6 | 2718 | 4 | 10 | 2,2 |
| 4 | 11 | | GM | Maxime Lagarde | | | FRA | 2581 | 3,5 | 0 | 4 | 5,5 | 2698 | 4 | 10 | 4,5 |
| | 13 | | GM | Matthieu Cornette | | | FRA | 2563 | 3,5 | 0 | 4 | 5,5 | 2721 | 4 | 10 | 6,6 |
| | 23 | | GM | Leon Mons | | | GER | 2514 | 3,5 | 0 | 4 | 5,5 | 2707 | 4 | 10 | 8,3 |
| 7 | 8 | | GM | Emre Can | | | TUR | 2600 | 3,5 | 0 | 4 | 5 | 2680 | 4 | 10 | 2,8 |
| | 28 | | IM | P Shyaamnikhil | | | IND | 2477 | 3,5 | 0 | 4 | 5 | 2551 | 4 | 10 | 2,4 |
| | 30 | | IM | Evgenios Ioannidis | | | GRE | 2473 | 3,5 | 0 | 4 | 5 | 2663 | 4 | 10 | 8,1 |
| 10 | 4 | | GM | Mustafa Yilmaz | | | TUR | 2629 | 3,5 | 0 | 4 | 4,5 | 2733 | 4 | 10 | 4,2 |
| 11 | 200 | | | Dmitriy Grigoriev | | | FID | 1969 | 3,5 | 0 | 4 | 4 | 2357 | 4 | 20 | 32,8 |
| 12 | 219 | | | Jinghan Cameron Goh | | | SGP | 1899 | 3,5 | 0 | 4 | 3 | 1979 | 3 | 20 | 14,6 |
| | 236 | | | Henry Adams | | | ENG | 1859 | 3,5 | 0 | 4 | 3 | 2367 | 4 | 40 | 86,8 |
| 14 | 12 | | GM | Leon Livaic | | | CRO | 2569 | 3,5 | 0 | 3 | 5,5 | 3106 | 3 | 10 | 5,7 |
| 15 | 19 | | GM | Hjorvar Steinn Gretarsson | | | ISL | 2538 | 3,5 | 0 | 3 | 5 | 3116 | 3 | 10 | 7,1 |
| 16 | 17 | | GM | Brandon Jacobson | | | USA | 2543 | 3,5 | 0 | 3 | 4,5 | 3117 | 3 | 10 | 6,9 |
| 17 | 81 | | FM | Hamish Olson | | | SCO | 2309 | 3 | 0 | 4 | 6 | 2586 | 4 | 20 | 29 |
| 18 | 6 | | GM | Tamas Banusz | | | HUN | 2616 | 3 | 0 | 4 | 5,5 | 2568 | 4 | 10 | -1,3 |
| | 54 | | IM | Mohapatra Sidhant | | | IND | 2376 | 3 | 0 | 4 | 5,5 | 2489 | 4 | 10 | 6,8 |
| 20 | 20 | | GM | N R Visakh | | | IND | 2538 | 3 | 0 | 4 | 5,5 | 2502 | 4 | 10 | -1,1 |
| | 42 | | IM | Bala Chandra Prasad Dhulipalla | | | IND | 2441 | 3 | 0 | 4 | 5,5 | 2545 | 4 | 10 | 6 |
| 22 | 51 | | IM | S Ajay Krishna | | | IND | 2382 | 3 | 0 | 4 | 5 | 2412 | 4 | 10 | 2,4 |
| | 58 | | IM | Thomas Willemze | | | NED | 2364 | 3 | 0 | 4 | 5 | 2388 | 4 | 10 | 2,7 |
| 24 | 22 | | GM | Kjetil A. Lie | | | NOR | 2515 | 3 | 0 | 4 | 5 | 2424 | 4 | 10 | -3,2 |
| | 32 | | GM | Michael Richter | | | GER | 2466 | 3 | 0 | 4 | 5 | 2412 | 4 | 10 | -1,9 |
| | 41 | | IM | Dimitar Mardov | U16 | | USA | 2445 | 3 | 0 | 4 | 5 | 2496 | 4 | 10 | 3,2 |
Round 5 pairings
Links
---