Reykjavik Open 2023 R5-6: Maxime Lagarde joins Abhijeet Gupta in the lead
GM Abhijeet Gupta defeated GM Pranav Venkatesh in the fifth round to gain sole lead 5/5. In the sixth round Abhijeet made a short 21-move draw against Turkey no.1 GM Mustafa Yilmaz. It allowed GM Maxime Lagarde (FRA) to catch up to him. He defeated Turkey no.2 GM Emre Can. Pranav bounced back by winning against IM Dimitar Mardov (USA). He is one of the sixth players in pursuit at a score of 5/6. FM Sahithi Varshini M defeated GM Simon Williams in the sixth round after the latter misplayed in the endgame allowing the teenager to score a win. She is now the highest scoring female player of Reykjavik Open 2023 so far 4.5/6. Round 7 starts today at 3 p.m. local time, 8:30 p.m. IST. Photo: Hallfríður Sigurðardóttir/Reykjavik Open 2023
Sahithi Varshini beats Simon Williams
A total of 27 players are at 4.5/6. There are five Indians among them. They are - IM Sidhant Mohapatra, IM Dhulipalla Bala Chandra Prasad, IM P Shyam Nikhil, GM Vignesh N R and FM Sahithi Varshini M. Sidhant and Dhulipalla both scored 1.5/2 on the final double round of the event.
Pranav - Abhijeet, Round 5
The above position certainly gives an inkling that something has gone terribly wrong for White. 29.Kh1 Qf6 30.Rxd5 Qxf3+ 32.Kh2 Qf4+ 33.Kh1 Rxe3 34.Bxe3 Qf3+ 35.Kh2 Qxd5 36.Bf4 was perhaps a better continuation for GM Pranav V (2545). He decided the block the check by self-pinning the knight 29.Ng2 Qf6 30.f4? Nxf4 31.Bxf4 Qxf4-+ gave GM Abhijeet Gupta (2620) gained a decisive advantage. Black went on to win the game comfortably.
Dimitar - Pranav, Round 6
16.Qc2? is a mistake by IM Dimitar Mardov (USA, 2445) as it allows Black to gain advantage using tactics. Try to find out how.
Simon - Sahithi, Round 6
FM Sahithi Varshini (2262) has offered her bishop as a sacrifice to GM Simon Williams (ENG, 2461). 50.Rxc3 obviously does not work bxc3 51.hxg6 c2 and Black wins. Thus, White's only defense was 50.Re1 Be4 51.Bxe4 dxe4 52.Rb1 Rb7 and the game goes on. However, the game continued 50.Ra1 Bc2 51.Rxf6 Ra3-+ and Black gained a decisive advantage due to her menacing pawns on the queenside. Black won the game after nine more moves.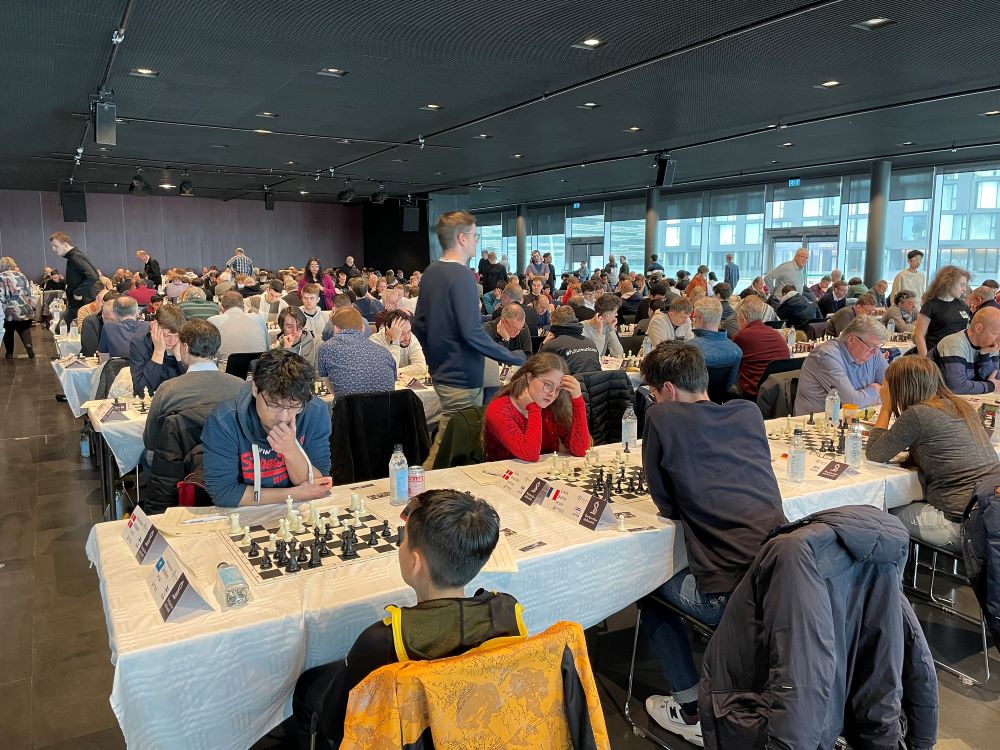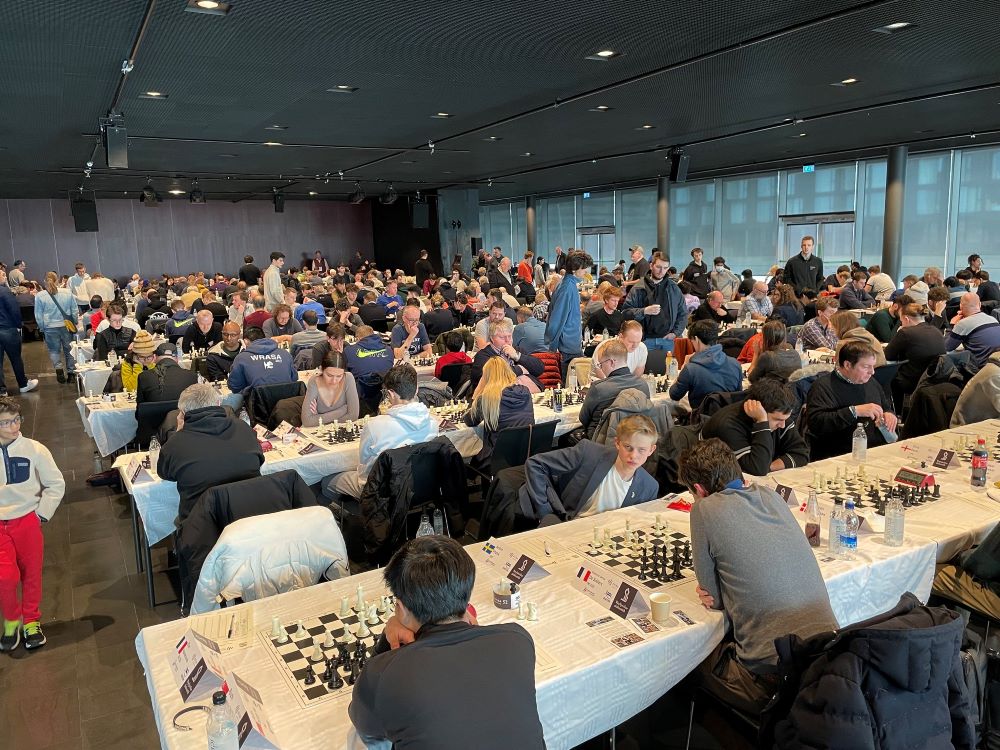 A total of 401 players including 34 GMs, 34 IMs, 5 WGMs and 5 WIMs are taking part from 45 countries across the world. The seven day nine-round Swiss League Rating tournament is organized by Icelandic Chess Federation from 29th March to 4th April 2023 at Harpa Conference Center in Reykjavik, Iceland. The time control of the tournament is 40 moves in 90 minutes + 30 minutes with 30 seconds increment from move no.1. Accelerated pairings are used in all rounds.
Replay Round 5-6 games
Round 6 results
Standings after Round 6
| | | | | | | | | | | | | | | | | |
| --- | --- | --- | --- | --- | --- | --- | --- | --- | --- | --- | --- | --- | --- | --- | --- | --- |
| Rk. | SNo | | | Name | Typ | sex | FED | Rtg | Pts. | TB1 | TB2 | TB3 | Rp | n | K | rtg+/- |
| 1 | 5 | | GM | Abhijeet Gupta | | | IND | 2620 | 5,5 | 0 | 6 | 17 | 2829 | 6 | 10 | 11,4 |
| | 11 | | GM | Maxime Lagarde | | | FRA | 2581 | 5,5 | 0 | 6 | 17 | 2822 | 6 | 10 | 13,4 |
| 3 | 4 | | GM | Mustafa Yilmaz | | | TUR | 2629 | 5 | 0 | 6 | 17,5 | 2731 | 6 | 10 | 7,9 |
| 4 | 1 | | GM | Vasyl Ivanchuk | | | UKR | 2664 | 5 | 0 | 6 | 16,5 | 2696 | 6 | 10 | 3 |
| 5 | 15 | | GM | V Pranav | | | IND | 2545 | 5 | 0 | 6 | 16 | 2702 | 6 | 10 | 11,7 |
| 6 | 43 | | IM | Matthew J Wadsworth | | | ENG | 2439 | 5 | 0 | 6 | 14,5 | 2483 | 6 | 10 | 4,1 |
| 7 | 23 | | GM | Leon Mons | | | GER | 2514 | 5 | 0 | 5 | 17 | 2634 | 5 | 10 | 9,1 |
| 8 | 12 | | GM | Leon Livaic | | | CRO | 2569 | 5 | 0 | 5 | 16,5 | 2736 | 5 | 10 | 7,9 |
| 9 | 54 | | IM | Mohapatra Sidhant | | | IND | 2376 | 4,5 | 0 | 6 | 17 | 2553 | 6 | 10 | 14,8 |
| 10 | 30 | | IM | Evgenios Ioannidis | | | GRE | 2473 | 4,5 | 0 | 6 | 17 | 2615 | 6 | 10 | 11,8 |
| 11 | 13 | | GM | Matthieu Cornette | | | FRA | 2563 | 4,5 | 0 | 6 | 16,5 | 2639 | 6 | 10 | 6,7 |
| | 42 | | IM | Bala Chandra Prasad Dhulipalla | | | IND | 2441 | 4,5 | 0 | 6 | 16,5 | 2513 | 6 | 10 | 8,2 |
| 13 | 31 | | IM | Kassa Korley | | | DEN | 2468 | 4,5 | 0 | 6 | 16 | 2521 | 6 | 10 | 4,5 |
| 14 | 2 | | GM | Nils Grandelius | | | SWE | 2658 | 4,5 | 0 | 6 | 16 | 2542 | 6 | 10 | -5,5 |
| 15 | 22 | | GM | Kjetil A. Lie | | | NOR | 2515 | 4,5 | 0 | 6 | 15,5 | 2468 | 6 | 10 | -2,3 |
| 16 | 28 | | IM | P Shyaamnikhil | | | IND | 2477 | 4,5 | 0 | 6 | 15 | 2478 | 6 | 10 | 1,1 |
| 17 | 16 | | GM | Gabor Papp | | | HUN | 2544 | 4,5 | 0 | 6 | 15 | 2504 | 6 | 10 | -1,7 |
| 18 | 8 | | GM | Emre Can | | | TUR | 2600 | 4,5 | 0 | 6 | 14,5 | 2609 | 6 | 10 | 1,6 |
| 19 | 45 | | FM | Shubh Jayesh Laddha | U16 | | USA | 2422 | 4,5 | 0 | 6 | 14,5 | 2185 | 5 | 10 | -1,2 |
| 20 | 7 | | GM | Alexandr Fier | | | BRA | 2606 | 4,5 | 0 | 6 | 14 | 2424 | 6 | 10 | -7,3 |
| | 24 | | IM | N R Vignesh | | | IND | 2513 | 4,5 | 0 | 6 | 14 | 2429 | 6 | 10 | -4,5 |
| 22 | 18 | | GM | Sebastien Maze | | | FRA | 2542 | 4,5 | 0 | 6 | 14 | 2459 | 6 | 10 | -4,7 |
| | 21 | | GM | Danyyil Dvirnyy | | | ITA | 2531 | 4,5 | 0 | 6 | 14 | 2467 | 6 | 10 | -3,7 |
| 24 | 39 | | IM | Quentin Loiseau | | | FRA | 2449 | 4,5 | 0 | 6 | 13,5 | 2415 | 6 | 10 | 0,5 |
| | 44 | | IM | Alan-Safar Ramoutar | | | TTO | 2425 | 4,5 | 0 | 6 | 13,5 | 2158 | 6 | 10 | -8,8 |
Round 7 pairings
Links
---