Priyanka Nutakki becomes the 23rd Woman Grandmaster of India
19-year-old Priyanka Nutakki secured her final WGM-norm at MPL 47th National Women Chess Championship. She scored 7.0/9, performed at 2348 to become India's latest Woman Grandmaster on 2nd March 2022. She was also placed third in the tournament. The first WGM-norm was scored in January 2019. The soft-spoken girl from Vijayawada, Andhra Pradesh, won her biggest online tournament, SPF Girls' Invitational in June 2020. It was evident that she was working hard during the Covid-19 pandemic. She earned her second WGM and maiden IM-norm in her third over-the-board tournament of the year 2021. A little over two months later, she delivered a stellar performance to become India's latest Woman Grandmaster. Photo: Niklesh Jain
Two WGM and maiden IM-norm in 70 days
Priyanka Nutakki scored her first WGM-norm in January 2019 and crossed the 2300 rating criteria in the next two months. However, much like a lot of players, the Covid-19 pandemic delayed her title hopes. After a second place finish for AAI at National Team 2020, she could not play over-the-board tournament because most of the events either got cancelled or delayed and there were travel restrictions. She braved the odds, resumed playing over-the-board tournaments in October 2021 at ChessMood Open. In her third over-the-board tournament of the year, she scored her second WGM and maiden IM-norm at 7th Sunway Sitges Open 2021.
"Hello, thank you so much! I feel good and also relieved to have become a WGM. And also I'm quite happy with the way things have turned out and with my overall performance." - Priyanka Nutakki, on her becoming India's latest Woman Grandmaster.
First WGM norm
Priyanka scored her first WGM-norm at the strong event, Rilton Cup 2018/19. Despite starting with two losses, she scored 5.5/9, including wins over IM Ravi Haria (ENG), IM Ariel Erenberg (ISR), WIM Saloni Sapale and a draw with IM Lars Oskar Hauge (NOR).
Priyanka - Ariel, Rilton Cup 2018/19
Priyanka persevered in a tough position. When her opponent made a mistake 33...Rd6, she seized her opportunity. Can you find the winning continuation for White?
In 2020, Priyanka won SPF Girls' Invitational Online and scholarship worth $60000. When we asked now, if she had/is planning to avail it, Priyanka said, "Not as of now, my only focus is on chess."
Second WGM and IM-norm
The second WGM and IM-norm was scored in another strong tournament, 7th Sunway Sitges International Open 2021. Priyanka started the tournament, scoring a big upset against GM Iniyan P in the first round. She also defeated IM Yovann Gatineau (FRA) and IM Ernesto J Fernandez Guillen (CUB). She drew with GM Marc Narciso Dublan (ESP), IM Sidhant Mohapatra, IM Deimante Daulyte-Cornette (FRA) and IM Peter Meister (GER).
Iniyan - Priyanka, 7th Sitges Open 2021
29.Nf5 self-pins the knight after 29...Qd7 30.Qf3 Ng7 and everything starts falling apart for White. Computer says 29...Ne7 is instantly winning for Black as Nxg3+ fork is looming large. 30.Qf3 does not save the day as 30...Nxf5 31.Bxf5 Nxg3+ 32.Qxg3 gxf5 gives Black the decisive advantage. However, Priyanka opted for the humane 29...Qd7 which is also good for Black. 31.e6 Nxe6 32.Nh4 does not work either as 32...Ng5 33.Bxd7 Nxf3 34.Nxf3 Rxd7 leaves White with broken pawn structure and also behind by two pawns. Soon, White blundered a piece and lost the game in another four moves.
Third WGM norm
Priyanka's final WGM-norm was scored at the recently concluded MPL 47th National Women Chess Championship 2022. When she was asked to pick her favorite game from the event, Priyanka shared, "It's difficult to choose one game but if I have to, I'd say my game against Pratyusha in round 8 was quite an interesting game with a nice tactic." She had already crossed 2300 in March 2019, thus on 2nd March 2022, she became a Woman Grandmaster.
Priyanka - Pratyusha, National Women 2022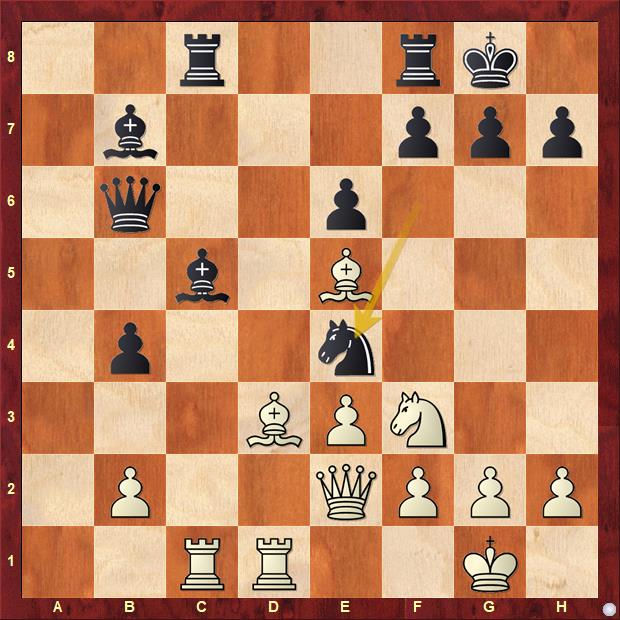 In a relatively equal position, Black made a huge mistake 20...Ne4. Find out the winning continuation for White.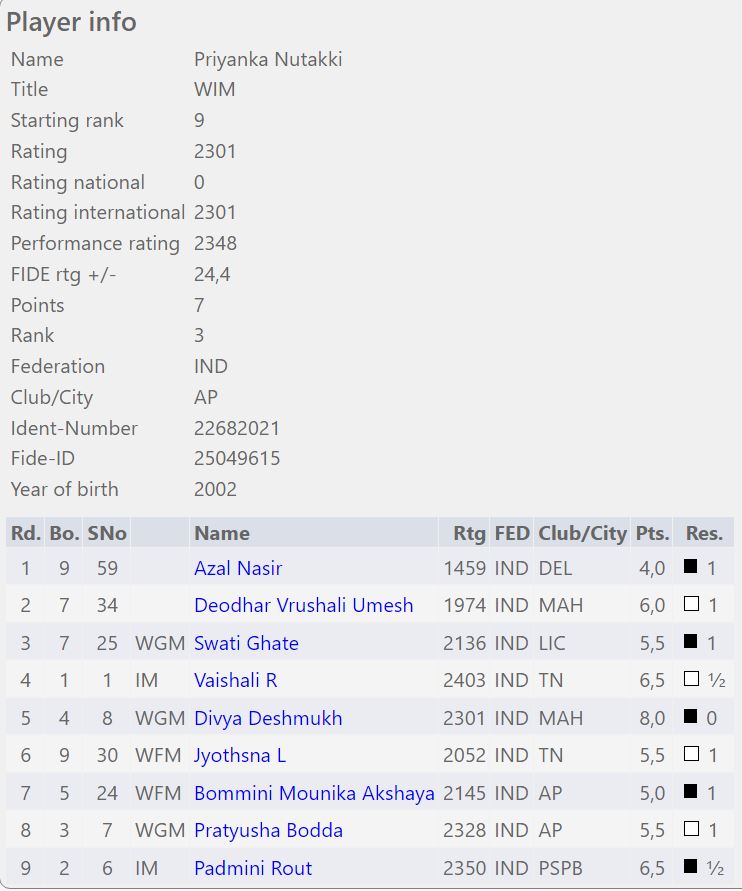 I am very happy as Priyanka is one of the most promising juniors of the country. She completely deserved the WGM title. I am very proud to say that in this tournament, most of her games were very pleasing to watch.
Replay Priyanka's games
Previous coverage
---