Millionaire Chess 2014 winner Sushrutha Reddy recounts
In the year 2014, Sushrutha Reddy went to Las Vegas in USA to play the biggest prize money open tournament of that time, Millionaire Chess 2014. He won it in the under 2000 rating category. In this article we bring you the entire story on how he took a leap of faith and won the biggest prize money tournament along with semi-final and final games, also the fairy-tale happy ending of it. It just proves that if you put your mind to it, against all odds, you can still come out at the top and triumph. The entire article has been published with the permission of Sushrutha Reddy and all photos are provided by him.
My experience at Millionaire Chess 2014 in Las Vegas
The Prelude
Until 2014, it was completely unheard of where a Tournament has an entry fee of USD 1000. Forget the entry fee, the total prize fund of 1 million USD also was never heard of in the World of Chess, especially in the Categories that this event was being organised.
At first, this event didn't evince much interest in me. One fine day, I asked a well experienced friend of mine on the reputation of the Organiser of the Event. The reputation was on par with a person like Rahul Dravid.
I decided to take the plunge. There were many people who goaded me not to give it a shot saying nobody ever would be able to give such prize money!
There are certain people in life on whose words you have complete faith in. One such person in my life is T.J Suresh Kumar. I simply decided that, this event is a very credible one as Suresh is recommending it!
Would you believe it? Only 3 Indians (living in India) registered for that Event. All of them were from Bangalore.
Next came the visa challenge. I felt that I may NOT get the visa if I do not come out with something credible. Thus, I participated in the World Amateur Chess Championship at Singapore in May 2014 just for that Certificate which I could show to the visa authorities.
The visa interview took place at Hyderabad during August of 2014. The other two participants, one of them is Alwyn Miranda, also came along to the visa Interview with me. All of us were prepared with all the pre-requisites. I was the first who took the visa interview. On that day, I pro-actively showed my certificate and said that I have represented India at the World Amateur Chess Championship. The Visa Officer simply took my passport. I asked the person in the queue what that meant. She said that I will get the visa. One thought came rushing immediately to my head - "My wife isn't coming with me to the USA. And what if these two do not get their visa by any chance? Nooo! I cannot be all alone". I immediately turned and said, "Wait! There are two more of my friends who are coming with me". The Visa Officer simply took their Passports without much checking. The three of us were elated that day.
At this stage, my wife started getting tempted to come with me to USA. She got her visa on September 16th, 2014. To get into the tournament mould, I decided that I should be playing a couple of tournaments. But, instead, I organised a FIDE Rating Chess Tournament which concluded on the eve of my departure. The tickets were booked such that I stay at Los Angeles on Day One before proceeding to Las Vegas by Bus on Day two.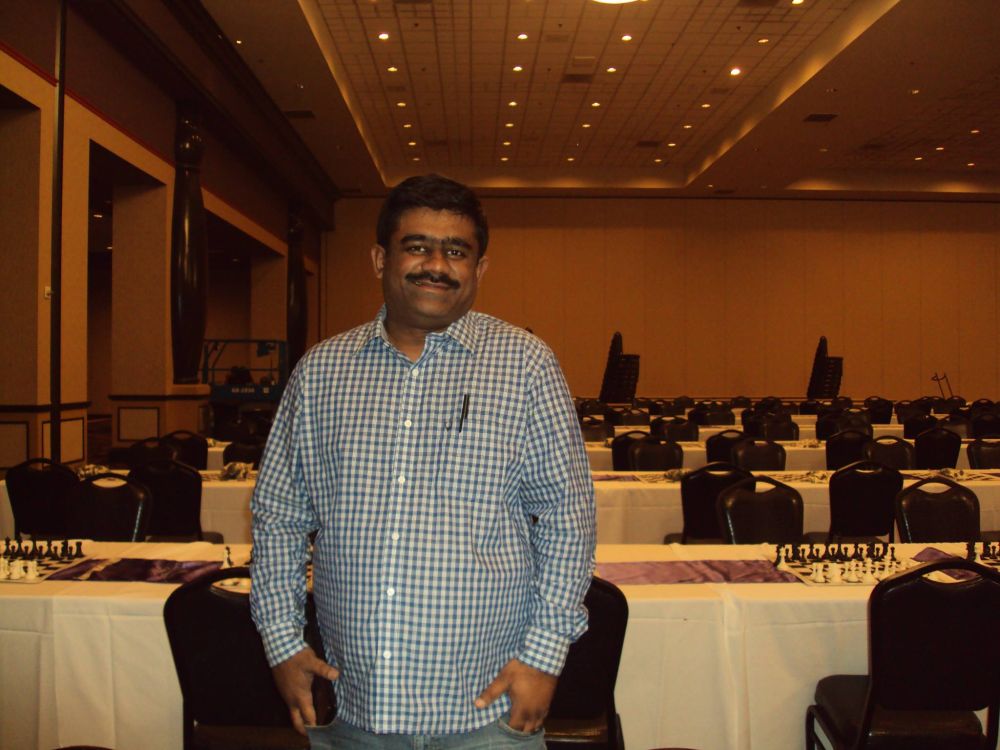 The Event kicks off
I must admit. I underestimated the effect of jet lag. I checked in to Hotel Ballys on the eve of the Tournament at Las Vegas. I was registered in the Under 2000 Category (Players with Rating below 2000) and I was among the lowest seeded (ranked) Players. Round 1 started at 11.30 p.m. IST. This game went on for 5 hours and I was unable to convert my advantage and I split the point against my opponent who was the top seed. The next Round was at 6 a.m. IST and I was woefully low on sleep. Sense and sensibility took a severe beating and I played a reckless game to lose in 15 minutes! This loss meant that my chances of winning this category were over. But, wait!
I take a gamble!
The Millionaire Chess had an interesting rule. The event had the Classical event starting on Day One. The Classical event had each game lasting for 4 to 5 hours. On Day two, the Rapid Event would start. After five rounds, both the Rapid and Classical sections would converge and there would be two more rounds in the Classical format. The Rapid event had 25 minutes each. A player could shift to the Rapid event from the Classical event by paying an additional USD 250, which I did.
Rules stated that the top four players at the end of 7 Rounds will play the semi-finals. If in case of a tie for a spot, then all the corresponding players will play each other to qualify to the semi finals. More than all of this, I decided that I should sleep as much as possible at the earliest!
Old habits die hard
In chess, your personality is in full view with the way you play the game. Now, my personality is made up with a rush of adrenaline and when that rush hits me, I eventually feel like kicking myself. I shifted into the Rapid event and I won round one easily. In the second round, I had a rush of adrenaline in a very promising position and lost.

The loss in the second round hit me very hard. I decided that no matter what happens, I will kick the adrenaline out if it hits me and I will sit calm and evaluate positions completely before taking key decisions.
The comeback begins
From Round 3 onwards, I would simply sit and soak in the position if I am not comfortable. I would reach situations where I would have less than 5 minutes remaining on my clock whereas my opponents had more than 20! Yet, I remained calm. Understanding the positions and then taking decisions mattered. In Bangalore, until 2014, very rarely would any of my games go down to the wire to the last few minutes. Thus, having 5 minutes remaining on my clock didn't matter to me and from Rounds 3 to 5, I crushed my opponents putting discipline ahead of everything else.
I must say what happened from hereon happens only in movies! I was playing against a Sri Lankan in round 6 and this was now in the Classical format. For 5 hours, I was on the back foot and I was staring at the possibility where I have to tussle with 12 players for a spot in the semi-finals. My score was 4.0/5 and I could not afford to drop any point. This game was petering out into a draw when suddenly, the unthinkable happened.
Probably, I should call it a brain freeze. My opponent blundered in a completely equal position and handed over the game in a platter. This game lasted well over 5 hours! It was almost midnight when this game got over. On that night, I went to sleep completely elated. I was only dreaming of qualifying to the semi-finals. Nothing beyond. Round 7 was against an American called Pranav. While a draw meant I had to tussle with 12 players for one slot in the semi-finals, a win would guarantee me a spot straight away. Needless to say, I had the easiest win in the entire tournament and qualified into the semi-finals which would take place the next day. After qualifying into the semi-finals, I was guaranteed USD 5000. I observed the body language of all the players and none of them showed the confidence of a Champion. This instilled belief in me that I should go and win the event! I had decided that I will buy an Apple MacBook Pro if I won the event. Instead, I purchased it on the eve of the semi-finals itself. We (me and my wife) had a long walk across the Las Vegas strip that day.
The day of reckoning arrives!
The semi-finals was a best of two games. Time provided was 25 minutes each. Coel Oshiro Tadas of Japan was my opponent. Game 1 arose out of Marshall Attack. A key position arose. My time dwindled down to 4 minutes while my opponent had 21 minutes. When the game finished, I still had 4 minutes left and he had 2! I won the game.
In game two, I must say I was extremely lucky that he let me off the hook. I gave a Queen sacrifice for three minor pieces and won a game that actually belonged to my opponent, Coel Oshiro Tadas.
I was now into the finals. Aderami Adekola of Nigeria was my final Round opponent. Euphoria had built up in the Chess fraternity in India. Psychology played its role in the final. My opponent's body language suggested he was playing under pressure. Stakes were high.
Suddenly, my opponent played an illegal move. Since the game was played in Rapid Format, it meant the player has lost if they were following FIDE rules of Chess. However, the lady Arbiter said that she would add two minutes to my clock. I reminded her that my opponent has lost as this is the Rapid format. Just when the lady Arbiter was about to declare the game in my favour, my opponent protested. The lady Arbiter brought her senior after 10 minutes. He said that I can only be given 2 minutes. I asked them to show me the rule book where it states that 2 minutes should be added in Rapid play if the player has played an illegal move. And as this was happening, I could see that my opponent was going down in pressure. Almost 20 minutes later, the Chief Arbiter arrived with the USCF (United States Chess Federation) rule book which stated that an illegal move should be taken back and the player should be allowed to play the legal move!!
I settled back into the chair and I wanted to see what is in my Opponent's mind. I offered him a draw. He had taken this protest too personally and he said, "Man, I had thought you are a good friend. Now, I cannot accept this draw". And immediately, he blundered and the game ended up in a draw.
Game two started soon after. Being a player carrying 25 years of chess playing experience behind me, I could understand that it is not easy to recover mentally within few minutes from such pressure situations. My opponent played aggressively and paid the price. A calm Sushruta Reddy won Game 2 and with that, he won the Millionaire Chess Under 2000 Event. The Prize was USD 40,000. It was the second highest prize money ever won by an Indian.
The win only registered in my mind weeks after I returned to India. It was just a normal day for me. My wife met me at Ballys and asked, "What happened?" I replied, "I won the Tournament". She opened her mouth wide and was shocked and asked, "What?! You won?????". My reply was, "Come, lets book our tickets to Grand Canyon". My wife cooked food for me on all those five days of the tournament. Without her, I may have struggled. We went on a US Tour for two weeks. It was supposed to be one month when suddenly, one day, both of us decided to return the very next day.
I was felicitated by quite a few people in Karnataka and only then did the magnitude of my win register in my mind. An interview took place a couple of days after the event.

Epilogue
Upon my return to India, I had decided to write in detail all the memories of this Trip and I didn't realise it would take me four years to write it!
Millionaire Chess is a significant chapter in the life of Sushrutha Reddy. I must place a record of thanks to the three schools that I was working with at that point of time - GEAR, Silicon City Academy of Secondary Education and Sri Aurobindo Memorial School. They supported me on all counts and on all my requests. Am lucky to be working in the area of my passion!

About the author
Sushrutha Reddy is a well-known organiser who has been promoting chess at the grass root level in Bangalore, Karnataka. Currently a chess coach at six schools, he has worked as the Joint Secretary of United Karnataka Chess Association and had been the chief arbiter at almost all tournaments in Bangalore held between 2000 and 2003. He is an occasional writer and had written the cover story on the Fischer-Spassky World Championship Match for The Week magazine in the past. Besides this, he owns the Innovators Chess Academy which has organised more than a hundred Chess Tournaments during the last thirteen years.

---