WWCh 2018 Round 1.1: Humpy dominates, Bhakti loses to Pogonina
FIDE Women's World Championship Round 1 Game 1 commenced on 3rd November at Khanty Mansiysk, Russia. Four Indian women have qualified to this prestigious knock-out World Championship. Humpy won her game 1 with ease, Harika and Padmini drew, Bhakti lost her first game. Humpy would require just a draw in game 2 to advance to Round 2, Harika and Padmini need a win to advance. However a draw means that they have to play tie-breakers. Bhakti is in a must-win situation. A draw or loss means that she has to head home. We bring you games and photos from Khanty-Mansiysk. Photo: ugra2018.fide.com
Humpy wins, Harika and Padmini draws in Round 1.1
Koneru Humpy is playing in Women's World Championship for the first time since 2015. She took a hiatus from chess for 2 years. However, just like in Batumi Olympiad, she did not show any signs of rustiness in her form. She defeated her first round opponent Hayat Toubal with ease.
In the Sicilian Moscow variation, Harika's opponent Sopiko Khukhashvili thwarted all attempts of Harika. She made sure that the position liquidated into an equal bishop-knight ending which eventually resulted in a draw after 61 moves.
Padmini offered a queen exchange in the first 11 moves which her opponent declined both times. Then she launched a series of attacks which her opponent defended well enough. Pieces got exchanged and after an equal queen ending position had arose, a draw was agreed.
Bhakti Kulkarni faced a stiff challenge in the first round against former Women's World Championship runner-up Natalija Pogonina
The move 25...Bb4 allowed Pogonina to gain a pawn with 26.Bxd6+ followed by 27.Nxb7. It might seem like the knight may get trapped but actually it is not.
After arriving at an equal minor-piece endgame, Bhakti blundered a pawn and reached an opposite color bishop endgame.
How Indian Women can advance to Round 2:
1. Humpy needs just a draw in today's game 2 which should not be a difficult task.
2. Harika needs to win to advance, however a draw means tie-break will be played.
3. Bhakti is in a must win situation to go to the tie-breaks, a draw or loss means she heads home.
4. Padmini is on the same boat as Harika. A win results in an advancement, draw means tie-breaker must be played.
Photo Gallery:
Video Gallery:
Results of Round 1.1: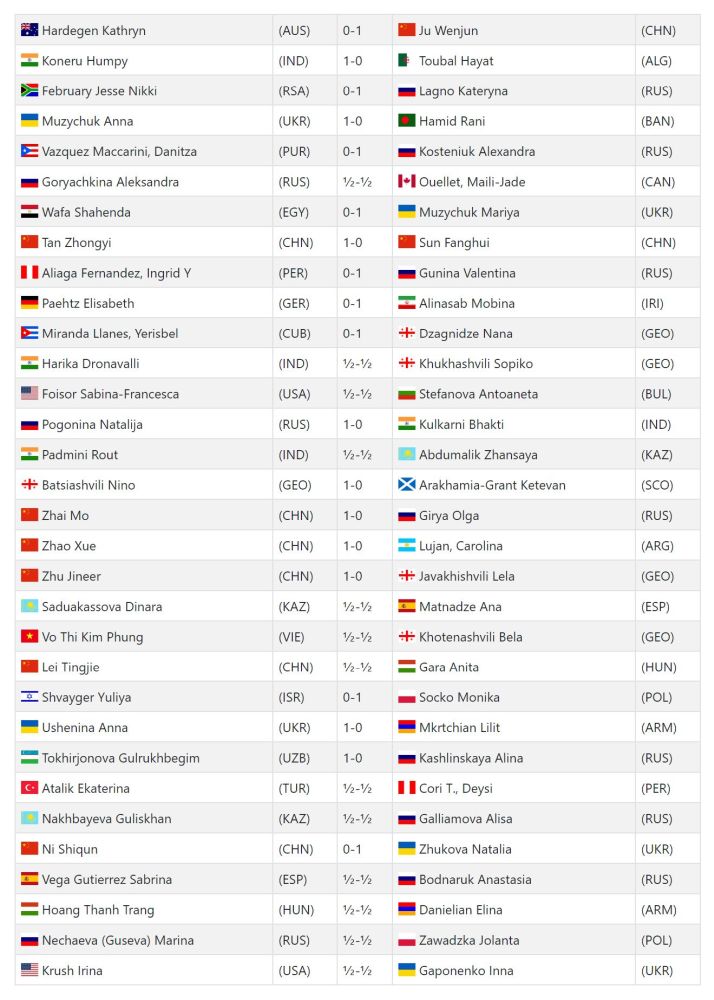 ---