WWCh 2018 Round 2.1: Humpy and Harika draw their games with black pieces
Both Humpy and Harika started round 2.1 with a draw. However Humpy's game was a tepid draw in Petroff's Defence in just 26 moves, while Harika kept fighting until the end. The Indian GM tried to force her opponent Bela Khotenashvili to commit a mistake, but the Georgian had no intentions to budge. After a 64-move long battle, a threefold repetition resulted in a draw. Humpy and Harika both had black pieces, so a draw is definitely a result they will be happy with as tomorrow in round 2.2 they are going to have white pieces where they will not hold any punches back. We bring you games, photos and videos from Khanty-Mansiysk. Photo: Official site
Humpy and Harika start round 2.1 without any decisive result
Humpy opted for the reliable Petroff's Defence with black pieces in round 2.1. She got an equal position out of the opening. Out of 26 moves, 19 moves were theory. After that pieces got exchanged every now and then and a draw was agree when both sides had a queen, knight and bishop left on the board.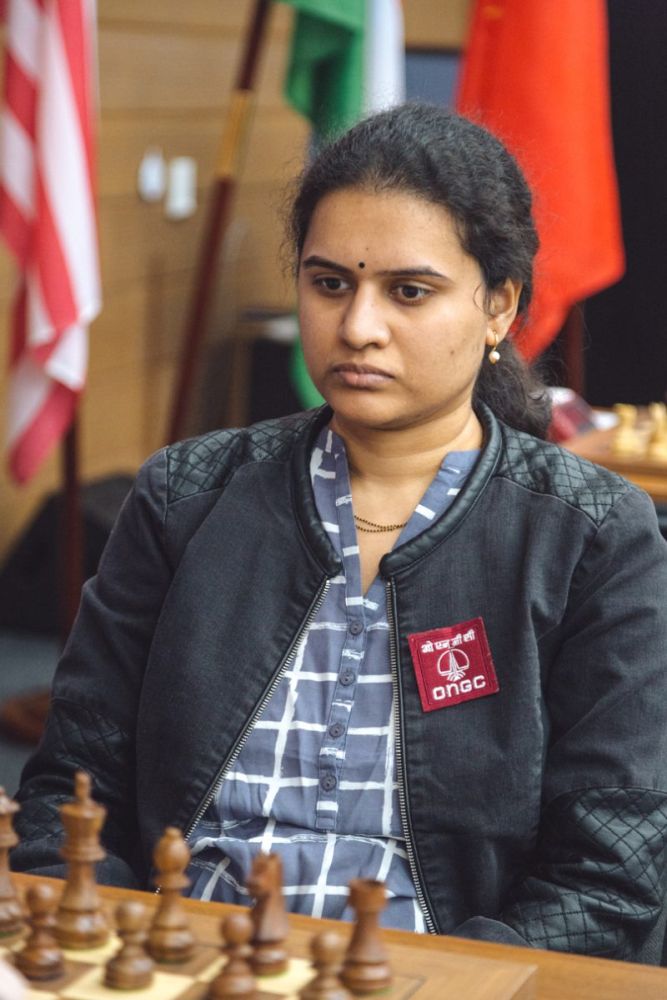 Bela played the Trompowsky against Harika and the Indian was absolutely okay to play with a doubled pawn on f6. After 26 moves the game morphed into a rook-bishop vs. rook-knight endgame. Despite Bela's Bishop gaining a strong outpost at d5, it was not as fierce as Bela would have wanted it to be.
Of course things could go wrong at any time, but Harika is known to be a staunch defender and she made no real mistakes. In fact she managed to even press for a win but the Georgian did not break and managed to hold a draw via threefold repetition.
Alisa Galliamova (RUS) - Alexandra Goryachkina (RUS)
Photo Gallery: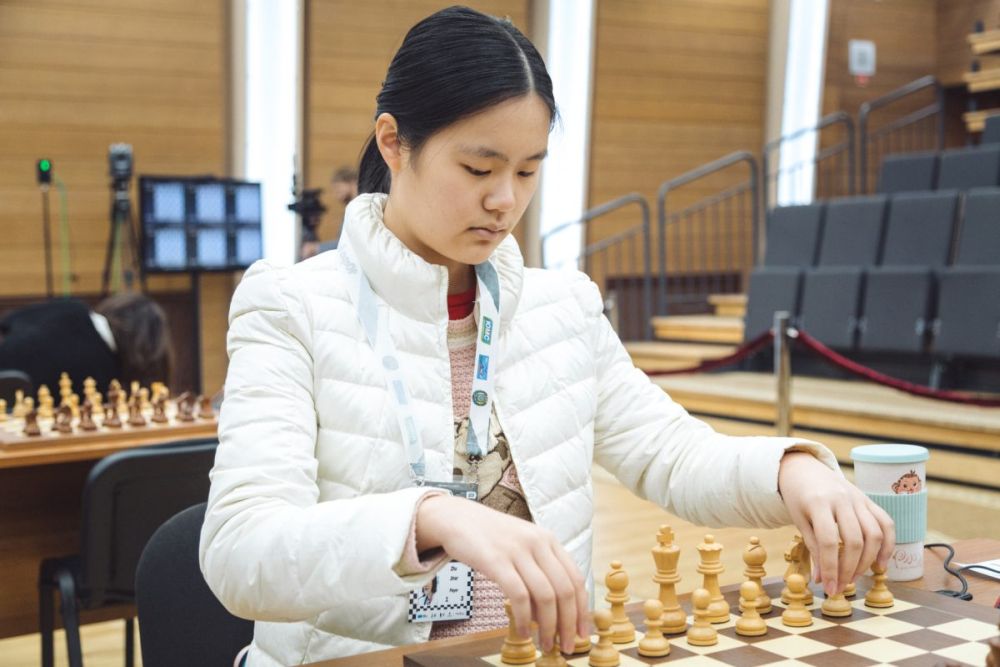 Video Gallery:

Results of round 2.1
| | | | | |
| --- | --- | --- | --- | --- |
| Ju Wenjun | (CHN) | 1-0 | Krush Irina | (USA) |
| Zawadzka Jolanta | (POL) | ½-½ | Koneru Humpy | (IND) |
| Lagno Kateryna | (RUS) | ½-½ | Hoang Thanh Trang | (HUN) |
| Bodnaruk Anastasia | (RUS) | 0-1 | Muzychuk Anna | (UKR) |
| Kosteniuk Alexandra | (RUS) | ½-½ | Ni Shiqun | (CHN) |
| Galliamova Alisa | (RUS) | 1-0 | Goryachkina Aleksandra | (RUS) |
| Muzychuk Mariya | (UKR) | 0-1 | Atalik Ekaterina | (TUR) |
| Tokhirjonova Gulrukhbegim | (UZB) | ½-½ | Tan Zhongyi | (CHN) |
| Gunina Valentina | (RUS) | ½-½ | Ushenina Anna | (UKR) |
| Socko Monika | (POL) | 0-1 | Alinasab Mobina | (IRI) |
| Dzagnidze Nana | (GEO) | ½-½ | Lei Tingjie | (CHN) |
| Khotenashvili Bela | (GEO) | ½-½ | Harika Dronavalli | (IND) |
| Stefanova Antoaneta | (BUL) | ½-½ | Saduakassova Dinara | (KAZ) |
| Zhu Jineer | (CHN) | 1-0 | Pogonina Natalija | (RUS) |
| Abdumalik Zhansaya | (KAZ) | ½-½ | Zhao Xue | (CHN) |
| Zhai Mo | (CHN) | 1-0 | Batsiashvili Nino | (GEO) |
---