London Chess Classic 03: Draws and missed opportunities
Draws seem to have gone viral at the London Chess Classic 2017. The third round also witnessed all games being drawn. But amid those draws, there was also struggle and missed opportunities in some games. Sergey Karjakin missed perhaps the biggest opportunity. With the black pieces against Aronian, he had a clearly better position when the Armenian offered him a draw. But short on time, Karjakin accepted! Anand was also a pawn ahead and had a pleasant position out of the opening against Carlsen. However, he too failed to capitalize and ended up splitting the point with the world champion. Round three report.
The draw-fest continues
Fifteen games have been played so far at the London Chess Classic. And believe it or not, each and every one of those games ended peacefully. To quote from a tweet by one of the participants, Fabiano Caruana, they're thinking of renaming it the 'Anish Giri Cup'.

Though Giri has been on the receiving end of similar social media trolls ever since his 14 straight draws at the Candidates tournament of 2016, the folks at the London Chess Classic have managed to better his score proving true the maxim 'together we can'. Of course, quite a few of the games played in London featured interesting chess. The third round was also no exception to this. Players essayed some off-beat openings. Levon Aronian, especially, tried complicating matters to the point of self-destruction on his quest for victory. But in the end, peace prevailed not only in his game but on every board.
A knight on the side, I will not abide... Or will I?

Aronian's game against Karjakin was, without a doubt, the biggest spectacle of round three. Placing his knight on the edge of the board (something, generally, players unanimously loathe) in a Catalan Opening, Aronian tried repeating the line he had demolished Anish Giri with, earlier this year. Instead of going into the danger line, however, Karjakin went for a Stonewall setup that kept him some chances to strike on the kingside if an opportunity arose.
As play progressed, Aronian further sacrificed a pawn for positional compensation. Karjakin, playing in a very pragmatic manner, returned his extra pawn and got an attack of his own rolling down the kingside. The position was still very complicated until move 31 when Aronian allowed Karjakin free all of his pieces. Karjakin was simply better by this point. But the game ended not with a bang but with a whimper!
On move 33, Aronian offered a draw and astonishingly, Karjakin accepted it! Karjakin was under time pressure at this point; he had about four minutes left to make eight moves and the position was still complicated. Of course, it's his decision whether or not to take the risk. But from a spectator's point of view, this was rather disappointing.
After the game, Karjakin explained his decision saying, "I didn't see the idea of 33…Be7, otherwise I would have played it." Talking to GM Maurice Ashley, Karjakin further said that it was indeed an interesting game but also sighed saying it would have been even better had he found the right idea to continue.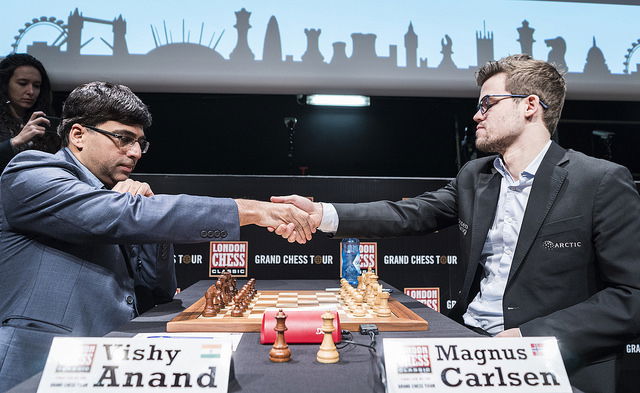 With the black pieces, Anand was able to equalize quite easily out of the opening. It was quite clear that Anand was familiar with the setup. He even said after the game that by as early as move 14, he felt he had nothing to worry about and felt he was "already allowed to play for a win" given that he had an extra pawn.
"Having said that, within a couple of moves, I realized that I wasn't really going to be better but I felt it was worth a try because he (Carlsen) had to make a couple of exact moves," Anand said after the game.
Giving his take on the game, Magnus Carlsen said, "I wasn't really thrilled at this point (on move 14) or any point from then on. I think he was the one fighting for an advantage and I don't really know where things went wrong for me."
*Special thanks to Tanmay Srinath for analyzing this game
Within 31 moves, if not within two hours
The games Nakamura- So and Caruana-Nepomniachtchi also ended peacefully in 31 moves a piece. Nakamura had an extra pawn out of an English opening against So but mass exchanges led the game into a position with heavy pieces and bishops of opposite colour.
In the position that ensued, So was able to create a firm blockade on Nakamura's extra pawn thanks to the presence of the bishops of opposite colour. A draw was agreed between the players within the first two hours of play.
In this one, Nepomniachtchi was a full hour ahead of Caruana on the clock when he offered his opponent a draw. In a middle game that cropped out of a Symmetrical English Opening, Nepomniachtchi had acquired the double bishop advantage but his pawn structure was suspect. As soon as the position simplified, he offered a draw and Caruana accepted.
The relatively long game?
Maxime Vachier-Lagrave, who is chasing Magnus Carlsen for the top prize in the overall Grand Chess Tour series, found some neat ways in the opening to keep the position dynamic in his game against Michael Adams. Quite characteristically, Adams went for a solid line against the Frenchman's Sicilian with 3.Bb5. Despite Vachier-Lagrave's attempt in the opening to keep the position dynamic, he wasn't able to avoid a mass exchange of pieces around move 20. By the 35th move, everything but a rook and a bunch of pawns for each side was exchanged. And even though Adams was a pawn down, the position was a theoretical draw. On the 58th move, the game ended with a stalemate.
Again, after three rounds, with all games drawn, all players are tied for first. In round four, Anand will be playing against Levon Aronian. Aronian has had a fantastic year so far. He has won quite a few events this year and has also moved up to the world number two spot. Anand will have the white pieces in this game and even if it will be a difficult task to win against Aronian, it's something Anand has accomplished in the past and by all means can accomplish again.
Round 3 results
Crosstable after three rounds
About the Author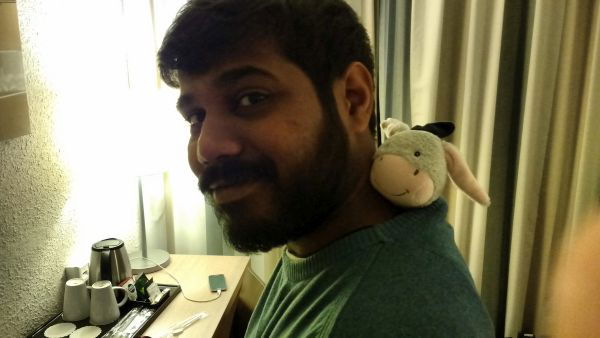 Aditya Pai is an ardent chess fan, avid reader, and a film lover. He has been an advertising copywriter and is currently pursuing a Master's in English Literature at the University of Mumbai. He loves all things German and is learning the language. He has also written scripts for experimental films.
Previous Reports
English
London Chess Classic 01: Anand surprises with an abrupt draw
London Chess Classic 02: Inspiring chess abounds, but a decisive result yet to be seen
Hindi
लंदन क्लासिक 01:आनंद का नाकामुरा से रोमांचक ड्रॉ
लंदन क्लासिक 02 :सिर्फ ड्रॉ! आज कार्लसन V/S आनंद !
लंदन क्लासिक 03 :आनंद नें नहीं उठाया फायदा !
Coverage on Firstpost
London Chess Classic 2017: Viswanathan Anand starts off with a draw after Hikaru Nakamura's overambitious play
London Chess Classic 2017: Viswanathan Anand fails to carve out a win despite best efforts against Mickey Adams

---