London Chess Classic 01: Anand surprises with an abrupt draw
Vishy Anand showed some amazing resilience to defend a worse position and come out with an advantage against Hikaru Nakamura. But even though it was favourable for Anand, the position was wildly complicated and just when it seemed that the battle's heat had reached its peak, the players agreed a draw. On the top board, world champion Magnus Carlsen also failed to convert his small edge against Caruana but finished in an aesthetically pleasing manner. Even though all of the games of round one were drawn, the games by no means lacked content. An illustrated report with game analysis.
The London Chess Classic Kicks off!
London is a city known for its thriving chess culture. In the mid-nineteenth century, this was the place where the first ever international chess tournament was held. Back in the day, some believed that the winner of that 1851 London tournament should be regarded as the champion of the world! Today, London is hosting the ninth edition of the London Chess Classic, the last leg of the Grand Chess Tour.
The tournament is a ten-player single round-robin in which players receive 100 minutes for the first forty moves and another 60 for the rest of the game with a 30-second delay from move one. The prize fund here is a hefty $300,000 of which the winner receives $75,000. Additionally, the top two finishers of the overall Grand Chess Tour receive $100,000 and $50,000 respectively.
Currently, World Champion, Magnus Carlsen is in the pole position with 34 GCT points. French number one, Maxime Vachier-Lagrave, is the only one with a realistic chance of bettering the world champion's score and finishing first; he's in second place with 31 GCT points. Levon Aronian also has a slim chance of making it as the Grand Chess Tour champion. But for that to happen, he will have to finish clear first in London and pray that Carlsen and Vachier-Lagrave don't finish better than 7th and 5th respectively. The only Indian in the fray is the former five-time world champion, Viswanathan Anand.
Anand's surprise draw
In round one, Vishy's game against Nakamura grabbed a lot of eyeballs in London. With the white pieces, Nakamura essayed the Reversed Gruenfeld Defence and got an early advantage after a couple of suspicious bishop moves by Anand.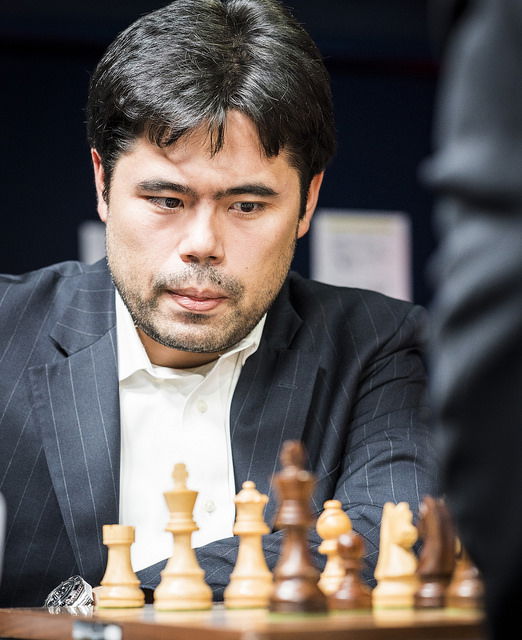 The tension got a lot more palpable when Nakamura flung his kingside pawns forward with the hope of generating an attack on Anand's king. But this left weak squares in white's own camp and Naka's overambitious play soon ended him up in an inferior position. The problem, however, was that even though the position was better for Anand, it was wildly complicated. With merely around 10 minutes on his clock, Anand had to find several "only moves" not just to keep his advantage, but to survive.
But just four moves past the first time control when the heat of the battle seemed to have reached its peak, much to the surprise of the spectators, the game reached an abrupt anti-climactic end – Nakamura offered a draw and Anand accepted it!
*Special thanks to Tanmay Srinath for annotating this game for ChessBase India
After the game, Anand felt he should have thought for another twenty minutes before accepting Nakamura's draw offer. "I think I was just too excited at the end because I had missed two-three moves and suddenly he [Nakamura] offered a draw and I couldn't see anything more than king h2. I think my big mistake was not spending another 20 minutes and then taking the draw if nothing was there," Anand said after the game.
Carlsen's Connoisseurship
Another game that drew a lot of attention was the game between Magnus Carlsen and Fabiano Caruana. Carlsen had been pressing from the very start. Quite early in the game, Carlsen was able to blunt out Caruana's light-squared bishop and play revolved around exploiting this. But, in the end, Fabiano Caruana survived deploying a sly manoeuvre with his bishop and knight that kept material equilibrium.
"I'm obviously a bit disappointed since I was pressing from the start and I thought I had a very pleasant position early on. Then I spent all my time searching for a forced win in a very promising variation. Unfortunately, I didn't go for it. And then, perhaps, I didn't have so much after that," said Carlsen, talking about the game.
But despite his disappointment, the reigning world champion did not miss out on displaying a little connoisseurship before signing the truce. To force a draw, Carlsen sacrificed an entire piece and finished off in a very unusual position where despite being a piece up Caruana had nothing better than repeating moves!
Rest of the round
The third American in the fray, Wesley So, also tried getting an original position deploying an unusual flank opening that later transposed into a Symmetrical English against the French number one, Maxime Vachier-Lagrave. However, So wasn't able to make much of his original opening and ended up signing peace after 31 moves.
A similar result was seen in the games of Levon Aronian and Michael Adams as well. Aronian, who had the black pieces against Ian Nepomniachtchi, seemed to be in a bit of trouble out of the opening. However, the world number two proved that he had enough tactical resources to hold the game to a draw.
In the game between Michael Adams and Sergey Karjakin, the former wasn't able to figure out the right arrangement for his pieces to push for an advantage. With the white pieces in an English Opening, Adams shuffled his queen several times before grabbing space in the centre. This allowed Karjakin to neutralize easily and the two agreed to a draw after 32 moves of play.
All the games were drawn in the first round and, therefore, all players are tied for first. In round two, Anand will be playing Adams with the white pieces. Since Anand will the whites and Adams is the lowest rated in the field, it will be interesting to see if Anand pushes for a win in the second round. Adams, however, is a solid player and will be a tough nut to crack.
Today is a rest day in London as the venue of the tournament will be shifted from the Google Headquarters to the Olympia Conference Centre. Play will resume tomorrow at 7:30 PM IST.
Round 1 Results
Cross-table after Round 1
About the Author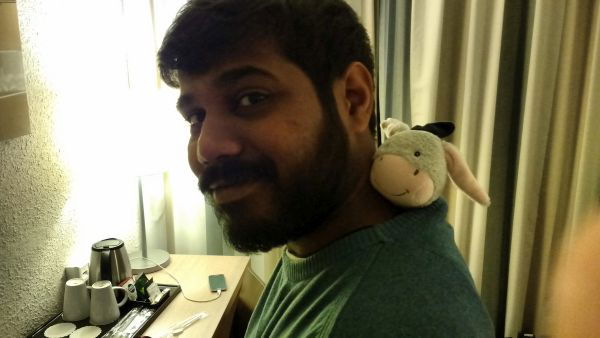 Aditya Pai is an ardent chess fan, avid reader, and a film lover. He has been an advertising copywriter and is currently pursuing a Master's in English Literature at the University of Mumbai. He loves all things German and is learning the language. He has also written scripts for experimental films.
---