London Chess Classic 02: Inspiring chess abounds, but a decisive result yet to be seen
Day 2 of the London Chess Classic saw the players really worked up a sweat to pull out a victory. Vishy Anand grilled Mickey Adams for 48 moves before finally signing peace; Hikaru Nakamura went all guns blazing at MVL with the Sicilian Dragon and triggered wild complications; Wesley So flung all his kingside pawns to attack Nepomniachtchi's kingside; Carlsen also expanded on the kingside to test Karjakin; Levon Aronian and Fabiano Caruana indulged in what GM Yasser Seirawan called trench warfare. But despite all the excitement, every game fizzled out into a draw. We have an illustrated report with game analysis.
Round 2

Another day came to a close in London with all games drawn. But despite its seemingly peaceful outset, it was far from being a tepid affair. Quite a few of the players made an earnest effort to complicate matters and push for victory and produced quality chess. The first game to come to mind was the one between Maxime Vachier Lagrave and Hikaru Nakamura. A few boards away, Wesley So had a promising position against Ian Nepomniachtchi and seemed to be cruising towards producing a brilliancy before a small misplay on So's part let his opponent slip out with a draw. The Indian megastar, Viswanathan Anand kept squeezing the English no 1, Mickey Adams in an Anti-Berlin for 48 moves before signing the truce and calling it a day.
Anand's wishful squeeze
Anand seemed to be highly motivated in the second round looking for a victory. Well, there sure are several reasons for it. Among the most apparent ones, Adams is the lowest rated player in the tournament (even if he is ranked 33rd in world ranking list); Anand had the white pieces and. understandably, wanted to push for a win; Anand has a huge lead in their overall score 19-7 in favour of the Indian!
To this end – of trying to push for a win – Anand's decision of going for a king's pawn opening was a bit of a surprise. Adams is quite a well-known proponent of the Berlin Defence, a line known for its drawish tendencies and going for the king's pawn meant playing into his opponent's hands. Of course, for Adams, this made perfect sense as the Berlin complements his solid style of play very well.
By the time the endgame arose, Anand's knight was a better piece than Adams' bishop. As play progressed, Anand even brought his rook to an active post. Black's pieces on the other hand looked more passively placed on the other hand. However, the problem by this point was that there wasn't enough material remaining for Anand to make something of his piece activity. The liquidation that occurred on the queenside, while giving Anand better piece activity, had also eased his opponent's defensive duties. True, the Englishman's pieces were passive, but they were placed well enough to defend the three pawns that were left on the board which keeping the white king's advance in check at the same time.
"It seemed I am better and it's quite unpleasant for him. But he just puts his bishop on d8 and sits… I couldn't see any way through," said Anand after the game.
*Special thanks to Tanmay Srinath for analyzing this game for ChessBase India

Nakamura's Dragon Surprise
Talking of tough fights, both Hikaru Nakamura and Maxime Vachier Lagrave were after each other's blood in round two. Nakamura, with the black pieces, needed an opening which was more dynamic than e5 in this round. The Sicilian Najdorf quickly comes to mind but Nakamura's reason for rejecting the Najdorf for yesterday was easy to guess. The Frenchman, Vachier-Lagrave is an expert on the Najdorf and know the opening extensively from both sides. Trying to find something that surprises him in the Najdorf had to be a rare find.
Vachier-Lagrave responded with the most principled response and played the Yugoslav attack. Pawns and pieces rushed towards the opposing monarchs on opposite wings and the position was a mess until the queens went off and an endgame was reached. But after an endgame was reached, Vachier Lagrave tried to create complications by sacrificing a rook for two pawns instead of taking a perpetual. But even though his pawns were highly advanced, it was possible to stop them by sacrificing the rook in return. Nakamura made no mistake executing this and players drew after 47 moves of play.
No Surprise for Karjakin
Carlsen, with the black pieces in an Italian Opening, tried to surprise Karjakin with a kingside pawn expansion early in the game. But to his surprise, Karjakin was blitzing out his moves. Carlsen, therefore, decided to deviate from the main line of the variation and get Karjakin out of his prep. But this just led to a 30 move draw.
"Yes, it was a very sharp opening but his move g5 was not a surprise for me; I knew it. It was played by Maxim Matlakov and he won a very nice game against GM Oparin. So I was ready for it," Karjakin said after the game. "Certainly, I was intending to play aggressively. But then I kind of bailed out at the first moment when I saw this alternative that I can actually go for this endgame... And we still had some very interesting play, so I was tempted," said Magnus. "I'm happy about the result today. The game, although short, was pretty interesting as well," he added.
Rest of the round
After some central skirmishes, So had expanded with his pawns on the kingside while the pawn shelter for Nepomniachtchi on this wing had been ripped apart. It seemed So would have a ready-made attack on the black king if the Russian castles kingside. Nevertheless, Nepo decided to take the bull by the horns and went with his king into the war-torn part of the board and even managed to survive after a few inaccuracies by So.
Essaying the closed Ruy Lopez once again, Aronian was able to generate play on the queenside after some crafty manoeuvres with his heavy pieces. But by the 29th move, players were seen repeating the position and agreed to a draw by move 31.
After two rounds, all players still remain tied for first with a score of 1.0/2. In the third round, Anand will be playing the man to whom he lost his world championship title, Magnus Carlsen. Talking about his upcoming game against Anand, Carlsen said, "[I'm] Feeling good about that. [It] Should be an excellent opportunity to play another long game". Anand also hopes to see a good game against Carlsen tomorrow. "I think I will try to get a good position and then take it from there," he said, talking to one of the tournament's commentators, GM Maurice Ashley.
Crosstable after two rounds
Round 3 Pairing
About the Author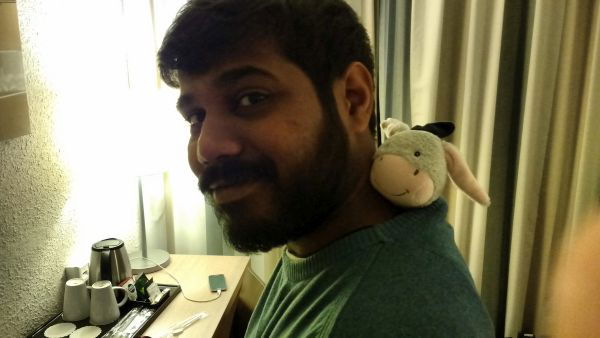 Aditya Pai is an ardent chess fan, avid reader, and a film lover. He has been an advertising copywriter and is currently pursuing a Master's in English Literature at the University of Mumbai. He loves all things German and is learning the language. He has also written scripts for experimental films.
Previous Reports
English
London Chess Classic 01: Anand surprises with an abrupt draw
Hindi
लंदन क्लासिक 01:आनंद का नाकामुरा से रोमांचक ड्रॉ
लंदन क्लासिक 02 :सिर्फ ड्रॉ! आज कार्लसन V/S आनंद !
Coverage on Firstpost
London Chess Classic 2017: Viswanathan Anand starts off with a draw after Hikaru Nakamura's overambitious play
London Chess Classic 2017: Viswanathan Anand fails to carve out a win despite best efforts against Mickey Adams

---