Hoogeveen Matches 05: Adhiban makes an Anand-like comeback!
In Hoogeveen yesterday, Ivanchuk held Wei Yi to a draw yet again. This means the Chinese prodigy will have to win his final game by all means if he wishes to stay alive in the match. But an even bigger news for Indian chess fans was Adhiban's victory over Jorden van Foreest. After two consecutive losses, things were looking bleak for Adhiban. But with his ever-positive attitude, Adhiban overcame this debacle with a smile and has now levelled scores against the Dutchman yet again. We have a report with an in-depth analysis of Adhiban's game by IM Sagar Shah.
If there is one person in Indian chess whose chances of making a comeback could never be discounted, no matter how adverse the situation might be, is Vishy Anand. But following his footsteps today is the 25-year-old GM from Vishy's very hometown, Adhiban Baskaran.
After his win in round two, the Chennai lad had lost two consecutive games against the Dutch GM Jorden van Foreest. Firstly, losing two consecutive games is never an easy thing to handle. But more importantly, in a match situation, when you're playing the same opponent, to whom you had lost those two painful games, makes it all the more difficult.
But Adhiban is made of sterner stuff; his optimism knows no bounds. Despite his blunder in the third game, regardless of his prep mix-up in round four, Adhiban went into the fifth round undeterred. As mentioned in the previous reports, this match between Adhiban and van Foreest had been following a pattern when it came to openings. Games had been alternating between the Queens Gambit Accepted and the Italian. Keeping this in mind, the Indian number five came to the board with thorough preparation, got a slight edge out of the opening and fostered it immaculately to bring home the full point.
Until quite late in the game, the position had remained thoroughly equal. Queens were traded quite early, the exchange of rooks and a pair of minor pieces followed soon. It all looked well balanced when van Foreest gave Adhiban a small window of opportunity on move 30.
After 30.Rc5 Bd6 31.Rxh5, Adhiban was a pawn ahead but the position was far from won. Van Foreest had decently active pieces. Besides, this wasn't the first time in this match that he was a pawn down against Adhiban.
More pawn trades left both sides with pawns on opposite wings. By now, Adhiban had acquired a clear edge. But it was a race now. It did not matter who had more pawns, who queened first would decide the game. Of course, the silicon machines gave Adhiban a decisive advantage by now. But with pawns rolling down on opposite wings and no forced win in sight, one must always be on their toes not to fall for tricks.
And Adhiban did just that. Sacrificing a pawn – although only temporarily – the Indian number five got his pawns rolling decisively while keeping van Foreest's pawns in check and forced resignation. We have a detailed analysis of the game by IM Sagar Shah below.
Ivanchuk, with the white pieces, essayed a novelty on move 13 in the Rubinstein variation of the Nimzo-Indian but soon ended up conceding a small edge to his Chinese opponent.
However, Chucky soon gave back the extra exchange to get rid of his opponent's dangerous passer and reached an endgame where both sides had equal pawns on the queenside. Although, the big difference was that Ivanchuk had a queen against Wei's rook and knight. If Ivanchuk had succeeded in extracting a win from this position, he would have won the match with a round to spare. So understandably, he tried hard for almost fifty moves before eventually signing the truce.
But this draw means that Wei Yi will be in a must-win situation tomorrow and with the white pieces in hand, he is sure to come out all guns blazing. On the other hand, Adhiban will have the black pieces. Having levelled the scores today, he could take the liberty to play for a draw tomorrow and go into the tie-breaks. But with his kind of attitude, that seems unlikely. He has beaten van Foreest with the black pieces before and he surely could do it again. The final round tomorrow is sure to thrill all comers!
About the Author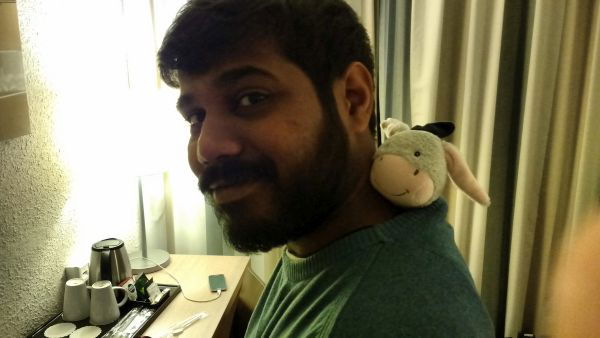 Aditya Pai is an ardent chess fan, avid reader, and a film lover. He has been an advertising copywriter and is currently pursuing a Master's in English Literature at the University of Mumbai. He loves all things German and is learning the language. He has also written scripts for experimental films.
Previous reports on Hoogeveen Matches
Hoogeveen Matches 01: Adhiban's Bang and Whimper
Hoogeveen Matches 02: Adhiban takes the lead
Hoogeveen Matches 03: Van Foreest levels scores with Adhiban
Hoogeveen Matches 04: Adhiban's pawn storm backfires
Coverage on ChessBase International
Hoogeveen: A power-packed first half
---