GCT Leuven: Anand finishes fifth in Blitz; So takes title despite final round loss!
The final day of the Grand Chess Tour in Leuven was a complete barnburner. Wesley So's 1.5 point lead almost evaporated as lost in the very first round and was even caught in the lead by Sergey Karjakin, eventually. In the final round, So was being chased by Karjakin and Maxime Vachier Lagrave who were both only half a point behind. The crunch moment came when So lost his final round game and gave his chasers a chance to overtake. But then, MVL and Karjakin also lost, letting so take away the title! Meanwhile, Vishy Anand amassed 4.5 points on the final day to finished fifth in the blitz and eighth overall.

Vishy finishes fifth in Blitz
Viswanathan Anand continued his campaign to improve his leaderboard standing. At the end of the final day, Anand had added another 4.5 points to his tally and finished with a score of 9.5/18. If his performance in the Blitz leg is to be considered, he did not perform so badly; in the 10 player field, Anand finished fifth.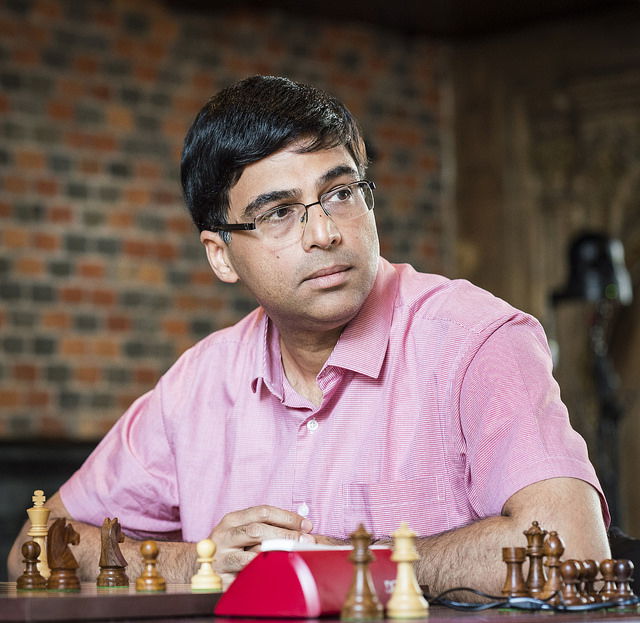 However, his overall outing in Leuven wasn't all that impressive. Having finished at the bottom of the leaderboard in the rapid leg had a lot to do with this. Despite his best efforts, Anand wasn't able to improve his standing any further than climbing two spots up the table. In the overall standings (rapid + blitz) Anand was 8th with a score of 14.5/27.
Day 5
Anand began the day just as he had on the first day of the blitz. Since this is a double round robin, he had to play the same opponents that he had the previous day, and in that very order.
The first round of the day began with a nice win by Anand against Fabiano Caruana. It was the third time that Anand was playing Caruana in this event and it was the third time that Anand beat him!
Caruana refrained from his favourite Petroff Defence in this game and played some kind of a hybrid between the Italian and the Spanish Opening. The position remained equal well into the middle game but Anand carved out an edge after generating an attack on the black king. After a few inaccuracies by the American number one, Anand got a decisive edge.
Anand vs Caruana
Anand converted his edge into a material advantage with a nice temporary queen sacrifice which earned him the exchange at the end of the sequence. After this, it was a mere technical task which Anand accomplished nicely.
The next two games against Mamedyarov and So also resulted the same way as they did on the day before; they finished in draws. The draw against Mamedyarov was an interesting one, however.
Anand was slightly better in his game against Mamedyarov when the Azerbaijan GM gave up a full piece to create attacking chances against Anand's king. This was, however, a downright blunder.
The refutation was not a simple one to find, especially in a blitz game. Anand could have plunged into White's position with his queen but instead, he captured the offered piece. After this, Mamedyarov was able to reach an endgame where he had three pawns for his sacrificed piece and held to a draw successfully.
Against Karjakin, again, Anand repeated his previous day's result and lost the game. But this time, Anand did not lose due to a piece blunder. The game was more or less equal for the most part when Anand dropped a pawn in a double rook endgame. The position was still very difficult to convert but Karjakin accomplished the technical task with computer-like precision to bag the full point. This game was also important in terms of overall tournament standings as, with this win, Karjakin had caught up with Wesley So for the first place.
The fourteenth round was where Anand deviated from imitating his previous day's performance. In round five, he had lost to Aronian with the black pieces. But with the whites, he was able to hold off the Armenian superstar quite comfortably before he lost two games in a row to Nakamura and Grischuk in the next two rounds. Against Nakamura, it was a topsy-turvy bout where Anand was the last one to make a mistake while against Grischuk, Anand fumbled in a more or less equal double rook endgame to give away the point.
But despite these losses, Anand came back strongly, winning both of his last two games. In fact, his final round result also impacted the final standings drastically. Playing against Giri in the penultimate round, one might say Anand got a tad lucky given that the Dutch number one simply blundered a checkmate in four moves in an equal position. But in blitz, as has been seen so far, mistakes and blunders decide the fate of games more often than anything else.
A nail-biting finale!
The final round was a complete barnburner. Wesley So, who had led the event throughout by a large margin, had come on the brink of missing out on the title prize. Had it not been for a disastrous final round for all his chasers – and, to a certain extent, for So as well – he might well have been overtaken or at least caught in the first place by Maxime Vachier-Lagrave or Sergey Karjakin as he lost his final round game to Hikaru Nakamura.
Nakamura had dominated the game for the most part and was even a pawn up in a complicated endgame when he found himself in severe time trouble. Both players, then, in the heat of the moment, began hitting the clock so hard that the arbiters had to intervene and ask them to slow down. This unexpected pause clearly took a toll on both players as they erred quite a few times after this. While Nakamura missed some wins, So missed drawing and even winning opportunities before the game finally tipped in Nakamura's favour.
Now it seemed So might not win the event after all. Karjakin and Maxime Vachier-Lagrave were both only half-a-point behind him and had a good chance to catch up or even overtake Wesley. But both of them lost: Karjakin lost to Mamedyarov while Vachier-Lagrave lost to Anand.
The game between Mamedyarov and Karjakin saw both sides going after the enemy king in a Classical Nimzo-Indian. Both players castled on the kingside and in an extremely double-edged position, Mamedyarov succeeded in out-nerving his Russian opponent and delivered the mating blow on the 54th move.
Vachier-Lagrave and Anand played a Caro-Kann in which the Frenchman had the bishop pair. But Anand held ground firmly and even got an advantage in the endgame with his strong central passed pawns. As play progressed, Anand gave up his passers to liquidate to a position where he had three connected passers in a rook and knight versus rook and bishop endgame. By this point, there was little hope remaining for Vachier Lagrave. He resigned on his 55th turn.
More than Anand or Mamedyarov, Wesley So was the happier man after these results as he, almost by a miracle had managed to remain on top of the leaderboard despite losing his final round game. For this win, So took home a cash prize of $37,500.
The next leg of the Grand Chess Tour will begin in Paris on June 20, 2018. The Paris leg will also be played in the same format as Leuven i.e. 9 rounds of rapid games with double scoring followed by 18th rounds of blitz.
Final Standings (Blitz)
About the Author
Aditya Pai is an ardent chess fan, avid reader, and a film lover. He holds a Master's in English Literature and used to work as an advertising copywriter before joining the ChessBase India team.
Previous reports
Leuven Grand Chess Tour Day 1: Anand's shaky start puts him at the bottom of the leaderboard
GCT Leuven Day 2: Anand continues to struggle with form
GCT Leuven Day 3: Anand finishes at the bottom; So wins the rapid
GCT Leuven: Anand makes a nice comeback; So's lead narrowed to half
Coverage on Firstpost
Leuven Grand Chess Tour: Viswanathan Anand off to disastrous start with two straight losses on Day 1
Leuven Grand Chess Tour: India's Viswanathan Anand Continues To Struggle On Day 2; Wesley So Keeps Lead
Leuven Grand Chess Tour: Viswanathan Anand Ends Rapid Leg At Bottom Of Table, Wesley So Tops Chart
Leuven Grand Chess Tour: Viswanathan Anand Climbs Up Two Spots To Fifth; Wesley So Keeps Up His Lead
---