Ding takes sole lead, Anand still in the title fray
Another intense day of fighting chess and drama in the tenth round of the Sinquefield Cup. Ding Liren shot into sole lead with six points out of ten games. It was a day when joint leader Ian Nepomniachtchi once again produced a horrendous blunder akin to the first round to lose dramatically against Maxim Vachier-Lagrave. Magnus Carlsen's winless drought finally ending with a smooth victory over Wesley So. IM Venkatachalam Saravanan reports all action from the venue. Photo: Lennart Ootes / Grand Chess Tour
Carlsen ends his draw streak
We have an exciting final round on the cards on Wednesday, with Ding Liren on six points trailed by Carlsen, Nepomniachtchi, Anand and Karjakin all on 5½ points, followed by Caruana, MVL and Mamedyarov all on five each. It is going to be an epic clash!
Online viewers of the tenth round had the pleasure of hearing from none other than Garry Kasparov, who always delights the audience with his frank views. Terming the Sinquefield Cup as a 'very exciting event', he wondered, "I am appalled to hear the comments (online) that the event is the end of classical chess...There are many draws...but it's high quality, and a lot of excitement...You can hardly call (anyone) for lack of fighting spirit." As Garry described, immediately off the blocks, chess lovers who enjoy the historical aspects of the game were delighted to a heartwarming sight.
Aronian - Ding, round 10
This old romantic spectacle of the Two Knights gambit variation from a bygone era, revisited with a curious twist in recent times: 10.Bd3!?
The established way to play the position is 10.Be2 h6 11.Nf3 e4 and the knights gets hounded. The text aims to solve the problem in a simple way, to retreat 10...h6 11.♘e4. Simple.
How do such an obscure forgotten gambit suddenly gains notoriety and comes to the fore?! Typically, a top grandmaster would notice such a variation revisited by amateurs or correspondence players, and adopt it in a serious game. If the idea is worth its salt, it gets picked up by his colleague and played around. When it is played at the highest level by a player of Aronian's calibre against Ding, that's when it gains immortality. Prediction: we can all expect an article soon in a magazine or opening manual on this move analysed to its barest details and filed with conclusions. (If it hasn't been done already.)
When Ding didn't even blink an eye and made his moves rapidly, that is when we understand that, at this level of chess, nothing is unexpected. "I forgot my preparation. I knew that this was a slightly worse variation, but I forgot how to equalize", were the curious words of Ding after the game.
15...Nb4
Ding confessed, "I knew (this to be) not a good move. May be I misplayed before, I (have forgotten) the correct line. So I went for this".
Aronian enjoyed a slight advantage with 16.Bxb4 cxb4 17.Re1 Bb8 18.Ng3 Qxd3 19.Rxe5, but misplayed the position later on.
24.h4
One of those 'creative' moves of contemporary chess which invariably gets praised for its ambiguity, but in this particular position it's not worth it. White could have retained a token edge with the simple 24.Ng3 Rfd8 25.Rd3 and he has a reasonably important pawn on d4 to emphasize his advantage. In the game, Ding equalized with a nice manoeuvre: 24...Rfd8 25.Qd2 a4 26.Rd1 axb3 27.axb3 Ra5! taking care of the d5-square and the kingside in one go and nullifying White's advantage. Building on yesterday's praise for Ding's nuanced positional play against Caruana, such clarity of concepts is the strength of the Chinese ace.
Two of the boldest players of the tournament decided to let their hair down and engage in a sharp clash. Mamedyarov was understandably proud of the fight, "Today we played a very interesting game. Fabiano and me, both want(ed) to win...(giving) chances to (each other)". Caruana's views were surprising, for someone who has delighted in this tournament with his level of opening preparedness, "It was kind of silly that I forgot everything in the opening — I could not remember anything! It is a huge theoretical line known to be a forced draw. The one you play either to check your opponent's memory or you really don't feel like playing that day."
Mamedyarov - Caruana, round 10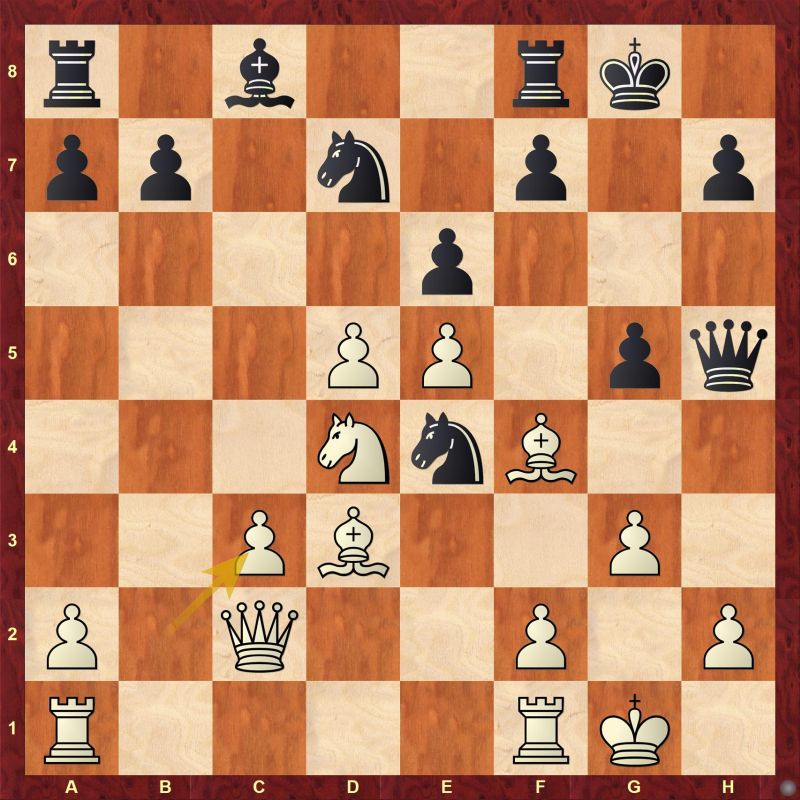 In a sharp position from the Qc2 variation of the Nimzo-Indian defence, Caruana erred with 14...gxf4? Mamedyarov called this a mistake, but couldn't recollect the theory here in spite of consuming huge amounts of time. Indeed, the better alternative being 14...exd5.
15.dxe6 Nxe5 16.Bxe4 Ng4
17.exf7? Mamedyarov mentioned that Caruana considered this to be a mistake, preferring 17.♘f3. Indeed, possibly also 17.h4. The problem with the text is that, though winning a pawn, it opens up White's kingside for attack.
Black gained the upper hand with 17...Rxf7 18.h4 fxg3 19.fxg3 Ne3 winning an exchange, but in a sharp tactical position, he fell for a 'cheapo'.
Black is an exchange up, but has to develop his queenside pieces. In his effort to be quick, Caruana hurried into a mistake with 23...Bh3? and fell for 24.Bf5! after which White managed to salvage a draw.
The point behind the trick is that, on 24...Bxf5 25.Nxf5+ Qxf5 there follows 26.Qxb7 winning the rook. From this variation, it is obvious that Black should play the prophylactic 23...Kh8! from the diagram. A wild little skirmish, nevertheless.
It was curious to see how Anand would approach the game today. Even though he hasn't lost one in the tournament, the former world champion has had a mixed outing so far. He has been failing to convert winning or advantageous positions in about four games, and being obviously upset in post-game interviews about his play. It was interesting to see that in spite of that baggage, he continued with his brand of dynamic chess today too.
In fact, Kasparov talked about Vishy directly: "What I feel a bit sad is Vishy's performance. He is playing Robinhood! It is so painful watching him build... strong position(s), some games by force, and then age tells."
Anand's opponent Karjakin too joked after the game: "My plan was to make a solid draw (today) and afterwards tell Vishy, 'this was the first game in which you were not winning!', but I didn't manage!"
Indeed, Anand's play was impressive, almost without traces of the bumpy road so far.
Karjakin - Anand, round 10
7...Ba6
A rare continuation, 7...Bb7 being the popular move here 8.cxd5 Nxd5!? 9.Nxd5 Technically this was the new move. 9.0-0 c5 was an earlier game Keymer vs Matthiesen, Helsingor 2018, not capturing the offered pawn but play on the strength of the mildly better centre control 9...Qxd5 10.Bxc7 Karjakin captured this pawn after a five minutes thought, probably indicating he had not anticipated the pawn sacrifice here, but admirably deciding to accept the challenge.
10...Qa5+ 11.Kf1 The point. For the sacrificed pawn, Black gains the initiative in view of the uncastled white king and a lead in development.
White has tucked away his king to safety, which means that Black should act fast: 17...g5!? It was difficult to believe this, but Anand played the entire opening moves fast, indicating that the former world champion had come to the board with everything worked out. Incredible preparation! 18.Rhb1 h5!? True to his style, Anand throws his forces on the kingside, making his intention to have a full-fledged battle, in spite of the scar of missed moments in this tournament. Bravo!
21.Ne1? Facing Anand's initiative right from the opening, Sergey 'The Minister of Defence' Karjakin finally slips up. 21.Ne5 Nxe5 22.dxe5 Qd2 and though objectively White is better, it isn't easy to face Black's initiative over the board. 21...Rd2 22.Qe4 Nf6 23.Qb7 Re8 and Black gained counterplay.
The game looked like getting very complicated and ended with a few electrifying moments.
A wild position where both the kings are hunted down!
28...Rf2 29.Nd2 Qxd3! 30.Kxf2 Ne4+ 31.Kg1 Qxe3+ 32.Kh1 Qh6+ with a draw.
Magnus Carlsen finally won a game, outplaying Wesley So in a familiar way.
Carlsen - So, round 10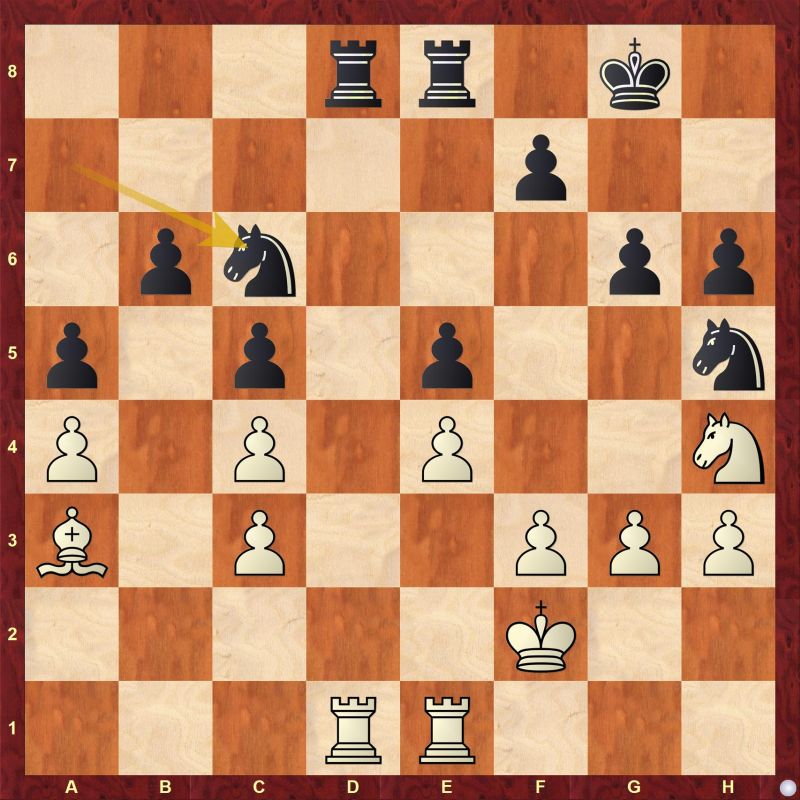 The centre is quite a picture! White's fractured pawn-structure actually does him a lot of favours — keeping Black's knights from reaching b4 and g4 with the d5-square being the ultimate destination for the white knight. Carlsen's next few moves are simple and beautiful.
24.Bc1! Attacking h6. But beyond that, can you see where the bishop is headed? And why?!
24...Kg7 25.Be3 A cosy square for the bishop, but can you see the point?
25...Rxd1 26.Rxd1 Rd8
27.Rb1! Rb8 and both the N-c6 and R-b8 are fixed, as they have to defend against threats of Bxc5 and Rxb6. Now white proceeded with 28.Ng2! Can you now see where the knight is headed? 28...Nf6 29.Ke2 Making way for the bishop 29...Ne8
30.Bf2! The point - the White knight on g2 is headed to d5! 30...Nd6 31.Ne3 Ne7 32.Nd5! and White is overwhelmingly better.
The final beauty of the position was demonstrated by Carlsen in the post-game analysis.
35...fxe4 36.fxe4 and the position is already lost for Black, as he has no defence against Bf2-e1-c3 here. There was a picturesque finish shown by Carlsen: 35...Kf6 36.g4 f4 37.Be1 g5 and now...
Analysis
38.Bc3! Zugzwang! A beautiful example of why we all love chess!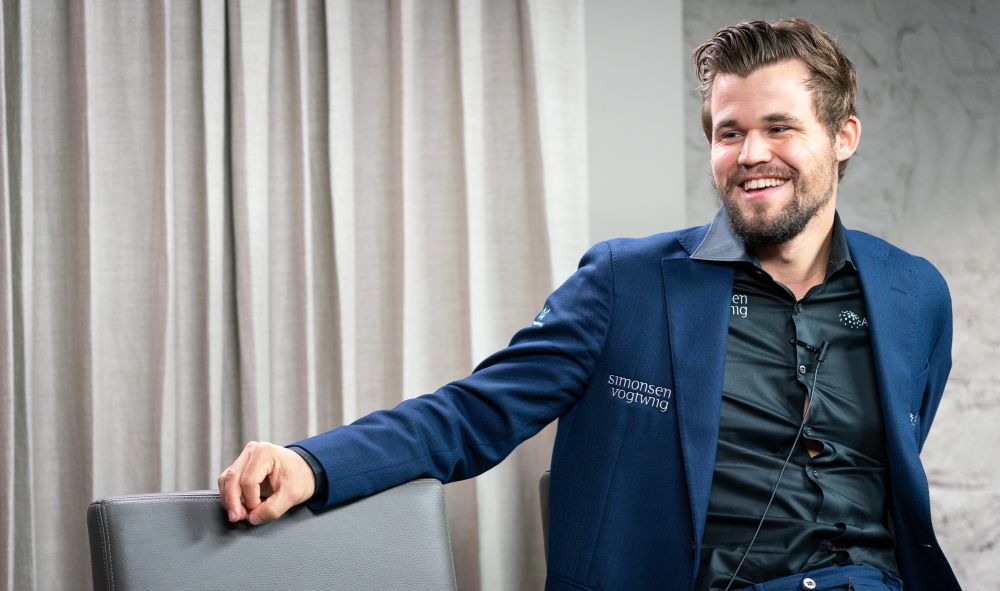 Now to the game which provided the ultimate drama of the day.
Nepomniachtchi - Vachier-Lagrave, round 10
After a complicated opening struggle, the game equalized and reached this position, and Nepomniachtchi came up with a howler.
21.Nd7??
As MVL declared in the confession booth,"...If he goes 21.Nc6 instead of 21.Ne7 we (could) shake hands already probably...". The blunder was committed after a thought of just 26 seconds. After Black's reply with 21...Bd6, Nepomniachtchi went into the players' lounge adjacent to the tournament hall, and didn't reappear for another fifteen minutes probably contemplating what he had done. The players table was empty, without both the players for the duration.
Later, MVL would admit that he 'was a bit surprised' with the blunder, "It was a bit of payback for him playing so fast in every game and today it cost him... He has been putting pressure on time on all his opponents...Yesterday I was pretty pissed about my play, and looking at Ian, all his wins, his playing so fast... I thought, let us not be confused by his quick play, let's punish his mistakes!"
Watch the live stream
Replay all games
Links
---