Carlsen comeback leads to playoff
The tense last round of the Sinquefield Cup ended in a dramatic way, with emotions and competitive tension taking centre-stage rather than skills. Magnus Carlsen completed his comeback in the tournament with yet another victory - with black pieces too - to jump to the top at the last minute and tie for the first place with 6½ points and force playoffs against Ding Liren for Thursday. Ding held his nerve to hold Shakhriyar Mamedyarov to a draw, while Karjakin missed a chance to finish at the top by not converting an advantageous ending against Caruana. IM Venkatachalam Saravanan reports all action from the venue. | Photo: Lennart Ootes / Grand Chess Tour
Ding and Carlsen to fight for Sinquefield Cup
The biggest story of the day was Ian Nepomniachtchi's meltdown, blundering in a drawn position from a rook ending and showing his sorrow on the board. It left his opponent Anish Giri bewildered and the audience entertained, if not puzzled.
At the beginning of the round, the calculations about the winner(s) of the tournament were clear-cut:
- Ding Liren would win the tournament if he wins his game.
- In case of a draw by Ding, either of Magnus Carlsen, Vishy Anand, Sergey Karjakin or Nepomniachtchi could win their game to tie with Ding at the top and force Playoffs depending on the number of top finishers. If none failed to win, Ding still wins the tournament.
- If Ding loses, either of the above four could win the tournament outright or tie at the top.
The most important factor of the last round pairing was that, none of these five players aspiring for the title was playing against any other! This was the fateful quirk which made the last round the most interesting and anticipated.
Two of the games ended in draws in fairly rapid time. It was obvious that Wesley So and Levon Aronian have had enough of the tournament and rapidly drew their game. But the other short game was curious.
Anand - Nakamura, round 11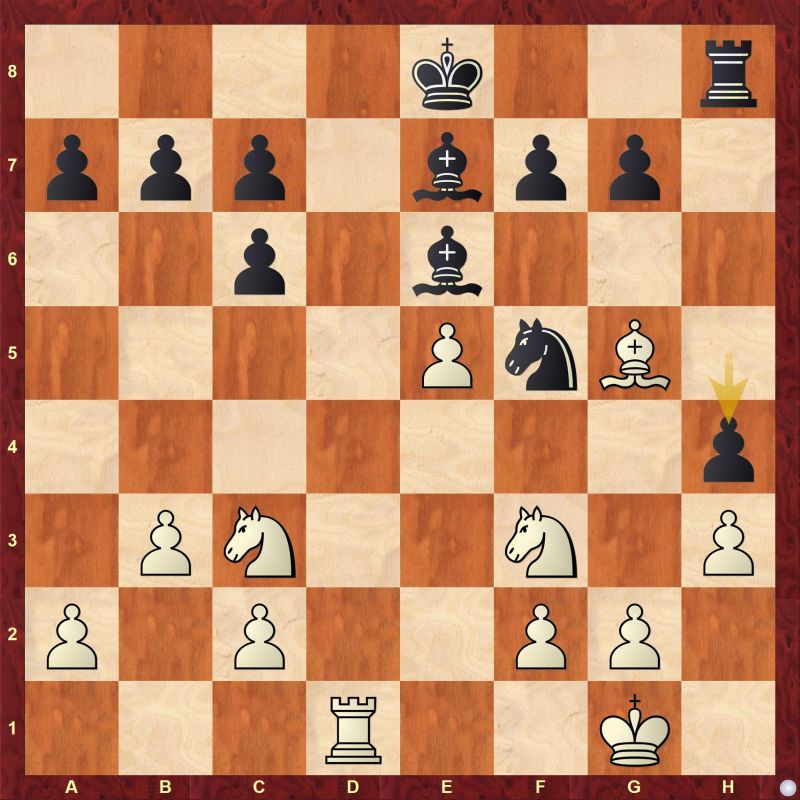 17...Bd5 18.Bf4 Bxf3! Black fractures the pawn structure on the white kingside 19.gxf3 g6 and White couldn't achieve much, the game ending in a draw in 26 moves.
The point is, the protagonists have already played this position against each other! From the diagrammed position, it had gone. 17.Kf1 Rh5 18.Bc1 Bb4 19.Ne2 Observe this position:
Analysis
19...Bd5! 20.Nf4 Bxf3 21.gxf3 Rh8 and White didn't achieve much in Anand vs Nakamura, from Tata Steel Kolkata Blitz 2018. The game ended in a draw in 32 moves. What was Anand really aiming, if he had already experienced this equalising technique from the same opponent?!
Talking about the game, Anand said, "It was a little idea, which fell flat. A typical last round game, by the eleventh round everyone is a bit tired." It sounded as if all the missed opportunities had taken a toll on the former world champion, who was extremely frank on his performance in the Sinquefield Cup: "It is the first tournament where I am completely gutted with my +1! Normally you will be happy, but with my positions Magnus would have made +6! I am really embarrassed by my technique. I didn't deserve to win."
Very frank, strong and pragmatic views from a modest legend...
Karjakin seemed to be gaining slowly over Caruana, and most of the commentators were expecting a 'routine' victory. "I was playing crazy at some point!" admitted Caruana.
Caruana - Karjakin, round 11
Caruana claimed that he was surprised by Black's previous move, which made him play pseudo aggressively: 14.g4 Bg6 15.d4 Bb6 16.dxe5
16...Be4! Caruana saw this idea, but had hoped that his next move would give him an advantage 17.e6 fxe6 18.dxe6 Ng6! 19.h4? Caruana called this move as 'insane', "Any normal move like 19.Bb2 was complicated / unclear... it's a fight". True, as in the game after 19...Qf6 black was already better.
After further mistakes by both the sides, the position reached an ending with a clear advantage for Black who had an extra pawn.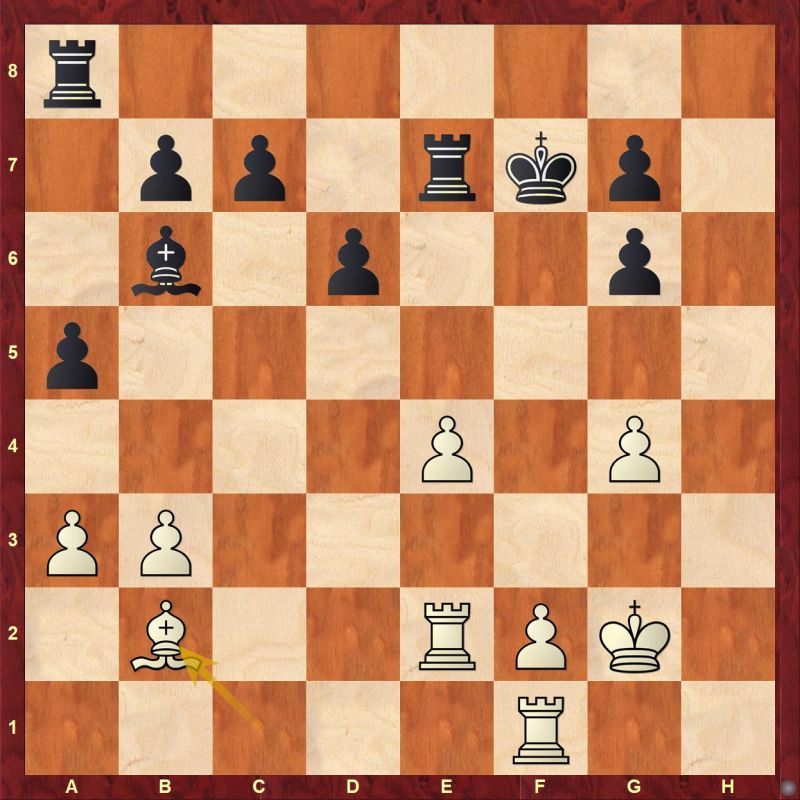 Continuing our discussion from yesterday on what we all learnt at school, 29...a4 cries out to be played — in an ending with bishops of same colour, it is important to place one's pawns not in the bishop's colour 30.b4 d5! Same principle as stated 31.Rfe1 Rfe8 and after either 32.f3 c6 or 32.e5 Ke6! Black is on his way to realise his advantage.
Instead, Karjakin's handling of the position was puzzling: 29...Rh8?! and in further course of the game, he never got to rearrange his pawns on the queenside. Karjakin did admit that he made a 'big mistake - didn't play 29...a4. I should have just fixed the pawns'.
34...Kh7? Another puzzling decision, not aiming to activate the Black king and thus violating a basic. 34...Kf6! 35.Rf5+Ke6 helps the black king to take a central role in conversion of the advantage.
35...c5? What is simply happening?! For a moment, we get to wonder if the world championship challenger of 2016 lost his marbles here — violating so many endgame principles in a series, and finally, in his own words, a 'completely terrible' move? All this allowed Caruana to heave a sigh of relief, fight back and escape with a draw, which meant that Karjakin missed his chances to tie for the first place. A curious and disappointing finish as he could have achieved it with simple and back-to-the basics play in the endgame.
Vachier-Lagrave was surprised early in the opening by Carlsen, who opted to vary from his game against Anand in the same tournament. MVL was quite tentative in this game, unlike the naturally aggressive and dynamic player he usually is.
Vachier-Lagrave - Carlsen, round 11
Black has a passive bishop on g7, and the light squares on the kingside look inviting. However the problem is, White doesn't have much to do here! A subtle creative achievement by Magnus Carlsen for creating such a position, as it suits his temperament. Whereas for the dynamic and aggressive MVL, it is not an easy job to 'wait' here.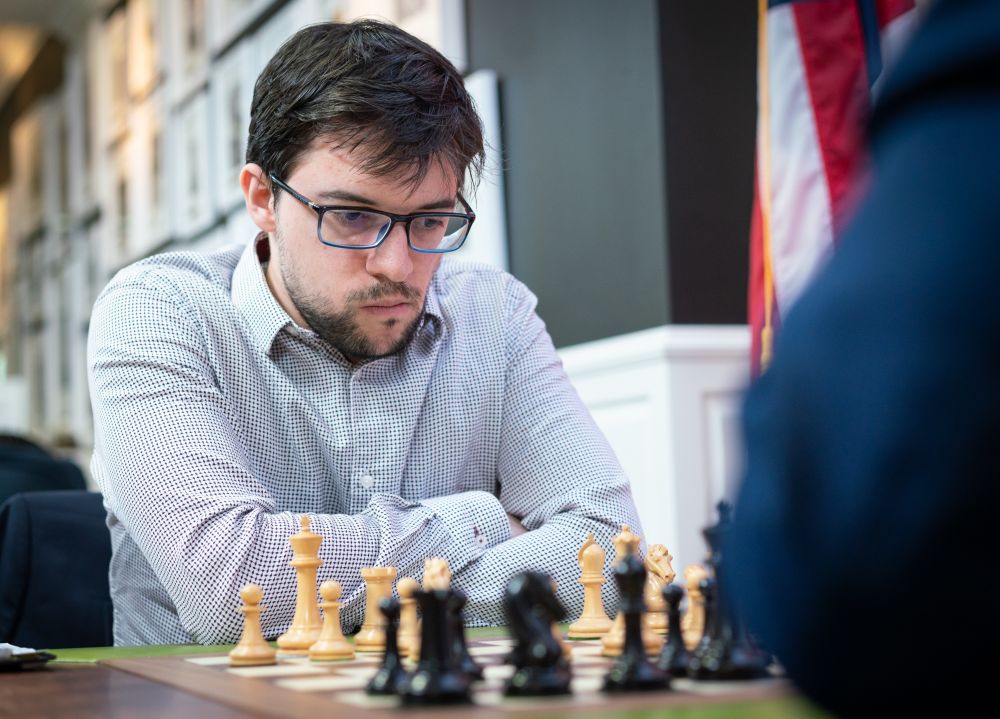 One of my favourite chess authors, Jonathan Rowson articulates the principle of 'Being' against 'Doing' in his book Chess for Zebras, about which I have written earlier on ChessBase too. 'Being' is simply the chess equivalent of 'Mindfulness' while playing, with the literal application of 'Don't just do something, just sit in there!' Applied to the above position, this means White should simply wait for Black's action, without committing much. With moves like 16.Ne2 a5 17.Ng3 e6 18.Bc3 etc. But MVL decided to be 'active'.
16.Nh2 Ne5 17.Qg3 The white queen doesn't seem to belong to the kingside 17...Kh8! Anticipating White's intentions! 18.f4 gxf4 19.Bxf4 Rg8 and Black is slightly better, while not having much active plans to pursue.
White went berserk here with 22.Nf3?? a shocking blunder for a player of MVL's calibre - "I couldn't believe my eyes!" said Carlsen about the move. MVL's trick is to invite 22...Bd4 23.e5!? and he generates some play. But the move simply loses to 22...Bxc3 23.Rxc3 e5, after the routine 24.Bc1 f4! and all black pieces will soon run riot on the kingside. Though Carlsen didn't play perfectly from this position, the result was never in doubt.
Thus, Carlsen came back strongly in the tournament winning the last two games, after drawing the first nine (!) games. Understandably, he was delighted with his comeback, "I didn't believe it one bit before today and especially yesterday. When I got a very complicated strategic position from the opening [today], I am starting to think, 'I have some hope'!"
Calling that it was all feeling quite 'surreal', he asserted, "I have to come back to earth, as I have to play more chess tomorrow!" indicating the tie-breaker he is scheduled to play against Ding.
The game which produced the maximum melodrama looked to be proceeding sedately.
Giri - Nepomniachtchi, round 11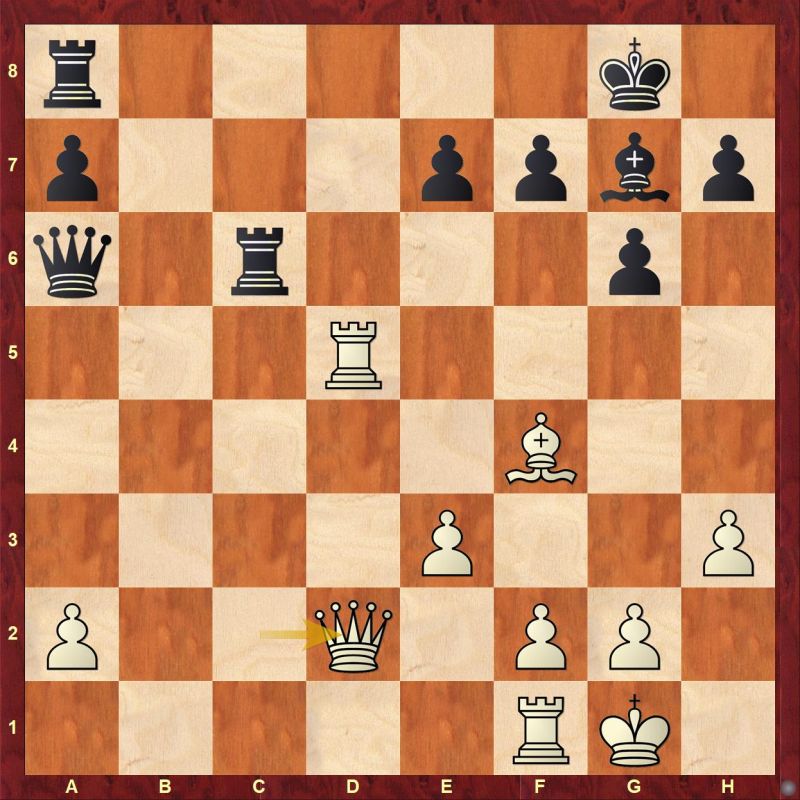 26...Bc3?! Played instantly, an unnecessary move. Black could have played in any reasonable way to maintain equality - 26...h5 or 26...Rcc5
27.Rd8+ Rxd8 27...Kg7 is met with 28.Be5+ 28.Qxd8 Kg7 29.Qxe7
29...Bf6? Played after a four minute of thought. There is no reason Black should play this. 29...Qxa2 30.Be5+ Bxe5 31.Qxe5 Rf6 was perfectly defensible. 30.Be5 Qxa2 31.Ra1 Qe6 32.Bxf6 Qxf6 33.Qxa7 and the game has entered into a tricky ending.
It is neither drawn nor trivial, and White can keep squeezing Black as much as he can.
The queens got exchanged off at a certain point, and Black seemed to have finally achieved parity.
Black has nothing to worry about, and as Giri explained after the game, the simple 64...♜f2 keeping an eye on the f3-pawn will give him easy equality. At this point, I was standing in the lobby of the Saint Louis Chess Club and chatting with Vladimir Chuchelov, the second of Anish Giri, who assured me that the position was a 'dead draw', especially when Nepomniachtchi had more than an hour in his clock.
As we chatted off about the way Giri has been playing this tournament, to our shock, we saw on the display monitors in the lobby a terrible blunder.
72...Rg3?? Nepomniachtchi played this in a whirlwind 21 seconds, just like his blunders against Anand and Vachier-Lagrave. He could have simply drawn the game with 72...Kf7. Giri sat at the board thinking for a long time, occasionally grimacing and looking at his opponent mildly. As he started playing rapidly, Nepomniachtchi began to understand that he was completely lost. 73.Ra7+ Ke6 74.Ra6+ Kf7 75.Rf6+ Ke7 76.Rxg6 Rxh3 77.Kg5 and we were treated to an extra-ordinary sight.
It was tragic to see the pain that Nepomniachtchi was going through. As I hurried to the tournament hall, Nepomniachtchi had already resigned and both were having a conversion which wasn't audible or understandable. As he was leaving, Giri utterly forgot that there were games still going on in the background and whispered to me, "I am the one with the extra pawn, and the guy wanted me to repeat moves for a draw!" as the Arbiter sushed us both into keeping silent!
As the weight of what he said dawned on me, he went to the commentary room and explained, "(Nepomniachtchi) is like an ideal guy to show you the plus and minuses of the quick approach. He has won so many brilliant games quickly... He plays fast & good, (as if) we are seeing the next world champion. And he does things like (this). He just shows you the two extremes of playing fast."
None in the tournament hall could digest what had just happened, and I turned to Chuchelov for an explanation. Chuchelov smiles big, and gives me pure wisdom, "These kind of misses are never only about chess. It is a result of psychological and physiological experiences that a player is going through!"
As he is talking, my mind also goes back to the seemingly elementary mistakes of the day by the best players of the world: Sergey Karjakin's basic mistakes in a clearly better endgame against Caruana, Maxime Vachier-Lagrave's reckless self-destruction against Carlsen, and Vishy Anand missing so many great positions in the tournament and finally settling on a decent but definitely under-performing final score.
How does anyone get over such accidents?
"It is not easy, you can't stop them permanently! With Anand, it is mainly about age. With others, it is about how they handle such situations, which can only be understood if they explain to you what they are going through. Psychologically, emotionally. You also have to understand you have to train for a sustained period in specific areas of chess. And there is no single magical formula which applies to everyone! Every chess player is different, and everyone understands chess in a different way. If chess players have to get over such weak moments over the board, it can be only by training consistently, in a way which suits you specifically!"
I simply get thrilled by the words of wisdom from currently one of the best trainers in the world. And then, as we watch, we also see a very strong willed chess player keep his head and defend a slightly worse position. Of course, Ding Liren had everything at stake — he had to draw this game against Mamedyarov to force playoffs against Carlsen.
Ding - Mamedyarov, round 11
Just out of the opening, White is slightly worse, staring at a sustained defence in an unpleasant ending. Ding kept his cool.
19.Rfd1 Rac8 20.Rd7 R8c7 21.Rad1!
Sheer cold-blooded play. The point is, the desirable endgame scheme 21...Kf7? bringing out the king doesn't work here because of 22.Ne4! and suddenly Black is in trouble! 21...Bxc3 Forced, as Black cannot make progress otherwise.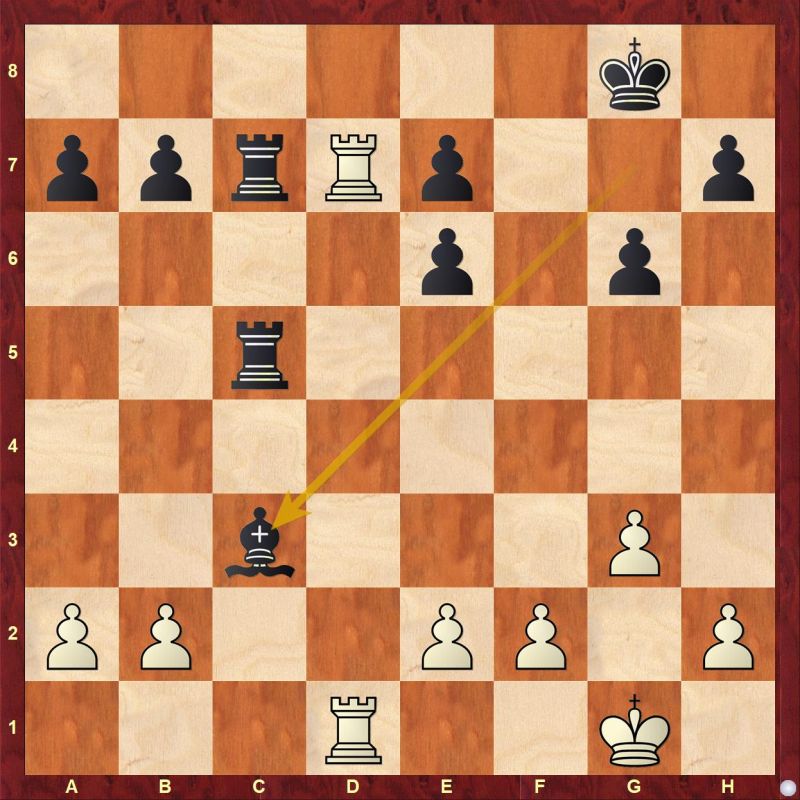 22.Rxc7! Confidently simplifying into a rook ending, and having faith in oneself to defend a technical ending. 22...Rxc7 23.bxc3 Kf7 24.Rb1! e5 25.Kf1 b6 26.Rb3 and the position is near equal. He kept calm and drew the game after another 26 moves of solid defence.
We cannot help but admire that the playoff games tomorrow will be played between two players who have shown admirable composure in pressure situations. After all, everyone in this tournament is a great player in his own respect. But as Chuchelov points out, 'It's never only about chess!'
Watch the live stream
Replay all games
Links
---