Anand disappointed himself against Caruana
The spell of draws was finally broken but the leading pack became a jumbo five-men crowd as Karjakin and Nepomniachtchi joined them at 4.5 points from 8 rounds. While erstwhile joint leaders Fabiano Caruana and Vishy Anand drew their mutual encounter after a long fight, world champion Magnus Carlsen waged a spirited battle against Ding Liren but was forced to settle for a draw too. IM Venkatachalam Saravanan reports all action from the venue. Photo: Lennart Ootes / Grand Chess Tour
Five players at the top
When 'MVL' employs sharp openings with black pieces, you can expect certain things:
- He regularly plays tactical variations, well-prepared in almost all of them, not just which his opponent would employ mostly. He doesn't deviate in his opening choices all that much. There will be crazy variations with pieces flying, sacrifices offered, all looking violent for the onlookers.
- But the downside is, players being well-prepared at the highest levels, the games quickly go beyond complications when players' prepared variations end. When they actually start thinking by themselves and play their own moves, the storms might have weathered down reaching a 'regular' position without much sharpness. This also means that, if any player slips in his preparation being played out on the board, he stares at a difficult position without much counter chances too.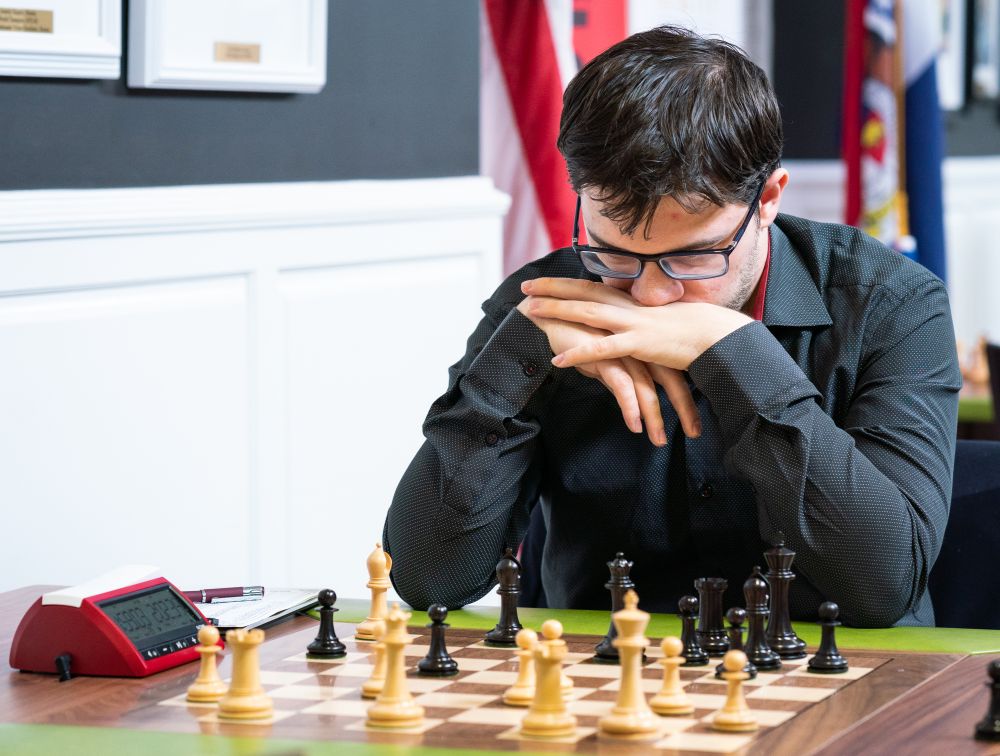 In the Sinquefield Cup this year itself, he played such an opening against Caruana in the sixth round, and today too. From a sharp variation of the Grunfeld Defence, the contestants reached a position which they have already dueled with in the past.
Karjakin - Vachier-lagrave, round 8
A typically sharp position from the Grunfeld, where black has sacrificed a pawn but white pieces aren't coordinating too well. In such positions, application of logical principles would not help beyond a certain point. The position should already have been analysed at home in depth, and the conclusions only get tested against each other on the board.
One of their earlier encounters went 14.Be2 here, and today Karjakin came up with 14.Bd5 Ng4 15.g3 Nxe3 16.fxe3 a6!?
The players were blitzing out the moves at this stage, and it is pointless to analyze the position here – it is too sharp and can be analyzed thoroughly only with painstaking thoroughness.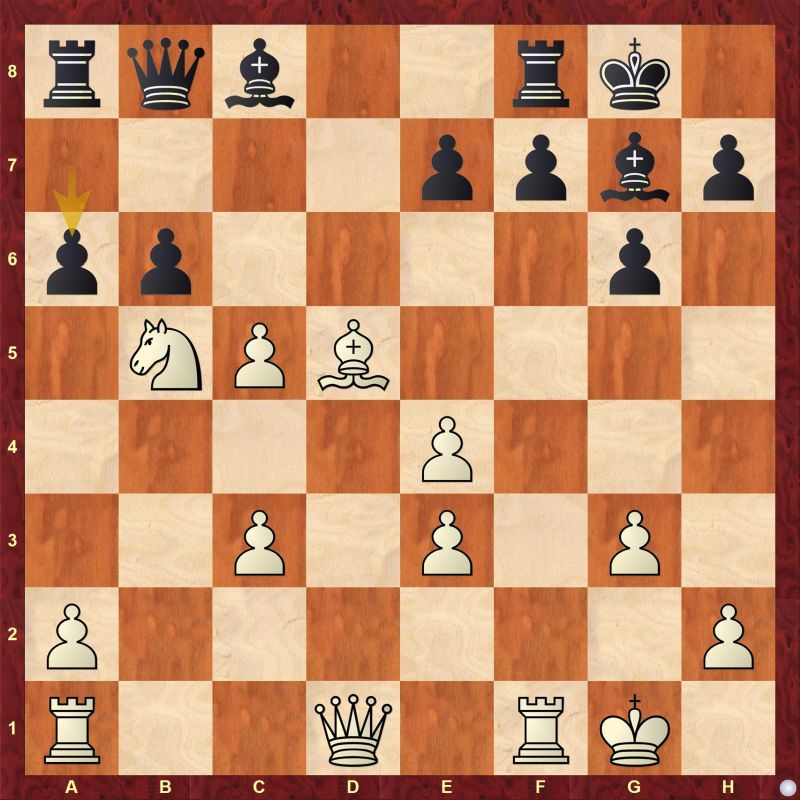 17.Nd4
Curiously, MVL has played this position before with the white pieces! His game against Gelfand in 2013 went 17.Bxf7 Kh8!? 18.Nd4 etc. with a wild position. This is another curious topic, that a player can be at both the sides of the same position. The inevitable question: how do they find a way to win in a position with either colour, if they are sure of playing them with opposite colours?!
17...bxc5 18.Rb1 Played after an eight minutes of thought, thus indicating that white has finally reached the end of his opening preparation and started playing over the board, at last.
18...Qa7 MVL continued playing fast, indicating that he was very much still in his preparation. But the curious point was, both of Black's moves were not approved by the engines, and after 19.Nc6 black was in serious trouble.
What went wrong with MVL's preparation? Talking after the game, MVL revealed that, his loss in this game was 'very well deserved'. "I played 17...bxc6 without thinking. Immediately after playing I realized that it was not I was supposed to play!"
He was supposed to play 17...Bh3, and he just did not forget his preparation, but it was even worse a case of 'remembering after playing what I was supposed to play' as he termed it.
A curious incident – a top player who is meticulously prepared in sharp positions ends up forgetting the line, but continues playing fast and ends up in a poor position almost without consuming time all through.
Remaining of the game was an excellent piece of technical conversion by Karjakin. The challenger to the throne of 2016 hasn't shown much of his prowess in this tournament so far, and it was wonderful to see him in his best shape in the featured Queen and opposite colour bishops endgame.
31...Bd4 The move looked optically attractive, but white had his trumps intact 32.Bc4 Bxe3? 33.Qd7+ Kh6 34.Qh3+ Kg7 35.Qe6 Bd4 36.Qf7+ Kh6 37.a5 and white went on to win.
Of course, 32...Qxe3?? would have been a blunder as 33.Qxe3 Bxe3 34.a5 and white wins the opposite colour bishop ending easily. Black had a better defense with 32...Qf6 but white still wins with 33.Kg2 Bc3 34.Qd7 Kh6 35.Bg8 ultimately pinning the black queen to defend the king thus enabling the a-passer to roll on.
But in all the above analysis, it is a difficult to task to play flawlessly over the board, and Karjakin almost displayed great skill.
The second game which gladdened everyone's mood was the world champion's daring play from the beginning of the game. First of all, Carlsen showed his good frame of mind by visiting the confession booth early on and delighted the audience, "This is a little something for our Norwegian viewers. I just happen to spill some milk waiting here for the game, but I am not crying about it!" with a sweet wink too! (Later on he explained that he had literally spilled milk before the game started).
Carlsen - Ding, round 8
14.h4!? Having already sacrificed a pawn, Carlsen played his moves very fast, not slowing till another ten (!) moves, thus indicating that he had come well armed for the fight. Though he took his time and was working out the position over the board, Ding defended admirably against Carlsen's initiative.
Carlsen had his first serious thought here, and pressed for an initiative with 23.Bc4 Kg7 24.Reh4 Kg6!
Black plays with guts. Still, Carlsen had a mild chance of taking over the initiative with a precise sequence of moves: 25.Bd3+ Kf7 26.Bf2! (with the idea of Bf2-c5 and continue hunting the black king) 26...b6 27.Be4 Bd7 28.Rh7 Ke6 29.Kd1! Ba3 30.R4h6 with the threat of ♘f3-g5+ as well as ♗g3-h4, which would give White an initiative. But he erred with 25.Rh7? and almost could not generate any great initiative afterwards.
Understandably, Carlsen was dejected after the game that he couldn't find anything, and congratulated his opponent for defending an 'extremely dicey position'. "I played virtually a no-risk position but he managed to get out of that". He lamented that he wasn't getting any momentum in the tournament yet, drawing all his games so far, "Situation is getting more dire by the day. Today I put (Ding) to some very very serious tests, but that's all you can do. You don't win chess games unless your opponent makes mistakes."
Fatalistic or realistic?
The most awaited clash of the day didn't produce much excitement, except that Viswanathan Anand held a slight edge throughout the game, only to misplay it and allow Fabiano Caruana to equalise at some point in the late middlegame. Surprisingly, Anand wasn't happy about the game, terming has play as terrible.
He was still smarting under the missed opportunities in his game against Ding, after which he was playing the tournament with no expectations, "I don't care, after yesterday, I'll just play (each round) and see", was a surprisingly low prediction from the former world champion.
Watch the live stream
Replay all games
Links
---