Abhijeet Gupta conquers Graz Open 2023
GM Abhijeet Gupta won International Graz Open 2023 scoring 8/9. Despite losing the second round, he made a strong comeback by winning the next seven games in-a-row, finishing a full point ahead of the competition. In the final round, he defeatetd the top seed of the tournament and Poland no.3, GM Bartosz Socko. The total prize fund of the tournament was €8500. The top three prizes were €1500, €1000 and €600 each respectively. This was Abhijeet's first tournament triumph he started in 2023. Earlier, he started the year by finishing second at MPL 59th National Senior Chess Championship 2022. Photo: Internationales Schachopen Graz
A fantastic comeback
GM Abhijeet Gupta has won the Commonwealth Chess Championship five times for a reason. It is because he knows how to make a quick recovery after a setback. This triumph is a prime example of that.
GM Abhijeet Gupta received the prize from the Tournament Director, IO Andrea Schmidbauer.
Second Runner-up - GM Felix Blohberger (AUT) 7/9 | Photo: Internationales Schachopen Graz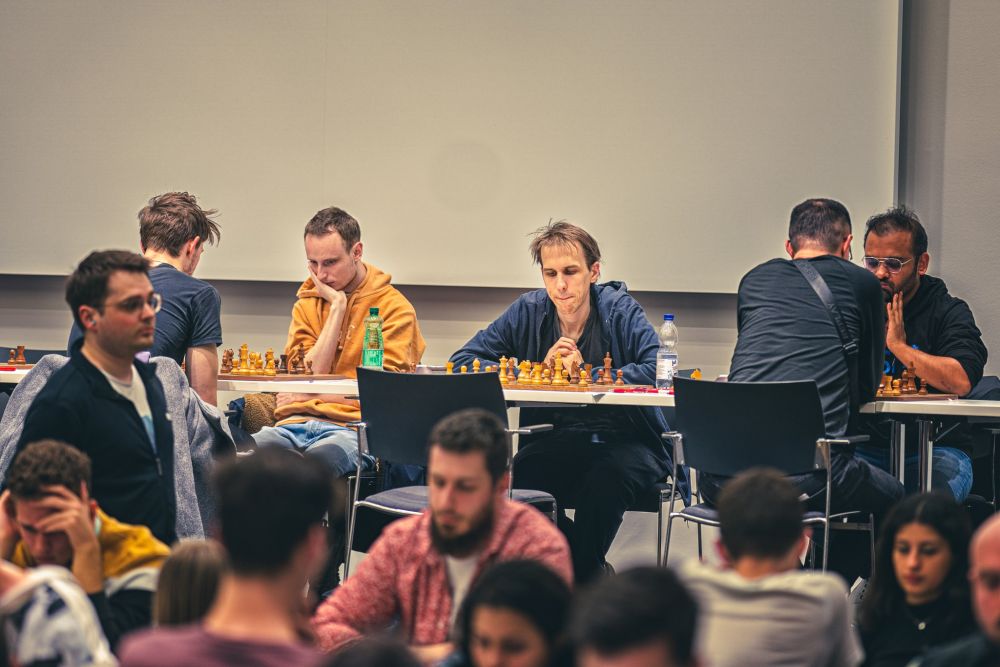 A total of 171 players including 9 GMs, 14 IMs and a WIM took part from 28 countries all over the world in Group A (>2000). There were 93 players in Group B (<2000) and 49 in Group C (<1700). The seven-day nine-round Swiss league Rating tournament was organized by Styria chess federation at Chamber of Commerce in Graz, Austria from 18th to 24th February 2023. The time control of the tournament was 90 minutes + 30 seconds increment from move no.1.
Final standings
| | | | | | | | | | | | | | | |
| --- | --- | --- | --- | --- | --- | --- | --- | --- | --- | --- | --- | --- | --- | --- |
| Rk. | SNo | | | Name | Typ | sex | FED | RtgI | Club/City | Pts. | TB1 | Rp | K | rtg+/- |
| 1 | 2 | | GM | Gupta Abhijeet | | | IND | 2606 | | 8 | 2696 | 2696 | 10 | 10 |
| 2 | 6 | | GM | Pötsch Hagen | | | GER | 2489 | | 7 | 2578 | 2578 | 10 | 10,4 |
| 3 | 7 | | GM | Blohberger Felix | | | AUT | 2488 | 1. Sk Ottakring | 7 | 2533 | 2533 | 10 | 5,4 |
| 4 | 18 | | IM | Dobrowolski Piotr | | | POL | 2411 | | 7 | 2471 | 2471 | 10 | 6,8 |
| 5 | 3 | | GM | Moroni Luca Jr | | | ITA | 2576 | | 6,5 | 2571 | 2571 | 10 | 2,2 |
| 6 | 8 | | IM | Janzelj Tim | | | SLO | 2469 | | 6,5 | 2482 | 2482 | 10 | 2,9 |
| 7 | 21 | | FM | Pastar Slaven | | | BIH | 2376 | | 6,5 | 2477 | 2477 | 20 | 25 |
| 8 | 13 | | IM | Hacker Jonas | | | GER | 2444 | | 6,5 | 2455 | 2455 | 10 | 4 |
| 9 | 25 | | FM | Carnicelli Valerio | | | ITA | 2351 | | 6,5 | 2392 | 2392 | 20 | 12,2 |
| 10 | 5 | | IM | Roshka Yevgeniy | | | UKR | 2503 | Grazer Schachgesellschaft | 6,5 | 2385 | 2385 | 10 | -7 |
| 11 | 1 | | GM | Socko Bartosz | | | POL | 2624 | | 6 | 2480 | 2480 | 10 | -11,7 |
| 12 | 24 | | IM | Kowalski Igor | | | POL | 2357 | | 6 | 2445 | 2445 | 20 | 23,2 |
| 13 | 26 | | FM | Wilhelm Till | | | GER | 2350 | | 6 | 2443 | 2443 | 20 | 22,8 |
| 14 | 16 | | IM | Barp Alberto | | | ITA | 2429 | | 6 | 2438 | 2438 | 10 | 2 |
| 15 | 28 | | IM | Battey Alexander | | | USA | 2344 | | 6 | 2403 | 2403 | 10 | 7,8 |
Links
---