Gukesh convincingly defends Menorca Open title, Pranav Venkatesh second
It is not everyday we get to see a 2700+ playing an open tournament, let alone win it for two years in-a-row. GM D Gukesh won the inaugural edition last year and became World no.80. Heading into the second edition, he was World no.20 who had 2730 Elo rating points. After nine rounds, he scored an unbeaten 7/9, defeated Pranav Venkatesh 1.5-0.5 in the Blitz Playoffs to retain his Menorca Open title. Although ten players finished with the same score 7/9, it was Gukesh and Pranav who had all three of their tie-break scores exactly the same. After penultimate round, Gukesh was World no.17 in the live ratings and he still is. The teenager is gaining two Elo rating points. In one year, Gukesh climbed from World no.80 to 17 and he did not forget his path towards becoming the Elite. Pranav V secured runner-up, Aryan Chopra fourth and once again GM Koustav Chatterjee secured tenth place. Photo: Menorca Chess Open
Top ten score 7/9 each
We all know why the world's elite players don't risk playing open events. The current rating system is such that the mathematical probability of gaining rating points is much less, compared to losing, which means dropping not only valuable rating points but also going down in the ranks. Hence, it is quite understandable that a lot of players don't prefer to play open events. But that is not how 16-year-old D Gukesh operates. He had a fantastic year in 2022. He decided to test himself, defend his title and boy he did that handsomely. One can only this will inspire more elite players to play in open events and take some risk sometimes, so that the chess universe can see fresh matchups which they always crave for. The total prize fund of the tournament was €16000. The top three prizes were €3000, €2400 and €1600 along with a trophy each.
Pranav V - Prraneeth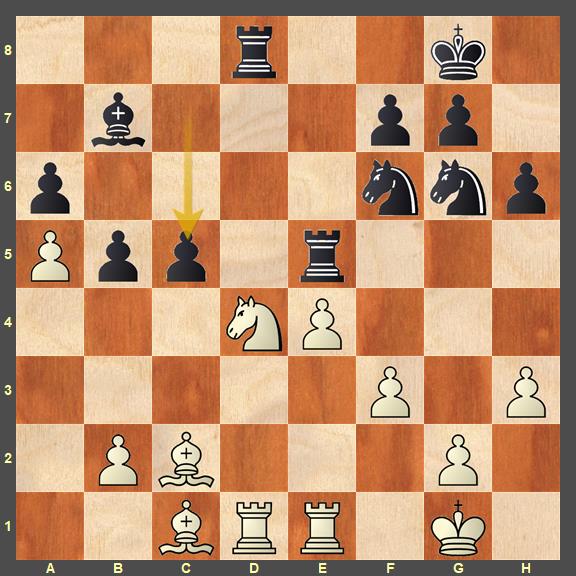 After a bit of back and forth play, IM Prraneeth Vuppala (2437) made an irreversible mistake 28...c5 against GM Pranav Venkatesh (2545). 28...c5 surrenders the control of the d-file. 29.Nf5 Rxd1 30.Rxd1 c4 31.Bd2 Re6 32.Bc3 White makes the most out of his bishop pair Ne5 33.Rd8+ Kh7 34.Nd6 Bc6 35.Bxe5 Rxe5 36.Nxf7 Re7 37.e5+ g6 38.Rd6 and it's all over for Black.
All top ten players ended up with the same score 7/9 after the final round. However, only GM D Gukesh and GM Pranav Venkatesh ended up with the exact same tie-breaks: TB1 56, TB2 51.5 and TB3 37.5. Thus, they had to Blitz Playoff games.
Gukesh won the first Blitz Playoff and drew the second, thus he became champion of Menorca Open, for the second consecutive year. Pranav Venkatesh was placed second.
Gukesh tweeted on his triumph
Sethuraman congratulated the talented youngster and said something very important
Yes we did announce, Koustav Chatterjee becoming India's 78th GM early in January of this year. He had scored all three GM-norms and crossed 2500 in the August FIDE Rating list. However, during his title application, he was informed that one of his norms will not be counted due to some technical reasons. So what did Koustav do? He delivered a stellar performance at this event and earned his fourth GM-norm. Now once again he can be called Grandmaster and there is no dispute in that as he fulfilled all checkboxes to earn his fourth GM-norm.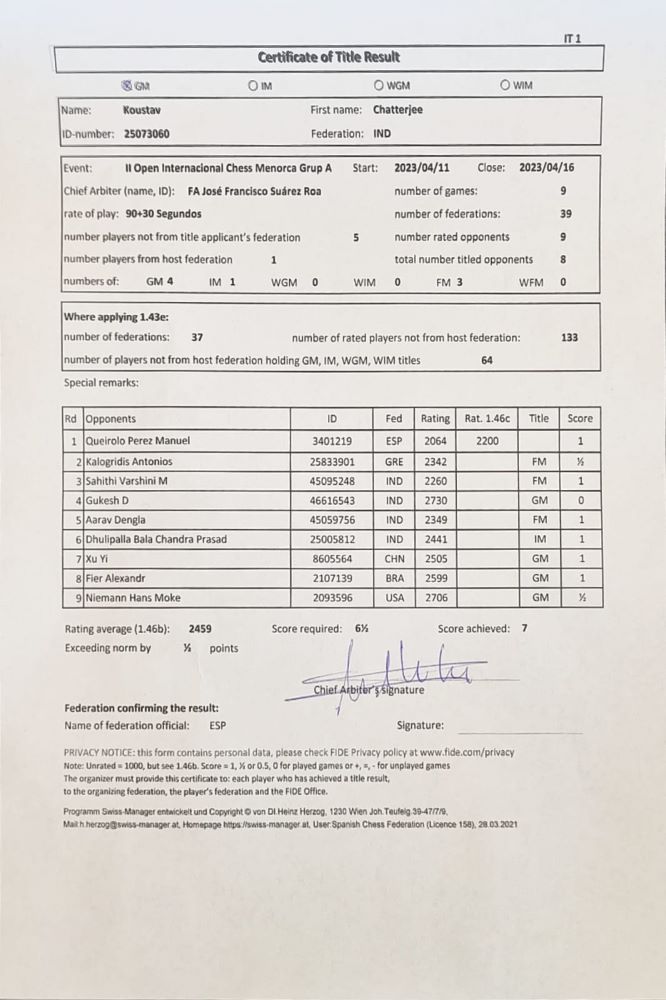 A total of 200 players including 37 GMs, 30 IMs, 3 WGMs and 6 WIMs took part from 38 countries across the world in Group A (>1750). The six day nine-round Swiss League Rating tournament was organized by Chess Menorca from 11th to 16th April 2023 at Ciutadella in Menorca, Spain. The time control of the tournament was 90 minutes + 30 seconds increment from move no.1.
Replay Round 9 games
Round 9 results
Final standings
| | | | | | | | | | | |
| --- | --- | --- | --- | --- | --- | --- | --- | --- | --- | --- |
| Rk. | SNo | | | Name | FED | Rtg | Pts. | TB1 | TB2 | TB3 |
| 1 | 1 | | GM | Gukesh D | IND | 2730 | 7 | 56 | 51,5 | 37,5 |
| | 22 | | GM | Pranav V | IND | 2545 | 7 | 56 | 51,5 | 37,5 |
| 3 | 3 | | GM | Van Foreest Jorden | NED | 2680 | 7 | 54,5 | 49,5 | 38 |
| 4 | 10 | | GM | Aryan Chopra | IND | 2607 | 7 | 53,5 | 48,5 | 37 |
| 5 | 4 | | GM | Fedoseev Vladimir | FID | 2674 | 7 | 52,5 | 47,5 | 36,5 |
| 6 | 2 | | GM | Niemann Hans Moke | USA | 2706 | 7 | 50,5 | 47 | 36 |
| 7 | 21 | | GM | Kobo Ori | ISR | 2549 | 7 | 50 | 45,5 | 35,5 |
| 8 | 7 | | GM | Chigaev Maksim | FID | 2617 | 7 | 50 | 45,5 | 34,5 |
| 9 | 15 | | GM | Xu Xiangyu | CHN | 2587 | 7 | 50 | 45,5 | 34 |
| 10 | 28 | | IM | Koustav Chatterjee | IND | 2520 | 7 | 47 | 43 | 34,5 |
| 11 | 9 | | GM | Harsha Bharathakoti | IND | 2608 | 6,5 | 52,5 | 48 | 35,5 |
| 12 | 43 | | IM | Sokolovsky Yahli | ISR | 2464 | 6,5 | 47 | 43,5 | 31,5 |
| 13 | 5 | | GM | Nguyen Thai Dai Van | CZE | 2649 | 6 | 53,5 | 49 | 35,5 |
| 14 | 16 | | GM | Albornoz Cabrera Carlos Daniel | CUB | 2586 | 6 | 52,5 | 48 | 35 |
| 15 | 33 | | GM | Xu Yi | CHN | 2505 | 6 | 52 | 47,5 | 33 |
| 16 | 11 | | GM | Warmerdam Max | NED | 2605 | 6 | 50,5 | 46,5 | 33 |
| 17 | 17 | | GM | Sanal Vahap | TUR | 2582 | 6 | 50,5 | 46 | 33 |
| 18 | 29 | | GM | Karthik Venkataraman | IND | 2516 | 6 | 50 | 46,5 | 34 |
| 19 | 54 | | IM | Prraneeth Vuppala | IND | 2437 | 6 | 49 | 47 | 33 |
| 20 | 32 | | GM | Henderson De La Fuente Lance | AND | 2506 | 6 | 49 | 44,5 | 33,5 |
Links
---