Will Gukesh win Menorca Open for the second year in-a-row?
The defending champion GM D Gukesh defeated the previous day leader, GM Aryan Chopra to get back in the lead. He drew the penultimate round game against the Netherlands no.2 GM Jorden van Foreest to move closer to a second consecutive triumph. IM Koustav Chatterjee defeated GM Xu Yi (CHN) and GM Alexandr Fier (BRA) in consecutive games to move to 6.5/8. Gukesh and Koustav are the only two Indians among seven leaders. They are followed by another seven players including five Indians - GM Pranav Venkatesh, GM Aryan, GM Harsha Bharathakoti, IM Prraneeth Vuppala and the reigning National champion, GM Karthik Venkataraman at 6/8 each. Final Round 9 starts today at 10 a.m. local time, 1:30 p.m. IST. Photo: Menorca Chess Open
Gukesh and Koustav in a seven-way lead
In the final round it's Gukesh vs Fedoseev and Niemann vs Koustav. If Gukesh wins his game, he becomes a champion as he has the best tie-breaks. While, a draw would allow any number of players to catch up or surpass him.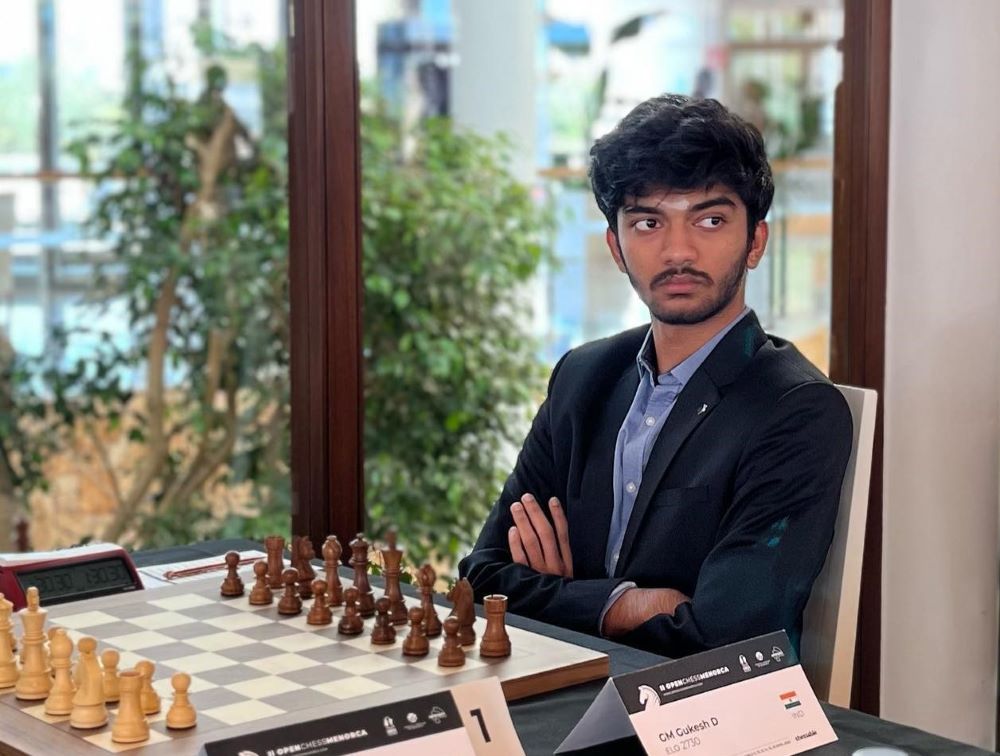 Round 7: Gukesh - Aryan: 1-0
GM D Gukesh (2730) got a better position out of the Catalan opening against GM Aryan Chopra (2607).
White offered his e5-pawn as a sacrifice with the move 13.b3. Black took the bait. 13...cxb3 14.axb3 Qxe5 15.Bf4 Black cannot take on f4 because Nf6+ finishes the game too quickly. 15...Qh5 16.Bd6 Rd8 17.Qc5 alternatively White could have traded the bishops at f8 and then went with Nc6.
Black's position was already in shambles. 27..c5 invited 28.Rxe6+ Qxe6 29.Re4 Qxe4 30.Bxe4 Nc3 31.Qxc3 Bxe4 32.Qe5+ Re7 33.Qxc5 and Black really does not have much to fight for.
White made a very pretty finish 52.Qxc6+ and Black resigned as the black is unable to stop the f-pawn promotion and save its own bishop at the same time.
Thai Dai Van - Pranav Venkatesh
GM Thai Dai Van Nguyen (CZE, 2649) and GM Pranav Venkatesh (2545) arguably had one of the most thrilling finishes of the day if not the most. The d7-pawn promotion looks unstoppable, yet White has some back-rank issues. The game continued 56...Nxf2+ which created some winning chances for White 57.Kd2 Ng4+ 58.Kc3 f2 59.Nxb8. Instead 59.d8Q would have been winning for White. The game eventually ended in a draw as White missed his opportunity. Find out what should have played to secure the draw in the above position.
Koustav - Fier, Round 8
GM Alexandr Fier (BRA, 2599) blundered 48...Bg6?? in a relatively balanced endgame against IM Koustav Chatterjee (2520). Find out why it is a decisive mistake.
A total of 200 players including 37 GMs, 30 IMs, 3 WGMs and 6 WIMs are taking part from 38 countries across the world in Group A (>1750). The six day nine-round Swiss League Rating tournament is organized by Chess Menorca from 11th to 16th April 2023 at Ciutadella in Menorca, Spain. The time control of the tournament is 90 minutes + 30 seconds increment from move no.1.
Replay Round 7-8 games
Round 8 results
Standings after Round 8
| | | | | | | | | | | |
| --- | --- | --- | --- | --- | --- | --- | --- | --- | --- | --- |
| Rk. | SNo | | | Name | FED | Rtg | Pts. | TB1 | TB2 | TB3 |
| 1 | 1 | | GM | Gukesh D | IND | 2730 | 6,5 | 45 | 40,5 | 30,5 |
| 2 | 3 | | GM | Van Foreest Jorden | NED | 2680 | 6,5 | 42 | 38 | 31 |
| 3 | 4 | | GM | Fedoseev Vladimir | FID | 2674 | 6,5 | 42 | 38 | 29,5 |
| 4 | 21 | | GM | Kobo Ori | ISR | 2549 | 6,5 | 39,5 | 36 | 28,5 |
| 5 | 7 | | GM | Chigaev Maksim | FID | 2617 | 6,5 | 39 | 35 | 27,5 |
| 6 | 28 | | IM | Koustav Chatterjee | IND | 2520 | 6,5 | 38,5 | 34,5 | 27,5 |
| 7 | 2 | | GM | Niemann Hans Moke | USA | 2706 | 6,5 | 38 | 34,5 | 29 |
| 8 | 22 | | GM | Pranav V | IND | 2545 | 6 | 44 | 40,5 | 30,5 |
| 9 | 10 | | GM | Aryan Chopra | IND | 2607 | 6 | 42,5 | 38 | 30 |
| 10 | 9 | | GM | Harsha Bharathakoti | IND | 2608 | 6 | 42 | 38 | 29 |
| 11 | 54 | | IM | Prraneeth Vuppala | IND | 2437 | 6 | 38 | 36 | 27 |
| 12 | 15 | | GM | Xu Xiangyu | CHN | 2587 | 6 | 38 | 34,5 | 27 |
| 13 | 29 | | GM | Karthik Venkataraman | IND | 2516 | 6 | 37,5 | 34 | 28 |
| 14 | 23 | | GM | Sosa Tomas | ARG | 2544 | 6 | 35 | 31,5 | 25,5 |
| 15 | 5 | | GM | Nguyen Thai Dai Van | CZE | 2649 | 5,5 | 43,5 | 39 | 29,5 |
Round 9 pairings
Links
---